News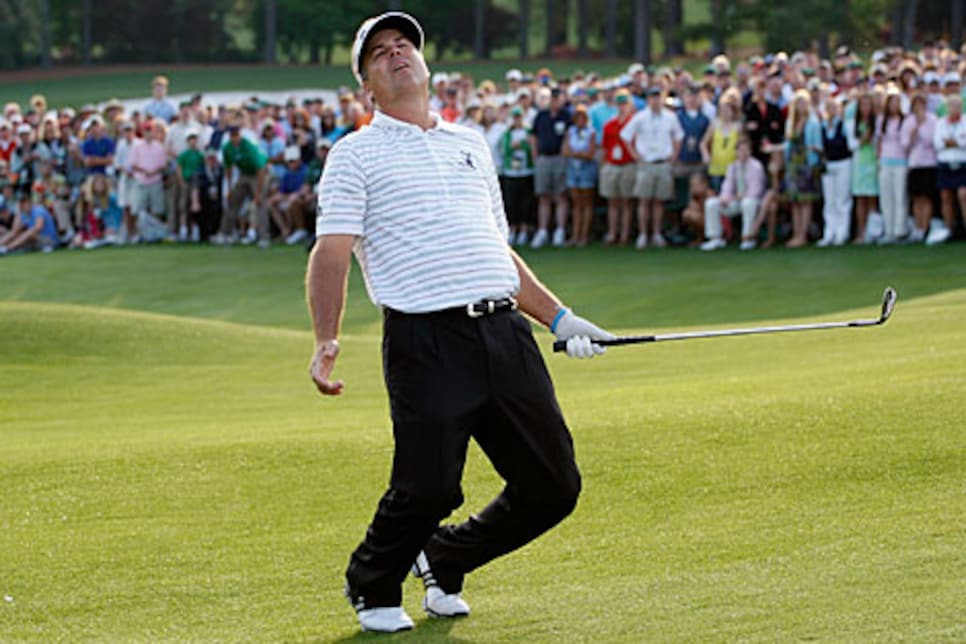 OPPORtUNITY LOST: Despite bogeys on the final two holes of regulation, Perry gamely bid to end the playoff on the first hole, narrowly missing this pitch for a birdie from 40 feet.
The father of three grown children hopped off the back of a golf cart and strode directly toward an outdoor podium, where the bright lights awaited, literally and figuratively. There were a few questions, nothing heavy, followed by long-winded answers full of insight and honesty.
Darkness had all but fallen, a major championship had been won and lost, and as the man explained why the biggest moment of his 22-year career had ended with a string of poor shots and uncharacteristic mistakes, a young woman stood crying in a far corner of the interview area, her heart shattered, her sunglasses unable to conceal tears she didn't want her daddy to see.
When Kenny Perry's oldest daughter, Lesslye, was born in May 1984, he was a mini-tour miner making $800 a month and living with his wife, Sandy, in his uncle's apartment. Two piles of sponsor's donations had come and gone. It took Perry three more years to make the PGA Tour and nine more after that to contend at a major championship.
Yet another 13 years would pass before a second chance arrived. A beautiful Sunday afternoon, a golf course for the taking, a back-nine lead to himself despite furious rallies by the world's two best players and the surreal atmosphere generated by galleries witnessing something special.
"I was in awe of what they were doing," Perry would say of Tiger Woods and Phil Mickelson, both of whom were mounting potentially historic comebacks while paired six groups ahead. "I saw they got to 10 under, and I was like, 'Wow, they must be having a lot of fun up there,' but I knew they had to do something spectacular to catch me."
Both rallies died one hole short of the finish line, which meant Perry had the 73rd Masters and all its glorious spoils firmly in his grasp. Two pars is all he would need. Two bogeys is what he made, and when Angel Cabrera beat Kentucky's finest on the second hole of sudden death with the routine par Perry found so elusive, the effects of that bitter end were hard to miss as thousands of patrons formed a forlorn procession from the 10th green to the front gate.
Up one big hill, then down another, only much faster. From the roar of the crowd to the route of the throng's departure, this Masters and the people who attended it followed an identical path. Few final rounds at this magical ballpark have produced such sharp competitive mood swings. Perry, who at 48 would have become the game's oldest major champion, is also one of its purest ball-strikers, but after stuffing an 8-iron inside a foot at the par-3 16th, which provided him with a two-stroke advantage, the big fella seemingly forgot how to play.
Asked during his post-round news conference to identify the one shot he would like to play again, Perry immediately chose his first putt at the par-5 13th, a 30-footer that trickled six feet past and helped turn a no-brainer birdie into a par. It seemed like a strange answer given that KP missed his final four approach shots, the last three by considerable margins.
Many media stops later, one of pro golf's gentlest souls could be found alone in the Augusta National locker room. Clearly, the medley of mistakes he had made with a Masters in his pocket was weighing on his mind. "All I had to do was pull this one out," he said, removing a 64-degree wedge from his bag. "Hit something up in the air, something with a little spin that would check up right near the hole."
It was a lament with legs. After his dazzling birdie at the 16th, Perry got a huge break when his drive at the 17th caromed off a tree and bounced back into the fairway. From 180 yards he hit the first of those four poor irons, leaving him a relatively simple third from just off the green's back-left edge. That's where everything started going wrong, where Perry opened the door for Cabrera and Chad Campbell, who burned the right edge from 15 feet on the final hole of regulation and tied the others at 12-under 276, then whiffed a four-footer on his return to the 18th in the playoff.
Instead of pitching or even putting his ball at the 17th, Perry's bump-and-run roared past the flagstick, made a sharp right turn and tumbled off the front of the green. He would confess that an overactive right hand has given him problems with that shot since last summer, which only makes the ensuing bogey a mental error as much as a physical one. Why try something you can't trust, especially at the most pressure-packed point of your life?
As was the case at the 2007 U.S. Open, Cabrera capitalized on the deficiencies of others to claim his second major title in 22 months, but the sight of the strapping Argentine in an emerald blazer should hardly come as a shock. He'll turn 40 this September, but Cabrera remains one of the longest hitters on earth. Without his ultra-resourceful par on the first playoff hole, however, Perry would have won despite himself right there at the 18th.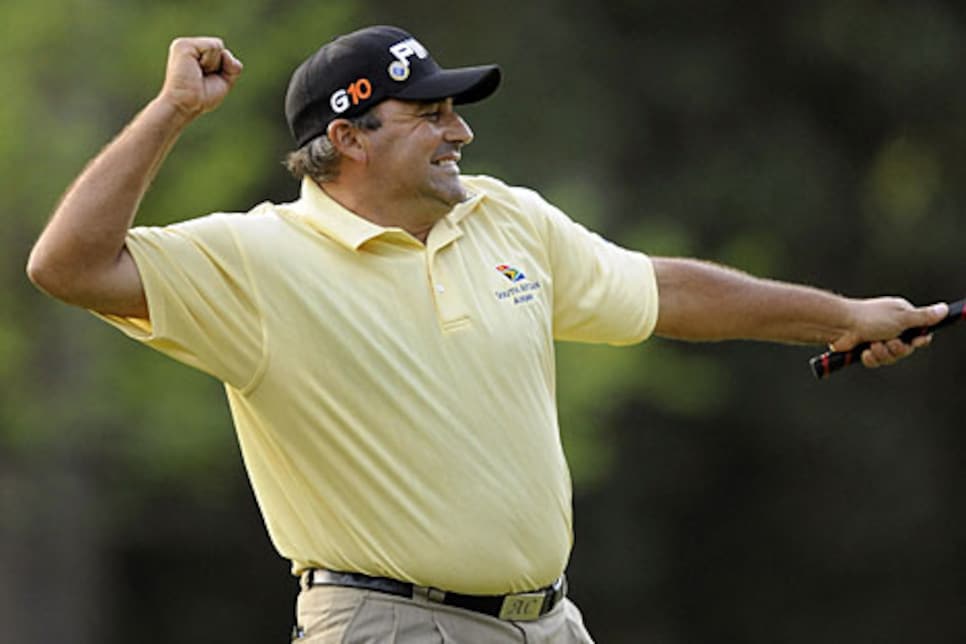 Cabrera began the sudden-death playoff with a wild 3-wood into one of Augusta National's most populated forests. Stuck dead behind a huge tree, he hooked his escape around the trunk but caught more lumber ahead, where it ricocheted safely into the fairway. From 114 yards, he stuck a sand wedge to five feet and converted the save to move on.
It's fair to say that Cabrera's luck remains better than his English. "I was easygoing, felt good in the playoff," he said. "Obviously, one bad shot, it costs you the tournament."
Funny he should mention that. Mickelson's demise can be attributed to one bad shot and two bad putts—a four-foot miss for eagle at the 15th, then a four-footer for birdie two holes later. Still, without Lefty lighting the place up, or without Woods somehow finagling his way into contention despite struggling with every aspect of his game, this Masters wouldn't have been nearly as sexy. Or half as interesting.
The two superstars began their afternoon with a friendly exchange of barbs and taunts from adjacent tables over lunch. Tiger and Mickelson might not be best buddies, but there is an obvious level of respect, and the two have coexisted nicely at times in recent years. "It was fantastic," Lefty's caddie, Jim Mackay, said of the on-course relations. "You could tell they were having a great time, saying 'good shot' to each other. It was the most fun I've ever had on a golf course."
It could have been better. Mickelson's massive surge from seven shots back took flight with six birdies on the first eight holes—he joined Greg Norman as the only guys to shoot 30 on Augusta National's front nine on a Sunday. Norman did it in 1988 and went on to card a bogey-free 64. Philly Mick did no such thing: He crashed hard and burned fast. After what sounded like an overruling of Mackay's call for an 8-iron at the par-3 12th, Mickelson chose a 9-iron, a case of addition by subtraction that will do nothing to help a man add to his green jacket collection.
One less club equals two extra strokes. Mickelson pulled the shot enough to land it on the front-right bank, where it had no chance of staying dry. "I made a terrible swing to miss it that far from where I was aiming," he said. "I just yanked it. The ball went dead right." A 15-foot miss for bogey dropped Mickelson to eight under for the week, three behind Perry and Campbell, but with a pair of par 5s in his short-term future, Lefty would have chances to turn the wrong into the other kind of right.
He and Woods both cashed in on two-putt birdies at the 13th, but after a spectacular approach stopped four feet right of the flag at No. 15, Mickelson didn't so much as hit the hole with his eagle try. What made the miss even more inexcusable is that Tiger had just given Lefty a terrific look at the line with his eagle putt, a 12-footer that missed high.
"I thought both times I was back in the tournament," said Mickelson. "The one on 15, I was pretty tentative. Initially, I thought it was going to break left, then I saw Tiger's putt go up to the hole and move right."
It was the third of four wasted strokes on a day when Mickelson shot 67 and climbed to within a stroke of the lead on two separate occasions. He made a valiant charge but was undone by some late flaws, which, come to think of it, is better than no charge at all. Not since 2004 had a Masters produced so much Sunday excitement or the abundance of red-numbered scoring that has given this tournament such a strong identity.
Compared to the yawnfest of 2008, when the top 24 finishers combined to shoot 43 over par on Sunday, last week's gathering was outrageously entertaining. The top 19 guys were a combined 46 under, and just three of them failed to break par, all at 73. Four days of ideal weather obviously helped, but Augusta National's greens were more receptive, and perhaps even a bit slower, from the very start.
Despite lots of green-light flags and the rousing return of the reachable par 5, the friendly little ballpark still had a ton of venom for anyone who dared to enter the hunt, although nobody gulped down more poison than Perry. "I feel better about it now that I've heard him talk about it," said his wife, Sandy. "I don't think he'll beat himself up over this like he did after Valhalla."
That playoff loss at the 1996 PGA Championship didn't exactly tickle, but on paper, the anguish factor has to be much greater this time. At no tournament do you blow a two-stroke lead with two holes to play without feeling some hurt, but this one?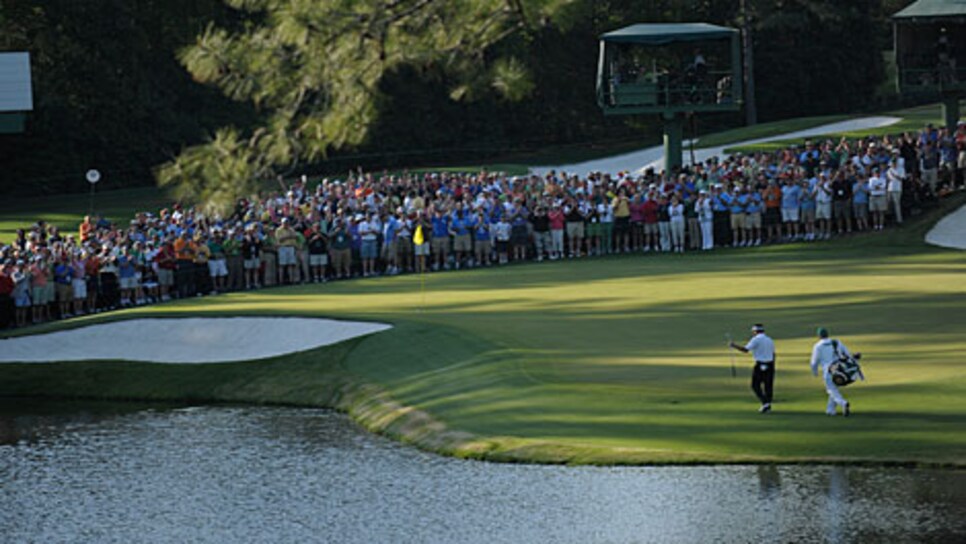 "I've got two [major losses] to think about now, but I'm not going to feel sorry for myself," said Perry. "If this is the worst thing that ever happens to me, I can live with it. Great players get it done, and Angel got it done. This is the second major he's won, and I've blown two, but you know what? I'm looking forward to Bethpage Black. I'm looking forward to the British and the PGA."
For all that was said about Perry missing majors last year—he didn't qualify for the '08 Masters, skipped the U.S. and British Opens to bolster his Ryder Cup prospects in Milwaukee and withdrew from the PGA with an eye problem—the biggest crime committed by his absence is that he has the talent and experience to excel at any of the four. Especially the one he just squandered.
His nerves let him down last Sunday, bringing an exhilarating week to a dark close, but at some point during the 73rd Masters, the golf course went from being the story to merely the setting. Human beings moved front and center, their emotions laid bare, while others found their lives changing on the fly. That's what this golf tournament should be all about. The people who play it, not the grass they play on.