News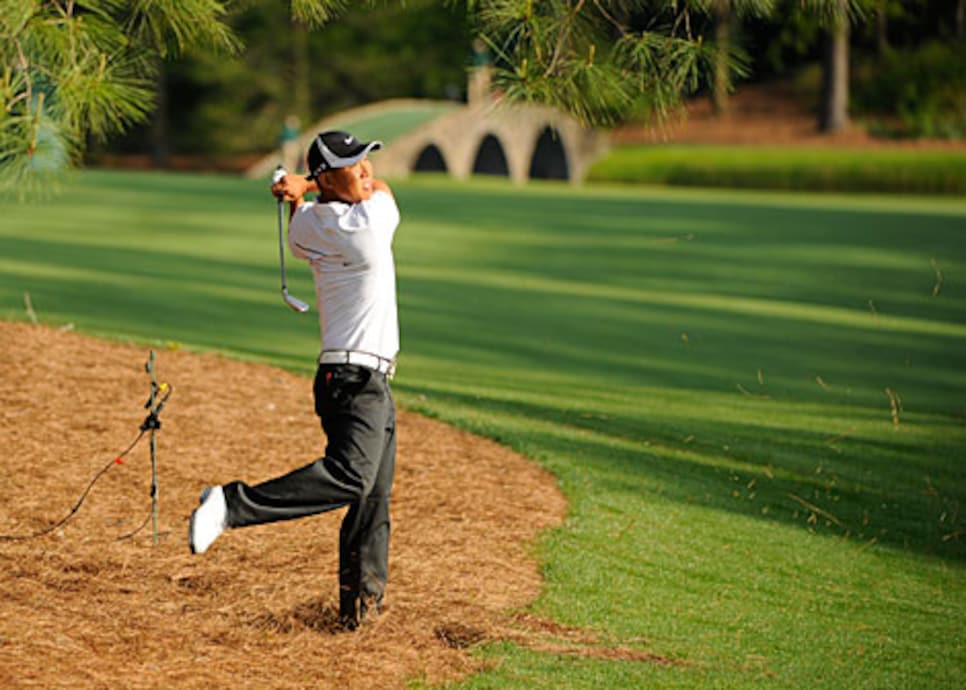 STRAW MAN: Kim, whose Masters debut included a majors-record 11 birdies during his second round, downplays his age (23) as a factor in the heat of battle. He finished T-20.
This was going to be the iPod Masters, full of texting teens ready to rock, but the man who almost won it is old enough to know about eight-track tapes, and the man who did won't stare at you funny if you ask him what a Walkman is. Major championship golf is funny that way, quick to tease about the potential of youth but more apt to reward (notwithstanding a select group of icons, from Gary Player to Tiger Woods) someone who has been around for a while.
Augusta National GC, even the scoreable setup the green jackets served up for this edition, is no course for old men, because of hills that must be climbed and greens that demand nerves not yet frayed by failures on too many putts that mattered. There is a (literal) gray area, though, between rookie and rusted-out, where having been there pays off.
"Muy importante," said Argentine Angel Cabrera, 39, summing up the value of experience a day before topping Kenny Perry, 48, and Chad Campbell, 34, in extra holes at the 73rd Masters. This was the 10th Masters Cabrera has played. Perry was competing in his ninth, Campbell for the sixth time. On the 30th anniversary of Fuzzy Zoeller's 1979 victory, the last and only the third ever by a Masters first-timer, the value of knowing Magnolia Lane nearly as well as your driveway was reaffirmed.
The trio of playoff participants was joined in the top 12 by six golfers 33 or older, along with Hunter Mahan and Sean O'Hair, both 26, and John Merrick, 27. Including this year's tournament, the dozen players atop the leader board have played in 99 Masters, an average of about eight appearances each. Cabrera, the 2007 U.S. Open champion, was slightly more than six years older than the average age of a Masters champion (32.57).
Perry has children older than the prodigies who got so much attention before and after they arrived in northeast Georgia for their maiden Masters. Ryo Ishikawa (17), Danny Lee (18) and Rory McIlroy (19) were hyped to the hilt, teenagers from three different countries (Japan, New Zealand, Northern Ireland) but with a common precociousness. Ishikawa and McIlroy are already playing for pay, Lee was in his amateur swan song and all have talent to burn. But as the threesome discovered, the Masters offers a graduate degree in grown-up golf with all the trimmings.
"I'm not one to get overwhelmed by much," McIlroy said in one of the week's first press conferences. That is not to say it was totally business as usual. "I mean, there are so many people around. It's pretty crazy, just to think this is the Monday of the golf tournament." Lee, meanwhile, soaked up the ambience in the clubhouse's amateur lodging. "Great, great history has been in that Crow's Nest," Lee said, "and I'm sleeping where Tiger slept, so that might help me play better."
Regardless of one's pedigree, there is a learning curve for comprehending how to thrive on one of golf's grandest stages. "I think when you first come here, you're over-awed by the place as well as the course," said Padraig Harrington, playing in his 10th Masters. "It's hard to get your head around everything. Your first couple of years, you're trying [in practice rounds] to hit a putt from every angle on the green and cover every chip shot, but after a few years, you realize that's not going to happen. You just have to settle for being able to adapt."
Even the most agile golf minds, seasoned and successful ones, improvise at Augusta National like nowhere else, save the British Open in a gale. "You get any kind of wind around this place," said four-time Masters champ Tiger Woods, "and it is absolutely amazing." Woods relayed his experience in a Monday afternoon practice round at No. 12, where the landscape (tall forests and open spaces at the low corner of the course) causes swirling breezes that would defy a weather war room full of meteorologists. In a matter of a few seconds, Woods' club selection went from a 7-iron to a 6-iron to a 5-iron to an 8-iron to a 6-iron.
It turned out not to be a particularly windy tournament, but for the three marquee newcomers, conditions were plenty tough. Ishikawa and Lee missed the 36-hole cut. McIlroy was scrutinized for possibly violating a rule by kicking the sand in a bunker on No. 18 during the second round but was exonerated and allowed to play on, firing a final-nine 31 Sunday to finish T-20 at two-under 286.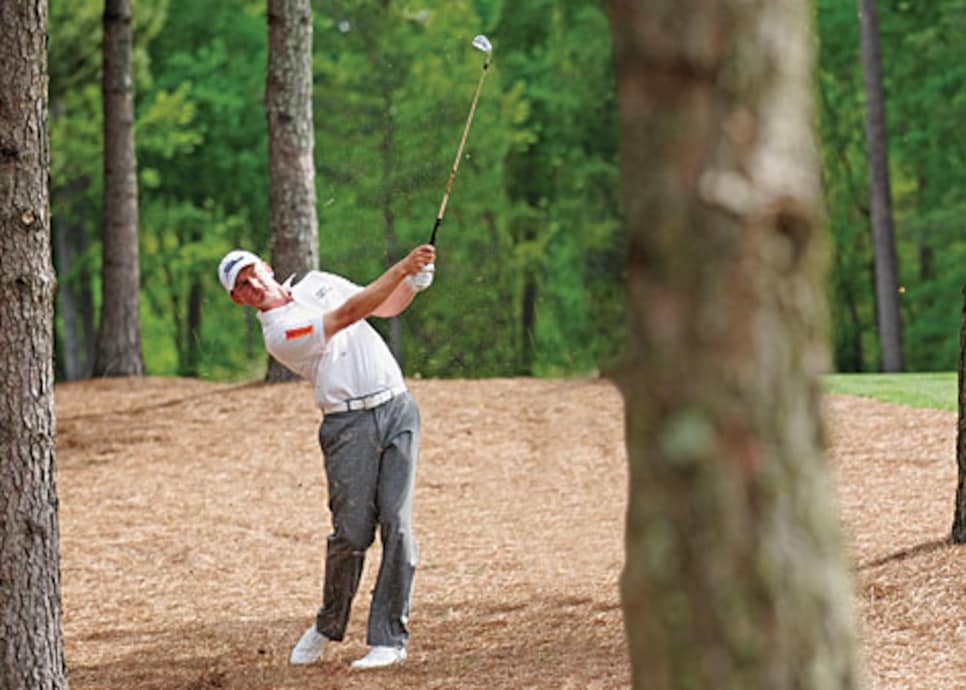 "When I come back here next year, I'll know where the influences on the greens are, and every year you learn a little bit more about the course," McIlroy said. "It's not difficult, it's tricky. You can get away with a lot of tee shots here, but around the greens is tricky. If you just miss it by a couple of yards, you're 40 or 50 feet away. But if you're on your game, there's a really low one out there."
Another Masters rookie who also was T-20, Anthony Kim, sure knew that feeling. Kim, 23, made a majors- record 11 birdies during a second-round 65. "When I'm inside the ropes, I don't know how old I am," Kim said, addressing his relative youth. The same could be said for a pair of former champions, both north of 50, Larry Mize and Sandy Lyle, who finished in the top 30.
"There's a lot of experience, a lot of good play in these old bodies," observed two-time Masters winner Bernhard Langer of his generation. The most stirring of them was Perry, who was on the leader board all week and had a two-stroke lead with two holes left Sunday while threatening to break a record that has stood for four decades: the late Julius Boros' victory in the 1968 PGA Championship at 48 years, 4 months and 18 days.
Although Woods' dominance has been the principal plot on the PGA Tour since he turned pro in 1996, a strong secondary theme has been the standout record by those 40 and older. With 22 of his 34 career wins coming in his 40s, Vijay Singh is the most successful 40-and-over golfer in history, collecting five more victories at that age than the durable Sam Snead. Singh is a gym and practice-range fanatic, which helps explain his staying power. Perry doesn't neglect his game—in fact, becoming an empty-nester has allowed him to spend a bit more time practicing—but no one will ever mistake him for a workout animal.
"We don't know why," Perry's wife, Sandy, said about the fact that 10 of her husband's 13 career wins have come after his 40th birthday. "He continues to work hard and be positive. He still has a desire to win. He's a very self-motivated person, but why he's able to still win when others aren't, we don't know. But it's got to feel good to beat somebody half your age."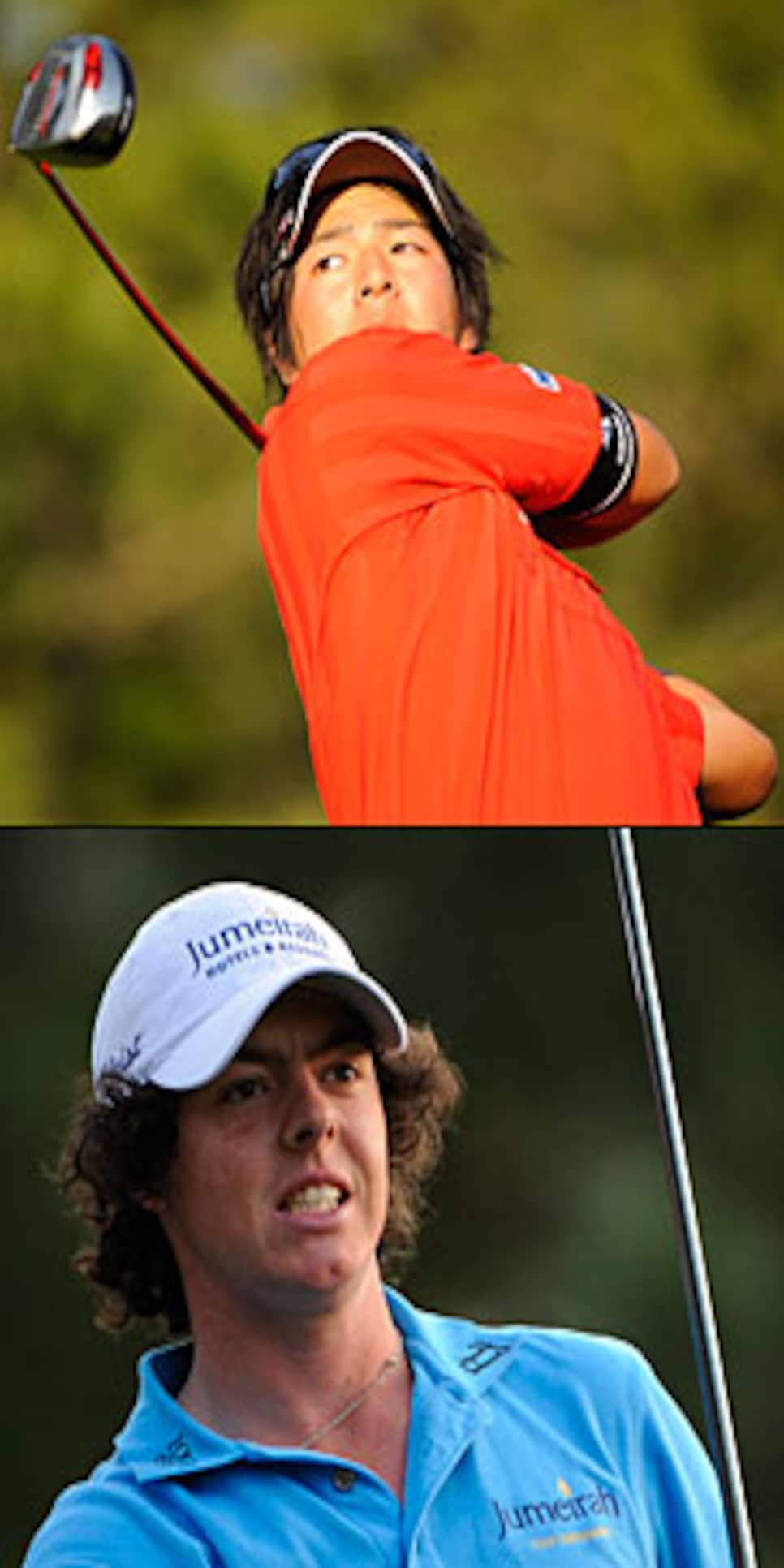 Perry has been content to maintain his unique, lift-instead-of-turn backswing rather than reconstruct it, but his larger approach has evolved. "Through the years I've been able to try to channel my energy and calm myself down on the course," he said. "When you get under the gun and under pressure, you've got to figure a way to slow your heartbeat down, slow yourself down, and just make a nice, smooth pass at it."
That last bit of Perry's self-talk would have been easy-listening music to Boros because few golfers had as syrupy an action as the accountant who didn't turn pro until he was 29. An early adopter of the flop shot and a master out of greenside bunkers, both honed from constant practice, Boros ambled to his ball and didn't dally when he reached it. He possessed one of the best pair of hands to ever grip a club, and had an effortless-looking swing that resembled, in Tony Lema's words, "a man dusting the furniture."
Boros' win at the 1968 PGA was his third major triumph, to accompany U.S. Open wins in 1952 and 1963, the latter in a playoff with Arnold Palmer and Jacky Cupit. The winner of 18 tour titles, Boros had nine top-five finishes in the U.S. Open between 1951 and 1965 and contended seriously for a fourth national championship in 1973 at age 53, leading at Oakmont CC with 10 holes to play, eventually, along with everyone else, becoming part of the set decoration for Johnny Miller's victory on the strength of a final-round 63.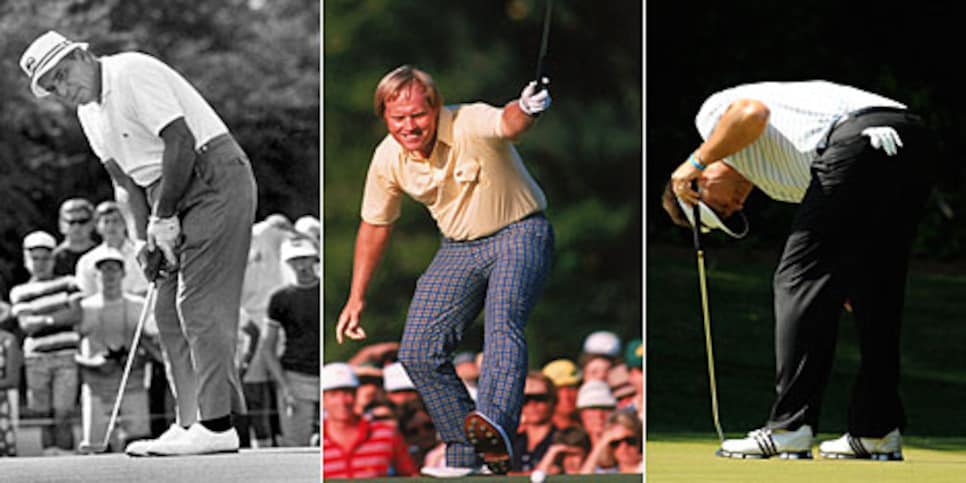 Photos: ap; PHIL SANDLIN/ap; j.d. cuban
Golfers who claim majors in middle age usually are household names who have been winning regularly for years, from Old Tom Morris and Harry Vardon to Jack Nicklaus and Raymond Floyd. But for every veteran success story there is a heartbreak or two. When he was 50, Vardon was in the picture at the 1920 U.S. Open but had a cruel finish when the wind kicked up and his putting got yippy. At 54, in the 1967 Masters, Ben Hogan's third-round 66 moved him within two shots of the lead, but he struggled to a 77 the next day. Nicklaus had two fantastic days at the 1996 British Open but faded badly on the weekend. Two years later in the Masters, at 58 and with a creaky left hip, Nicklaus charged on the first nine Sunday and stunningly was in position to eclipse his heroics of 1986, but the script was four strokes short of miraculous.
Perry's Sunday timeline was similar to Floyd's final day at Augusta National in 1990, when a bogey at No. 17 cost him an outright victory at age 47, and he lost a playoff to Nick Faldo by hitting his approach into the pond on No. 11. Floyd, who ran away with the 1976 Masters, had three rounds in the 60s in 1992, when a victory would have made him the oldest major champion at 49. But a closing 71 left him two strokes behind winner Fred Couples, who would mount a formidable run for another green jacket 14 years later when he was 46, finishing T-3 in 2006, three shots back of Phil Mickelson.
As he prepared to play the par-3 16th hole in the final round, Perry was a portrait in calm, a tee toothpick-style in his mouth, toweling his hands dry like a league bowler in a familiar lane waiting to take care of an easy spare. Looks could have been deceiving, especially for a player with a spotty major record (only five career top-10s and little emphasis on them) except Perry stiffed his 8-iron to a foot, setting up a stress-free birdie.
With the perfect shot Perry hit there, it seemed impossible to imagine the perfect storm of errors that was only minutes away. Bogey-bogey by Perry to fall into a playoff, another on the second playoff hole to lose. Experience is wonderful, but excellence is better. Perry has a remarkably good perspective on his life, and in the gathering twilight, as Cabrera collected his green jacket, Perry needed it. Golf can be a mean craft, full of sad songs. His nice, smooth pass at history had turned into a tease. McIlroy and his young peers will find out. Everyone does, sooner or later.