News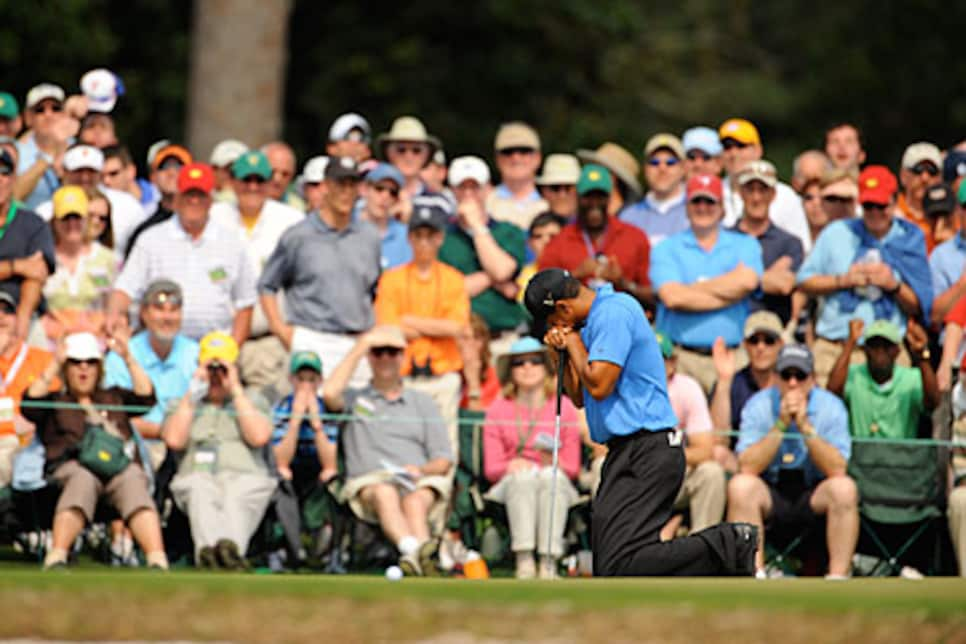 Down and out: "It was just terrible," said Woods of his mistake-filled rounds. "I don't know what was going on. It was just frustrating."
Is he back, or not? Is he better, or worse?
A couple of weeks after the answers seemed obvious, it's suddenly tricky to know exactly what to think after Tiger Woods finished tied for sixth at the 73rd Masters with rounds of 70-72-70-68.
Sure, the consternation over the post-injury prodigal is just an extension of the customary second-guessing that has long attended Woods in defeat. But at the very least, it might be time to conclude that for all the long-held presumptions of Woods owning Augusta National, he really doesn't play the redesigned course all that well.
Since 2003, Woods has shot only six rounds in the 60s out of the 28 he has played on the dramatically lengthened course, and Sunday's 68 was the first time he has broken 70 in the final round on the new course. Also, his four-year stretch without winning a green jacket is the longest of his career.
It was a puzzling week for the world's No. 1-ranked golfer, full of clumsy mistakes and missed opportunities and frustrations, but without the offsetting miracles of last year's U.S. Open at Torrey Pines. Woods had 122 putts, a total exceeded by only three players among the 50 finishers. He was only two-for-six in sand saves, and several mediocre chips cost him. He seemed to get fooled by the wind or be off on his distance control repeatedly, and he admitted Saturday, "I've been a yard out all week, and a yard out around here means you end up 40 feet away." He also bemoaned a two-way miss with his driver, highlighted by two shocking pull hooks off the first tee that were reminiscent of his opening-hole travails at Torrey. And although he hit a lot of good putts, he left many more short. Most crucially, and uncharacteristically, he couldn't seem to close out his rounds, bogeying the 18th hole three times and never hitting the green in regulation.
The result? The most infuriating Masters of the 15 Woods has played. It's a thesis supported by a week in which his demeanor could be described as stone-faced and smoldering. After his second-round 72, he gave swing coach Hank Haney an earful on the practice range, a session that caddie Steve Williams had walked away from, at least until Woods cooled off. Sunday, after a fast interview with CBS' Bill Macatee and four more terse answers with print journalists, his last words before blowing by TV cameras in front of the clubhouse and making for Orlando were, "It was just terrible. I don't know what was going on. It was just frustrating."
So the speculation will begin again. For all the great wins since he began working with Haney in 2004, have the swing changes been the right ones? Is the relationship with Haney in jeopardy? Is there lasting damage in the left knee? Did Woods try to accomplish too much, too soon? Has he simply changed?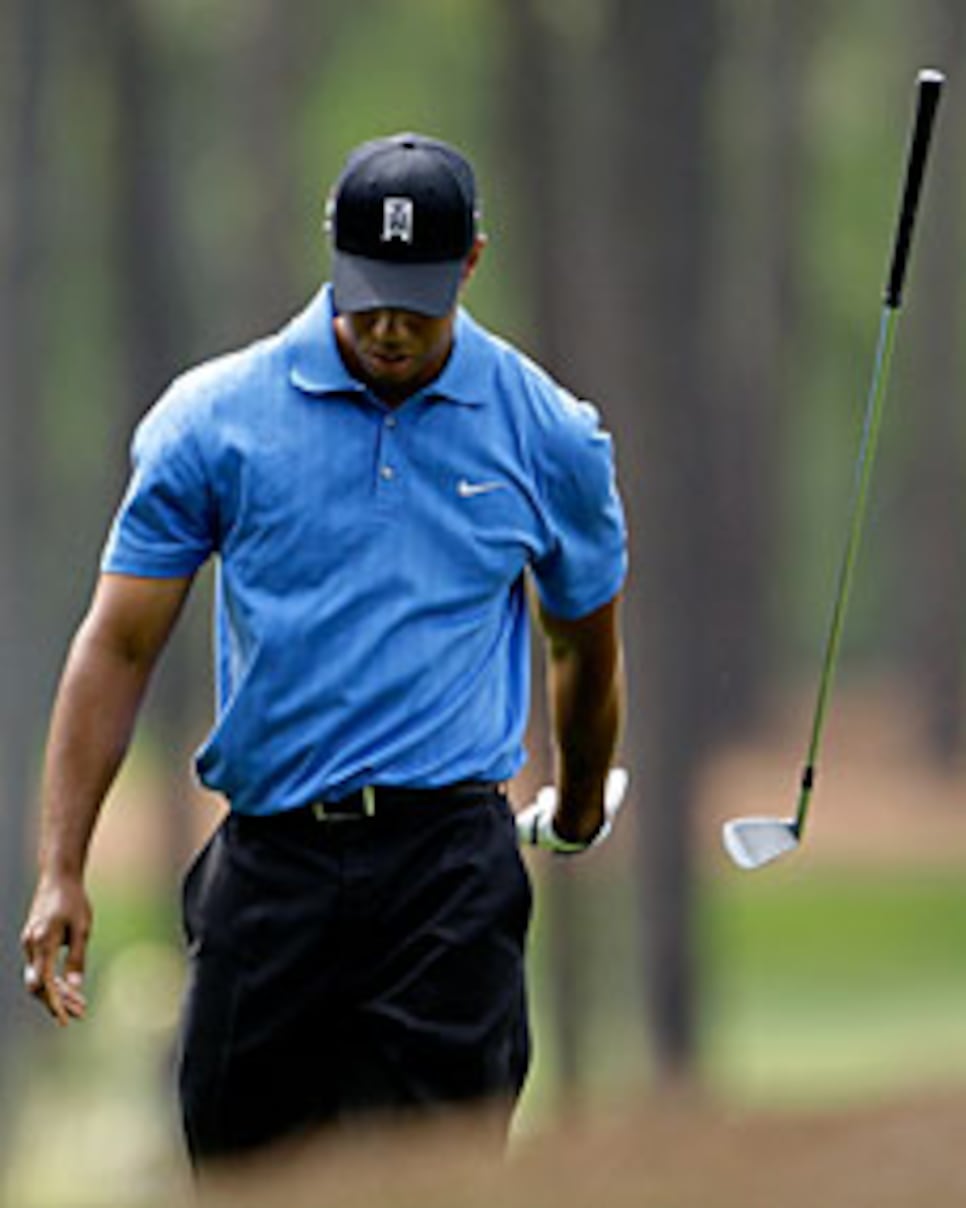 We shall see, but the main problem at Augusta—besides the unpredictable nature of competitive golf—was most likely the weight from Woods' enormous expectations. The Masters had been his goal ever since he began rehabbing his knee last July, during which he invested unceasingly rigorous work on both his body and his game. In the second event of his comeback at Doral, he exhibited the kind of variety and control in his shotmaking that convinced many observers he would be better than ever. When the putter and the short game showed up at Bay Hill (in retrospect covering up the beginning of inconsistencies in his long game), he won. The parts seemed to be in place, primed for a fifth green jacket and the first leg of the Grand Slam. Asked Tuesday to discuss the biggest question mark he carried into the Masters, Woods answered, "For me? How the golf course is going to be playing." That's it? "Mmmm." Translation: I'm ready.
But the internal pressure that Woods carries in majors—which at his best he tempers with an air of serenity—seemed palpable at Augusta. Dealing with it is likely going to remain a vital issue as Woods gets older. At this point in his career, Woods plays almost exclusively to win majors, which makes them an essentially all-or-nothing proposition. He indirectly made this clear when explaining why he voted for Padraig Harrington for PGA Tour Player of the Year in 2008, even though in less than half a season he compiled more victories and was more consistent. "Paddy won two. End of ­story," Woods said. When only winning can bring pleasure, and everything else produces displeasure, that's ­pressure.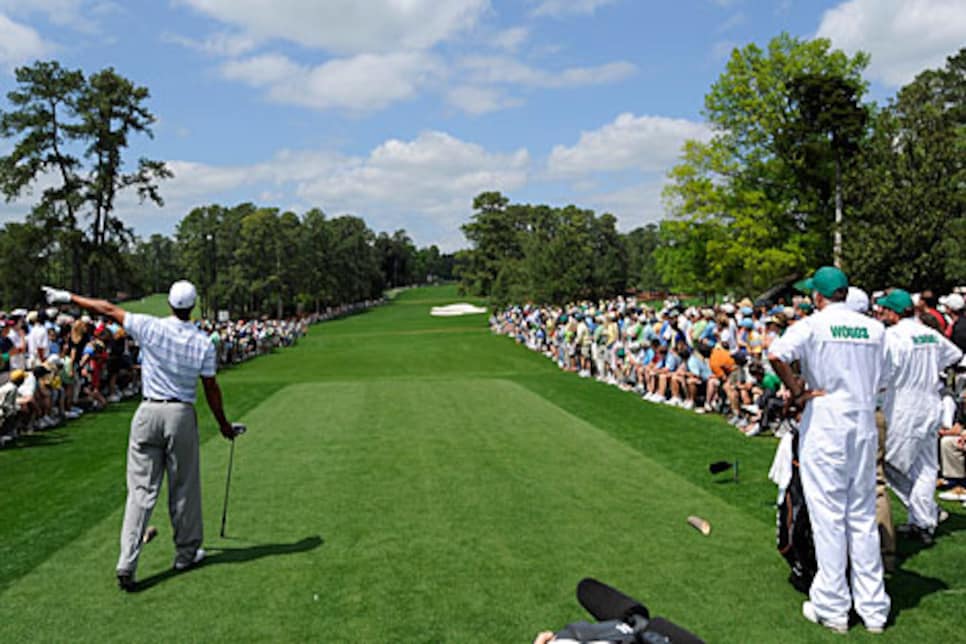 The dangerous result can be nervous swings and a style best described as playing not to lose. At Augusta, Woods hit the ball shorter than usual, often going with a low flying cut instead of a longer flying, but theoretically less controllable, high draw, ultimately finishing T-20 in driving distance with an average of 280.5 yards on the wet fairways. In their electric pairing Sunday, Phil Mickelson, picking up some extra yards with a 46-inch driver, consistently outdrove Woods, a few times by more than 20 yards.
It was almost as if Woods underestimated how the course was set up for offensive golf. "Yeah, I didn't expect it to be that low," Woods said of the scoring after the first round. "When we went to the golf course we thought probably five under would be leading by the end of the day."
In essence, Woods chose a safer, conservative strategy rather than something more akin to the explosive style he unleashed when he won by 12 in 1997. It's natural to doubt whether he still has that gear and, if he does, whether he should even use it. Woods acknowledged Tuesday that it has gotten harder in the modern pro game to win by multiple strokes. "The fields are getting deeper," he said. "With the equipment technology, guys' margins of mis-hits are not going as far off line. The game is getting closer and closer together. It just makes it harder to win."
It also makes avoiding mistakes that much more important, as Thursday showed. After getting back to even par with a 20-footer for birdie on the ninth, Woods birdied 13, 14 and 15 and looked as if he would be among the leaders. But then he missed a 10-footer on 16 and power-lipped a four-footer on 17 after a beautiful pitching wedge from 141 yards. The killer came after a great drive on the 18th, when Woods intended to play a low-spin, three-quarter 8-iron to a back pin 146 yards away. Instead, he swung too hard and flew the ball over the green, from where he was lucky to make bogey. "It was unbelievable," Woods said of his approach. "I hit just a little 8-iron, and it flew 155, uphill." More maddening was that it kept his lifetime Masters streak of never having bettered 70 in the first round alive. "Basically," he lamented, "I was in position to shoot four under par and just didn't get it done."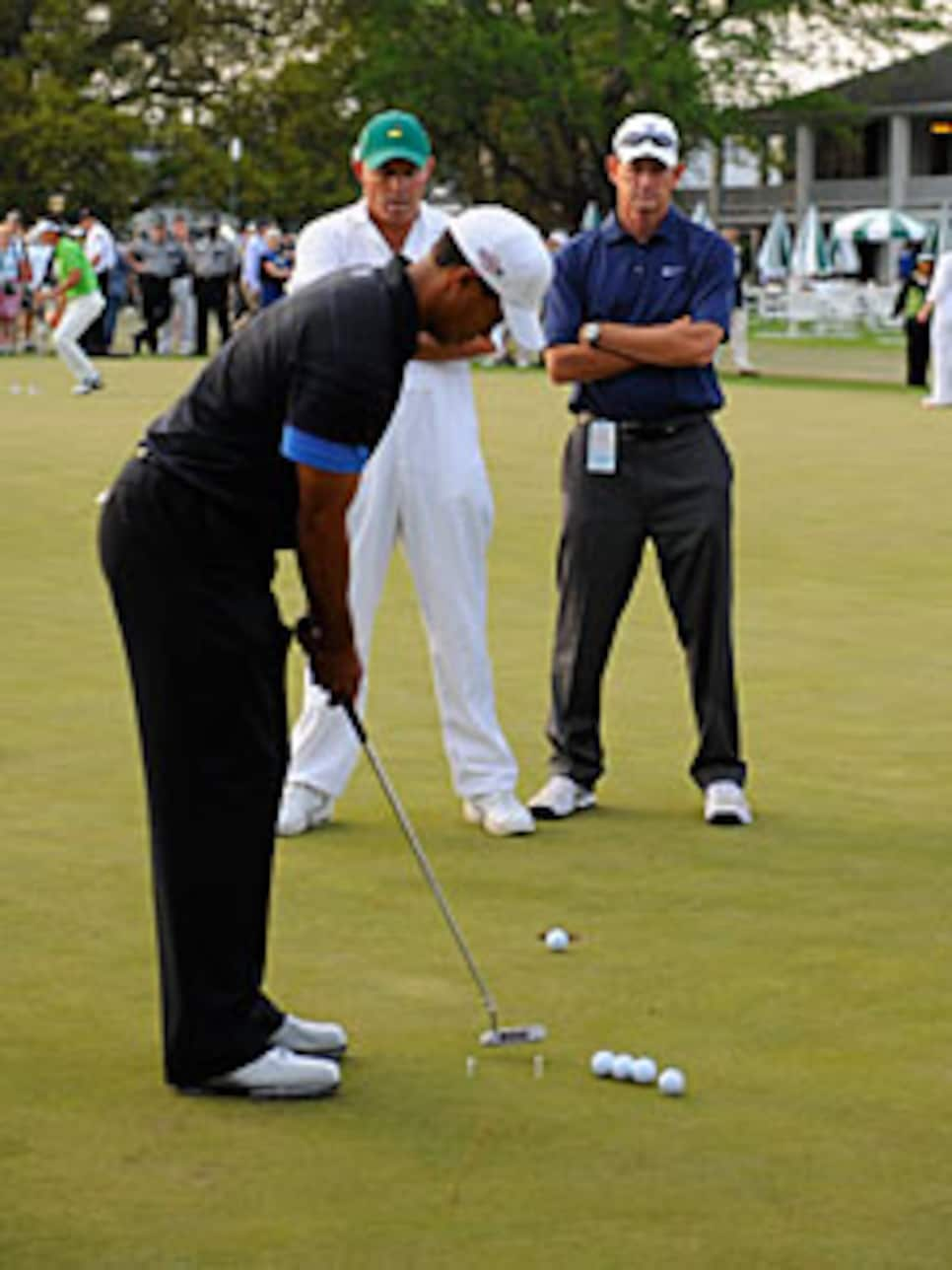 The slow burn had started, and quickly got white hot Friday. After booming a drive on the first, Woods left an indifferent wedge 45 feet short. He followed a good drive on the par-5 second with a pushed 3-wood into the greenside bunker, from where he failed to get up and down. He nearly drove the short par-4 third, but again a poor chip left him a longish birdie putt, which he failed to convert. When Woods finally made birdies on the sixth and eighth holes, he followed them with bogeys on the seventh and ninth. He failed to birdie the 13th (for the week, Woods was a relatively ordinary 11 under on the par 5s) and came to the 18th three under for the tournament and six behind. After another big drive, he shockingly pushed a pitching wedge into the greenside bunker, eventually rimming a six-footer to finish with another bogey.
Steaming, he marched to the range and immediately—and uncharacterically—began pounding drivers. Williams, reading the moment, got away. Haney, who stayed to face the heat, got an earful. Woods eventually cooled off, had a long exchange with Haney and gave the fans who applauded his longer than usual hour-long session a grateful, if clearly discouraged, wave.
Still, the necessary serenity was gone, and with it went the confidence in his swing. Woods' subsequent warm-up sessions featured more erratic shots and slumped shoulders. When he opened the third round with a double bogey—drive into left trees, recovery right of the green, fluffed pitch 50 feet short and three putts—his tournament seemed over, especially when he followed with a wildly pushed drive on the second.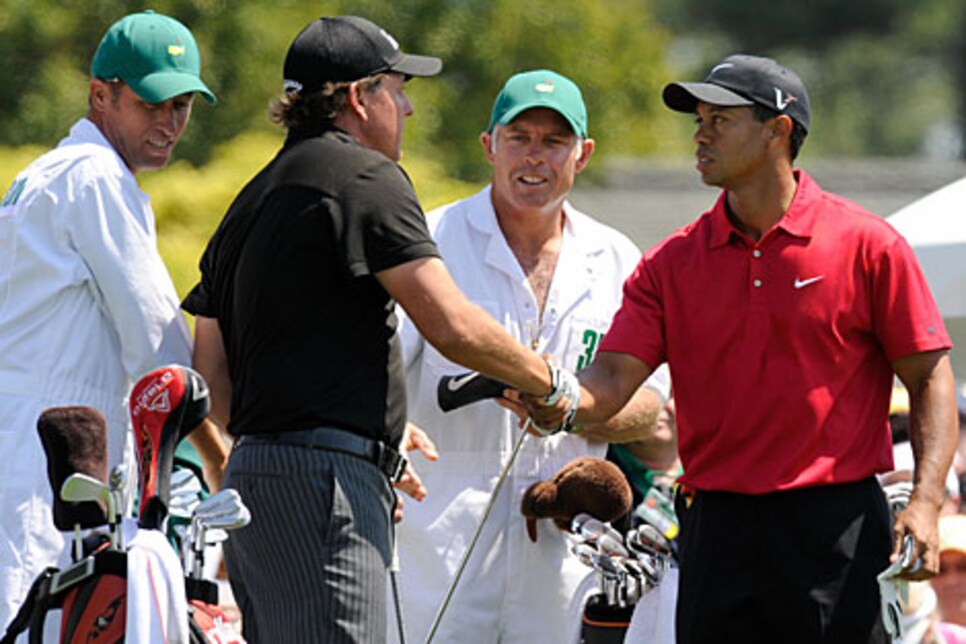 But Woods' pride kicked in. He dug deep and steadied, making only one more bogey against five birdies to post 70 and finish a barely-within-reach seven behind. "Man, I fought hard to get it back today," he said, trying to find a positive note. "That was a hell of a fight."
Still, his mood remained dark. Asked what he thought when his 6-iron to the sixth hole hit near the bottom of the flagstick and bounced 40 feet away, he said, "You don't want to know my thoughts."
Needing to run the table Sunday with no worse than 65 and matched up with Mickelson in a dream pairing, Woods nonetheless hit the ball so poorly on the range that he later called it "one of the worst warm-up sessions I've ever had." When it ended, he looked at Haney and said almost resignedly, "We got what we got. Let's go." He promptly pulled his first drive some 80 yards left, the ball stopping more than a full fairway off line.
But spurred by Mickelson's play, Woods began a run of solid and aggressive golf that gave him a chance. Determined to make something happen on the par-5 eighth, he unloaded a huge 3-wood more than 260 yards uphill and over tall trees to 25 feet of the pin—his best shot of the tournament—and then rammed the putt in for eagle. "That putt was all about Tiger saying, 'I want 3,' " said Mickelson's caddie, Jim Mackay. "It was very, very cool."
On the 15th, Woods hit a majestic 3-iron approach that settled 12 feet away, and the eagle putt just stayed on the high side. In full flight, he stuffed a punched 7-iron next to the pin on the 16th, and cruised in the treacherous downhill four-footer. Through sheer will he had reached 10 under, two shots off the lead.
But just when Woods needed to produce the control under pressure that most distinguishes him, it wasn't there. He pulled his drive on the 17th behind trees and had to punch out to the right of the green. He had a fairly straightforward chip, but ran it 12 feet by and made bogey (the fifth time in the last eight Masters he has bogeyed that hole in the final round). With almost all hope gone, Woods flared his drive to the right on 18, saw his recovery ricochet farther right off a trunk, and after a last gasp wedge to eight feet, missed the par putt. It also meant he had lost to Mickelson by one.
Searching for a quick rationalization before getting away from the inquisitors, he said, "I hit it so bad warming up today. I was hitting quick hooks, blocks, you name it. I hit it all on the range, and then on the very first hole I hit it [almost] into the eighth fairway. It's one of the worst tee shots I've ever hit starting out. I fought my swing all day and just kind of band-aided it around, and almost won the tournament."
Though they are words sure to make Haney wince, he took a bullet for his player. "Tiger worked as hard as humanly possible to come back for the Masters," said the swing instructor after the dust had settled Monday morning. "Maybe a little more tournament play would have helped, but he did everything he could. There were a lot of things that you can point to in his not winning, but all it does is point out how hard it is to win major championships."
Especially when they've become all that really matter.