News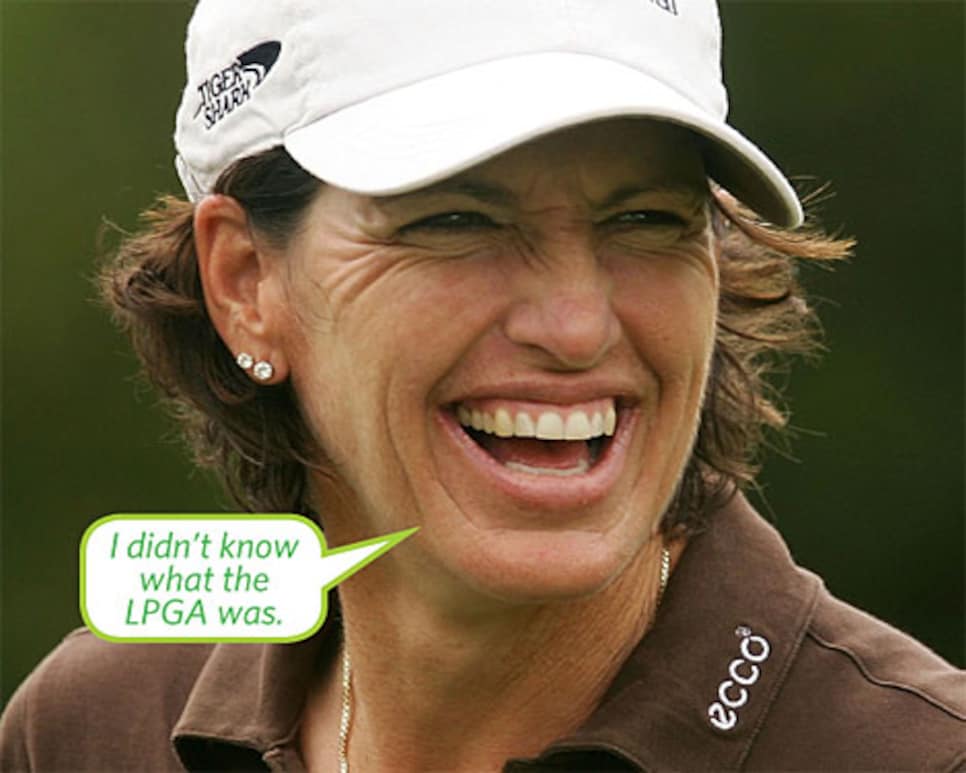 Every year at the Masters, golf writers fete a player with the ASAP Sports/Jim Murray Award for being cooperative with the media. The honor is named for the legendary sports columnist, and it almost always goes to guys. Not this year.
Grillroom: How about that, Hall of Famer Juli Inkster?
Inkster: Maybe it's because I'm 48 and people are throwing me a bone. Seriously, I'm very flattered.
You're also still very good.
When I started playing golf at 15 with the boys high school team, I didn't know what the LPGA was. Now, here I am, and I still love it. Even though I'm older than some of those girls' parents.
Back then golf wasn't cool, and girls playing anything wasn't cool.
I didn't care what other people thought. I had two older brothers who were athletic, and I loved sports too. And you're right. Now women are allowed to perspire, and it's cool. Girls who plays sports are also homecoming queens.
But they don't have bobblehead dolls named after them.
Oh, that. I won the Chick-fil-A years ago. The next year they gave out bobblehead dolls that didn't look like me. Whoever designed it gave me a chest.
Colleague Ron Sirak wanted me to ask whether you've had any spaghetti Bolognese lately.
No, we had enough of that on our [2007] trip to Rwanda. Every night. It was one thing we were sure of, if you know what I mean. But that trip was a great experience, an eye-opener. A lot of kids there had nothing except hope. Give them a piece of candy, it was like they hit the lottery.
Your two children, Hayley and Cori, were there too.
Also an eye-opener for them. I've been very fortunate. I have a great husband, Brian, and we didn't have children until I was 30. I was away a lot, never more than 10 straight days if possible, and they traveled with me a lot. They turned out great. But a trip like Rwanda, it makes us all realize how lucky we are.
I'll be brief. I'm excited to see Augusta National. Never been there. I'll watch practice, dazzle my audience, then go home and watch the Sharks play hockey and listen to ballgames on the radio.