News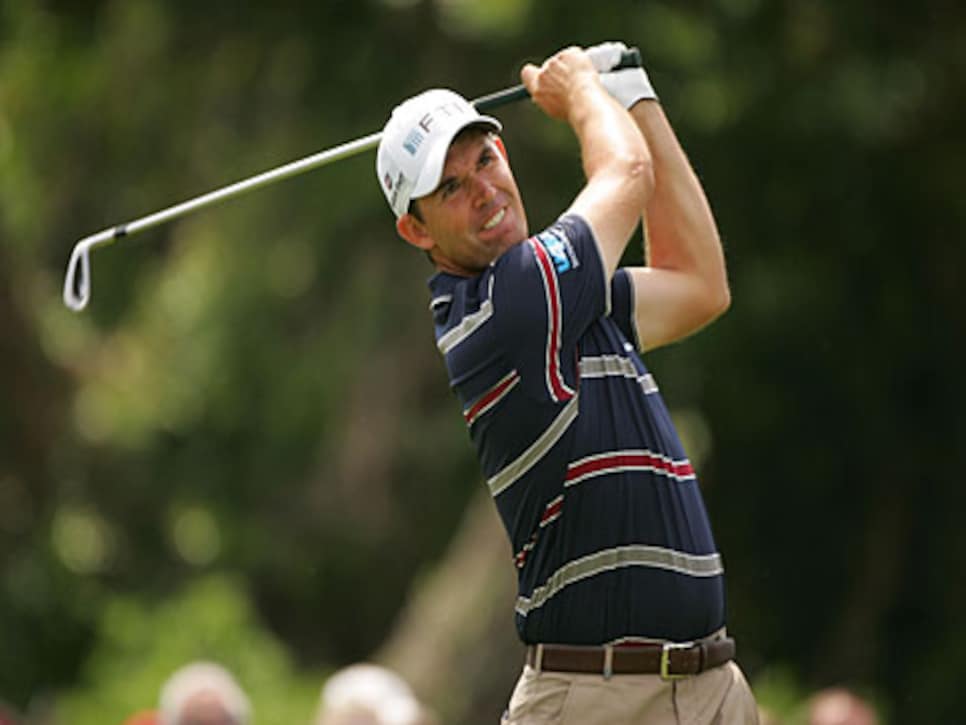 stepping stone: Harrington's T-11 at the Arnold Palmer Invitational was his best finish of 2009 as he builds toward a big week at the Masters.
A spectator crouching behind a bush to the right of the 12th fairway at Bay Hill Club and Lodge and yapping into his contraband cell phone during the second round of the Arnold Palmer Invitational inadvertently spoke volumes to Padraig Harrington about his form heading into the Masters. The Irishman stood some 50 yards away, sizing up his third shot into the par 5, and after looking around in vain for the offending party, delivered a wedge that was notably substandard for a player who has won the last two (and three of the last six) major championships.
Tiger Woods is playing his first major in 10 months, Greg Norman is returning to the Masters for the first time since 2002, and Phil Mickelson is gearing up not only to capture another green jacket, but perhaps overtake Woods atop the World Ranking—but only one player will be vying for his third straight major title.
And he's not quite ready for it. Not yet, anyway.
"That's a telling point right there, because if I were doing things right, I wouldn't hear anything at all; I'd be going about my business," Harrington, the reigning British Open and PGA champ, says of the talking-shrub incident. "At times of late I've been distracted, and that's a sign I'm not where I need to be. I'm not all there at the moment, but I certainly believe I can get there."
Why shouldn't he believe it? With his quick and efficient swing and cerebral evolution, Harrington, whose T-11 finish at Bay Hill was his best of the year, finds himself in stout company. Since the Masters' inception in 1934, only two other men—Woods in 2001 and Nick Price in 1995—arrived at Augusta National GC having won the final two majors the previous year. Woods, of course, won the Masters to complete the Tiger Slam. Price missed the cut.
"Padraig goes about things his own way, and, obviously, he has found a way to raise his game for the majors," says Northern Ireland's Darren Clarke. "We know what he's capable of doing. It would be a foolish man to bet against him."
The first European since James Braid in 1906 to defend his British Open title successfully, Harrington has been talking about and preparing for the Masters for longer than he would care to, virtually since his 15-foot par putt locked up his two-stroke victory over Sergio Garcia and Ben Curtis in the PGA at Oakland Hills CC last August. At times this season he has struck shots and wondered how effective they would be at Augusta, which dispels the notion that he mulls a potential "Paddy Slam" only when asked about it.
But if Harrington is feeling any pressure to join Woods and Ben Hogan as the only players to win three straight professional majors, he displays few signs. His exchanges with the media the last month have been thoughtful and thought-provoking. There has been nary a hint of impatience or exasperation with the repetitive inquisitions that boil down to this: Is he ready for the Masters?
In one sense, no, but Harrington, who has finished T-7 and T-5 in his last two Masters starts, won't apologize for it or agonize over it. There is a larger picture beyond the beguiling borders of Augusta National and beyond the constrictions of a calendar year.
"Does it make much difference whether I win this one or win one in a year's time or two years' time?" Harrington asks. "It doesn't have to happen this time around. I'm not going to get drawn into [a mindset where] if I go to the Masters and don't win that there's a failure in that.
"Learning to deal with all of this, the distractions, will help me improve in the future," he adds. "The three events I'm going to play this year, the Masters being potentially my third major [win] in a row, the Open being potentially my third in a row, and the PGA defending … three tournaments this year that are not going to be your regular events. But I will become a better player because of it."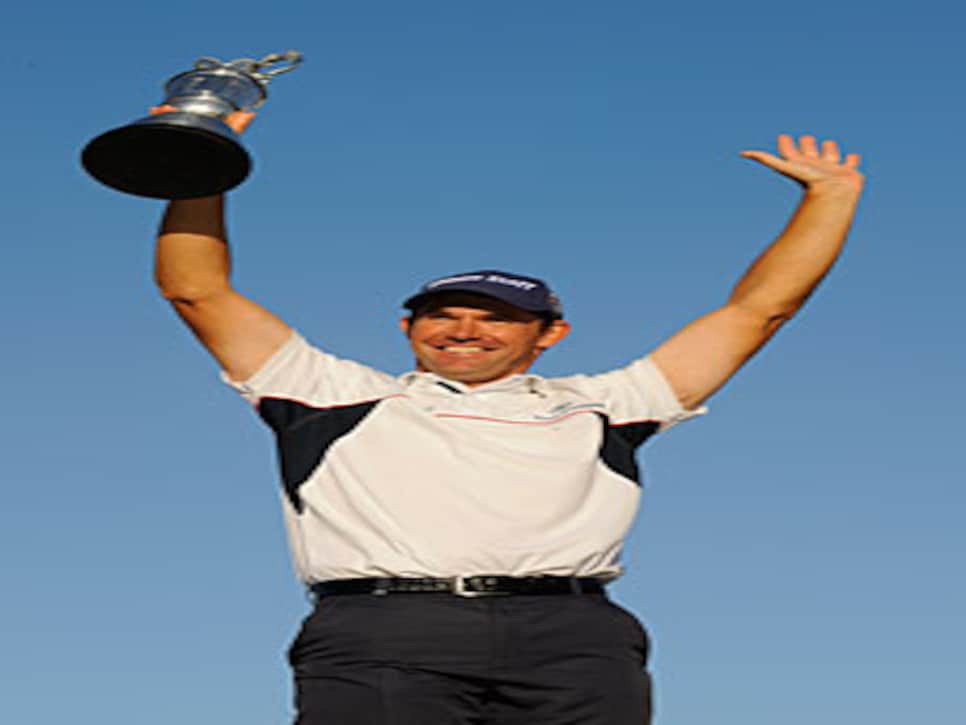 Woods, of course, can empathize with Harrington as he weathers the scrutiny under which Woods constantly operates. He remembers the gap between the 2000 PGA and the '01 Masters "seemed like an eternity, with all the questions each and every day." But Woods surmises that Harrington no longer questions himself.
"It's all about confidence. It's just a matter of proving to yourself that once you do it once, it becomes a little bit easier to do it again," Woods says. "The way he came back after making a mistake there at Carnoustie [at the '07 Open], his two back nines last year, I believe it was 32 on both of them … to do that on the back nine on Sunday of a major championship is awfully impressive."
Harrington wasn't always comfortable in such situations, but now he relishes the challenge. Just the way he talks about last year's PGA indicates what kind of threat he will represent when he drives down Magnolia Lane. "As I stood on the ninth green [at Oakland Hills], I was excited about getting to the 10th tee," Harrington says. "It was like, 'I can't wait to get to the back nine of a major in contention.'
"You could nearly draw a line in the sand walking off the ninth green to the 10th tee," he said. "Up to that stage you're thinking, 'I don't want to lose this major.' And then the last holes you're thinking, 'How can I go about winning it?' It goes from being a marathon for the first 63 holes to a sprint for the last nine holes. There's nowhere you'd like to be more than that."