News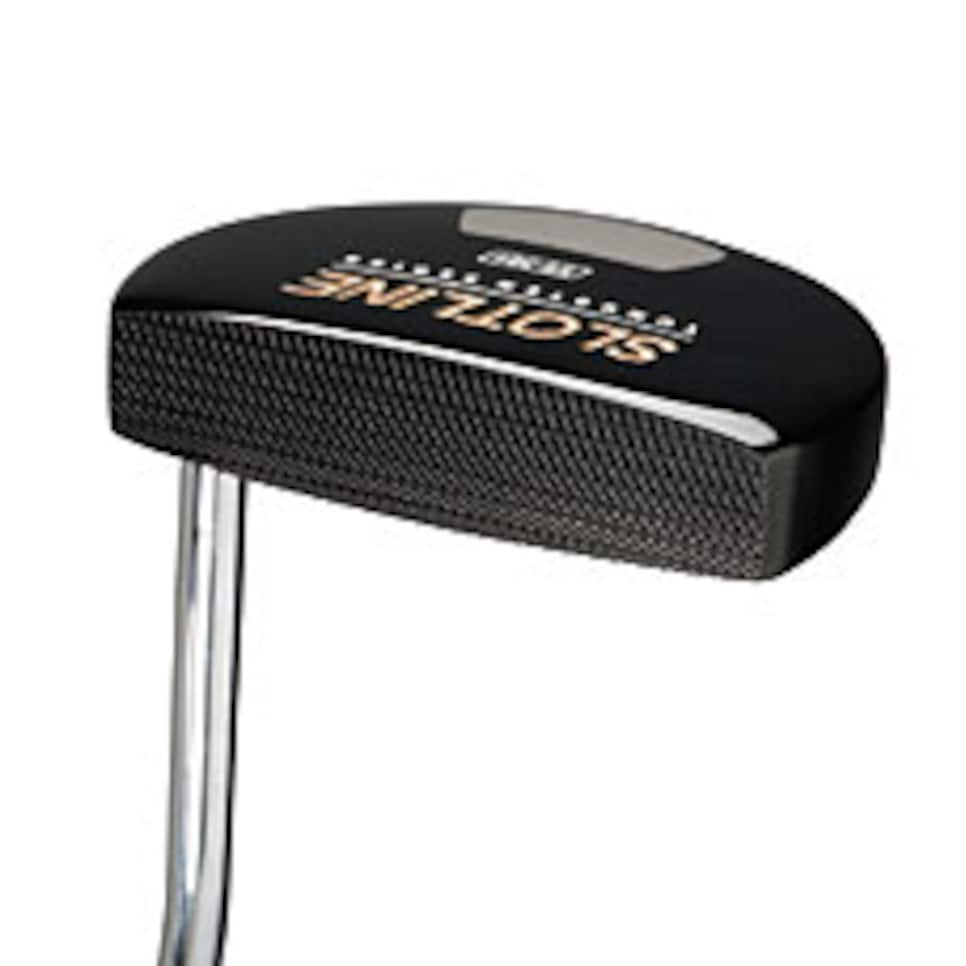 slotline ss-384: The revived putter brand returned to tour action with Tom Wargo using this club at the Cap Cana Championship.
Tour professionals are equipment tinkerers, seeking to squeeze every advantage possible out of their bats and balls. Most are content to let the designs of the equipment they use come from R&D back rooms, but a pair of former Masters champions, the late George Archer and Nick Faldo, actually put pencil to paper and have their names on patents for golf clubs.
Archer was one of the best putters of his time, and he said shortly after his Masters victory in 1969, "Holing pressure putts is not a matter of talent or divine inspiration. It's a question of confidence."
Given that statement, it is not surprising Archer filed for and was granted a patent (No. 5,135,229, assigned to Bullet Golf) for a "Golf Putter With Training Device," on Aug. 4, 1992 (shown above). The lone inventor listed, Archer created a putterhead with a pair of notches in the topline positioned slightly more than a golf-ball width apart where tees could be placed, thus creating a training aid for honing the stroke. By removing the tees, the training aid reverted back to a putter that could be used on the course.
A little more than seven years later, on Oct. 26, 1999, patent No. 5,971,866 for a "Wedge Type Golf Club Tri-Level Sole Configuration" was issued to four inventors, including Nicholas A. Faldo. The patent, assigned to Adams Golf, described the idea for a club where "The multi-level configuration includes three separate angular sole surfaces whereby the club may be placed [on the ground] at one of three different loft angle positions." Although that wording makes it appear that one wedge could do the job of three, the intent was simply to make a club that was versatile from a number of different lies.
The design was incorporated into Adams' Faldo Series wedges that featured an "asymmetric" sole. The clubs debuted in 2001, but Faldo did not use them at that year's Masters.
The inventor, however, should have taken advantage of his design concept. Faldo, a three-time Masters champion, missed the cut that year.
Who says tour players are taking advantage of all the technology available to them? Certainly Bubba Dickerson, for one, has a different take on his approach to his equipment. Dickerson won the Chitimacha Louisiana Open on the Nationwide Tour (his first Nationwide title) using a set of Callaway X-14 irons (a model first introduced in 2000) and a Callaway FT-2 drivera tour-only prototype brought out in 2004.
Gearing up for Augusta? Padraig Harrington went the double hybrid route at the Arnold Palmer Invitational, taking his Wilson Ci7 4-iron out of play and adding a second Wilson Dh6 hybrid (22 degrees). Although Harrington made the change specifically for Bay Hill, it will be interesting to see if the club stays in for the Masters. ... Even though he had the club built nearly a month ago, it wasn't until Bay Hill that Kenny Perry used TaylorMade's R9 driver. Perry, who finished T-8, ranked eighth for the week in distance and T-13 in driving accuracy.