closing the deal: Faced with a 16-foot birdie putt on No. 18 to win for the first time since knee surgery, Woods delivered to set off a vintage Tiger victory celebration
Some lady yelled "playoff" from the other side of the lake as the final group arrived at the 18th green. Given the onset of darkness, the gravity of the moment, the anticipation of thousands and everything at stake, most players never would have heard the woman. Certainly, anyone who did wouldn't have thought twice about what she said.
Tiger Woods isn't just anyone, of course. He hears everything, but if his most common response is to not respond at all, some replies are much louder than others. He sees everything, too—the grain on a putting surface 20 minutes after sunset, a 16-footer on the left edge, the fastest route to immortality and nothing in his way—which is why he makes everything. Every putt that matters, anyway.
This time, the roadkill was Sean O'Hair, whose five-stroke lead after 54 holes of the Arnold Palmer Invitational vanished so swiftly you would have thought Tiger was worried about TV viewers giving up on golf and switching over to college basketball. "The goal was to cut it to two or three by the turn," Woods said of his deficit-reduction plan. "On the back nine, the goal was to [earn a share of the lead] as fast as I could."
It took him six more holes to get there, by which point the drama dial had been suitably adjusted, and if the outcome of that 16-footer for birdie at Bay Hill's 18th wasn't a foregone conclusion, it wasn't because we haven't seen it before. Woods' 66th career PGA Tour triumph will be remembered as one of the most riveting, a sequel even better than the buzzer-beater here last year.
That birdie was from 24 feet. That victim was Bart Bryant, although Tiger's hat, which he fired at the ground to punctuate a new-look victory celebration, came in a close second.
Bryant wasn't paired with Woods that afternoon. O'Hair was this time around, and that meant everything in terms of setting the stage for a duel. "It's not like it's the Tiger Show, and I'm out there just to watch him," O'Hair said. "That's the one thing the media thinks about guys out here, and it's not like that. We're trying to win golf tournaments, and he just happens to be that good."
Loosely translated, the guy who tripped on his five-stroke lead had a hard time concealing his disappointment. Woods' first win since knee surgery last June was his sixth as a pro at Arnie's Place, all since 2000, and matched his biggest rally from the 54-hole milepost in a PGA Tour event. The other five-stroke comeback also occurred in 2000, at the ATT Pebble Beach National Pro-Am, but comparing the two is ridiculous—Tiger actually trailed Matt Gogel by seven shots with seven to play that Monday on the Monterey Peninsula.
That win was outrageous, this one heavily assisted. The Tiger Show? O'Hair did nothing less than successfully audition for a starring role. He made one birdie all day after piling up 14 in the first three rounds. He didn't hit a fairway until the par-5 sixth, missed a four-footer for par at the seventh and began the back nine with a sloppy bogey, cutting his advantage to one.
For all his troubles, however, a five-stroke cushion will help you stick around to the end, and with a ton of help from the unsettled sand in Bay Hill's bunkers, O'Hair was able to do that. "Not just three plugged lies today, but five of the six he had during the week were plugged," said Tiger's caddie, Steve Williams.
Not just plugged, either, but buried under the front lip, leaving Woods the type of uphill shots that are difficult to carry any considerable distance. The first one, at the fourth hole, was set up by Tiger's worst tee shot of the day and led to a bogey. The last one, at the par-3 17th, came on a 4-iron Woods thought was perfect but landed maybe two yards shorter than it had to fly. It cost him his first lead of the day and sent both men to the 18th at four under.
The middle one, however, sparked the first of two crucial turning points that made Woods' birdie at the 18th the game-winner. "If it hits a foot higher, it lands in the grass," Tiger said of the tee shot at the par-3 14th. "Even if it rolls back, I've still got an easy bunker shot." Instead, Woods got to his ball, cussed his fate, gouged out to 13 feet and hurled the sand wedge at his bag. No doubt, O'Hair was officially in trouble.
One of Tiger's strongest competitive traits is his ability to shift into a higher gear after a bad break, and that's exactly what happened at the 14th. He made the 13-footer, turning what could have been a two-shot swing—O'Hair burned the edge on his birdie try from 15 feet—into a half. Onto the 15th, where he rolled in a 25-footer to finally grab his first share of the lead, then the tough, par-4 16th, where O'Hair made the type of error that often jumps up and bites a man who doesn't win as many tournaments as he should.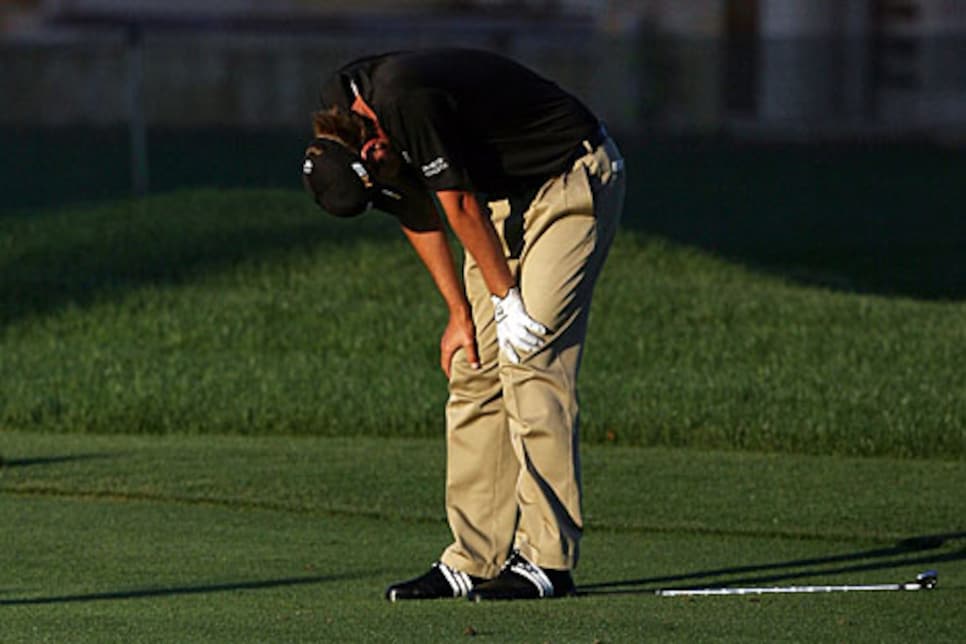 He had 171 yards to clear the pond in front of the green, 178 to the pin. A stock 7-iron for O'Hair, except it was now 7:15 in the evening, the temperature had dropped considerably, and the breeze that had floated through Bay Hill all afternoon was about to do him no favors. "I made a good swing, good contact, right on the line, and I think it ballooned on me," was O'Hair's assessment.
The shot landed on the bank just left of the green and tumbled into the water, and the balloon had burst. It was the kind of mistake you simply can't make, not against Woods, not with Tiger in the heavy rough right of the fairway, where he had no choice but to lay up and try to salvage par with a full-wedge third. He did exactly that, and though O'Hair got out of Dodge with a tap-in bogey, any damage in that situation is too much damage.
You could argue that Woods immediately gave the stroke back with his bogey at the 17th. That is to conveniently forget whom you are dealing with: the greatest closer of all-time, the best clutch putter who ever walked the earth, a guy whose flair for the dramatic is more like a five-alarm inferno. "Everybody out here can play," Williams said while loading the winner's bag into the back of Woods' snazzy SUV. "Everybody out here has the talent. These are the world's elite players, and they all have the ability to make things happen."
Those Cadillac Escalades sure are nice. So is the irrepressible will to win. "What makes Tiger special, and I've seen it time and time again, is his exceptional ability to play his best golf when it means the most," Williams added. "It's as simple as that."
More than the putts on the 14th, 15th and 18th Sunday, Woods preserved whatever hope he had of catching O'Hair with a pair of crucial bogey-saves Saturday afternoon. He had completely botched the 16th in the third round, driving it left, catching a flyer lie that sent his second sailing over the green, where it bounced off a cart path and came to rest maybe eight yards short of water that really isn't in play.
Tiger's third shot ran through the front of the green, and his par chip was as bad a shot as he'll ever hit, but he made the subsequent 10-footer. Two holes later, his second shot at the 18th plugged in the bank at the edge of the lake. Staring a double-bogey finish right in the eye, Woods dunked a curler from 25 feet to get out with a 5 and a one-over 71.
At that point it was hard to declare him ready to win a fifth Masters in two weeks. As well as he had struck the ball at Doral, as little as he had gotten out of it, he was basically doing the opposite at Bay Hill. Tiger had hit barely 50 percent of his greens in regulation through 54 holes, leaving him in the bottom quarter in that statistic among those who had made the cut.
Sunday's 67, however, changed everything. If not the cleanest round he has ever played, Woods regained the resourcefulness that has always characterized his best golf. He hit 11 of 14 fairways on a course where the rough was not the place to be (not surprisingly, two of the game's straightest hitters, Zach Johnson and Scott Verplank, finished solo third and T-4, respectively). Most importantly, he found himself in the heat of a final-round battle for the first time since the famous playoff against Rocco Mediate at last year's U.S. Open.
So now it can be said, he is back. Really back. Hey lady, there won't be any playoff. "Plus, there were a lot of flashes going off, too," Woods said of the photographic finish, a scene that might be described as picture perfect.