News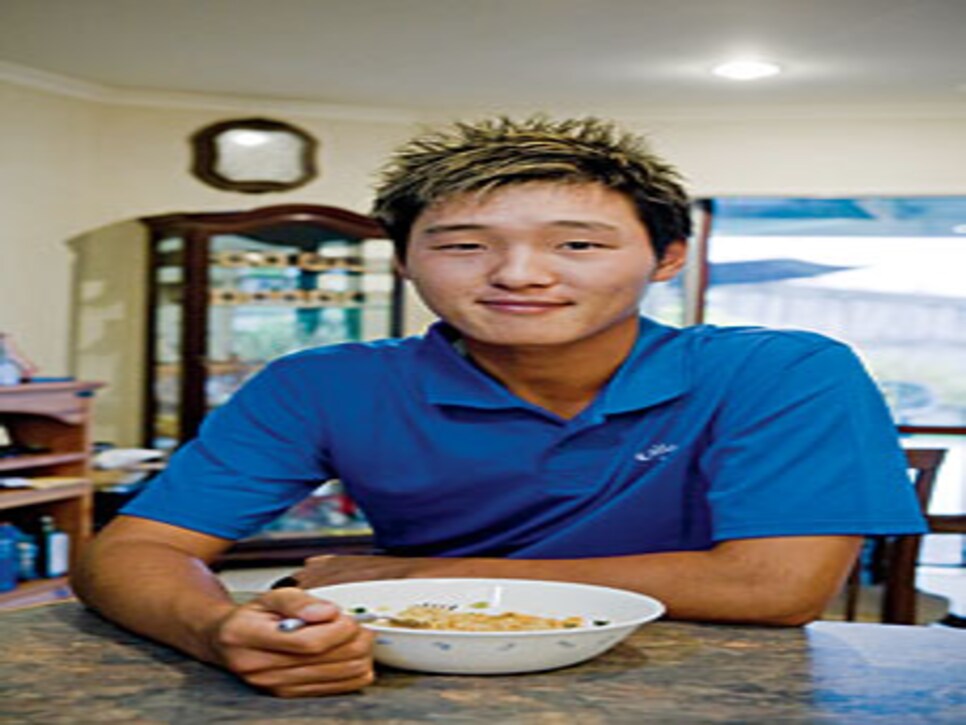 wonder down under: Whether downing his favored noodles at his Rotorua, N.Z., home or making putts at the Johnnie Walker, Lee is enjoying life.
At LAX airport the pilot comes on the intercom and tells you, in that prototypical cocksure twang that must be a requisite to graduate flight school nowadays, that "our travel time to Auckland, New Zealand will be 13 hours and six minutes. We'll be cruising at about, oh, 38,000 feet. Sit back, relax, watch a few movies, enjoy the meal services and by the way, the current weather conditions there are sunny and mild." Gone are the days of aviation when hurtling a metal shell 6,508 miles across the Pacific Ocean was an event of any significance. They've got this down to the minute.
A similar attitude of nonchalance surrounds Danny Lee's imminent transition to the professional ranks. The Korean-born, New Zealand-raised 18-year-old has already tasted so much: global travel schedules, unrelenting media attention, huge galleries, even a win over independent contractors at the European Tour's Johnnie Walker Classic. This spring when he makes the more-than-13-hour trip in the other direction (with no return ticket booked) to play in his first Masters and then turn pro the next week, is there anything he won't be ready for?
"The only difference is going to be that if I play well, I get money," says Lee. "If I don't play well, then it's just golf."
Lee is one of the rare players who hits it dead straight—zero draw, zero fade. His swing influence is Tiger Woods, who he supplanted last year as the youngest winner of the U.S. Amateur. While he idolizes Woods for making so few mistakes, his other hero is Adam Scott, because "he dress nice."
After Augusta Lee will ink a lucrative equipment contract (Callaway is the front-runner), unpack his flashy wardrobe wherever his parents decide to buy a house, then set about earning a PGA Tour card by getting sponsor's exemptions into as many events as he can (he has already locked up two: the Zurich Classic of New Orleans and the Quail Hollow Championship). The list of names that has circumvented Q school via this full-court press in recent memory is short and elite—Woods, Phil Mickelson, Sergio Garcia, Justin Leonard, Charles Howell III, Matt Kuchar and Ryan Moore. Yet it doesn't faze the teenager that by setting his sights squarely on the PGA Tour he boldly renders void the two-year spot on the European Tour earned by winning the Johnnie Walker. He's not worried about going to Q school if he ends up there.
"Danny's not arrogant. It's just that he has this tremendous belief in himself," says Ken Allen, who as a manager of club teams at Springfield GC in Rotorua, N.Z., has witnessed "the skinny little [runt]" lay down whippings on grown men since age 12. When Lee was just 14, playing in the fourth spot of four in the nation's inter-club championships, he shot a course record 65 (seven under) at Maraenui GC to help secure a third-straight title for his home club.
"Always been real loyal," adds Allen. "He'd get back from a tournament in America on a Saturday night and then show up early Sunday morning for a club match. Most pros don't have the travel schedule Danny already puts on himself."
Lee wouldn't have weighed much more than 100 pounds at age 14. Accurate iron play, not distance, is how he scores. If anything, he needs to learn to hit the driver a little lower. He still hasn't filled out, but his relatively large hands and feet hint that more strength (and length) is on the way.
Pulling into the parking lot of Springfield GC, there is nothing to suggest a world-class player would blossom there. Men in jeans and untucked shirts are sitting on car fenders changing their shoes. Of the holes in view it isn't clear where the fairway ends and the rough begins. The clubhouse resembles a middle-school building that hasn't been updated since the '70s, and the rectangular tables inside are arranged in long cafeteria-style rows. Green fees are $60 Kiwi, which is $34 U.S. A strong player will hit a short iron or wedge into all of the par 4s, and the greens require a pretty firm rap.
But despite appearances, the club has a knack for producing oodles of scratch or better golfers. Maybe the tight tree-lined "fairways" breed driving nerves or maybe the short 6,167-yard layout gets players psychologically comfortable scoring low. Or maybe it is the unlikely conjunction of two cultures at the club, Korean and Kiwi, which has raised a player as special as Lee.
Jin-Myung Lee received his Catholic name when the song "Oh, Danny Boy" struck a special chord in the heart of his father, Sam, who owns a large badminton shuttlecock manufacturing business in Korea. His mother, So Jin Seo, is a gentle woman with a 5-handicap who gave the eldest of her three sons his first club to swing when he was 8. When Danny was 12, the family moved to Rotorua, a tourist hotspot of geothermal activity, skydiving, bungee jumping and mountain biking, in part to escape the polluted Seoul air worsening a respiratory condition of his father (which has since ameliorated). Arriving in a strange land, Danny spoke no English and there were few if any teachers at school who could help.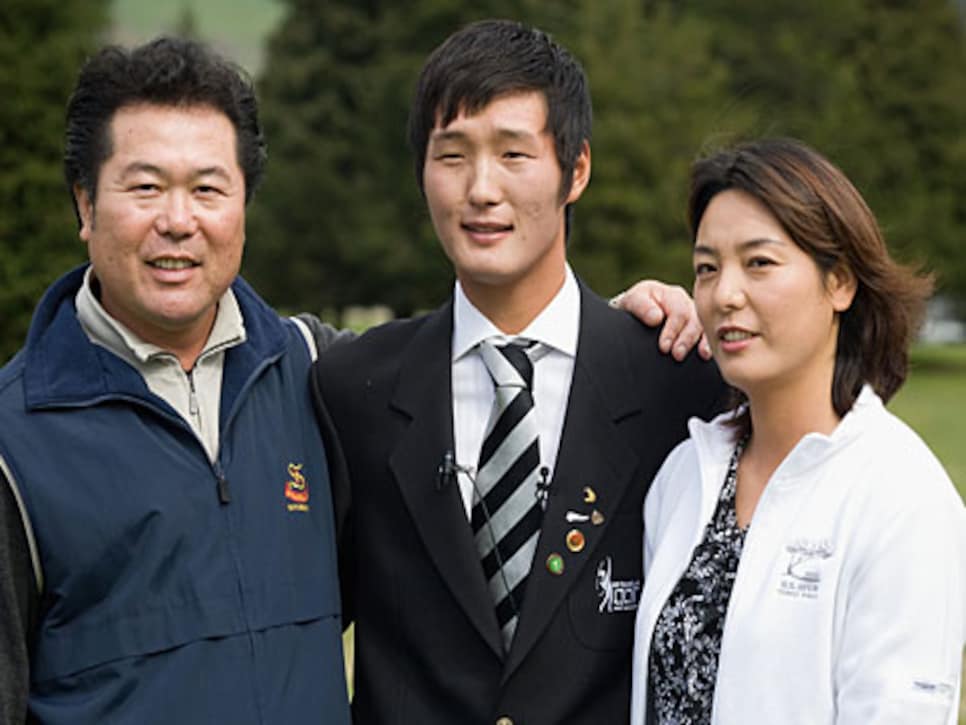 It is often outsiders who develop mere natural talent into something truly great. A severe stutterer as a youth, 14-time PGA Tour winner Ken Venturi retreated to golf to find solace, usually playing alone. Novelist and social critic Tom Wolfe credits his observant eye to four years spent as a middle-class kid at an elite private high school. In much the same way, Lee was rendered an instant outcast the day he came to New Zealand. Golf was an outlet that transcended language.
Lee's practice sessions are the stuff of legend. Anyone you ask says eight hours per day at the golf course is typical. He often listens to Korean pop music on an iPod during these marathon sessions, and fuels them with his favorite food: noodles.
"He'll hit one ball wrong out of a thousand and then keep practicing because of that one ball," says Allen.
"I told him he could use our practice facilities, too," says Steve Jessup, golf professional at nearby Wairakei GC and Lee's main swing coach. "That was a bloody mistake," jokes Jessup. "Now the tee is a mess. He spends more time here than the staff."
Lee hasn't taken a vacation from the game in the 10 years he has played it. There's no greater testament to his drive than the fact his English is still a work in progress despite six years living in New Zealand. He has been more of a "member" of the local high school than a student, mixing his attendance with long tournament breaks and tutoring sessions at home. The decision to forego college was made a year ago, Lee says, though until then his interest was quite piqued by life at Southern Cal. Younger brother Ben, 16, who doesn't play golf, this fall will enroll in Auckland University, two years advanced for his age. "Over the years Ben has been a pivotal connection with the media because his English is so perfect," says Craig Tiriana, sports editor of the local Daily Post.
Asked where he gets his motivation, Lee responds in his typical truncation. "My parents. My father always tell me practice hard. Since I am 15 I think golf is my job."
Sam Lee is a 15-handicap version of Earl Woods. The period of time he could give his son technical advice passed almost before it started, but he has been a dominating force in molding Danny's mental toughness. He has mellowed as of late, but apparently used to bring an intensity to golf more commonly encountered in football dads. Tales abound of his harsh brand of on-course discipline that often left his son in tears. After an unsuccessful title defense at the Grant Clements Memorial, a highly regarded amateur event in New Zealand, Danny got his own golf shoes thrown at his chest.
"Theirs is a different culture. Koreans believe very strongly in discipline," says Chris McAlpine, CEO of Bay of Plenty Golf, which spearheads the development of the province's junior players. "Sometimes to us they cross the line."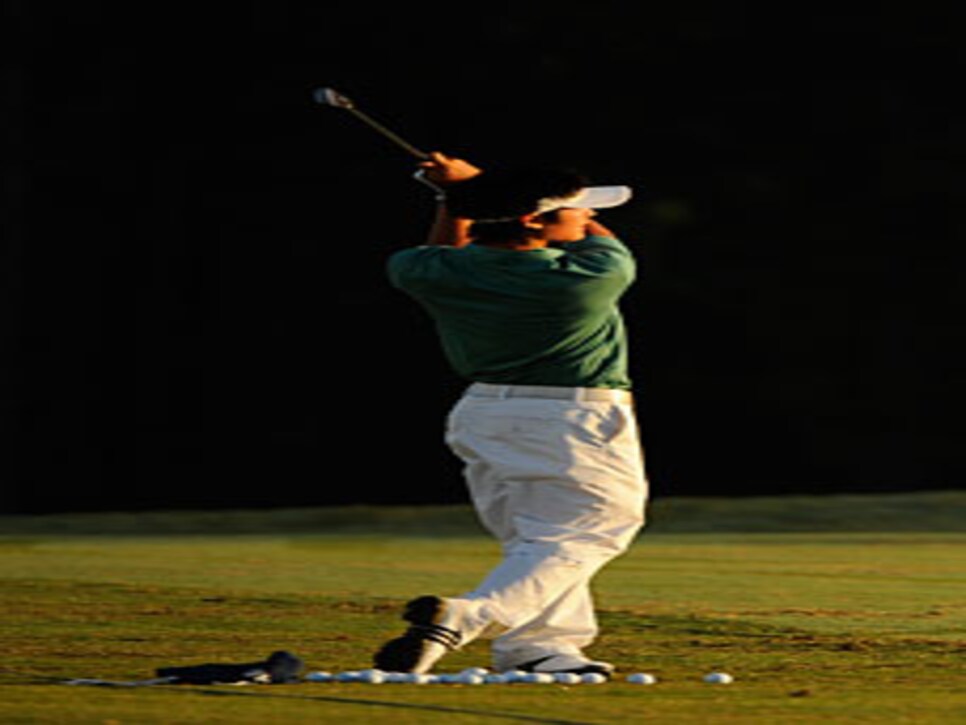 In 2008, at the wire, Danny officially gained New Zealand citizenship so he could represent the country in the World Amateur Team Championship. Asked if he feels more like a Korean or a New Zealander, he retorts, "That is like asking somebody which parent they love more."
"Golf is the only thing I'm good at," says Lee, who struggles to name any other interests besides video games. However, upon meeting him you would bet he would be good at pretty much anything he put his mind to. Just so happens the only thing he has done up to this point in his life is golf.
Perhaps it is a truth that doesn't need to be reiterated, but there are risks to leading a one-dimensional childhood. For each superstar there are multitudes that devote themselves tirelessly to a sport yet never end up making a living playing it professionally. And, of course, the greater issue is a person's growth as a human being, his or her happiness.
But here is where Lee's story departs from the view, perhaps western-centric, that such an upbringing would create a robot. Danny brims with personality, and it is quite possible there does not exist a happier person on earth as Masters Week approaches.
You find him on Springfield's spongy par-3 fourth tee, playing alone, pulling an iron out of the same staff bag that was on tote in front of the largest gallery at the New Zealand Open just three days earlier. Instead of on the shoulder of caddie Anthony Knight (who sure hopes he gets a permanent assignment) the bag is strapped on a muddy trundler—Kiwi for pullcart.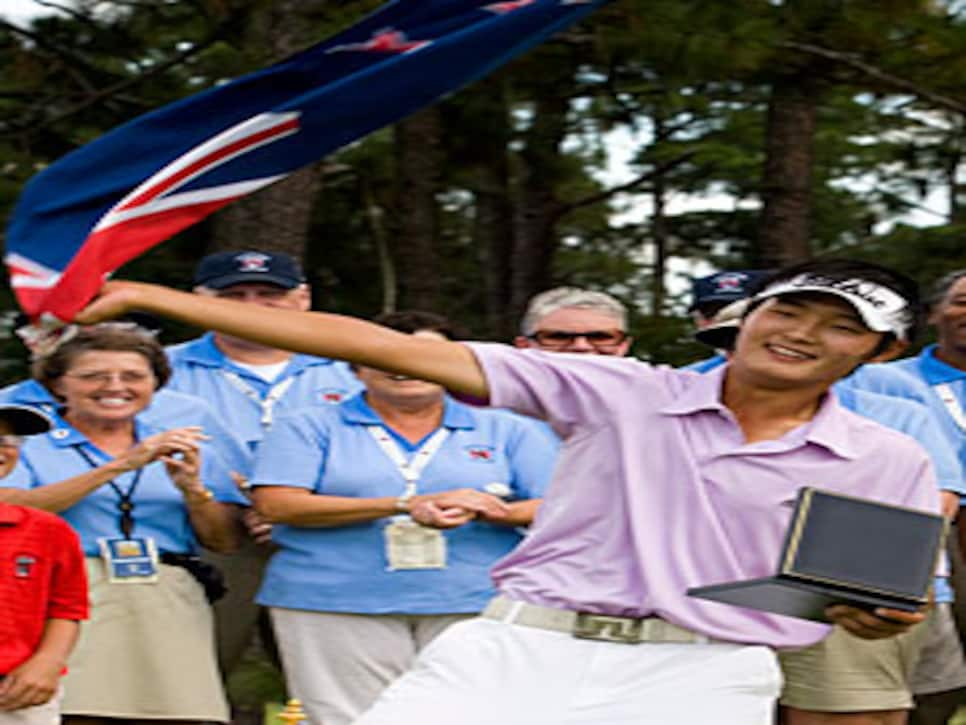 Politely, he lets you join. Lee's sweet strike never deviates from the line of the pin but comes up half a club short. You pull yours pin-high 15 feet left and immediately he goes into chop-busting mode.
"Holy ----. Power draw!" he laughs, mocking your imperfect ball flight.
On the sixth hole, a pronounced dogleg-left par 5, Lee's eyes twinkle as he pegs a tee in the ground, fighting back a grin. "This hole set up real well for you." He then makes an impersonation of your swing that is crushingly spot on.
And so the round goes. A string of pars spiced with two birdies do nothing to quiet him. Between jests he asks questions about America, his soon-to-be home which he has only experienced in tournament-packed stretches. He reveals a fun-loving, sarcastic way of looking at things, typical Kiwi, as well as naiveté shaped from action movies and conversations with other golf prodigies equally naïve. The first thing he will buy when the money starts rolling in, Lee says, is a Lamborghini. He does not have a driver's license yet. The chat around the Springfield clubhouse is that you don't even want to get in a golf cart with him.
But to stamp Lee as a typical 18-year-old would be a disservice to how his character has held up under the spotlight of his nation, the world. "In the last 12 months, since winning the U.S. Amateur, Danny's realized how much of a role model he is to other kids," says McAlpine. "And that's matured him a lot. The influence he's had on encouraging our province's younger kids to work hard is immeasurable."
Because of the favorable exchange rate, climate and geographical proximity, New Zealand is an attractive option for Asian golfers to relocate. "We have a lot of Korean members at our club," says Mark Smith, Springfield board member and a highly decorated player who is a former teammate of Danny's, 10 years his senior. "There have been several really good Korean juniors come through this area, but most of them have spent a few years here practicing, then moved on never to be heard from again. Danny's different. He's such a funny, outgoing guy and has really made the effort to become an integral part of the club."
On St. Patrick's Day, the week before Lee's departure for America and the Masters, there's a 12:30 shotgun start at Springfield—$30 a player and please make a donation in the jar every time you grab a sausage roll at the grille. Contestants are adorned in green, but the board outside the pro shop reads, "ALL THE BEST DANNY. HAVE A WONDERFUL CAREER," reminding everyone what's really being celebrated, as if anyone needed reminding.
It's raining buckets, but Lee smiles as he greets the foursome that has bid $2,000 Kiwi for the right to play with him in his final round at the course that raised him.
Four hours later, the clubhouse tables are merrily lined with soaked forearms and sweating bottles of Steinlager and Tui. Danny's speech is short, simple and sincere. Then there's an auction of signed Danny Lee memorabilia. The wedge with engraved "D.L." initials Lee used to tie for 20th at his first PGA Tour event, last August's Wyndham Championship, goes for $600 Kiwi at the culmination of a spirited bidding war.
A woman with short, gray hair is tearing up as she says to the man sitting next to her, a Korean about her age. "Ah, te think this might be the last time we see him."
At least in person, that is. The fundraising goal of the day, which has been exceeded, will buy satellite television for the clubhouse bar so that the members can follow their son as he competes on the other side of the world. By the looks of his game, he'll get a lot of airtime.