News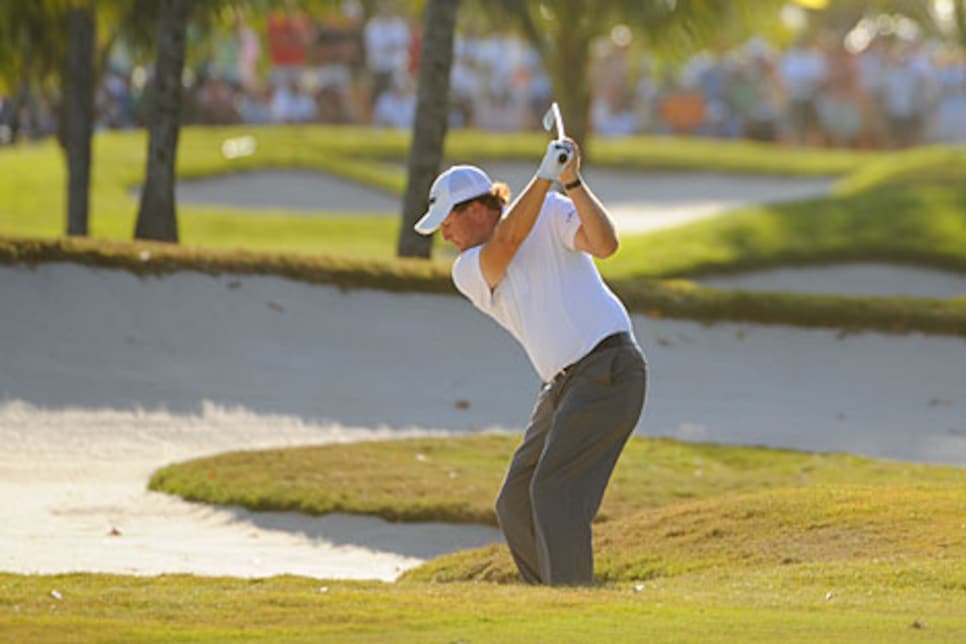 mission accomplished: Despite battling dehydration that required a hospital visit Saturday night, Mickelson closed with a 69 to win his first WGC title.
What will Phil do next? Probably order a big meal and hold the calamari. Running on liquids and fumes when he wasn't running to lavatories and hospitals, the famished left-hander walked very slowly to the WGC-CA Championship. He fended off plumbing problems and Nick Watney by one stroke at Doral's Blue Monster, where the two Butch Harmon classmates virtually deserted a stellar field to engage in a weekend of match play. Mickelson shot a final-round 69 for 19-under 269 to secure his first WGC title, although if Watney's putt for birdie on No. 18 had one more revolution in it, they would have gone overtime—not exactly what the doctor ordered for Phil, who dined with friends Thursday evening and did not look at a menu for the remainder of his South Florida visit.
It was uncertain, only speculated, that the squid appetizer did the damage. Mickelson's famous caddie, Jim Mackay, also indulged, and he wasn't feeling too chipper, either. But Mickelson got progressively weaker, and his inner circle grew increasingly concerned. Mickelson was in the bathtub Saturday evening trying to cure the shakes as friends banged on his hotel door, fearing he might have passed out. Eventually, Mickelson was taken to Baptist Medical Plaza for two IV bags, but when he was still in bed at 1 p.m. Sunday with a 2:45 tee time, trainer Sean Cochran wondered whether his man would be able to finish what he had started.
"Beware the ailing golfer," rasped Mickelson, who canceled a scheduled Monday business trip to New York and instead commanded wheels up for his San Diego home. In due time he will reflect on how effectively he performed, particularly with a peg in the ground. Only a few drives went awry—notably Sunday's on No. 12, where Mickelson thrashed right-handed toward an escape route—justifying his faith in Harmon, who recalled "hooking up with Phil right here [in 2007], sort of on the sly at another course." Now, two years later, for all his weakened condition, Lefty is oozing confidence with Augusta on the near horizon.
If Mickelson wasn't eating, a very game Watney wasn't blinking, and after trading leads and birdies, the marquee pairing was seven shots wide of everybody else after No. 10 Sunday. Both men bogeyed the 12th, where Watney was forced to implement one in a series of awkward catcher's crouches to address his ball in a bunker. Strangely enough, the status remained quo for the next two hours. All pars, and Watney had 70, while Jim Furyk grabbed a quiet third with 67 for 272—a rather sedate conclusion after days of Camilomania, another impressive showing by Irish teen Rory McIlroy and, of course, the inevitable warning sirens from Tiger Woods.
He opened with a serviceable 71, then gradually polished rough edges such as distance control as he went through his first full tournament since June. With weekend 68s, Woods recorded a T-9, then expressed disappointment "because I hit it a lot better than I scored." Tiger has been known to putt Doral's greens as if he owned them, but this year, he clanked off more rims than Shaquille O'Neal from the foul line. Woods repeatedly seemed frustrated and amazed when his ball was not dropping, but as one adversary moaned, "Now he knows how the rest of us feel." Then again, instructor Hank Haney thinks he knows how his prized pupil feels about the rest of his arsenal: "Tiger says he's never been this excited about his swing."
It is anticipated Woods will play next at the Arnold Palmer Invitational. He did not commit to that yet, but did, generously and almost out of nowhere, heap praise on McIlroy, saying, "He has all of the components to be the best player in the world, there's no doubt. Hopefully, when I'm not around."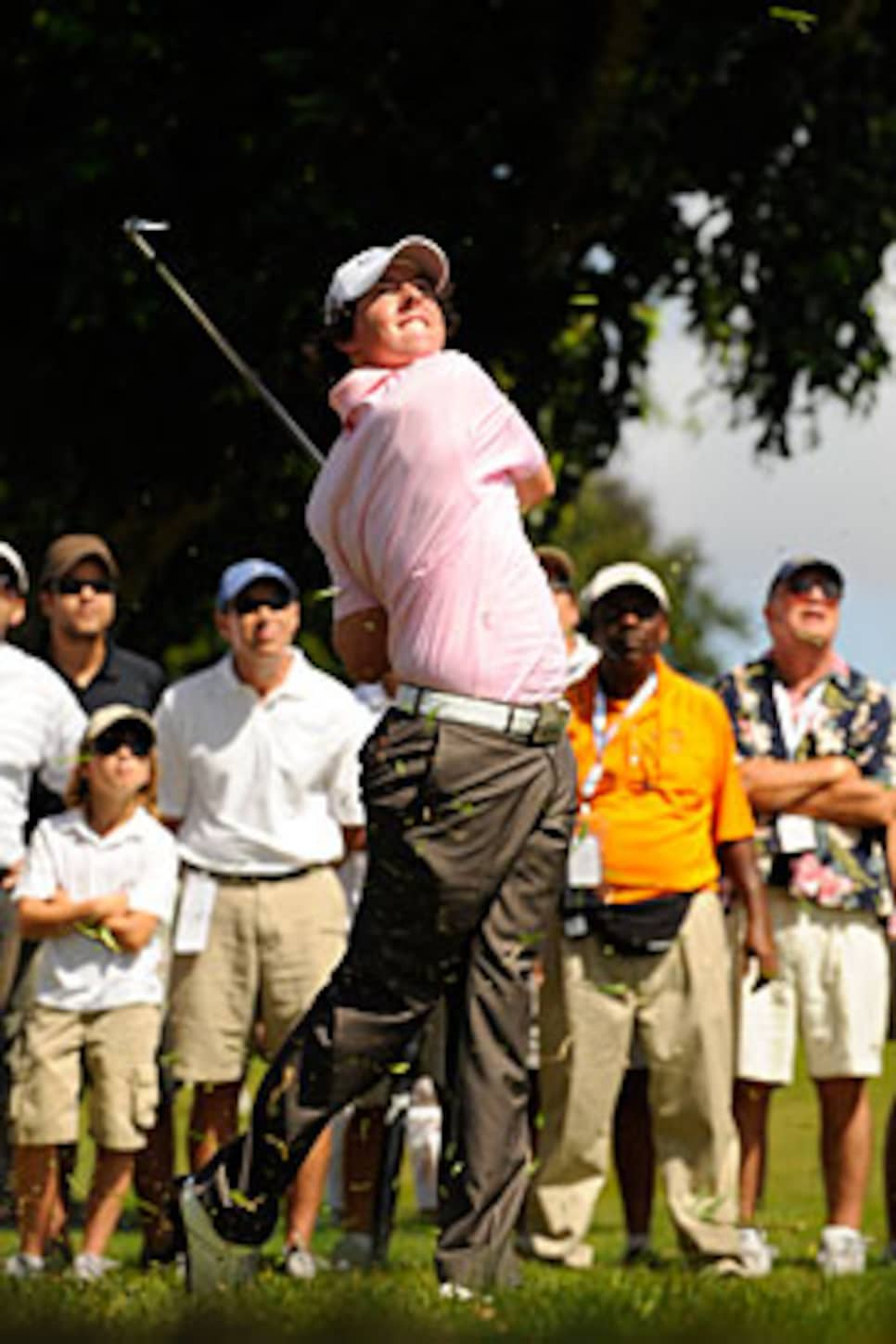 Sergio Garcia could have dislodged Woods as No. 1 after 196 straight weeks, but the Spaniard finished T-31 at Doral and was instead bumped from the No. 2 spot by Mickelson. After a modest takeoff—he was even par after eight holes—Mickelson percolated Thursday with three chip-ins, including at Nos. 17 and 18, for 30 on the back. He required only 20 putts for 65. Calamari or no calamari, Mickelson authored another chip-in at No. 7 Friday, when he used but 22 putts toward 66. Mickelson was up by two over Watney, but begged off the perfunctory post-round mass interview, the first clue that he was ailing. Mickelson disappeared for so long after signing his scorecard, it was speculated he had been selected for random drug testing. In fact, he was experiencing the gamut—chills, overheating, dehydration and fatigue.
Mickelson's other issue was Watney, winner of the Buick Invitational last month and a fellow mounting a challenge to Steve Stricker for nicest/friendliest/most popular guy among PGA Tour peers. Still mistaken for Bill Haas on occasion, Watney's today-is-going-to-be-a-happy-day countenance reminds you of a kid who discovered where Mom hides the candy bars. That, too, is a false front because Watney appears to be a heat-seeking competitor. "This is why I play," he said after two trips around Doral before large and demonstrably pro-Mickelson gatherings. "People watch Phil for a reason and with so many people pulling for him, I treat it like an away game."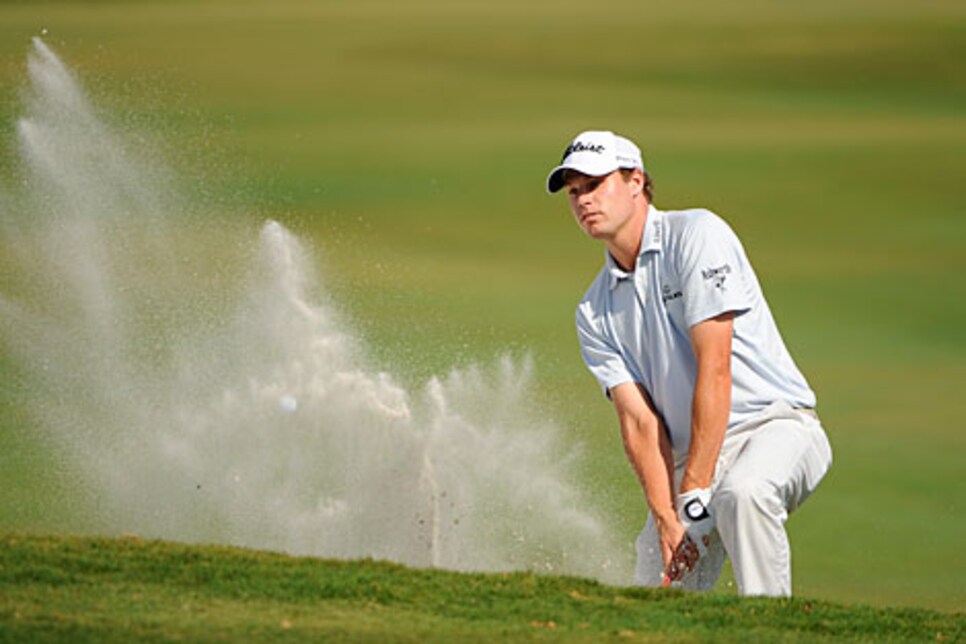 Mickelson came this close to an ace on No. 13 Saturday. With the crowd delirious, Watney hit a poor shot into a worse lie at a greenside bunker on the par 3. But no stance did not mean no chance for Watney, who rescued par to stay within a stroke of the lead. Only a half hour or so earlier, Watney logged his first bogey of the week, at the 11th, his 47th hole.
"He's a great kid, and it took two years before he stopped calling me 'Mr. Harmon,' " said Butch, who has trimmed his student roster to five, of whom Watney is the least decorated. Butch stated his price, and Watney said count me in. "A no-brainer," recalled Watney, who even moved from California to be near Harmon's Las Vegas schooling center. Real near. "How far is the house from him?" Watney asked his girlfriend, Amber Uresti. About two miles, she replied. Proximity has its benefits. "In December, I was hanging out at home when Butch phoned," Watney related. "He told me to get out there because José Maria Olazábal had come by. I went right over and spent two hours with him on the short game. That was like gold, two hours with José Maria."
Watney was genuinely downcast after Sunday's near-miss worth $820,000—another good sign about his objectives—but he perked up when the subject of group golf was broached. Mickelson endorsed Watney for future America's teams, and Watney added, "To play for Fred Couples at the Presidents Cup in San Francisco, that would be an honor."
Apart from Tiger, fireworks ensued from the get-go Thursday as Sean O'Hair began eagle-eagle despite a basketball injury. While playing with pals at home, the nail on his big right toe was bent grotesquely backward. "Going up for a dunk," O'Hair beamed. Dunk? "OK, coming down from a rebound."
Soon the international contigent chimed in, joining Mickelson at seven under: South Africa's Retief Goosen, India's Jeev Milkha Singh (see page 40) and Thailand's Prayad Marksaeng, whose diary redefines what it means to be born dirt poor. Marksaeng cannot accurately provide numbers and names of siblings because he says a couple died before he was old enough to count. Round One also featured a wardrobe malfunction by Henrik Stenson (see sidebar). Marksaeng tripled the last hole Friday, but still shot 70 to stay six shots better than Woods who, realizing he couldn't be low Thai, declared himself "low Cablinasian." Before Sunday's 72, redoubtable Kenny Perry threatened. Perry, who is dedicating himself to the four majors this season, reports he and father Kenny will be grand marshals of the Kentucky Derby parade in May. "Dad's not been feeling well, but he's rallying," said the son. "Saw him smoking a cigar the other day. That's a good sign."
Woods was asked why he waited until shortly before the 5 p.m. deadline the previous Friday to commit to Doral, and he said that's just the way he usually does things. (For the WGC-Accenture Match Play, he entered on Thursday.) Eddie Carbone, the CA executive director, did not seem the least bit bothered. "In fact," said Carbone, "it almost worked counter to the way you would think. We were careful not to use Tiger's image in any of our pre-tournament advertising. But there was a lot of expectation building, then it sort of reached a crescendo, and then we got the call. 'He's in!' Our sales doubled the next day."
Plus, with Tiger's announcement at about 2 o'clock instead of, say, 4:59, that gave local TV crews time to weave through Miami traffic and head to Doral for the early evening newscasts.
"And it was breaking news," recalled Carbone, who revealed that earlier in the day, he taped two different interviews—one to be shown if Tiger was coming, and one to be shown if he wasn't. "When Tiger played Tucson," Carbone went on, "there was a buzz around here that we were next. Then, when it became official, it was a case of rational exuberance."
Stenson has his moment in the sun
Reports that Henrik Stenson lost his shirt in the Stanford Financial scandal gained momentum during Thursday's first round of the WGC-CA Championship when he stripped down to his underwear on the par-4 third hole, his 12th. His tee ball sailed well left of the fairway, landing in a squishy lie, dangerously close to a watery grave at the Doral Resort and Spa.
"Obviously, playing in Florida, I didn't have any rain gear in the bag, so that option went out the window," Stenson said. "I felt like if I could hack it out, I could secure a 5. I couldn't really afford to play in any of my clothes as they would have been a real mess down the last six or so holes, so I had no option. I was only wearing two things when I hit the shot, my jocks and my glove."
Fanny Sunneson, his veteran caddie, barely blinked as Stenson disrobed. Those crazy Swedes. Remember the bygone 2002 Ryder Cup when an earthquake struck in the wee hours at the Europeans' hotel? Jesper Parnevik jumped from bed and left his room wearing absolutely nothing. Only one photographer, Kyle Auclair of Insidetheropes.com, was around to capture Stenson's predicament, although Golf Channel also shot video, confirming that he has spent more time fully clothed on the range than at South Beach. "Just the way God created me!" concluded Stenson, who proved to be an excellent mudder, rescuing bogey from the situation.
Stenson's sidekicks in the threesome, Ben Curtis and Ryuji Imada, thought the scene was hilarious. Both predicted correctly Stenson would be abused by peers immediately and with no statute of limitations attached, although it generally was agreed that, in the pantheon of shirtless golfers, Henrik Stenson is no John Daly.