News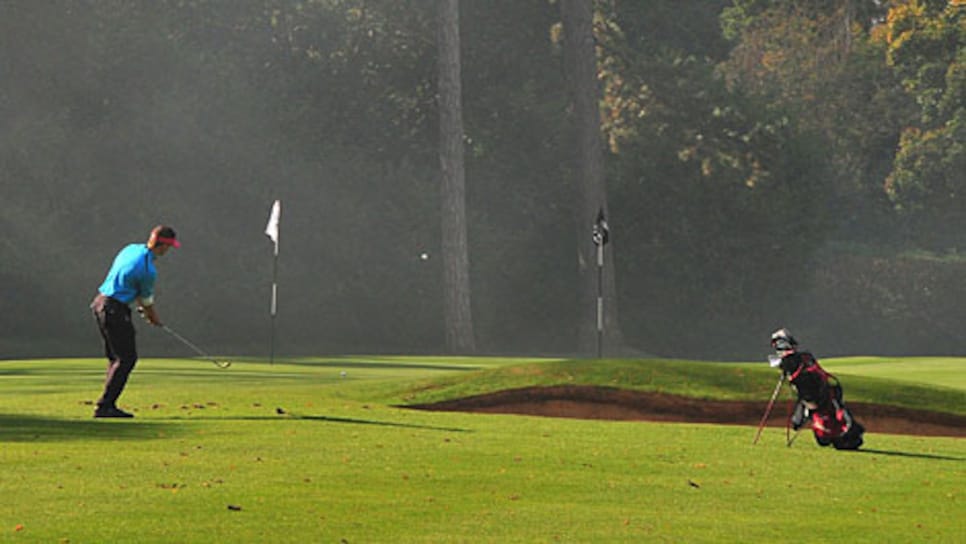 SEEING DOUBLE: PowerPlay Golf's nine-hole format makes players decide which of two cups they should attack.
Last October, 72 golf pros gathered in England for a national championship of a different stripe. The competitors, including 1991 European Ryder Cupper Steven Richardson and two-time European Tour winner Mark Mouland, chased Stableford points while playing to greens with two flagsticks. The most devilishly positioned pin on each green flew a sinister Jolly Roger and awarded double points for a birdie or better.
After a nine-hole cut, a subsequent eight-hole round whittled the field to six leaders, including Mouland. In a ninth-hole shootout, Welsh club pro Adam Constable gunned for the pirate flag, made birdie to leapfrog two competitors and captured a winner's booty of £5,000 stuffed into a treasure chest. The championship was the first for British pros in PowerPlay Golf, a format created in 2007 by two-time British Amateur champ Peter McEvoy and English sports entrepreneur David Piggins. Engineered to produce a fulfilling and often exciting golf experience in two hours or less, the nine-hole variation has gained a following in England and other countries with rich golf traditions, including Australia, Ireland and South Africa.
Striving to sell the world's golfers on an adaptation that delivers heightened thrills in half the holes, McEvoy and Piggins formed a company in April 2007 to promote the concept. Taking a cue from Twenty20 cricket, a two-and-a-half-hour version of the typically protracted English game that has become a hot spectator sport internationally, the company is working with sports marketing giant IMG to bring PowerPlay Golf to the masses in 2009 with a made-for-TV shootout featuring prominent touring pros.
"I think it would be quite exciting to see the world's best playing it," says Mouland, a 47-year-old Welshman who played the Asian Tour in 2008. "There's absolutely no reason why they wouldn't be interested in doing it."
A format promising more stimulation in less time would seem the ideal catalyst for an American golf market plagued by stagnant participation in part because many players believe the game takes too long. Last November McEvoy presented the concept to U.S. industry leaders attending the annual Golf 20/20 Forum at Florida's World Golf Village, where 16 conference participants also competed in a PowerPlay shootout.
Despite enthusiasm abroad for PowerPlay Golf—the chairman of England's golf-range owners' association has called it the best new idea to hit the game since metal woods—questions remain over its potential appeal in America. But at first blush, some industry leaders think McEvoy and Piggins are on to something.
"The golf industry has to be able to deliver an experience that's fulfilling in two hours, and PowerPlay Golf does that," says Joe Louis Barrow Jr., CEO of The First Tee and executive vice president of the World Golf Foundation. "I'm very bullish on it. I'd like to see it gain traction."
PowerPlay Golf grew out of McEvoy's and Piggins' partnership in building Playgolf Northwick Park, a sports complex in North London. An Englishman who played on five Great Britain Ireland Walker Cup teams and captained two others to victories, McEvoy, 55, designed a six-hole course at the facility, which was developed by Playgolf (Holdings) Plc, a company the 46-year-old Piggins founded in 1993.
Opened in September 2005, Playgolf Northwick Park promised busy urbanites "great golf in an hour." But according to McEvoy, Londoners were only lukewarm to the idea. Seeking to conjure the buzz a six-hole round lacked, McEvoy and Piggins in late 2006 met with British Broadcasting Company representatives to brainstorm shortened, TV-friendly golf formats. What emerged was the blueprint for PowerPlay Golf: Nine holes with two flags each and the chance for players to double their Stableford points on a hole by declaring a "PowerPlay" on the tee, playing to the harder hole location, adorned with a pirate flag, and scoring net birdie or better.
In March 2007, McEvoy and Piggins invited 20 journalists to test the format at Northwick Park, which had been expanded to nine holes. After positive reviews, the duo formed PowerPlay Golf Holdings Ltd. in April and that summer piloted the format with about 200 clubs in England. Once introduced, about 90 percent of the clubs adopted it, McEvoy says.
Through the pilot program and consultation with RA rules officials, McEvoy and Piggins refined the format. In its current stroke-play form, PowerPlay Golf stipulates that each player must elect three PowerPlays in the first eight holes. On the ninth hole, a player may elect a bonus PowerPlay that carries added risk: a two-point deduction for a net bogey or worse. By allowing players to choose which holes to declare their PowerPlays, the format places a premium on strategy. And by providing a chance for players to double their points on selected holes, PowerPlay Golf resembles backgammon, in which players can raise the stakes with a doubling cube.
As PowerPlay Golf was taking hold in England, word of the movement spread. A few clubs in Australia and South Africa began experimenting with the format in 2007, and by late last year clubs in 23 nations had adopted it. PowerPlay Golf thus far has not charged participating clubs to implement the format, and the company plans to continue this policy in 2009 and likely in 2010, McEvoy says. Once the format has proven its commercial value to clubs, PowerPlay Golf plans to charge them an annual licensing fee of £300 to £500. Funded with three rounds of start-up capital, the company's other planned revenue streams include television and tour rights fees; online player registration and advertising; and event-sponsorship fees, according to chief operating officer Guy Simpkin.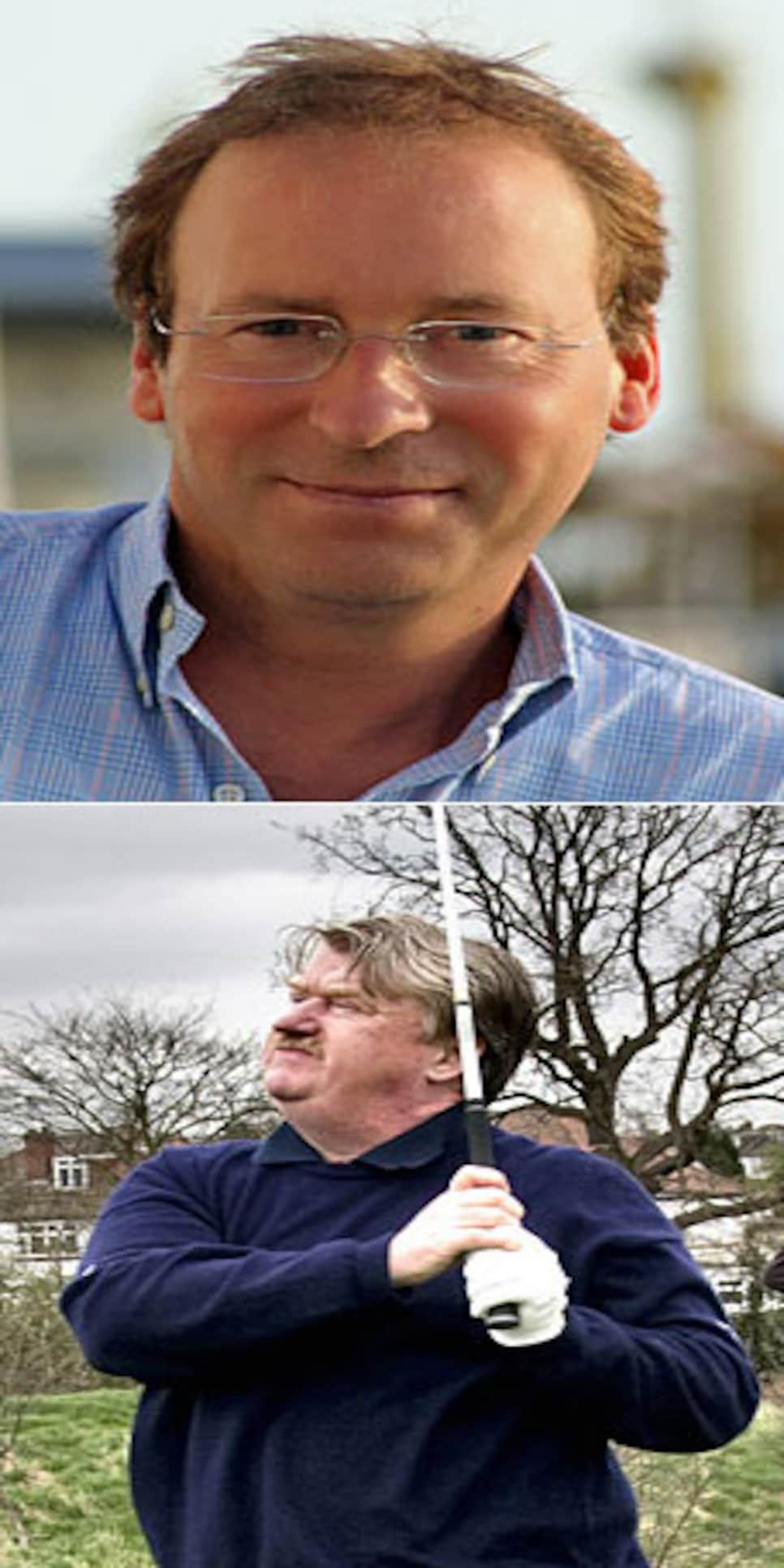 Last fall, amateurs and pros in England, Ireland and South Africa competed in PowerPlay Golf national championships. The company also has established an online world ranking for amateur competitors. The next frontier? Expose the format to a wider audience by televising tour pros competing in a PowerPlay Golf shootout. Despite a beleaguered world economy, McEvoy and Piggins have enlisted IMG to shop a tour-player shootout to potential sponsors and broadcasters with the hope of airing an event this year. An organizer of Twenty20 cricket's successful Indian Premier League, IMG has proposed ideas such as recording a made-for-TV PowerPlay Golf event on a Monday or a Tuesday at an existing European Tour stop, says Guy Kinnings, managing director of IMG's golf business in Europe, Africa, the Middle East and Australia. "If the public sees pros playing the game, that would do more to capture their imagination than anything else," Kinnings says.
With PowerPlay Golf, McEvoy and Piggins are courting players seeking a quicker alternative to 18-hole rounds. Careful to avoid the perception that PowerPlay Golf sullies the game's traditions, the entrepreneurs have sought input from the RA throughout the format's development. "I certainly don't think it snubs the traditions in any way," says Peter Dawson, the RA's chief executive. "I think golf has always developed, and I think this is an interesting venture. How successful it will be, I find very difficult to judge, but I'm very open-minded about it."
Despite RA support, other traditionalists have bristled at the format. "You get the occasional stuffy golf club, particularly in Britain, because we specialize in those, and they will have it at no price," McEvoy says. There has been similar resistance in South Africa, where about 35 of the nation's 450 clubs have adopted PowerPlay Golf, says Dennis Bruyns, chief executive of the South African PGA. "We're a very traditional market where people play a lot of competitive golf," Bruyns says. "They almost feel cheated if they don't play 18 holes."
Industry leaders introduced to PowerPlay Golf at the Golf 20/20 Forum recognized its merits as a potential way to increase participation while acknowledging the possible limits of its appeal to American golfers, many of whom play strictly for recreation and are only vaguely familiar with Stableford scoring. "It has more zip, excitement and strategy than your typical after-work, nine-hole league," adds Joe Beditz, president and CEO of the National Golf Foundation, who played in the conference's PowerPlay shootout.
The World Golf Village's Slammer Squire course, which hosted the Golf 20/20 PowerPlay shootout, is planning to launch a PowerPlay Golf league in the spring. The First Tee, the World Golf Foundation's youth development initiative, has begun piloting the format with some of its chapters. And last month the WGF and Power Play Golf announced "an expanded relationship" that will facilitate introducing the concept in the U.S.
PowerPlay Golf has had positive conversations with the USGA and PGA of America regarding the format, McEvoy says, but the company is treading softly in its approach to the U.S. market. "We've made very early overtures, but we don't want to push too hard," he says. "We want to get the [tour] pro game ready, we want to get on TV, we want everybody to be able to see it. … Our experience is you can't push it until people know what you're talking about."
Will PowerPlays and pirate flags become part of this country's golfing fabric? Stay tuned.