News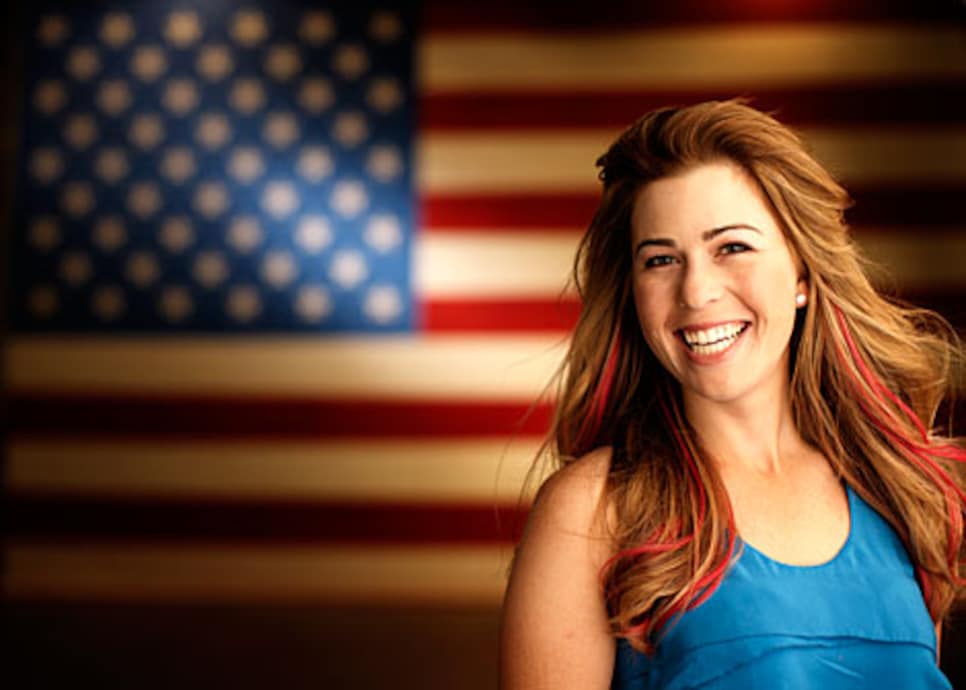 COLOR SCHEME: Pink is Creamer's trademark color, but restoring lost glory to the red, white and blue with a No. 1 ranking is her '09 aim.
Bill Clinton was in his second year as President, and Monica Lewinsky was not yet a household name. The World Series was wiped out by a labor dispute, and the baseball record book had yet to be distorted by steroids. Nick Price was the best male golfer, and Beth Daniel earned the LPGA Player of the Year award. Now flash forward from 1994. There have been four Presidential elections and one impeachment; a New York Yankee dynasty came and went, as did the reputations of Barry Bonds and Roger Clemens; Tiger Woods ended all arguments about the identity of the best player in men's golf.
But in those 15 years no American has been the best in the women's game, an honor claimed in the meantime by Laura Davies (England), Karrie Webb (Australia), Annika Sorenstam (Sweden) and Lorena Ochoa (Mexico). A stream of Yankee talent bursting with promise—Kelly Robbins, Michelle McGann, Wendy Ward, Kelli Kuehne and Beth Bauer, to name a few—poured out only to see their potential evaporate short of the pinnacle.
With Ochoa coming off a seven-win 2008 season, the last three majors won by players from Taiwan (Yani Tseng) and Korea (Inbee Park and Jiyai Shin)—the oldest being 20— and with only four Americans among the top 20 in the Rolex Rankings, the prospect of snapping that trend anytime soon would appear bleak. But if there is hope for the red, white and blue, it is embodied by the woman in pink, Paula Creamer, who celebrated her eighth birthday between Price's victories in the 1994 British Open and PGA Championship.
With eight LPGA wins at age 22, Creamer has more than double the total for Daniel, Sorenstam and Ochoa combined at the same age. She also shares with that trio a competitive drive that could be interpreted as cocky if not for the fact it is backed with success. She has, as comedian George Carlin characterized desire, "a lotta wanna."
"I don't want to just get there," Creamer says about becoming No. 1, "I want to stay there for a while. I don't want to come and go. Once I get a taste of what I like, I want to keep coming back for more. I've always wanted to make a difference in golf, change things, be a role model and be able to go out there and back it up."
Toward that end, and in realizing that her fifth year on tour may be the time to step up her game, Creamer has put in the most strenuous off-season of her young career, working to make her body stronger, her mind tougher and her formidable short game even better. Sipping green tea and expertly wielding chopsticks into a boatload of sushi at Amura, her favorite Japanese restaurant in Orlando last month, Creamer looks more fit, seems more mature and speaks with a relaxed focus.
"Without a doubt," Creamer says, chopsticks paused in midair, when asked if it would mean a lot to her to end the drought for American women. "I've thought about that, about why there hasn't been another American No. 1," she says. "It's difficult to say why." Then, in the next breath, she answers her own question: "We just have to work harder."
Creamer is a throwback to an earlier generation of American golfers. Think Daniel, Dottie Pepper and Juli Inkster—players whose attitude equaled their talent and whose passion carried them when their skills betrayed them.
"I don't see any real weaknesses in her game," says Daniel, who will be Creamer's captain at this year's Solheim Cup. "What's stopping her from being a dominating player is her length. She can't overpower the par 5s. But she has plenty of length to play on tour."
It's true Creamer doesn't dismantle golf courses. She dissects them, outlasts them, out-thinks them. Among a generation that has fallen in love with swing mechanics and distance, she has not forgotten the point of the game is to get the ball in the hole as soon as possible.
"I look back on my stats, and I realize I am not a long player, I know that," she says about her 246.3 yard driving average, T-79 on tour last year. "I'm getting stronger, my body is still changing with all my workouts, but that doesn't happen overnight. So I looked at what I can improve, and [it's] definitely my short game. I can always make one more putt, and one more putt per round can make a huge difference."
Daniel sees wisdom in that approach. "A lot of players mess up their games by obsessing on length," she says. "She's trying to compensate in other ways. That's smart. She definitely has the potential to be No. 1."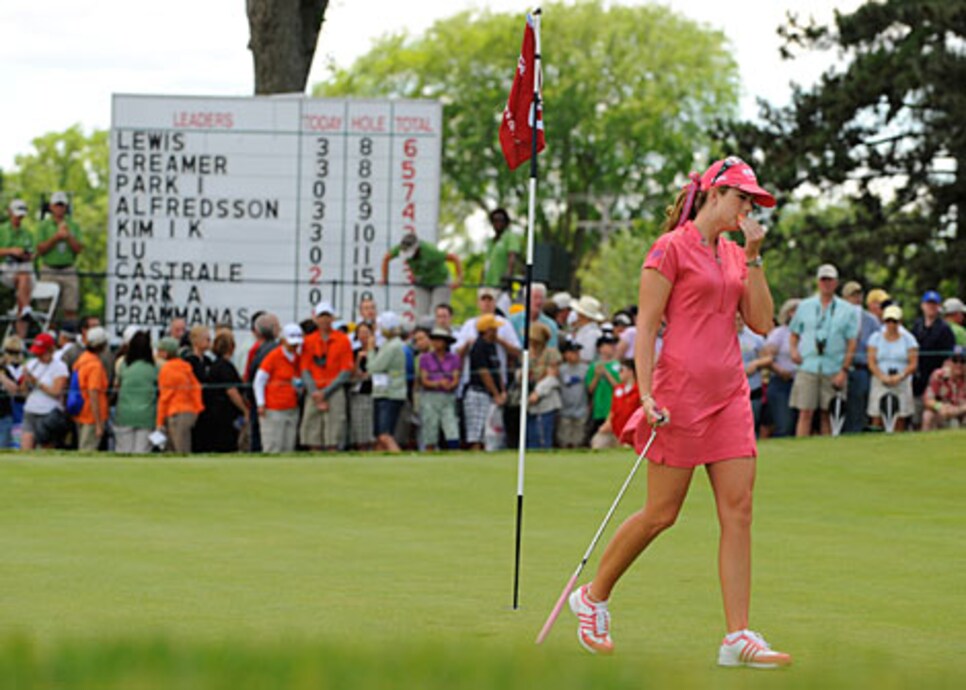 Creamer, who was second on tour in greens in regulation and third in putts per GIR last year, saw that her overall average of 28.38 putts per round was T-33 and concluded the up-and-down game can be better.
"I've worked with David [Whelan, her coach from the Leadbetter Academy] a lot more this off-season than I have in the past, probably three or four times a week," Creamer says about practice days that start at 8 a.m., break for a workout and lunch and then end on the golf course.
"I do a lot of up-and-down drills," she says. "I'm very results- oriented. I'm not going to just hit balls, I'm going to play a shot and hit it 100 times or five times until I feel comfortable with it. Right now, I am working on my strike. If you can hit it perfectly every single time, you are going to hit better shots. I work a lot on tight lies."
Creamer, who moved out of her parents' place and closed on a home of her own Dec. 31 at Isleworth, just down the street from Paul and Karen Creamer's home, has learned a lesson by paying attention to one of her neighbors. "It's amazing how much Tiger [Woods] works on his short game," she says. "But when you think about it, a flop or a bump-and-run is a shot you may rarely hit, but you need to be comfortable with it when the time comes."
A four-time winner in 2008, Creamer is No. 3 in the Rolex Rankings behind Ochoa and Tseng and ahead of Norwegian Suzann Pettersen and Shin, 20, who is a rookie even though she has three LPGA wins, including last year's Ricoh Women's British Open. Her closest competitors among the Americans are Cristie Kerr (No. 7), who has 11 career victories, and an improving Angela Stanford (No. 8), whose two wins last year were her first since 2003. No. 19 Morgan Pressel is the only other American in the top 20.
Looming, however, is one of the strongest contingents of American rookies in a while. Michelle Wie, now a 19-year-old Stanford student, is the best known of the newcomers, having finished in the top five in three LPGA majors in 2006 before an injury- and controversy-plagued slide that lasted almost two years. Less well known but more successful last year were Vicky Hurst, 18, who won four times on the Duramed Futures Tour, and Stacy Lewis, 23, who won Q school and contended at the U.S. Women's Open.
All three will be trying to do something Creamer accomplished in 2005: Earn a spot onto this year's Solheim Cup team not only as rookies but in less than a full season. "I expect at least one of them to make the team," says Daniel. "The problem for them is that they are going to have fewer tournaments in which to earn points than Paula did."
Because the Solheim Cup is in August this year instead of September, and because there are more off-weeks on the LPGA schedule, there are 17 tournaments until qualifying closes at the Ricoh Women's British Open compared to 22 in 2005. As rookies, the talented trio also won't get into every field even if they desired.
"I've thought about ... why there hasn't been another American No. 1. ... We just have to work harder." Paula Creamer
Creamer managed to play in 19 events in 2005 before qualifying closed and finished eighth to earn one of the 10 automatic spots on the team, missing only one cut. Again trying to amplify a strength, she sees that consistency as something she can improve.
"I want to have a chance to win every time," she says. "I've learned a lot about what it takes to put yourself in position and finish it. But I've also let a lot of tournaments go. In my mind, I should have won more than eight times."
One of those that got away was last year's U.S. Women's Open at Interlachen CC near Minneapolis, where Creamer started the final round one stroke off the lead. With Ochoa and Sorenstam out of the picture, the tournament seemingly was hers to win, but a double bogey on the par-5 second and another double on the ninth—both when she admittedly lost her concentration—led to a 78 and a T-6 finish.
"That Sunday night wasn't the best of nights," she says. "I felt like I just let it go. The bunker on No. 2, that was sloppy. [The experience] definitely helped, though. It was the first time I ever played in the last group at the U.S. Open."
The hangover lasted exactly one tournament, a T-63 finish at the PG Beauty NW Arkansas Championship the following week. The week after that, Creamer won the Jamie Farr Owens Corning Classic, shooting a 60 in the first round. She was in the top 20 in the next 10 events, including a win and six other top-10s. The pain of Interlachen has been transformed into a learning experience.
"My favorite word is patience," Creamer says behind a smile. "Everybody dreams about winning the U.S. Open, and I got wrapped up in it and I didn't think about the things I should have thought about. I truly know I got in my own way. I learned how to realize next time I am in that situation what to do." About the collapse, she says: "I should have been able to see it coming."
Because of breaks built into the LPGA schedule, Creamer will play the first six tournaments in four different countries, beginning with the SBS Open in Hawaii and culminating in the Kraft Nabisco Championship in early April, the first major of the year. "It's just going to happen," she says about winning a major.
Creamer has proven she can make things happen, going back to when she won the 2005 Sybase Classic on a cold, windy day at Wykagyl CC with birdies on three of the final five holes at age 18 to become the tour's youngest winner of a multiple-round event.
Now, on her own ("I've still got to get patio furniture," she says about her new home) and enjoying life ("I'm discovering what it's like to be 22"), Creamer has her sights set on a very adult goal: being the best in the woman's game. That time may be now.