News
Old Glory At The FBR Open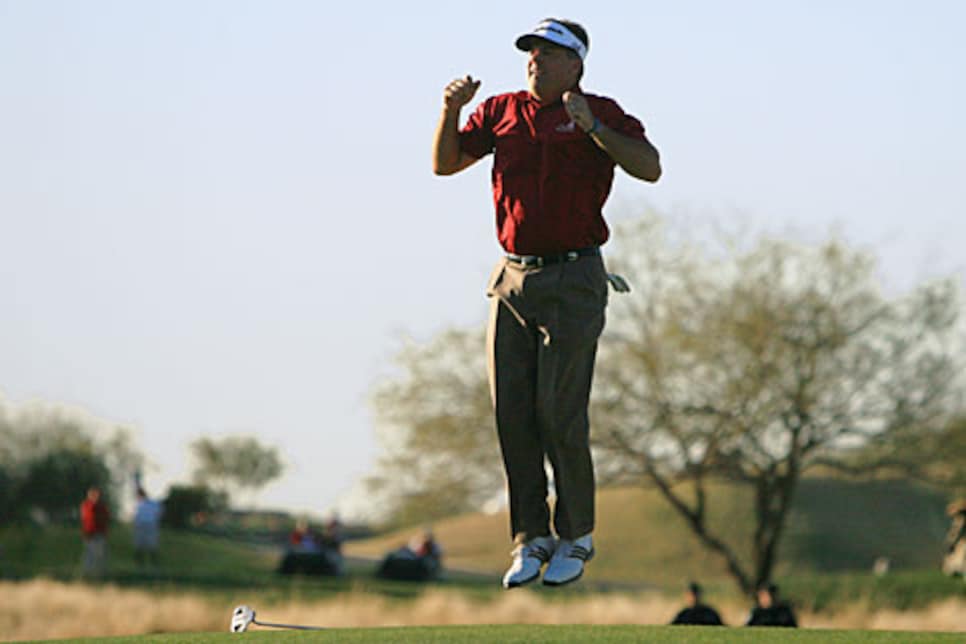 High point: Perry became the FBR's oldest champion by sinking a 22-foot birdie putt on the third extra hole.
Change is everywhere. A minority, Barack Obama, is our President. The Tampa Bay Rays went to the World Series, the Arizona Cardinals to the Super Bowl. Next thing you know, a picture will show up of Mr. Aqua-America, Michael Phelps, smoking marijuana. But in the department of constants, Kenny Perry remains a tenured sheriff. The Kentucky gentleman who treats his birth certificate for what it is—a frayed document that belongs in a desk drawer—continues to golf his ball with exceptional elan for a man of 48. With a 22-foot birdie putt on the third hole of an overtime period he accurately described as "ugly," Perry vanquished Charley "Green Shoes" Hoffman to win the FBR Open at the TPC Scottsdale.
Dealing with eye problems, personal family crises and a shaky first-round takeoff, Perry annexed his 13th career victory and 10th since turning 40. Only three players in that bracket—Vijay Singh, Sam Snead and Willie Macfarlane—have won more. To join this club, Perry had to shake a bunch of talented youngsters who took over the course after numerous stars, including Phil Mickelson, excused themselves early. Notable among the relative newcomers was rookie Scott Piercy, a sponsor's exemption with a peaceful swing who built an ephemeral five-shot lead during the third round and was up by one in the fourth round after a birdie on No. 10.
But long before the final day's ebbs and flows, Perry faced issues with contact lenses that felt scratchy and a heart torn by illness back home. His dad, Kenny, a regal presence at last September's Ryder Cup, is ailing, as is his mom and wife Sandy's mother. "All I know," said Perry after his closing 69 for a 14-under-par 270 in regulation, "is the ice storms that knocked out power in Kentucky haven't affected them. So, hopefully, watching me on TV perked them all up. At least they're all in their houses, not hospitals." After 14 holes Thursday, Perry figured he would be with them sooner rather than later. He was four over par and "packing my bags." But he rallied for 72, then sizzled for 63 Friday on a layout that vexed others because of narrower fairways and grouchier rough than usual.
Perry is still so straight and long, he doesn't fret about such alterations. But greens harder than The New York Times crossword troubled him, particularly when he squandered several good looks. Hoffman, two strokes off Perry's 54-hole pace, also could have put everybody away—yet he too missed chances in the closing hour. He might have gone lower than 67, but that was enough to share the playoff billing after Perry bogeyed his 72nd and Kevin Na just missed birdie there. Na had 68, one too many to make it a threesome. In the end Perry prevailed because he was the superior ball-striker, not on account of his short stick. He logged 31 putts in each of his weekend rounds—not counting overtime.
In the staccato playoff, both Perry and Hoffman bogeyed the first hole, No. 18, from fairway bunkers. Then each made par on No. 10, Hoffman after his drive wafted right and hit the cart path twice. At the climactic 17th, Hoffman's tee ball on the drivable though dangerous par 4 took a deep seat in a bunker. "Plugged," he said. He gouged it out nicely, but when his putt from 35 feet failed to fall for birdie, Perry pounced on the opportunity, one of several these two survivors exchanged with each other while hundreds of spectators from the announced gathering of 60,425 fled the scene for the football game, already underway. It was Pittsburgh 3-0 as Perry's putt from the right front fringe climbed a ridge and disappeared into a cup surrounded by a solid brown patch, formerly known as grass.
Thus, the oldest champion in this tournament's history punctuated a festive week featuring legions of zanies half his age, many of them dressed in Cardinals' gear that seemed fresh off the rack. Some clothing items still bore store tags. Understand that the Cardinals, who moved to the desert in 1988, have become overnight sensations. On any given day, at least before a quiet Sunday, some 20,000 or so patrons(?) flocked to the fabled 16th hole, a par 3 now completely enclosed by bleachers. The thundering and thirsty herd rapidly adopted Thursday's co-leader, rookie James Nitties. A typically engaging Aussie, he lists his hobbies as "clubbing and girls." Perfect.
But favorite Mickelson did not deliver. His first tee ball of the new year almost hit a patio in regulation. He went on to double bogey the hole and never recovered. Two more unplayable drives yielded a 76, to be followed by a second-round 73, after which it was wheels up for San Diego. He missed the cut by a touchdown and an extra point. "It just didn't come together," said Mickelson, who located but eight fairways in 36 holes, only five of which he birdied. Total putts: 60. "The course is beautiful, and it's an exciting time here with the Cardinals in the Super Bowl. But I didn't get that momentum and play well. I didn't feel as far off as my score indicated, but I'll get some good work done this weekend at home." Warning: The last time Mickelson missed an FBR cut (2007), he won his next start, the ATT Pebble Beach National Pro Am.
Besides Mickelson, the TPC Scottsdale wasn't exactly Valhalla for several of his Ryder Cup teammates, either. Captain Paul Azinger missed the cut, along with Justin Leonard, Stewart Cink, Steve Stricker, Anthony Kim and defending FBR champion J.B. Holmes. Three-time champion Mark Calcavecchia also bowed out early, as did Camilo Villegas, Brandt Snedeker, Mike Weir, Stuart Appleby, Scott Verplank, Angel Cabrera and Fred Couples.
The Thunderbirds organizing committee offered anyone wearing Cardinals' attire free admission to Sunday's round. But plans to show malingerers Super Bowl XLIII on the JumboTron were abandoned when the NFL, which takes itself very seriously, threatened litigation. The name of the game, naturally, could not be used either, so the Thunderbirds opted for a "The Cardinals' Viewing Party" in and around the clubhouse: $10 all-you-can-eat buffet, cash bar. At press time, the NFL had not sued for a piece of the action.