News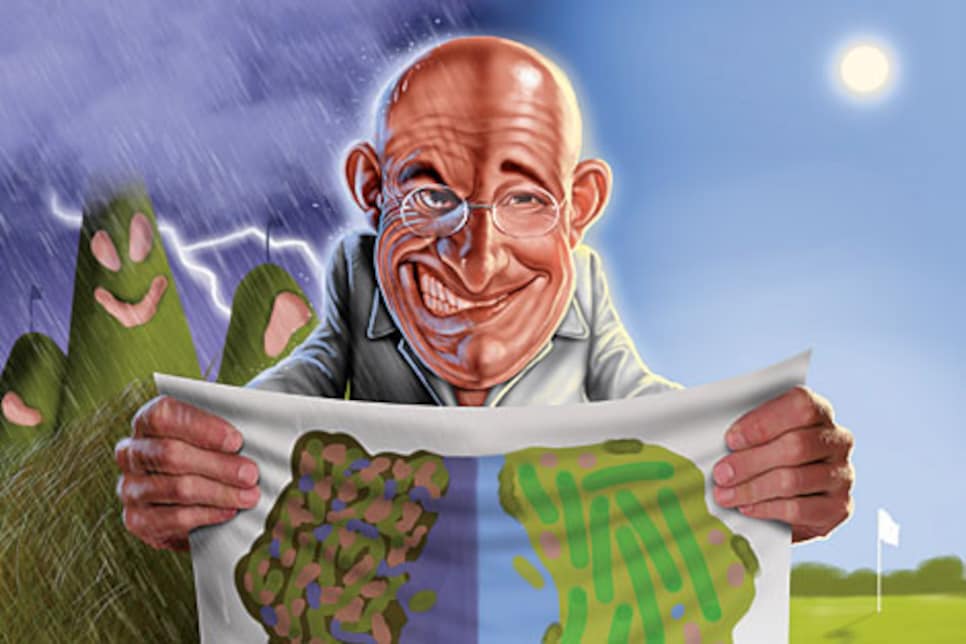 The strategy of course setup was an enduring story line at the game's major championships in 2008, none more so than at the U.S. Open in June at Torrey Pines. Course setup's power to inject life into a beleaguered major became apparent when Tiger Woods sank a birdie putt on the 18th hole to force a playoff and reacted with an emotional —and memorable—celebration.
The USGA's original plan called for shortening Torrey's finishing hole into a brutal par 4. But Mike Davis, the USGA's senior director of rules and competitions—its setup guru—had other ideas. He wanted to make the hole a birdieable three-shotter. Even more remarkable for an organization long obsessed with protecting par, Davis and Jim Hyler, the USGA's championship committee chairman, decided after the first round to shift the 18th tee 50 yards forward so players would spend the remainder of the event contemplating a go at the green in two.
"There are plenty of par 5s we play at majors where [you can move the tee forward]," Geoff Ogilvy said. "At Augusta they don't do it, because they got rid of the old tees. Here, they were actually doing it."
At the Masters course setup was also a big story. Augusta National's lack of tee flexibility (note: there'll be a new forward tee on No. 7 in '09), increased narrowness and excessive green speeds exposed setup limitations that led to player and media criticism.
"You don't really shoot low rounds here anymore. You've just got to plod along," Tiger Woods said. "It's playing more like a U.S. Open than a Masters."
The RA's refusal to move tees up in the face of dire weather forecasts at a lush, narrow Royal Birkdale threatened to mar the British Open. Jerry Kelly said the first-round setup put the RA "in the league of the USGA at Shinnecock [in 2004]," while Graeme Storm noted that, "It's hard enough to hit the fairway, much less reach them."
After a stellar showing at the PGA Championship at Southern Hills in 2007, the PGA of America's setup strategy at Oakland Hills in August, oddly, reverted to narrow landing strips guarded by a layer of dense chip-out hay, topped off with fast and firm greens.
"I'm a big PGA of America guy, but this week, it was like things happened too fast for them," said Steve Elkington, a past champion. "They lost control of an event where players are historically allowed to play."
The PGA recovered with a stellar Ryder Cup, though American captain Paul Azinger was largely responsible for slowing down Valhalla's greens and eliminating rough via a fairway-widening intermediate cut. Players responded with aggressive play and a thrilling U.S. victory.
Still, Torrey Pines delivered the two most remarkable American triumphs: Woods' unforgettable victory, and Davis' success in alternating tees and making a Sunday decision to turn the 14th hole into a drivable par 4, restoring the U.S. Open as the ultimate convergence of physical and mental skill.
"They kept us thinking," Sergio Garcia said. "That's what a major championship should do. It shouldn't be just get there and whack it, which is what the Masters has turned out to be in recent years."
Ogilvy concurred: "It's a strange year when the U.S. Open, traditionally the toughest of the majors, is the most fun of the four."