News
It took 65 tries, but Weibring finally won a professional major.
The essential secrets to playing winning golf he carried in the left-hand pocket of his slacks, printed neatly on a small piece of notepaper from his Embassy Suites hotel room. A list of random messages intended to conjure positive thoughts filled the page. At the bottom, in all-caps, was the most important: "HAVE FUN WITH IT."
Not exactly the wisdom of Aristotle, but ancient Greek philosophers probably wouldn't have even bothered with such an insane pursuit.
Such words, however, brought comfort to D.A. Weibring. Sporting an 0-for-64 shiner in major-championship competition, the earnest 55-year-old digested tidbits of homespun insights, wove them into a tapestry of technical improvement, and held off a quartet of passionate foes to capture the year's final major on the Champions Tour, the Constellation Energy Senior Players Championship.
The details of Weibring's breakthrough victory at the Five Farms East Course at Baltimore CC in Timonium, Md., his fifth on the Champions Tour to match his PGA Tour win total, are more intriguing viewed through the prism of his misty-eyed post-round dissertation. He is an emotional man, especially when he talks about his family, which is unquestionably integral to the process.
"I can't help it," Weibring said haltingly. "It wouldn't be worth it if you didn't have someone to share it with."
Thus, to merely cite cold statistics is to ignore the fact that the heart is good for two a side if it's in the right place. Nevertheless, numbers are unforgiving, and Weibring's final-round, two-under-par 68 and 271 total dealt disappointment to a tightly bunched set of contenders, even though the nine-under winning aggregate was the highest in relation to par since Jim Albus captured the 1991 edition by the same score at TPC Michigan.
One stroke in arrears stood Fred Funk, a native of nearby Tacoma Park, Md., who took over the Charles Schwab Cup lead from Jay Haas but couldn't realize his long-sought goal of winning in his home state. Two back were Ben Crenshaw, Jeff Sluman and third-round leader Nick Price, each driven by extra motivation to amend recent shortfalls.
"I didn't play my best golf," Weibring admitted after winning the biggest check of his career, $390,000. "I've played better in the final round and haven't been rewarded. It was just my time. I did always believe I could win a major championship. Sometimes things happen, and they just fall into place."
They did for Weibring (who came closest to a regular-tour major with ties for third at the 1987 PGA Championship and the 1988 U.S. Open), who trailed Price by four strokes early in the final round. But the Zimbabwe native, winner of three major titles, couldn't sustain the performance that lifted him to 10 under after he birdied two of the first four holes. Three bogeys in a four-hole stretch starting at the par-3 seventh left the door open, and all sorts of worthy candidates stepped up to the welcome mat.
Haas and Crenshaw, the 36-hole leader, each owned a share of the top spot on the back nine before tripping. Crenshaw, despite a closing bogey, posted a 66, tied for the low round of the day with Funk, whose 15-foot birdie attempt at the home hole nearly forced a playoff. Haas fell back after bogeying two of his last three for 68. Sluman, who classified his first go-around in the senior majors as "kinda stinky," made a late burst in firing 69 on the heels of the week's low round Saturday, an unblemished 64.
Somehow, Weibring kept his nose out front, though not without angst.
Clarity didn't come until the par-4 17th, when Weibring somehow scraped in a 10-footer for par while Price was sizing up a slick three-foot birdie putt. Weibring's body language suggested a misfire, but it snuck in the lower right corner. Price, above the hole, couldn't get the tying stroke down.
"In this game we hit so many shots, so many putts and chips that we think we hit perfect, and they don't work out—and we always wonder," Weibring said. "And then I guess maybe we are supposed to feel guilty when one goes in."
There was plenty to wonder about during the week at Baltimore CC. When the 78-man field wasn't grinding over the tilting, tempestuous A.W. Tillinghast greens, they were gnashing their teeth over the plummeting stock market. Weeks earlier, one stock that had taken a beating was Constellation Energy, the title sponsor, and Warren Buffett's MidAmerican Energy, a subsidiary of Berkshire Hathaway, snapped up the company Sept. 18 for $4.7 billion. What that means for the future of the Senior Players at Baltimore CC was unclear. Constellation Energy is signed on through 2010.
"Right now, everything is status quo," said Mike Stevens, president of the Champions Tour, who assured that senior golf was on solid financial footing for at least 26 events in 2009.
Leaving Baltimore CC would be a blow because the majority of players revere the venue like few others on the schedule. "This is one of the best we play, easily top five," Loren Roberts, the '07 champion, said. "We don't play many golf courses of this pedigree very often. This is really a privilege."
Privilege, yes; picnic, no. The confounding putting surfaces were the primary defense. When Crenshaw is baffled by the breaks, one senses a mismatch. "Getting the speed was the devil," said Gentle Ben, who expressed delight at being in contention for a change but admitted that the outcome was "painful."
Pain was disseminated to all comers when it came to putting. Walter Hall could only shrug when he recounted a miss on the 12th hole in round three. He marked, lined up and then failed to hit the hole on a par attempt he estimated at 10 inches.
Always a proficient putter, Weibring sought improvement. He switched to a TaylorMade Rossa Itsy Bitsy Spider putter three weeks ago and absorbed instructional sessions with short-game teacher Marius Filmalter using his TOMI (the optimal motion instructor) device that analyzes a player's putting stroke. "Putting is one of my strengths, but I knew it wasn't going to be up to snuff on these greens," Weibring said. "I was ready."
Cementing it all together was the little piece of paper Weibring carried in his pocket and referred to throughout the final round. The words on it he had copied from a text message he had received from his daughter-in-law, Stephanie, whose notes to her husband, Matt, have helped him to a strong season on the Nationwide Tour. Matt Weibring currently ranks 20th on the money list; the top 25 earn PGA Tour cards.
A few months ago, the elder Weibring welcomed the arrival of similar notes. Early in his career, Weibring's father used to jot down swing thoughts on note cards that D.A. would carry during competition.
"It's basic stuff: Play with confidence and enjoy being in that position," Weibring said, tearing up slightly. "I complimented her that she should be an assistant captain for the Ryder Cup team. She was joking that some of the things she was telling Matt when he was playing in Salt Lake a couple weeks ago were the same things Zinger [U.S. Ryder Cup Captain Paul Azinger] was telling the guys on the Ryder Cup team."
Before he became eligible for the Champions Tour, Price had won his last four and six of his last seven after holding the Saturday-night lead, but he came up empty for the third time on the senior circuit after a closing 71.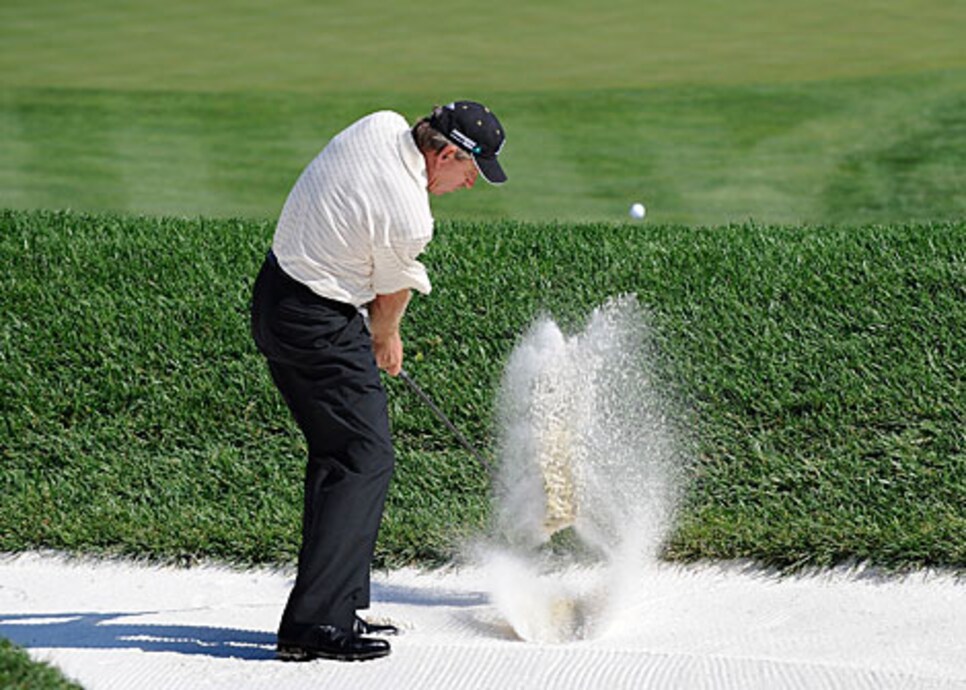 "It's wishy-washy golf, and I don't know how to stop it," he said with disgust. "My confidence is not there. I can't commit when I get under the gun, and maybe it's just that I struggled those last few years on the regular tour, and I don't know how to get over the hurdle again. I'm just making stupid mistakes and stupid swings."
He shrugged. "If I were 35, I'd be worried. It bugs me, and I'm very frustrated, but there are more important things."
Courtesy of Sluman, Price was reminded of that in the locker room afterward, learning that Seve Ballesteros had been diagnosed with a brain tumor and was to undergo a biopsy Tuesday.
"That puts life in perspective right there," Price said. "Listen, we're all at an age where we start to see too many people we know having to deal with something serious, and you're so thankful that you're healthy and your family is healthy. I feel for Seve and his family. Knowing that, you just can't let losing a golf tournament get you down."