News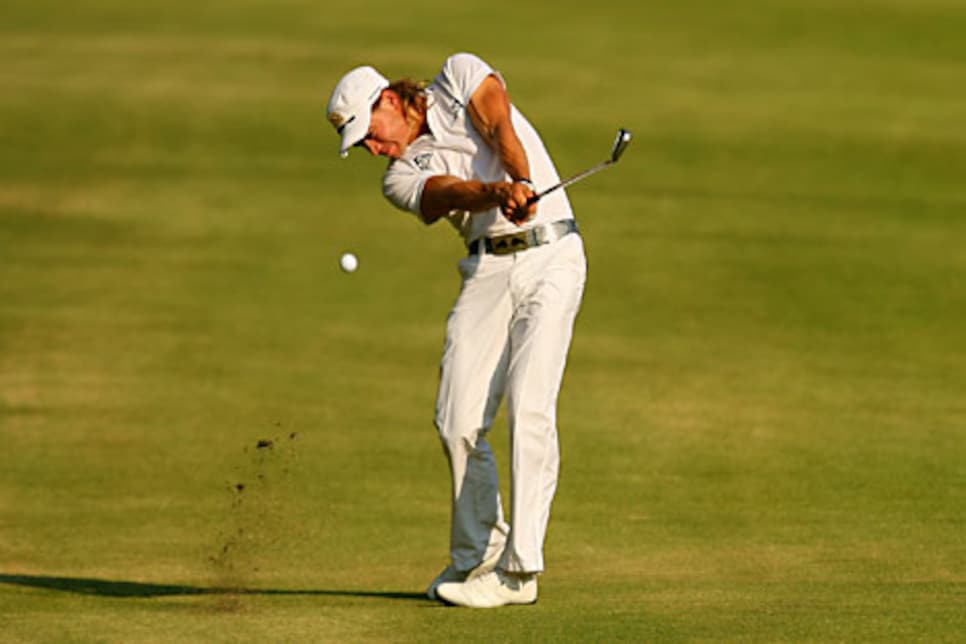 Villegas offset two bogeys and a front-nine double bogey with eight birdies Sunday.
He came. He parked his car. He conquered.
In the swooning, season-ending event that launched a thousand punch lines, on a week that felt less like the grand crescendo of the PGA Tour season than it did the last week of school, Vijay Singh voted "present" to win what he had already won, the FedEx Cup, while Camilo Villegas came from five shots behind to win everything else worth winning, which is to say, the Tour Championship. And, OK, maybe a leftover million or two here and there as he and Singh split the four FedEx Cup titles 50/50.
Coming, as it did, in the wake of the Ryder Cup, the Tour Championship looked, as Boo Weekley might have opined had he been there, like puttin' lipstick on a leatherback turtle. Golf had lurched from the inspired to the just plain tired. Thanks to Hurricane Ike, by the time the PGA Tour pulled its traveling circus into Atlanta, the city was on the verge of being entirely out of gas. Was there ever a more apt metaphor?
Let's see ... the probable Player of Year, Padraig Harrington, didn't qualify, and all the big winner had to do was not pull a hammy or have Boo keep his score and he would get his big, fat $9 million check, with another million going to his broker. The first champion wouldn't kiss the cup and, at first, the second one wouldn't even talk about it. If this second iteration of the FedEx Cup has revealed anything at all, it is that golf is, indeed, bigger than any single player. The season-ending dash for cash is shining proof that events of intrinsic value -- the British Open, the PGA Championship, the Ryder Cup -- survive splendidly, even in the absence of the greatest player who ever limped. It is the pedestrian, made-for-TV, computer-generated competitions that can exist only in reflected starlight. Now that this new era in golf has made two laps around the track under the caution flag, one simply can't escape wondering which suit in Ponte Vedra most closely resembles Gordon Jump who, following a disastrous promotion for his fictional radio station, WKRP in Cincinnati, uttered the famous phrase, "As God is my witness, I thought turkeys could fly." Let's pause for station identification, tweak you very much.
To the extent to which the day could be saved, it was managed in the way golf has always managed it, not with point systems flush with cash and arcane formulas but with fine players playing fine shots when what mattered most was winning and no computation was any more vexing than level fours.
Sunday at East Lake GC evolved into a taught, four-way scramble between three twentysomethings and a battle-scarred 38-year-old. It came down to Villegas, Anthony Kim (who wasn't himself on Saturday), Sergio Garcia (who wasn't himself on Sunday) and Phil Mickelson (who, some would say, hasn't been himself since Winged Foot).
Garcia was three shots clear of Kim and Mickelson and five up on Villegas going into the final round but hit just five of 14 fairways and shot a one-over 71, managing to steady himself sufficiently at the end to squeak into a playoff with Villegas he probably didn't deserve to be in and which he immediately lost by hitting his 4-iron tee shot on the par-3 18th short and right of the greenside bunker.
Mickelson was there or thereabouts most of the day and while he made some of his usual deft up-and-downs, he squandered too many chances on the greens, missing close-in birdies at the fifth, ninth, 12th and throwing in a costly three-putt at the 11th. Despite still not having full command of his golf swing, Kim actually led after 12 holes at seven under par. Tied by Villegas' massive 42-foot birdie putt on the 13th, Kim then missed the 14th fairway right, had to punch a low screamer underneath tree branches and through the green, chunked a pitch 45 feet short and made bogey. He followed that with a disappointing par on the easiest hole on the course, the par-5 15th, and never caught up.
It was the 26-year-old Villegas who was the epitome of resilience. He went out fast with birdies on the third and fourth but then gave every indication of throwing it all away. He hit a 5-iron into the water on the sixth and made double bogey and followed that with a bogey at the seventh. Even with Sergio stumbling out of the gate, the Colombian was still five behind.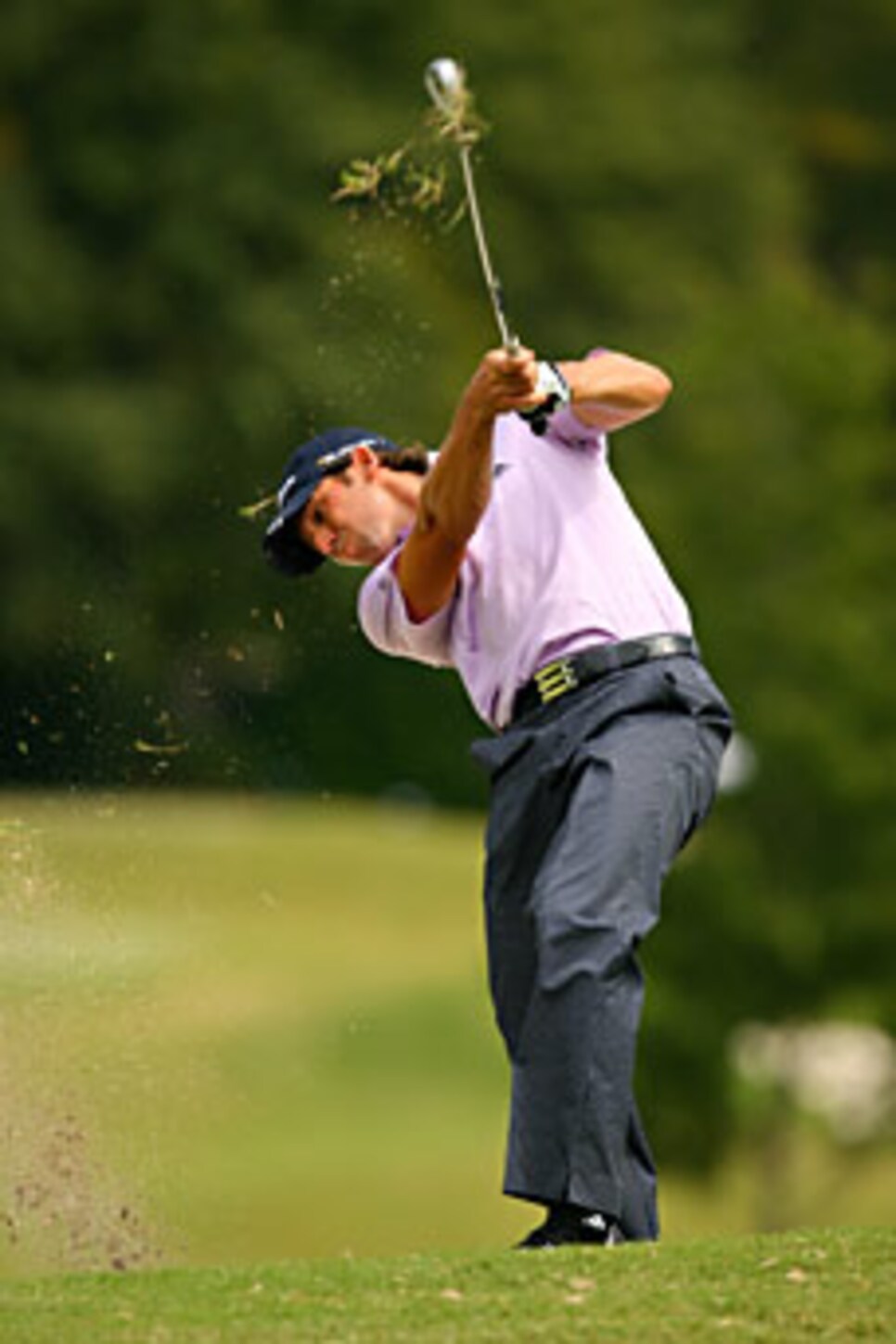 According to Villegas, his caddie, Gary Matthews, looked at him and said, "Man, you're not going to give up on me." He birdied five of the next six holes. He made a 13-footer at the eighth; reached the par-5 ninth in two; made a 28-footer at the 10th; an 11-footer in the side door at the 12th; and the bomb at the 13th. "Man," he said, "I'm proud of myself." And well he should be.
Though Villegas stumbled when he three-putted the 15th for par and bogeyed the 16th after a horrendous tee shot, his 7-iron approach from the first cut on the 17th to 11 feet, and the subsequent birdie putt, were the shots of the tournament. Villegas described the 7-iron as "hit and beg." His two pars on the 18th, with two 3-irons and a pair of winding left-to-right two-putts from more than 40 feet, were good enough for his second straight PGA Tour victory (the last person to win his first two back-to-back: David Duval, 11 years ago), the $1.26 million first prize plus a boatload of bonus money.
Certainly, there is no shortage of ideas on how to make the FedEx Cup, this multi-headed Hydra, different. Better is another matter altogether. In fairness, it was never a horrible idea to do something besides what had always been done at the dawn of football season, but the FedEx Cup might just be a bridge too far. A limited field that has earned its place at the end of the season, playing for a lot of money on a first-rate course can be reasonably compelling, as it was Sunday afternoon. But as a philosophical construct, "playoffs" and "golf" may, in the end, go together like cows and the Kentucky Derby.
The Tour Championship -- which, in an Alice-in-Wonderland kind of way, has become the championship of the "Tour" in name only -- remains a gathering of the game's elite on a course with an enviable pedigree, running from Bobby Jones to Errie Ball, the lone living participant of the first Masters (and a former assistant pro at East Lake) who struck the ceremonial first shot. While Garcia was the only player from the European Ryder Cup team in the field, 10 members of the victorious American side played, to various degrees of give-a-damn. Another third of the field could have comprised the majority of an impressive Presidents Cup International squad.
Kim, in a testament to the recuperative abilities of the 23-year-old human body, seemed to charge right off the 14th green at Valhalla and onto the first tee at East Lake. Fresh from his 5-and-4 drubbing of the 28-year-old Garcia (which, as Hunter Mahan pointed out, AK wanted to win 6-and-3 since he didn't know the match was over), Kim never missed a beat, taking a four-shot lead on the first day with an opening 64 on East Lake's hard, new Bermuda greens.
Garcia turned in the best round Friday, a five-under 65, to set up the attractive rematch of Kim and Garcia in the final twosome Saturday. Kim, whose lead had shrunk to two shots, turned in his first scratchy round of golf since the morning foursomes on the second day of the Ryder Cup. He got his tee time wrong, hit four of 14 fairways, a hospitality tent and a spectator's forehead and was fortunate to shoot the 72 that left him tied with Mickelson, three strokes behind Garcia, whose 67 would have translated into an impressive reverse drubbing had it been a true Valhalla rematch. In keeping with the general tenor of the week, so fraught was the day with tension that, when it was over and he was waiting to be interviewed by NBC's on-course announcer, Roger Maltbie, the mischievous Garcia gently rolled his golf ball off Maltbie's Falstaffian belly.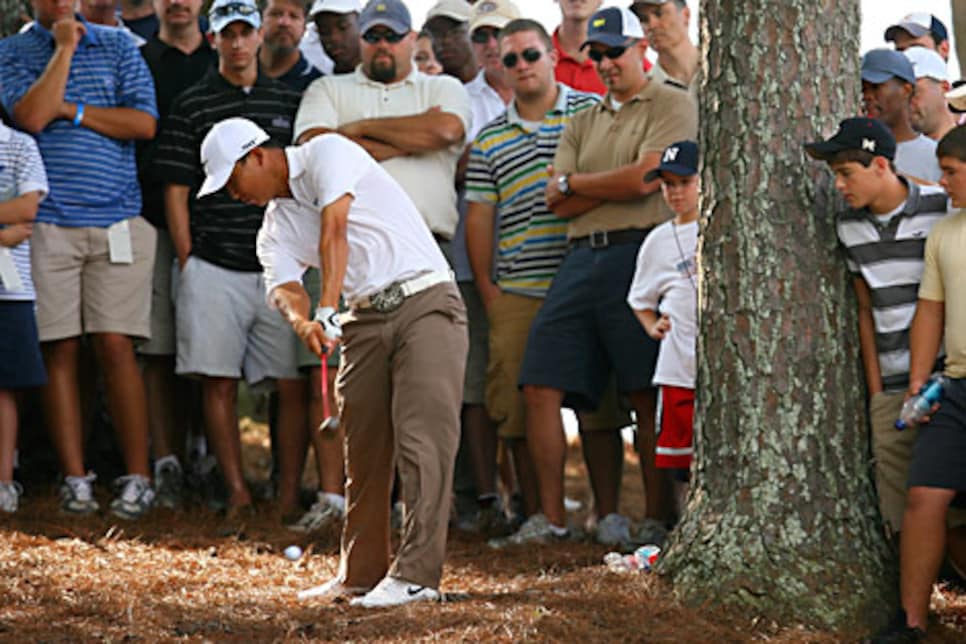 Thrust squarely into the week's anti-climax was Singh, who was in the unenviable position of accepting heartfelt congratulations for playing badly -- something neither Vijay nor any player of his stature is in the least bit fond of doing. To Singh's credit, and in marked contrast to his reaction at the BMW Championship in St. Louis, he managed to grin and bear it with reasonable graciousness.
And, speaking of suits, which one do you suppose it was who got to place the call to Singh asking him to play nice with the laptop set after Vijay more-or-less stiffed 'em following his more-or-less Cup-clinching T-44 finish weeks ago in the BMW? Dialing for Vijay, that hastily arranged telephone call-in show, was generally reputed to be about as interesting as the average telemarketing call. What would have been truly fascinating, however, was the tour's version of Peter Seller's President Merkin Muffley talking on the hotline to Vijay, playing Soviet Premier Dimitri Kisov from Stanley Kubrick's "Dr. Strangelove." The suit's end of the conversation probably sounded something like this: "Hello Vijay? Listen, uh, I can't hear too well. Do you suppose you could turn the music down just a little? ... Oh, that's much better ... yeah ... huh ... yes ... Fine, I can hear you now, Vijay ... Clear and plain and coming through fine ... I'm coming through fine, too, eh? ... Good, then ... well, then, as you say, we're both coming through fine ... Good ... Well, it's good that you're fine and ... and I'm fine ... I agree with you, it's great to be fine ... Now then, Vijay, you know how we've always talked about the possibility of something going wrong with the Bomb ... The Bomb, Vijay ..."
And what bigger bomb have we had this year than the FedEx Cup? Let's hope the Ponte Vedra Project's better days are ahead of it.