News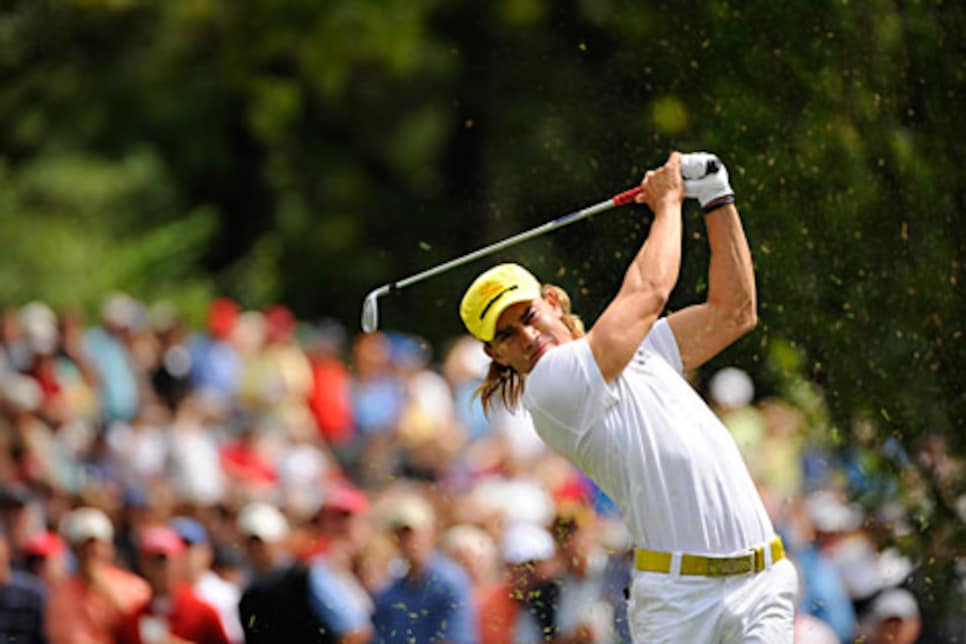 Breakthrough: Villegas' closing 68 gave him his first win after 17 PGA Tour top-10 finishes.
Camilo Villegas says it's all about soccer back in his native Colombia, where there are only 40 or so golf courses and not much discussion of the FedEx Cup playoffs on talk radio. But that might change now, because the stylish 26-year-old won the BMW Championship last Sunday. With a final-round 68, Villegas secured a wire-to-wire victory, his first on the PGA Tour, not that he acted the part. When Villegas clinched on the 18th green at Bellerive CC, save for the obligatory hugs and handshakes, it almost seemed as though he had been there before.
Part of the reason might be that Villegas has been so close so frequently in three years with the big show -- three seconds, 17 top-10s. Also, beneath the flashy outfits, the finely tuned body and the Spiderman routine, a certain maturity borne of patience exists. For example, Villegas was 138 pounds when he went to the University of Florida, where he could have partied the way you're supposed to party. You can gain weight by drinking beer, too.
"But I saw a good door and a bad door there," Villegas explains. "I had this great opportunity to improve my game and myself with all these physical-education and nutrition experts around me. I had a great coach in Buddy Alexander. I had all these facilities. I had time. I had to get stronger and better. I had my fun, believe me. But, in the end, when it mattered, I took the good door."
With his two-stroke triumph over another Gator, Dudley Hart, Villegas virtually guaranteed a $10 million postseason jackpot for Vijay Singh, whose FedEx Cup coronation was a conclusion as foregone as he was long gone by the time Camilo signed for a 15-under 265. Singh won the first two playoff tests -- Barclays and Deutsche Bank -- tied for 44th in the BMW and still can avoid being asked to kiss the hardware that Tiger Woods refused to smooch at the climactic Tour Championship one September ago.
"Vijay has to fall off the stairs or something," mused Sergio Garcia. That's close. If Singh neither starts nor finishes the fourth and final leg at East Lake GC, Garcia or Villegas could collect that $10 million, but only by winning there. So, even though Singh declined to hang out at Bellerive for congratulations, it's pretty much over before it's over.
"Volatility" is a word the tour has trotted out early and often to sanctify the latest (but not last) Byzantine permutations of the FedEx Cup points system. But with the Tour Championship destined to feel limp, especially a week after the Ryder Cup, volatility also might describe the emotions of executives at the Atlanta headquarters of sponsor Coca-Cola. Only one of this year's major champions, Trevor Immelman, will play, and if you book a flight there to see Phil Mickelson, make sure your ticket is fully refundable. "It needs improvement," offered Villegas, referring to a scheme whereby the elite-30 list excludes Padraig Harrington, likely the Player of the Year after snaring the British Open and PGA Championship. Villegas will be there, of course, but first he planned to travel home to bond with family, friends and supporters. A few of his pals waited for him Sunday, including Eric Axley and Garcia, who recorded his first competitive hole-in-one (pro or amateur) in the second round before settling for a T-20.
Outside the ropes, thousands of spectators gravitated toward Villegas. St. Louis, America's finest baseball city, was starved for the world's best golfers. They hadn't been visited since the 1992 PGA Championship, and despite extenuating atmospheric circumstances before a sunsplashed Sunday afternoon, these people expressed a definite yearning for more, albeit in their customary civilized fashion.
They were presented a five-hour tug-of-war in the lead threesome: Villegas, fellow young lion Anthony Kim and Jim Furyk, who required only 128 strokes for 36 holes on a catch-up Saturday. Villegas' one-shot margin vanished Sunday afternoon after bogeys on Nos. 5 and 6, but he was up again by one at the turn. The back nine is where Villegas took a cue from another amigo, Singh, who encouraged him to believe in his putter even when others don't.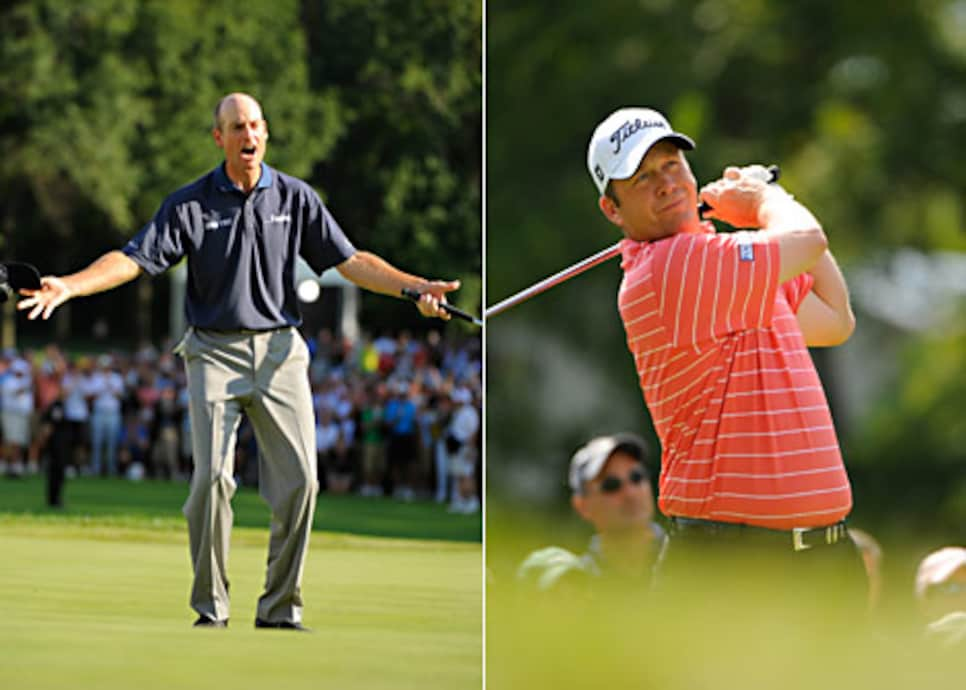 Villegas sank a crucial 13-footer to save par on No. 12, an 11-footer for birdie at 13 and a 36-footer for birdie on 14. By then, he was three ahead of Furyk and two up on Kim. "I've worked very hard at [putt-ing]," said Villegas. "I'm definitely a better player than I was when I first got out here. It's gotten to the point where I feel very comfortable. When you're a college kid and you get to the PGA Tour, you go like, 'What am I doing here?' Now, I decided I'm on the PGA Tour for a reason. I'm a great player."
Hart was granted a medical extension for 2008, having missed much of the previous season after wife Suzanne underwent surgery to remove a tumor from her lung. He tended to their triplets while she recovered, and when he returned to the tour, he had to earn $485,931 in 15 events. That was no problem. Then, he arrived at Bellerive in 67th place on the FedEx points list, scorched the moist earth beneath for four rounds in the 60s -- including Sunday's 65 -- and will attend the Tour Championship on merit, and grit. "What a year," summarized Hart, smiling, after finishing one swing better than Kim (67) and Furyk (70).
And what a week. Nary a ball was struck Thursday because of a serious playoff rain, but Bellerive's $9.5 million modernization that provided upgraded drainage rendered the course drier than expected Friday, when Villegas opened with a lift-clean-and-place 65 despite a bogey on No. 18. Morning fog stunted plans for a dawn-to-dusk 36-hole marathon Saturday, although blue sky and bright sunshine was seen a mile or so from the course. Round two began at 7 a.m. as scheduled, but then was interrupted at 7:29, resuming at 9 a.m. when the smoke cleared. Despite Furyk's 62 (with 28 on the second nine), Villegas retained his one-shot lead after two rounds with 66, and four of those were putts on No. 9. "A turning point," suggested Villegas, who might not have responded well a year ago. "I birdied the next two holes."
Furyk followed with 66 and was the leader in the glassed-in interview room when darkness halted play with 23 golfers at large, including Villegas. While Furyk slept, Villegas returned at dawn Sunday for five holes and polished off another 66 for 13 under after 54 holes, still one ahead of the field. "Long day," he said. "First time in St. Louis, but I love this place." In its previous incarnation, from 1899 until the advent of playoff fever last September, the BMW was the Western Open, and its customary home since 1962 was Chicago. Under whatever sponsorship umbrella, daily tickets routinely were made available. For this BMW, however, weekly packages for as low as $225 proved so desirable that walk-up sales weren't part of the equation.
According to John Kaczkowski, vice president of tournaments for the Western Golf Association, local interest was such that the Evans Scholars Foundation would receive its largest check ever -- probably about $3.2 million, compared with the average $2.3 million. "We're up about 150 percent in regular tickets and 75 percent in corporate, the tents and so forth," said Kaczkowski, who did his rough math before the WGA popped for $250,000 in emergency funds to hire extra shuttle buses after Thursday's drenching turned parking lots into mosh pits.
Kaczkowski did not deny that this tournament, absent Woods, might have fallen through the cracks in Chicago, where two first-place baseball teams reside, while the Bears, Notre Dame and Big Ten football are starting their campaigns. Next year the BMW will return to its erstwhile Western home, Cog Hill G&CC's famed No. 4 Dubsdread course that has been redecorated by a Rees Jones facelift Kaczkowski characterizes as "phenomenal … the place just looks unbelievable." The BMW will stay there in 2010 and 2011, then relocate to Crooked Stick, near Indianapolis, in 2012 when the Ryder Cup is to be staged at Medinah CC, also in suburban Chicago. Whether golf fans there will feel disenchanted next September when the BMW returns is a matter not lost on WGA officials. "We won't be raising [ticket] prices, that's for sure," said Kaczkowski. "We will be charging what we charged in 2007."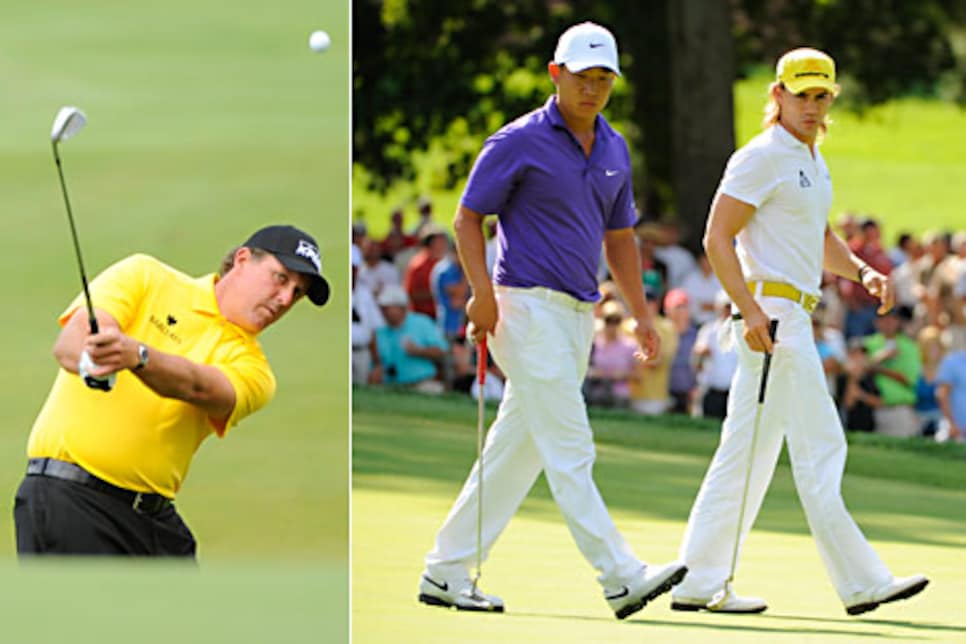 Weather such as Thursday's Gustav backlash would have severely impacted same-day ticket business if it were a factor, but besides the obvious delays, the most notable concession to heavy rain occured in the parking lot containing players' courtesy cars. On nice days attendants were out there moving from space to space, washing and wiping new BMWs. Also, it isn't everywhere that the media tent features a clock showing local time, and another showing what hour it is in Munich. It isn't everywhere that fans can enter an area next to the interview room and, through a one-way mirror, watch reporters interrogate players. One journalist, who didn't go to school to be thrown into an aquarium, left town in protest. (Thank goodness they didn't build an observation tower over the buffet table.) Yes, it isn't everywhere you see these things, but this is the playoffs.
The tour had scheduled the WGC-American Express Championship for Bellerive in 2001, but on a fateful Tuesday morning, word spread about the horrific terrorist attacks in New York and Washington. A number of players were on the course, including Woods, for practice rounds. Tour security informed him a plane had struck the World Trade Center. He thought and hoped it was merely an accident. Then the second plane hit, and, as Woods said, "we all knew what that meant." The tournament was canceled the next day as golfers either stayed in place or arranged for rides home as all air travel was banned. "By Friday," Adam Scott recalled, "a plane was lined up to take all the Europeans back to London." By then, the Ryder Cup had been postponed to 2002. Scott Verplank, who had won the Canadian Open, played a charity affair the next day. "Then, on the morning of 9/11, I woke up and was getting ready to head for St. Louis," he recalled. "And suddenly, the world changed."
Now, by a decidedly lesser and different measure, so has the landscape been altered for Villegas, who confidently expects to capture multiple trophies. But last Sunday night he repeatedly pined for Monday morning, when he would fly to Miami, then on home to celebrate, like a soccer star. Asked how many people play golf in Colombia, where his victory lap was televised, Villegas responded, "I have no clue, but hopefully more tomorrow than today."