News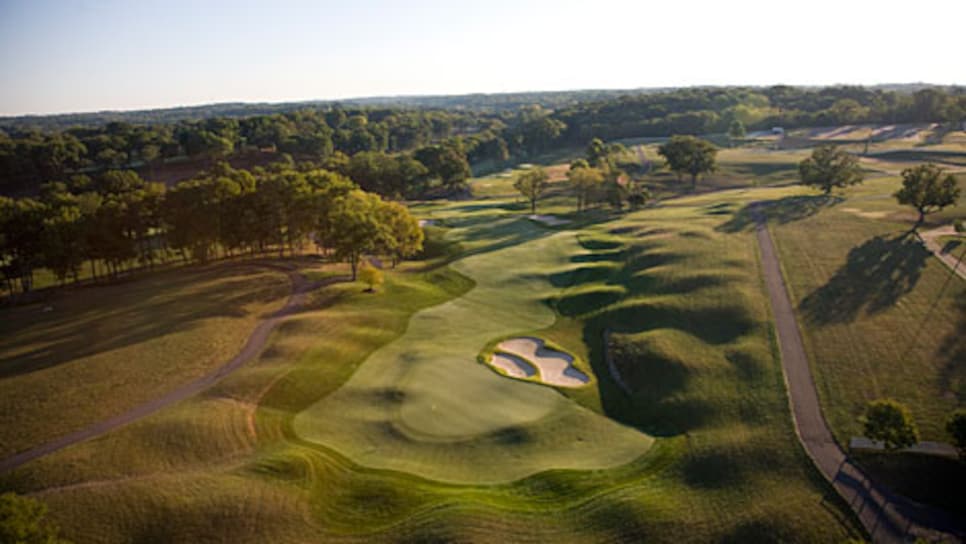 The fairways at Valhalla (par-4 17th shown) are generous by major championship standards.
There was Augusta National's controversial "second cut" before the USGA gave us the "graduated cut." And now, inspired by American captain Paul Azinger's desire to exploit every Ryder Cup advantage imaginable, Valhalla GC will debut the "Azinger cut." Maybe.
Dubbed by Valhalla's 20-year course superintendent, Mark Wilson, the Azinger cut is Spackler-esque in its quirky design and appears set to join the long and often bizarre list of course-setup concepts designed to favor a home team. At a height similar to Augusta National's euphemistically named rough, and inspired by the USGA's vision for not penalizing slight errors with the driver, the comparisons must end there because the Azinger cut does not typically start until about 300 yards from the tee. Ranging in widths of 12 to 60 feet, the 1½-inch-tall turf buffers the fairways from the taller 3½-inch rough.
However, it was imagined last fall and tweaked again in May when the American captain expected his team roster to consist of long bombers. Unfortunately for Azinger, Tiger Woods and others have been supplanted by shorter, straighter-driving grinders such as Ben Curtis and Justin Leonard, leaving Azinger unsure whether to let his cut grow in the days leading up to the matches to make Valhalla resemble an Oakland Hills-style monster better suited to the current roster rather than a long-hitter friendly Augusta National look.
"There's a little something inside me that says either one could work," says Azinger. "It's really interesting when you look at the history of the U.S. Open and PGA Championship, and it seems like the more difficult it is, the better off­—the more Americans show up. But at the same time, I think that when you've got a bunch of guys coming in and playing well, you want to give them a chance to play golf."
Azinger, Wilson and the PGA of America's Kerry Haigh already have Valhalla's fairways generous by modern major-championship standards, with most key landing areas spanning 30 yards. The breathing room off the tee offsets many of Jack Nicklaus' design changes: eight new tees stretching the course by 329 yards, four rebuilt greens, one less par 5 (the second hole) and 23 bunkers added since the 2000 PGA Championship.
Compared to some of his predecessors from both sides of the Atlantic, Azinger has been more upfront in suggesting he will exploit course setup to his advantage, yet he remains elusive about the ideas bandied in discussions with prospective team members and assistant captains Olin Browne, Dave Stockton and Raymond Floyd. Azinger is certainly not the first to look for an edge.
Great Britain playing captain Dai Rees selected Yorkshire's obscure Lindrick GC to host the 1957 matches because he knew it well and was sure the Americans would not be able to learn all its nuances. Rees ordered the course baked-out but left tall rough behind the greens to snare over-struck shots.
American captain Jackie Burke Jr. also questioned Lindrick's unusual choice of short flagsticks on holes with obstructed-view second shots. Great Britain won, 7½-4½, to end a 24-year drought, albeit without facing Ben Hogan, Sam Snead, Cary Middlecoff and Julius Boros (the latter two ineligible because they refused to play the PGA Championship).
Six years later at East Lake, Henry Longhurst noted that "no fewer than 73 extra bunkers have been put in specifically for the match, and for the past year ­fertilizer has been put on the rough." U.S. playing captain Arnold Palmer and the Americans wanted the tall stuff to ensnare the Great Britain team's smaller ball that was more likely to nestle down in the rough. The U.S. won, 23-9.
Tall grass lining the fairways became a common theme at American venues, fueling another U.S. rout at Laurel Valley in 1975. With fans once again deprived of a close match, Palmer infamously jumped in his plane and performed an impromptu air show.
During the 1979 matches at The Green­brier, Seve Ballesteros complained about the slick greens and high rough meant to annoy the European squad. Six years later, at The Belfry, European captain Tony Jacklin countered by ordering green mowing heights raised to help his team, causing Hubert Green to note that there was nothing wrong with the course "that some mowers wouldn't help." Europe won 16½-11½, the continent's first victory and, at the time, the most lopsided U.S. Ryder Cup loss.
The high-rough and fast-greens approach was installed at Muirfield Village GC in 1987 and backfired on the Yanks, who lost for the first time at home. Still, when the matches returned to The Belfry in 1993, the Europeans kept the rough down. "It's 'Seve rough,' " Azinger griped at the time. "They've got it set up so he can play."
When the 1995 matches were at Oak Hill, Lanny Wadkins proudly announced his primary course setup ploy. "Since I get to decide how much rough there'll be, I can tell you right now there will be plenty," he said. "You're going to see rough up to your knees. You can bet on that." Nevertheless, Europe edged the U.S., 14½-13½.
Besides captaining the 1997 team, Ballesteros redesigned Valderrama to defuse the Americans' power advantage. That Ryder Cup, the first for Tiger Woods, included narrow fairways with bizarre contouring ordered by Ballesteros, capped off by a strip of rough bisecting the par-5 17th hole's landing area. "I never care much for a par 5 where you hit driver, sand wedge, sand wedge," said Tom Lehman.
In 1999 Ben Crenshaw asked that The Country Club's rough allow for recovery shots, but he otherwise opted to leave the setup to the PGA of America. That was the last time Americans won the Ryder Cup.
The Europeans have continued to look for ways to mute American length off the tee, with 2002 European captain Sam Torrance shifting the tee back and at an awkward angle on the short, par-4 10th hole. Even though Mark James once famously said of the hole that a layup guarantees "you're looking at a safe 5," Torrance defended the controversial decision to make the fun and infamous drivable hole less vulnerable.
Most recently, Ian Woosnam went on a tree-planting binge to clog up the K Club's dogleg turning points prior to the 2006 matches. Woosnam also made sure his team knew the planned hole locations in advance, a similar advantage Azinger and Valhalla's Wilson are expected to exploit.
While the PGA's Haigh relishes the challenge of setting up a course for match play and supports the Azinger cut, he is not likely to inject pro-American setup ploys unless asked. But Wilson plans to remind Azinger that the par 3s provide "all the tee space you could want," a not-so-subtle hint that he would like to see tee locations varied and the prospective yardages shared only with the home team. Azinger seems prepared to listen.
"Europe's done a great job of exploiting, I feel, golf course advantage on us for a long time," says Azinger. "If there is a perceived advantage, I'll try to exploit it."
Even if it means a last-minute abandonment of his very own cut of grass.