News
'Best Putter In The World'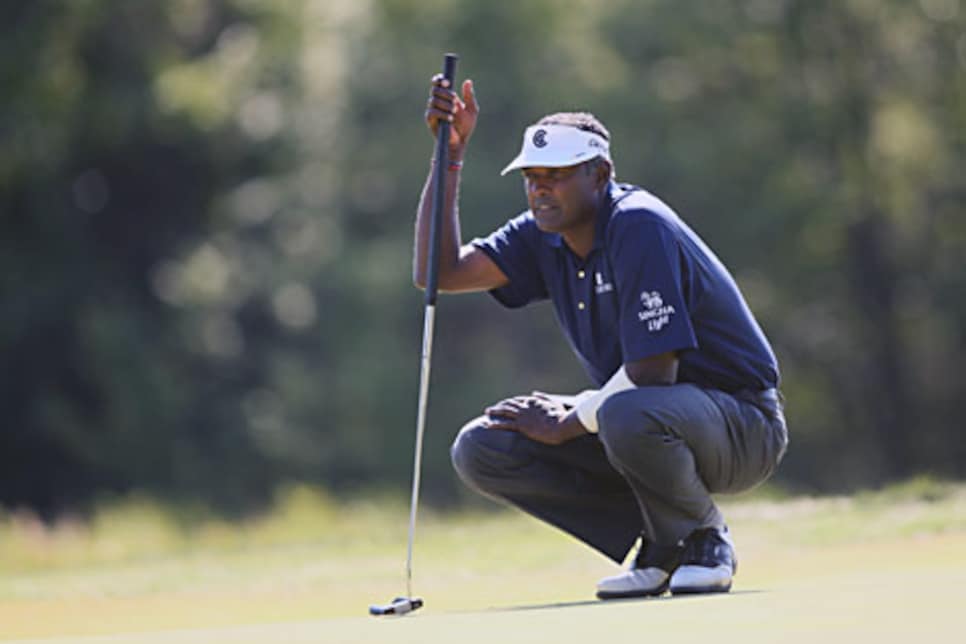 Singh's 34th career win ties him with Mickelson for second place among active tour competitors.
There's a kids' village next to the TPC Boston clubhouse, a wooded picnic area right behind it, and if the 18th green were any closer, the crowd noise would bother the children playing the miniature golf course. Most mornings are cool but sunny, the afternoons as nice as it gets, the perks of a late summer in New England almost worth the five-month prison sentence imposed later in the year by Mother Nature.
You want atmosphere? On Labor Day weekend at the Deutsche Bank Championship in Norton, Mass., the leader boards are full of big names, the grandstands full of people who would expect nothing less and the final rounds notable for producing shifts in the PGA Tour's competitive gravity. Vijay Singh knocked Tiger Woods out of the No. 1 spot in the World Ranking in a head-to-head duel in 2004. Woods blitzed Singh to win the tournament two years later, then lost to Phil Mickelson last August when this event became part of the FedEx Cup playoff series.
Singh's runaway victory in the sixth DBC last Monday -- by five strokes over Mike Weir -- proves that what goes up doesn't necessarily come down. For all the talk about the revised postseason points system and the volatility it promotes, the Big Fijian will tote a 12,225-point lead to this week's BMW Championship. He'll remain in first place regardless of how he fares in St. Louis, and if he makes his tee time all four days -- there is no cut at the 70-man BMW -- there's a good chance he will be unreachable at the season-ending Tour Championship.
A little more than a month ago, the same guy was turning four-foot putts for par into 30-second dramas. Now Singh is ringing up 25-footers in playoffs (the Barclays), 60-footers to slam the door (the 14th hole Monday) and fist-pumping from spots where he once struggled to get down in two. "It's nice to see my ball going in for a change," he confessed after his 34th career triumph, pulling him even with Phil Mickelson for second among active players. "I've been watching everyone else's go in for a long time. It's a great feeling to see my ball rolling into the hole. I mean, there's nothing better."
Or anyone. That $9 million in FedEx Cup cash will buy a man a lot of belly putters, although Singh won't be shopping for a new one after his third win in five weeks. This represents a radical departure from the all-hit, no-roll Vijay who routinely tinkers with his form and equipment in leaner times. Even when he piled up nine Ws in '04, it wasn't because he had tightened up his impersonation of Bobby Locke.
The signature stroke in this win came midway into the final nine, where Singh drove it in the center of the 14th fairway, then yanked his approach to a front-right pin from 170 yards. "I got to the green," Singh recalled, "and I just kept telling my caddie [Chad Reynolds], 'I'm the best putter in the world,' and he'd say, 'Damn right you are, now go ahead and knock it in.' That's just a good attitude. My unconscious mind had a lot of stored-up bad thoughts in there, and that was the key, to get rid of all that."
The putt gave him a five-stroke lead over Weir, which will do wonders for anyone's attitude. Fresh off the 37-footer for a birdie at the 13th, which made the eight-footer for a birdie at the 11th look like a kick-in, the 35-footer Singh poured in for birdie at the 17th could only be described as overkill. He would finish the day having converted about 175 feet of putts, more than his first three rounds combined.
Not even the 12-year-olds were dropping as many bombs at the kids' village. "It was awesome, great to watch," marveled Sergio Garcia, who began the afternoon in a share of third with Singh, then played the last 10 holes in four over to finish T-5. "You guys don't know how good that was, how hard this course was playing. When Vijay is rolling the ball like that, he's very hard to beat."
Actually, Scooby Doo would be a handful rolling it like that. No way would this have happened four years ago, when Singh ruled the golf universe as the game's premier ball-striker and TPC Boston's putting surfaces were akin to a hippopotamus burial ground. Let's just say the original version of this course was not well-liked among tour pros. Shorter hitters despised the goose-necked fairways that narrowed at 275 yards, then turned nice and wide in the 300-yard region.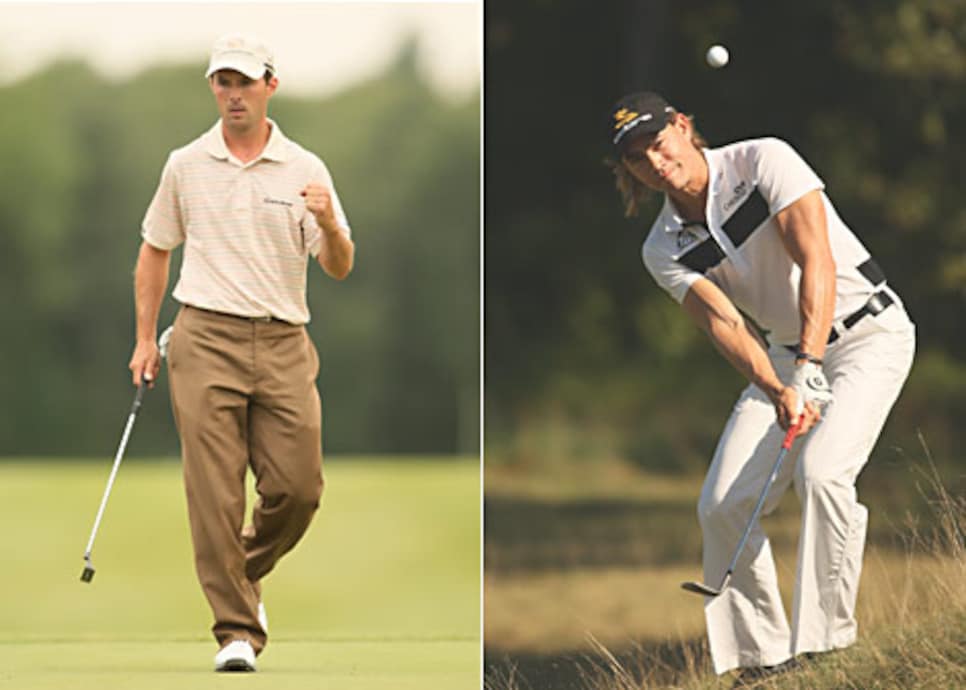 Those same guys would hit a nice 4-iron in, then find themselves with a 30-footer over two humps and all kinds of danger behind the hole. Several alterations to the design have made the place kinder and gentler, and it showed in last week's scoring. The cut fell at three under, matching four other tournaments for the lowest 36-hole number all year. Weir opened with a 10-under 61, just 21 of them putts. He did not miss an attempt on the back nine.
The left-hander would hit more fairways and more greens in Saturday's second round and still shoot a score seven strokes higher, but come Sunday evening, his 17-under total left him a stroke ahead of Camilo Villegas. In that respect, give the tour credit for nicely managing the setup of the first two playoff venues. At the Barclays, Hunter Mahan ran off with the first-round lead at nine under. Three days later, eight under got you in the playoff won by Singh, but as hard as it was to score at Ridgewood, TPC Boston was a creampuff, at least for 54 holes.
Such a dramatic difference in difficulty makes it fair for everyone, although Singh's closing kick sort of renders the point moot. His one-eagle, seven-birdie, one-bogey 63 might be the best round played by anyone all year. Weir's 61 came on a day when 115 players compiled a scoring average of 69.16, the lowest in tournament history. When Tim Clark made a run at 59 Saturday morning (he finished with a 62), the Deutsche Bank record was lowered to 68.48.
Singh lit the place up when a tighter and more precise field averaged 72.08 per man. The course had gone from soft to stern in less than 48 hours -- just four guys shot four under or better Monday. "If you didn't hit your drive in the fairway, you could have a sand wedge in and not get it any closer than 25 feet," Garcia said.
Dare it be said that we've got a late arrival in the tour's Player of the Year sweepstakes? This was Singh's third win in five weeks -- a World Golf Championship and two playoff tilts -- all against premium fields. Padraig Harrington, who missed the cut here and must play well next week just to get into the Tour Championship, remains the favorite, but only because tour pros, whose vote determines the POY, aren't big on thinking outside the box. A victory in St. Louis or Atlanta and Singh is very much in the picture. Winning both actually would force his brethren to spend a few minutes pondering the decision.
Regardless of what happens in the final two events, the only players still realistically capable of stealing the FedEx first-place pot are Garcia and Weir, and you wouldn't want to take the odds on either guy with you to Vegas. The combination of a win/top-five might make it interesting, but if Singh were to finish last at both events, he wraps up the year with 124,600 points.
Sergio stands at 108,275, Weir at 106,965. You get 11,000 for a W at the BMW, 12,500 for a victory in Atlanta, so there's plenty of golf left to be played, but if a non-Fijian is going to win this year's playoffs, they would be well advised to get hot in a hurry.
Tour Visits Bellerive For First Time Since 9/11
The volunteer party at most PGA Tour events is typically a muted affair that draws, on average, about 500 people. But this week's third event in the tour's FedEx Cup Playoffs, the BMW Championship, is no typical tournament for golf fans in St. Louis and members of Bellerive CC. So it was then that a few more loaves and fishes were needed in the hospitality tent at last Saturday's volunteer soiree when 1,500 people showed up to toast the return of the PGA Tour for the first time since Bellerive hosted the 1992 PGA Championship.
"We got them all fed," joked John Kaczkowski, the tournament director, who marveled at a turnout he said rivaled that at a major championship.
A dandruff derby wouldn't have caused as much head-scratching as ensued after the tour announced in 2006 that it was opting out of big-market Chicago for one year to take the former Western Open to the Gateway City. But St. Louis faithful already are showing how excited they are to support an event that could prove poignant as well as popular considering the last time the tour visited Bellerive, in September 2001, the WGC-American Express Championship was canceled because of the terrorist attacks. The tragedy cost about 3,000 American lives and impacted millions more, so the cancellation of the golf tournament barely rated more than a minute disappointment.
Nevertheless, this week's event, held nearly seven years to the day of the attacks, is hardly void of significance.
"Especially after missing the guys in 2001, it's exciting to bring this level of golf to the St. Louis region," said Jerry Ritter, BMW Championship general chairman, who served a similar role in '01 and for the '04 U.S. Senior Open at Bellerive. "That was such a surreal thing [in 2001]. Many of the foreign players were here all week playing the course; they had nowhere to go. It was quiet … a lot of folks were in shock at what happened, and American Express had people in a building next to the World Trade Center."
Bellerive general manager Craig Surdy said club members haven't spoken much about the tournament in the context of that '01 cancellation and the events that caused it. They've moved on. Rees Jones recently oversaw a renovation of the course his father, Robert Trent Jones, designed in 1960. "This is a huge deal, and we're mostly concentrating on putting on a good face for Bellerive and St. Louis," Surdy said.
Still, all was not sunshine on the Mississippi River Monday as Golf World went to press. Club officials were keeping a wary eye on the path of Hurricane Gustav, a Category 2 storm that made landfall on the Louisiana coast, their fear, of course, being that even the edge of the storm hitting St. Louis would bring heavy rain. This came three months after the dampening news that Tiger Woods would miss the rest of the season because of reconstructive knee surgery.
"St. Louis has to be the T.C. Chen of tournament-hosting cities -- it's kind of taken a double hit," Dan O'Neill, a lifelong St. Louis resident and sports columnist for the Post-Dispatch, said in reference to Woods' absence. "Still, this is a great sports town and, nationally speaking, a well-kept secret where golf is concerned."
Indeed, despite Woods' absence, fans are supportive. Kaczkowski said there are more than 100 corporate sponsors, and the event is sold out. "It was very important for the club to have the PGA Tour back, and the response has been terrific," he said. "The tragedy of 9/11 happened. No one will forget it, and it's things like this that remind us. It might be just golf, but it's an important week for St. Louis."