News
Bandon's Fourth Starts To Take Shape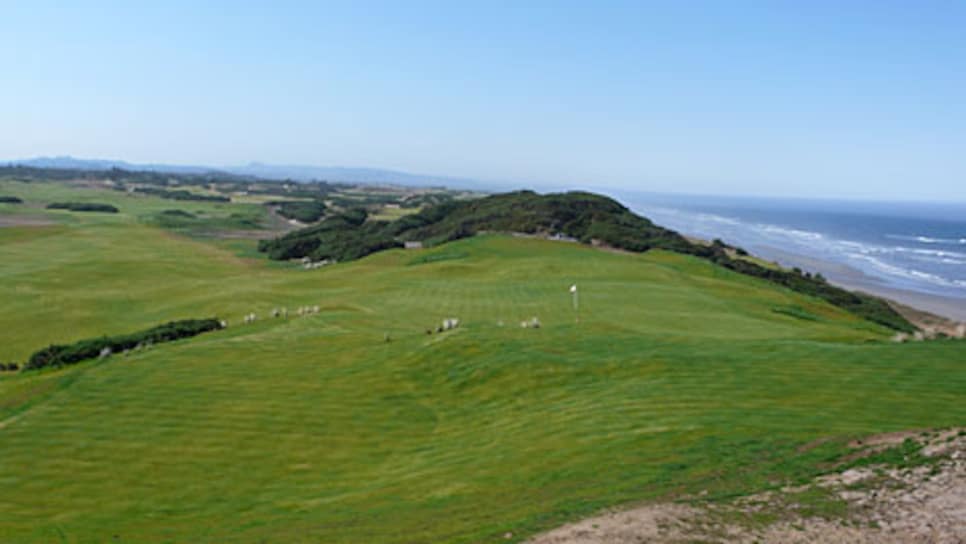 A dozen holes have been shaped and grassed at Old Macdonald, including the seventh (top) and the par-5 sixth (below), which has a "Hell Bunker."
Mike Keiser, the mastermind behind the game's newest—and perhaps best—mecca, has learned that if he builds something, golfers will come. So here's the news, golf fans: the fourth course at Bandon Dunes is on its way.
Keiser made a fortune in greeting cards and recycled paper products, then used his wealth to build Bandon Dunes, a golf resort on the Pacific Coast in Oregon's southwestern corner whose first three courses—Bandon Dunes, designed by David McLay Kidd in 1999 (No. 7); Pacific Dunes, designed in 2001 by Tom Doak (No. 2); and Bandon Trails, designed by Ben Crenshaw and Bill Coore in 2005 (No. 21)—all rank among the top 21 public courses in America, according to Golf Digest. Coupled with the resort's general aesthetics and pure golf atmosphere (caddies not carts), Bandon Dunes is arguably perfect. But Keiser hasn't stopped making additions and improvements.
In February workers broke ground on Old Macdonald, Bandon's highly anticipated fourth course. Keiser's strategy was unique, to say the least. He selected Doak and his partner, Jim Urbina, for the job and then gave them an extraordinary assignment: He asked them to "be" Charles Blair Macdonald.
Many historians consider Macdonald the father of American golf. He was one of the co-founders of the USGA in 1894 and a talented enough player to have won the first U.S. Amateur in 1895. But his greatest contribution to the game was as a course architect. Macdonald designed Chicago GC, Yale GC in Connecticut and the National Golf Links of America, on Long Island (among others). Keiser is so fond of National GL and Macdonald's overall design style, he wanted the newest course at his Oregon resort to emulate it.
When Old Macdonald is finished, says Jeff Brinegar, the head pro at Bandon Trails, it will be "a beautiful but robust golf course that pays tribute to Macdonald." When it opens in 2010, Old Macdonald will play roughly 7,100 yards, longer than Bandon Dunes' other three layouts by almost 400 yards. A dozen holes have already been shaped and grassed. Doak and Urbina are still not sure if the course will play to a par of 71 or 73, leaving the option of stretching some of the par 4s into par 5s prior to official opening day. According to Brinegar, the sixth, 15th and 17th holes will be par 5s; the second, fifth, eighth and 12th will be par 3s.
A flat course without a lot of protection from the wind, 12 of its 18 holes will sit in a bowl between dunes just beyond the resort's mammoth practice facility and east of Pacific Dunes. This fall, Keiser plans a "partial opening" of Old Macdonald (he did the same with both Pacific Dunes and Bandon Trails). Each day, a very limited number of golfers will be allowed to play a 10-hole layout: Nos. 5-10, 11, 14 and 3, before finishing on No. 4. There will be more availability for the public to play the 10-hole track in June 2009. Doak and Urbina will start building the rest of the course in the spring.
Old Macdonald will not only separate itself by length—there will be elements of the course that will look and play like the Old Course at St. Andrews (Macdonald learned golf at St. Andrews from Old Tom Morris in the 1870s). The 580-yard sixth hole will have a version of the Hell Bunker, which dominates the Old Course's 14th hole, and Old Macdonald's 11th is going to resemble the 17th at the Old Course, the diabolical Road Hole, with trouble down the right side of the fairway and a pot bunker just short of the green. The fourth course also features enormous putting surfaces, just like the Old Course. The fifth hole has an 18,000-square-foot green, and it's not the biggest on the course. That distinction belongs to the eighth, which is 20,000 square feet.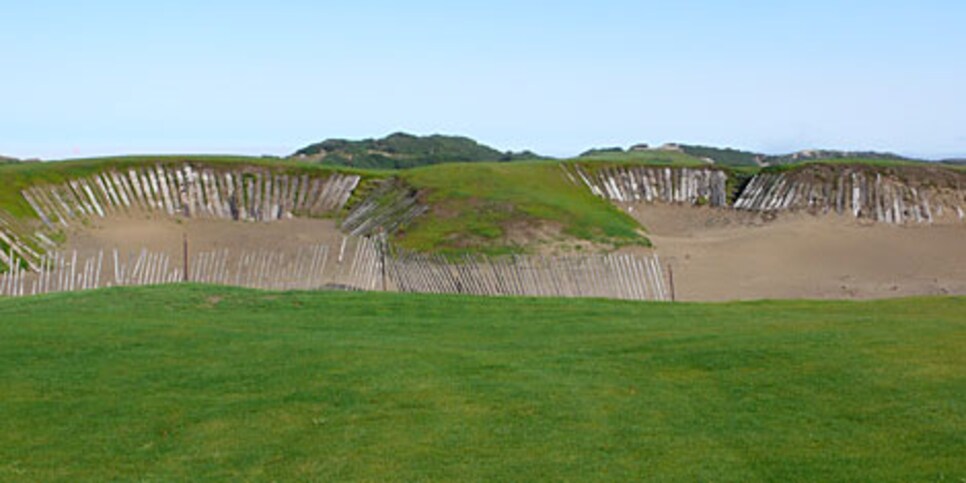 By going back to Doak and Urbina for the design and hiring Ken Nice, who "grew in" Pacific Dunes and Bandon Trails (and by tapping into the existing irrigation system at Pacific Dunes), it's no wonder Keiser's latest looks so good so fast. This is Urbina's first official co-design with Doak, and he has been on property more than his mentor although both are very involved. So is Keiser—two weeks ago, he and Urbina walked the course together.
There is more news at Bandon Dunes besides Old Macdonald. Responding to demand for more lodging, a new hotel (located between the 18th hole of Bandon Dunes and the clubhouse of Bandon Trails) opened Aug. 1. It has two floors and 39 rooms. The second-floor rooms all feature king beds ($220 per night during peak season, which is May 1-Oct. 31). The first-floor rooms offer two queen beds (up to $320 per night during peak season). North-facing rooms (toward the main lodge and Bandon Dunes clubhouse) are more expensive than the rooms which face south (toward the forest). Says James Turner, the resort's hotel manager, "We want all of our guests to be able to stay and play without ever having to get in a car."
Meanwhile, at Pacific Dunes a new pro shop and restaurant opened Aug. 15, located 20 feet behind the back tee of the first hole. "We plan on keeping the tees where they are," said Jeff Simonds, Pacific Dunes' head pro, dismissing rumors the new building would force changes to the opening hole.
The course had utilized a temporary golf shop and snack bar in a trailer next to the 18th green since its opening seven years ago. That structure has now been removed, and Urbina is building a dune in its place that will restore a natural feel to the finish of the course.
Matt Ginella is the senior editor of travel for Golf Digest and writes a travel blog at golfdigest.com/courses/blogs/mattyg