News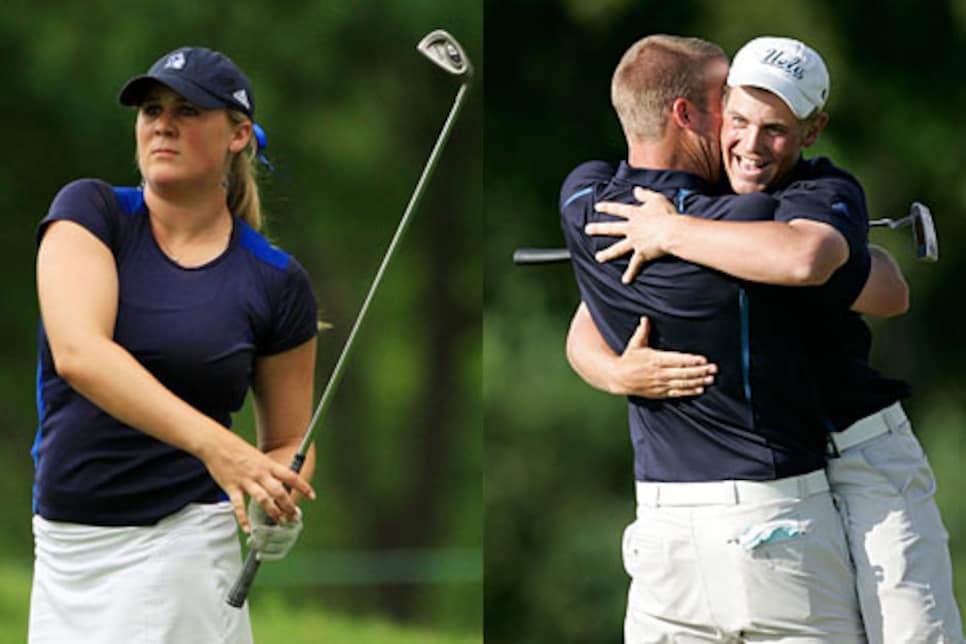 U.S. Women's Amateur champ Blumenherst (left) can expect POY challengers; recent history says a Bruins repeat as NCAA champions (right) will be difficult.
There used to be some givens in college golf. A dominant player competing in a team's No. 1 spot could offset a weak No. 5 man or woman. Southern schools had a minimum three-shot edge over northern ones in any tournament contested early in the spring. Arizona always, always qualified for nationals. Yet as the 2008-09 Division I season beckons, such fundamental truths appear to be losing their, well, truthfulness. Even one the collegiate game's longstanding tenets—a national champion must be decided by 72 holes of stroke play—is going by the wayside, at least for the men.
Suffice it to say, the biggest adjustment to the NCAA Championship in decades—altering the format to have schools go head-to-head in match play to determine the team winner—has coaches and players trying to figure out how to best prepare for the new challenge. Never mind that nobody has a firm grasp of what it means to be the best prepared.
By contrast the changes in the women's game are more subtle although hardly less intriguing. Foremost, perhaps, is that for the first time in recent memory a certain private school in Durham, N.C.—begins with a D, ends with an E and has a UK in the middle—isn't the first or second choice (or maybe even the third) when picking a favorite to win the '09 national title.
Just what might happen in this brave new world of college golf? We offer a few answers to some of the sport's bigger questions.
1. How will the changes to the NCAA Championship affect the men's game?
As far as the regular season, frankly not much. With the exception of the Callaway Golf Collegiate Match Play in March, multi-team stroke-play events remain the norm. Coaches continue to focus as much on the ".500 rule," which requires schools have a winning record to qualify for postseason eligibility, as they do on what's taking place at the championship itself.
That said, a few schools might adjust their schedules to incorporate some type of match-play competition so as not to arrive at Inverness Club in Toledo, Ohio, for nationals in May without having played the format "live." "We might call up a couple of schools and have a one-day event, maybe a round-robin kind of thing," says Charlotte coach Jamie Green. "You might see that happen in different areas around the country."
If nothing else, expect top programs to include more match play during spring practices and not just for the players' sakes. "I've never coached match play before," Clemson coach Larry Penley says. "We've always preached to our kids about going in there, grinding out every shot to get the best score they can. Well, it's not the same as match play. It's going to change things."
2. Will the new format help or hinder UCLA from becoming the first men's team to defend its NCAA title since 1985?
The good news for Bruins' fans is several UCLA players got a healthy dose of match-play experience this summer. Five golfers reached the Western Amateur's Sweet 16 and two—senior Erik Flores and sophomore Philip Francis—advanced to match play at last week's U.S. Amateur. Such performances speak to the team's talent, the Bruins having grabbed the top spot in the Golf World/Nike Golf preseason coaches' poll.
While UCLA looks to end the repeat hex, its competition appears equally ready to keep that from happening. "It seems as though there are five or six teams that are just flat-out loaded," notes USC coach Chris Zambri. His fourth-ranked Trojans are among them thanks to the return of four players, most notably 2007 NCAA champ Jamie Lovemark, who earned All-American honors last season.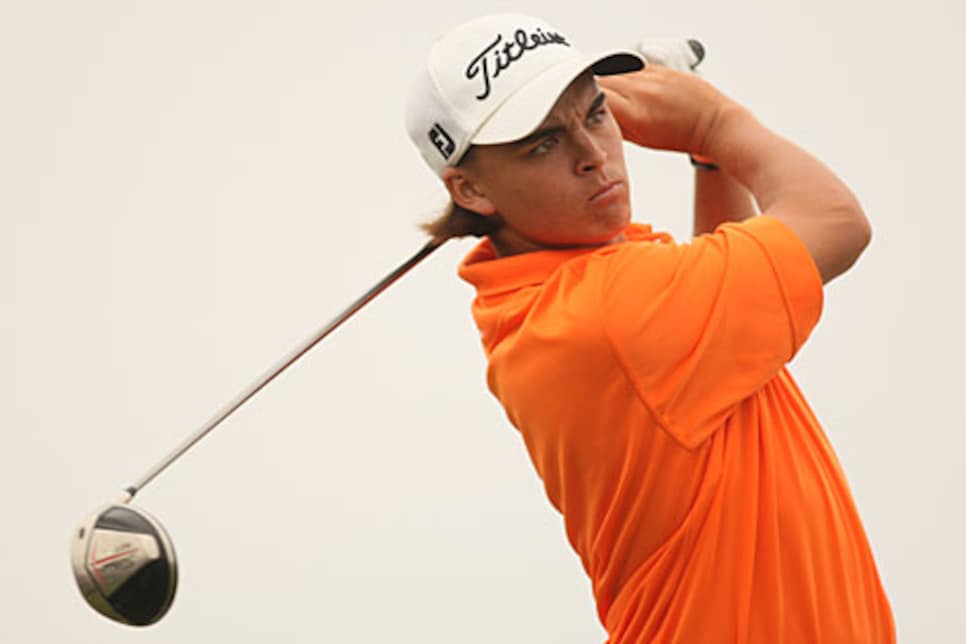 No. 2 Oklahoma State and No. 3 Georgia, meanwhile, haven't lost of their starting fives, plus each brings in at least two blue-chip recruits to provide greater depth. No. 5 Stanford, which missed winning back-to-back NCAA titles last spring by one shot, could be even better if a healthy Joseph Bramlett is back in the mix. No. 6 Clemson and No. 10 Georgia Tech return everyone as well and have the potential/experience to contend nationally.
"The level of play this year could be as strong as it's been since maybe the late- 1990s," Penley says. "It's going to be fun to watch."
3. If Duke isn't the favorite on the women's side, who is?
After failing to win a record fourth straight national title last May, the Blue Devils aren't losing ground (U.S. Curtis Cupper Mina Harigae joins All-Americans Amanda Blumenherst and Jennie Lee this fall) so much as everyone else is catching up. Anchored by NCAA runner-up and U.S. Women's Public Links champion Tiffany Joh, UCLA returns all five starters while having AJGA All-Americans Stephanie Kono and Brianna Do join its roster. Arizona State will add international standouts Carlota Ciganda and Giulia Molinaro in January, giving the Sun Devils the depth they have missed the past few years.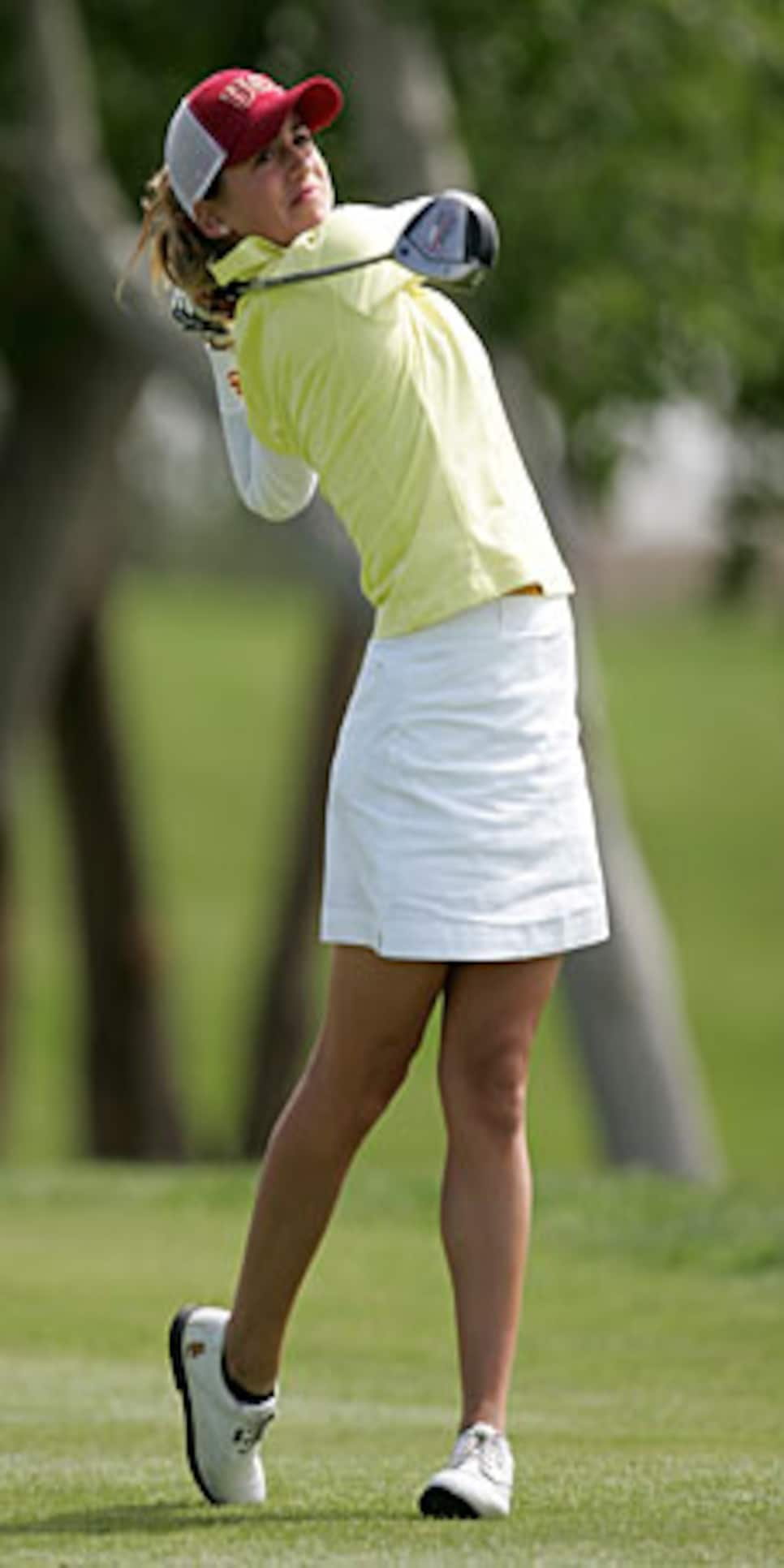 Defending champion USC shouldn't be forgotten, either. The Trojans, who earned the top spot in the Golf World/NGCA preseason coaches' poll, have Spanish sensation Belen Mozo leading them and Jennifer Song, low amateur at the 2007 U.S. Women's Open, arriving to help offset the graduation of All-Americans Dewi Schreefel and Paola Moreno.
4. How will the World Team Amateur in Australia this October impact the start of the season?
With international players occupying top spots on several teams, particularly in the women's game, some schools have had to adjust schedules to accommodate players going AWOL this fall. "It's going to be a tale of two semesters, really," says Arizona State coach Melissa Luellen, whose squad will play only three tournaments during the first half of the season, since Ciganda and Molinaro (as well as defending NCAA individual champ Azahara Munoz, Anna Nordqvist and Juliana Murcia) will be competing for their countries. "You're going to have to wait until the spring to see where everybody really stands."
5. Is Amanda Blumenherst a lock to win a fourth straight POY?
For all the confidence the Duke senior has after claiming the U.S. Women's Amateur title earlier this month, Blumenherst actually faces the toughest challenge yet to her No. 1 ranking. Aside from having Munoz, Nordqvist, Mozo and Joh to contend with, seniors Pernilla Lindberg (Oklahoma State) and Maria Hernandez (Purdue) hope to finish their college careers in style.
"There are some players out there who really want to knock her off," Luellen says. "Call it a rivalry or a lot of competition. I think you're really going to get it this year."
And what does Blumenherst think of all this? "I'm just trying to keep it going," she says. "It would be great to go out with a bang and play well. We'll see what happens."
6. Can Rickie Fowler avoid the dreaded sophomore slump?
While having as impressive a freshman season as any Cowboy in school history, the 19-year-old from Murrieta, Calif., insists there is room in his game for improvement. "It's not any one area, but kind of everything [that can get better]," Fowler says. "But I feel as though I can go out and top the year I had."
Boastful comments? Perhaps. But keeping Fowler motivated, contends OSU coach Mike McGraw, won't be difficult.
"Rickie does well when you throw something out there and tell him [that it] has never been done," McGraw says. "We've never had a four-time first-team All-American. And he didn't win the Fred Haskins Award or the Jack Nicklaus Award as player of the year. He hasn't won the NCAA Championship. There are a lot of different things he hasn't accomplished that I know he wants to. There is still a lot on the table for him."
7. What is the best under-the-radar storyline heading into the season?
Three years removed from suspending its golf teams in the wake of Hurricane Katrina, Tulane brings back its women's squad this fall. Being a top-25 program previously gives the four incoming freshmen and two sophomore transfers a unique opportunity, suggests new coach John Thomas Horton.
"They have a chance to build on the tradition this program had already developed," Horton says, "but I think what intrigued all of them was the chance to make their own mark, to put their own stamp on this program."
Aiding the cause is the support the team has received from the rest of the college golf community. Several top programs offered the Green Wave spots in their tournaments, helping Horton put together a competitive schedule that enabled him to recruit a more talented squad than a "first-year" program might have otherwise.
"We hope [the tough schedule] won't get us burned," Horton says. "Whatever the case, it's going to be a great experience for these players."