News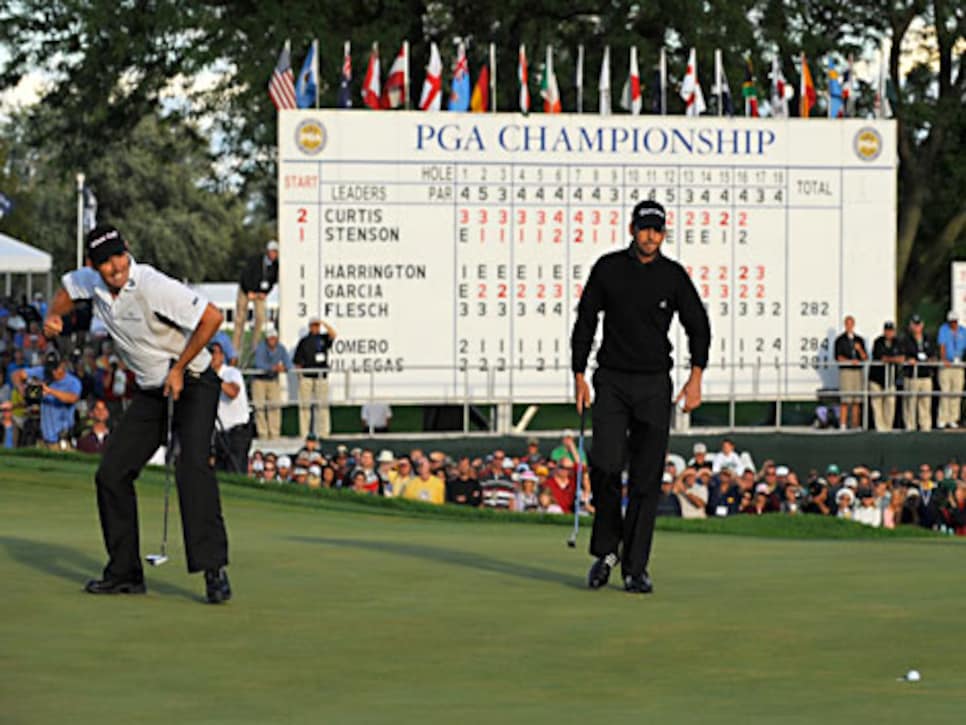 Sinking a final-hole putt -- and another Garcia bid for a major -- Harrington made history at Oakland Hills.
On a cold, rainy day better suited to Dublin than Detroit, playing a game that gives a person ample opportunity to tell himself anything he wishes but, in the end, reveals only what he truly believes, Padraig Harrington showed again he was a true believer in himself and, in the process, more than just the Champion Golfer of the Year but the best player in the world -- currently active division.
A year and a month ago during the British Open at Carnoustie, Sergio Garcia and Padraig Harrington passed each other going in opposite directions, both physically and metaphorically, on a bridge across the Barry Burn. It would be easy to say Harrington's back-to-back 66s and his two-shot victory over Garcia and Ben Curtis in the PGA Championship at Oakland Hills CC was just another step toward the personal destinies of Europe's two best players. But this was neither the same Sergio nor the same Padraig. Both are better versions of the players they were that day. Like rivals of old.
Harrington, the 36-year-old Irishman who has climbed golf's rope ladder hand over fist, added the PGA Championship to his back-to-back British Opens, giving him three of the last six major titles and one half of the career slam. Turns out the one-time junior accountant had a head for numbers but a heart for silver. Harrington is the only Irishman to win the PGA Championship, the only European golfer to win back-to-back major championships, and the fourth player to win the British Open and the PGA Championship in the same year, the first being Walter Hagen who undoubtedly would have enjoyed watching all this with a cigarette in one hand and a drink in the other from the room he once occupied upstairs in the Oakland Hills clubhouse. And it happened in the city where Padraig's last name is the punch line to a joke, thanks to his distant quarterback cousin, Joey.
The PGA of America likes to talk about glory's last shot, but actually this was Goober and Gomer's last shot before He Who is Without Peer comes back with a new left knee to put the lid back on his personal cookie jar of major championships. Turns out when the big cat was away, only Harrington came out to play.
At Royal Birkdale where the Irishman outlasted the aged newlywed, Greg Norman, Padraig turned a wrist injury and 40-mile-per-hour winds to his advantage, claiming those factors combined to take the pressure off his championship defense. At Oakland Hills it was mental fatigue and dehydration, or both, or neither.
Harrington's sport psychologist, Dr. Bob Rotella, finds the mind games Padraig practiced at the crucial par-5 12th more to the point. Harrington went into Sunday afternoon three shots behind Curtis and though it was a trio of magnificent bunker shots on the sixth, seventh and ninth holes that kept him close, it was No. 12 that put him in a position to win. He drove it into the trees on the right and knew he needed to make something happen. "The tree was actually blocking where I was aiming so I literally had to hit like I was hitting through the tree for my second shot," said Harrington, "but I knew I needed to take on the shot at this stage, and there was no backing off. You get chances in a major tournament on the back nine, and you've got to take them. I'm a great believer in making it your responsibility whether you win or you don't win. I realized it was the same 5-wood that I hit to the 17th at Birkdale. And so, yeah, it was one of those shots that you like to have that responsibility in the final round. Some days, it won't go for you, and you have to be prepared to handle that. But you [also have to be] prepared to take those shots on and take that responsibility and the consequences that go with it. You're not going to win any other way."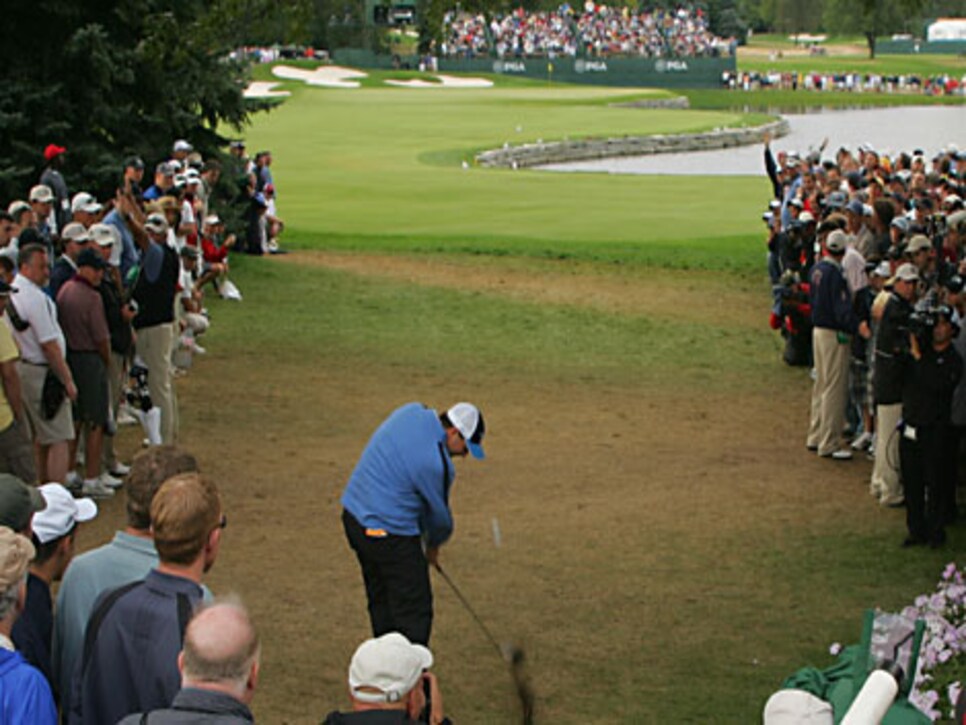 Wrist? Wind? Water? Weary? "What he's really doing is accepting that the way you play this game great is that you understand that you're going to make mistakes," says Rotella. "When you know you can keep your mind and your emotions together and let your body do what it knows how to do, you can accomplish a lot."
After the rain-delayed third round finished Sunday morning, Curtis ate lunch on the lead at minus two, a shot ahead of Henrik Stenson and J.B. Holmes and three ahead of Harrington, Garcia and Charlie Wi. Holmes collapsed immediately with a triple on the first hole on his way to an 81. Wi, playing in his first major championship, held it together until the fifth through the 10th holes, which he played five over par. Garcia went out fast with a birdie-eagle start and shot 31 on the front. By the time the last two threesomes had completed nine holes, Garcia was three under, Curtis two, Stenson one and Harrington even.
Stenson bogeyed the 12th when birdie was a must and dropped away from there. Harrington birdied the 10th when he hit 8-iron to 15 feet and holed it. Then came the crucial 12th where his 5-wood went through the green, but he got up and down for birdie. At the par-3 13th, Harrington hit a 5-iron to 15 feet and made that for another birdie to get to three under par, tying Garcia, who had failed to take advantage of the 12th. Curtis, playing behind Garcia and Harrington, bogeyed the 11th to drop to one under.
It was nearly down to Harrington and Garcia -- just a couple of Europeans with warm and fuzzy recollections of a four-year-old Ryder Cup Riverdance on the livers of the Americans looking for more fond memories -- only no one told Curtis, who was attempting to become an even more unlikely two-time major champion than he was a one-time major champion by birdieing the 12th and 14th holes to get back to three under.
Harrington bogeyed the 14th (he hit an 8-iron over the green and missed an eight-footer for par), and it looked as if it might be Sergio's day. This was not the persecuted Garcia of Carnoustie. This Sergio was unflappable, joyful. He had been putting and playing beautifully. Then, in a bizarre echo of his last major defeat, at Carnoustie, where he hit the pin only to have the ball carom off the green, this time his 6-iron from 172 yards on the 15th flew into the hole and bounced back out. It left him a 10-footer for birdie, but he missed. Garcia followed that by hitting his 6-iron from 176 yards into the water on the 16th, which led to a bogey. Harrington bunkered his second there, caught a stone between the clubface and the ball on the explosion, rolled it well past but made the game-changing 20-footer coming back. Behind them, Curtis bogeyed the 15th after driving it into a horrible lie in the left rough.
With Harrington, Garcia and Curtis now all two under par, Harrington hit his 5-iron to 10 feet on the 238-yard, uphill par-3 17th. Garcia proceeded to stick his 5-iron inside him, leaving himself just four feet. "I knew if I holed this, I probably would win the PGA," said Harrington. "If I missed, Sergio would probably win the PGA. So it was down to that." Harrington made. Garcia lipped out.
Harrington drove it into one of the right fairway bunkers on the 18th. Garcia drove it into the right rough. Garcia ripped a 5-wood at the 18th green but came up short in the front bunker. Harrington hit his 8-iron fat out of the bunker and didn't reach the fairway, a potentially critical error. He caught a good lie in the thick rough, though, and put his 7-iron 15 feet from the pin from 142 yards. A hole behind, Curtis hit his 4-iron through the green on the 17th and bogeyed to fall two shots back. Garcia blasted out of the greenside bunker at the 18th, but when Harrington holed for par, Sergio's miss didn't matter. Only a miracle eagle at the last by Curtis could tie, but there was no chance of that. His consolation prize was a spot on the Ryder Cup team.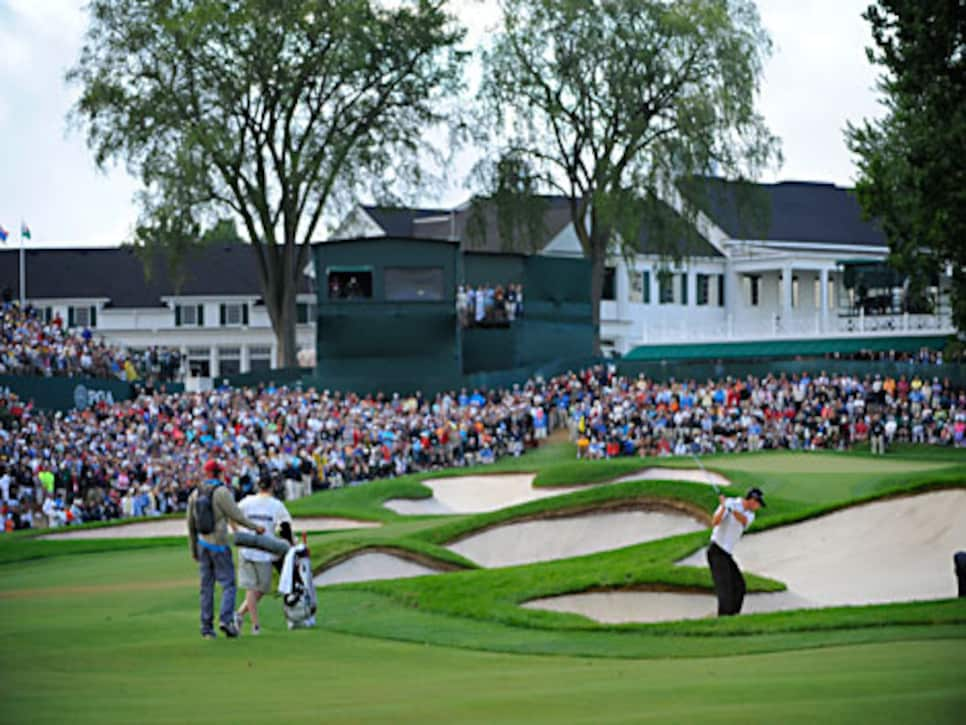 It's a good thing early in the week all eyes were on the Beijing Olympics because Detroit was a sorry sight. The Big Three can't give away all their big, honkin' SUVs and muscle trucks. The jobs are gone, and the mayor, Kwame Kilpatrick, began hosting the PGA Championship in the Wayne County Jail and ended it out on bond, wearing an ankle bracelet. When "This is the mayor's latest booking photo" is an opening line on the evening news, it surely must make a citizen's chest swell with pride.
Speaking of eyes, Kenny Perry scratched his left one wrestling with a contact lens and had to WD after an opening, rain-delayed round of 79, thus bringing to an end his ignominious major season during which he either didn't qualify for, or was lambasted about skipping, tournaments which previously only his immediate family would have cared whether he ever played. The guy had, and still has, personal business with the PGA Championship and Valhalla GC (where his white whale will surface for the Ryder Cup) and decided to vote with his feet during the summer, essentially accepting the proposition that 48 is too old to win an Open but not too old to win a foursomes match.
Robert (Too Tall) Karlsson tied for the first-round lead at two-under 68 with Jeev Milkha Singh. Karlsson hadn't been out of the top 10 in a major this year (until this one), and Singh has such a delightfully homegrown swing that, if his target line was from, say Detroit to Flint, his shaft at the top would be pointing at Green Bay, Wis.
After the cold front blew through, Friday was one of those puffy white cloud, breezy, no humidity pluperfect midwestern summer days. It also came dangerously close to blowing out the golf course. By the end of the day, only Holmes was under par (at 139), and the wailing and breast-beating was in full-throated bellow. It seemed as if every player had a horror story to tell. The PGA of America's setup man had gone from Kerry Solomon to Genghis Haigh in a mere 12 months.
Was the course fair? Certainly. It was an equal measure of misery for all, aided by the controversial fluffing of the rough, which some players believed was being raked toward the tee boxes in the most diabolically clever comb-over since Homer Simpson. Was it too penal? Very close. Mark Calcavecchia stepped on his ball beside the sixth green, and Davis Love III whiffed his twice next to the 14th.
Holmes, who wanted desperately to be the "other" Kentuckian on the Ryder Cup side, used his homespun half-a-backswing and his Paul Bunyan length to throttle Ben Hogan's Monster for two days. Well, get around it, anyway. In his second-round 68, he hit nine of 14 fairways and averaged more than 330 yards. That'll do the trick most everywhere. Responding to, take your pick: (1) the cacophony of complaints or (2) the lack of afternoon thunderstorms, the PGA's mowers took a little off the top, and the fairways and greens got hydrated before the third round. The result was the unleashing of Andres Romero, the little Argentine with the name built for the corrida and a game that can take both ears and the tail off places such as Carnoustie and Oakland Hills. He made seven birdies in the early going Saturday and got within three shots of the lead, finishing his course-record-tying round of 65 before the leaders ever teed off, which they never did anyway. Unfortunately, Romero's brilliance often has been balanced with his penchant for disaster, as his snowman at the 16th Friday, his triple this year at Augusta or his two doubles that offset his 10 birdies at Carnoustie in '07.
At 2:16 p.m. Saturday play was suspended and the horns were followed by an Olympian display of electricity and torrential rains. The washout set up the longest day in American championship golf since Ken Venturi beat heatstroke in the '64 U.S. Open at Congressional in the game's last 36-hole final, except this one was almost as chilly as that one was hot. The last time a European won the PGA (Tommy Armour, 1930), America had just slipped into the Great Depression. Let's hope for the luck of the Irish this time. At least now Europe will think the PGA is a major again.