News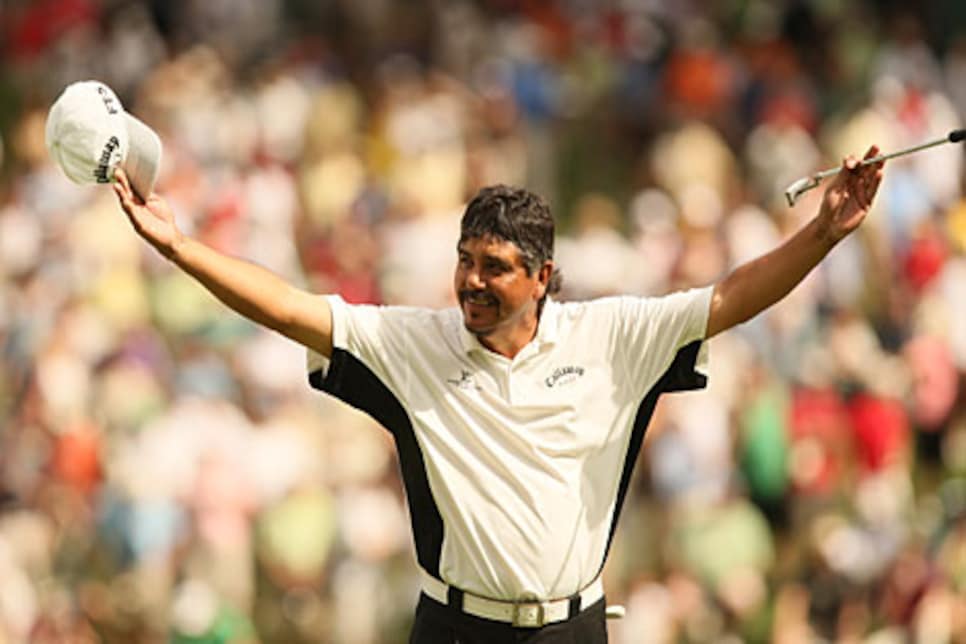 Happy ending: Romero survived a rough patch Sunday to win by four.
The moment triangulation was introduced as a strategic navigational device it was evident that this U.S. Senior Open would be a different kind of animal, notwithstanding the black bear (or bears) that interrupted proceedings Friday and consumed a quantity of hot dogs and candy in a Saturday night concession stand raid.
The bear intrusion on the East Course at The Broadmoor in Colorado Springs, at any rate, helped delineate the likely outcome. It stood to reason that either the man with the Mutual of Omaha endorsement would win in this wild animal kingdom, or the one known as El Gato, the Cat, would prevail.
Ultimately it was a day that belonged to Eduardo Romero, El Gato, who turned a match race with Fred Funk into a solo journey into the hearts of 35,000 villagers in his hometown of Villa Allende, Argentina. Romero, 54, won by four shots, a victory that triggered a celebration that may not yet have ended.
When Romero won the Dick's Sporting Goods Open a month ago, schools were closed and the kids ventured to the airport in Villa Allende to welcome him home. Golf has become a passion in Villa Allende, which has only a single course, but two international golf stars who have won U.S. national championships in consecutive years, Romero's Senior Open victory bookending Angel Cabrera's U.S. Open win at Oakmont last year.
"Everybody is talking about golf, everybody knows about golf," Romero said. "If you go to the pharmacy, the guy says, 'Eduardo, how you've played, it's unbelievable.' It is a little village, like St. Andrews, but everybody knows about golf."
Interest is not confined to the village. Much of the country of Argentina took note of his victory, according to countryman Roberto De Vicenzo, himself a past champion of the U.S. Senior Open, the winner of the inaugural event in 1980. De Vicenzo was among those who called to congratulate him.
"After the Cabrera victory, the golf in South America is completely different now," Romero said. "Golf wasn't a sport in South America and Argentina. Before, it was soccer. Now it's very important for South America, especially Argentina."
It would seem unusual for an Argentine from the same small village that produced the 2007 Open champion following with a victory in the Senior Open, but it fit neatly into a script that was odd in a number of ways, including the manner in which Romero closed out this victory. He took a three-stroke lead to the 11th hole, made four straight bogeys and still increased his lead to four.
Funk was only two down when he pulled a 3-wood tee shot into thick rough at the 13th hole, a mistake he compounded by attempting to muscle a 7-iron second shot up near the green. "I was so close to whiffing it," he said. "I did cold-top it." The ball settled into a horrendous lie from which he would make a triple-bogey 7. "The party's over," he said.
It was over only in his own mind. Romero had other thoughts, one of them Greg Norman's collapse at the Masters in 1996, "when he started to make bogeys and never stopped." Another thought was of an Argentina Open in which Romero made seven straight bogeys.
"It wouldn't stop," he said. "It's very hard, especially for me. When I started to make bogeys today, I said to my caddie, 'I have to make a putt, just one putt.' " He applied the requisite tourniquet at the next hole, where he made the first of four straight pars that concluded a final round of three-over 73.
Romero played 72 holes in six-under 274. Only two others (Funk and Mark McNulty) were under par in a championship that was overwhelmingly praised, despite its difficulty and the vagaries that made it unique.
The Broadmoor itself stands apart for a variety of reasons, foremost among them the altitude, which is nearly 6,500 feet above sea level and requires a caddie with an advanced degree in mathematics to do the calculations required to select the proper club in the thin air (see Equipment, page 14).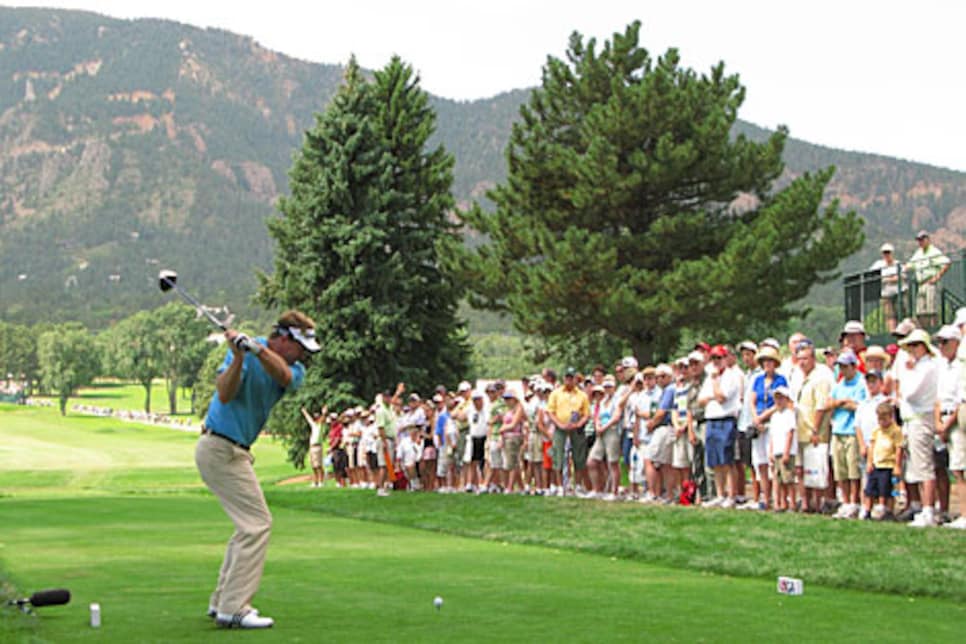 "It's very, very difficult to stay focused with all the calculations," defending champion Brad Bryant said. "By the time you get ready to hit a golf shot, your mind is tired. It's 180 yards, minus 18 [for the 10 percent altitude discount], so that's 162. Then you're thinking, 'It's uphill and downwind.' It's mentally draining."
Then there is the Will Rogers Memorial Shrine of the Sun, built atop the nearby cliffs. Local knowledge says to keep the ball on the side of the hole away from the shrine, to help offset the mountain effect that increases the treachery on the fast, undulating and often large greens. The Broadmoor is situated at the base of Cheyenne Mountain (better known as the home of NORAD—North American Aerospace Defense Command), and putts are known to break away from the peak.
"You have to triangulate where the shrine is and where you're putting," said R.W. Eaks, a Colorado Springs native, who once worked on the grounds crew at the Broadmoor. "I know it sounds funny, but it really works."
The Shrine of the Sun (or hot sun, as was the case last week; the temperature in Colorado Springs Friday was 99, a record for Aug. 1) isn't always helpful. It features Westminster chimes that ring every 15 minutes, to the chagrin of those unfortunate enough to have mis-timed swings to coincide with their ringing. Among them was Hale Irwin, for whom the bells tolled while he was in the midst of his first swing of the day Friday. His attempt to abort the swing failed, the club striking the ball and advancing it only 20 yards forward and left of the tee.
The players generally were pleased with how the USGA set up the course, which at 7,254 yards was the longest in Senior Open history. They reserved their animus for the greens, particularly some of Friday's pin placements "that almost defy the imagination," Tom Kite said.
Greg Norman, who finished solo fourth, declined to comment, but did so anyway. "The USGA should know better," he said.
"This is the hardest set of greens I've ever played," Funk said. "And that's throwing Augusta in—and Oakmont and Winged Foot and Pinehurst [No. 2]. I've just never seen greens with this much movement in them, meaning they don't have any flat spots on them, like an Augusta [green] has. You have all that, and then you have to factor in that mountain. That's what's crazy. It just gives you that illusion that you have a putt that looks like it's uphill, and it's really downhill, or the other way around. It just keeps you guessing."
Crazier yet was a sporting event interrupted by a bear ("You don't see that at Wimbledon," one wag offered). It was an intrusion nonetheless that was a welcome one, so long as nobody was mauled. NBC's Dottie Pepper was the most viable target. The bear trotted across the 13th fairway and came precariously close, startling her, though history would suggest that the bear might rue the day were it to have tangled with the famously feisty Pepper.
The bear at any rate predictably became a SportsCenter moment that allowed senior golf to transcend its niche, before the creature wandered back into the wilderness of its own volition. The USGA, meanwhile, took a precautionary measure by deploying wildlife officials to provide round-the-clock surveillance and redirect encroaching wildlife away from the course. It was an inadequate deterrence for one bear, possibly the same one, who apparently triangulated the security measures Saturday night and turned up at a concession stand near the seventh green.
As meals go, the bear's hot dogs and candy bars undoubtedly went down easier than anything Funk and John Cook had for dinner Sunday night. They were the only two players in close enough proximity to Romero starting play Sunday—two and three strokes behind, respectively—to warrant a chance.
Funk took himself out of contention with a back-nine 39 and a final-round 75. "I played that back nine two days in a row in three over and five over," he said. "That's not going to win you a championship, that's for sure."
Cook, meanwhile, made seven bogeys and no birdies for a 77 that dropped him to fifth place. "A tired guy out there today, I can tell you that," said Cook, who only a week before lost the Senior British Open in a playoff. "I was whupped. I was trying to fight it all day long and just couldn't do it."
Romero was fatigued, too, two months ago, when he was tired of his putter letting him down. He hadn't won on the Champions Tour since the 2006 Jeld-Wen Tradition (another senior golf major) and finally grew frustrated enough to replace his putter with a 45-inch belly putter that he wields traditionally, without anchoring it to his stomach. It has transformed his game.
"I'm a completely different player," he said. "Last year my putter was not so good. My putter is working now The new putter changed my life. I think I can win any tournament now. I feel it. I smell it."
It has worked so well that in three consecutive starts, he has two victories and a third in the Senior British Open, and it chose an opportune time to shine Sunday, at the 10th hole. He made a 30-foot birdie putt there ("the best putt all week," he said) that gave him a three-stroke lead, ensuring a soft landing when he followed with four straight bogeys.
It wasn't an artistic landing, but then gymnastics isn't the national sport of Argentina. Of course, neither is golf, though the hero's welcome that he was expected to receive in Villa Allende suggests that soccer's hold on the populace is modestly weaker these days.