News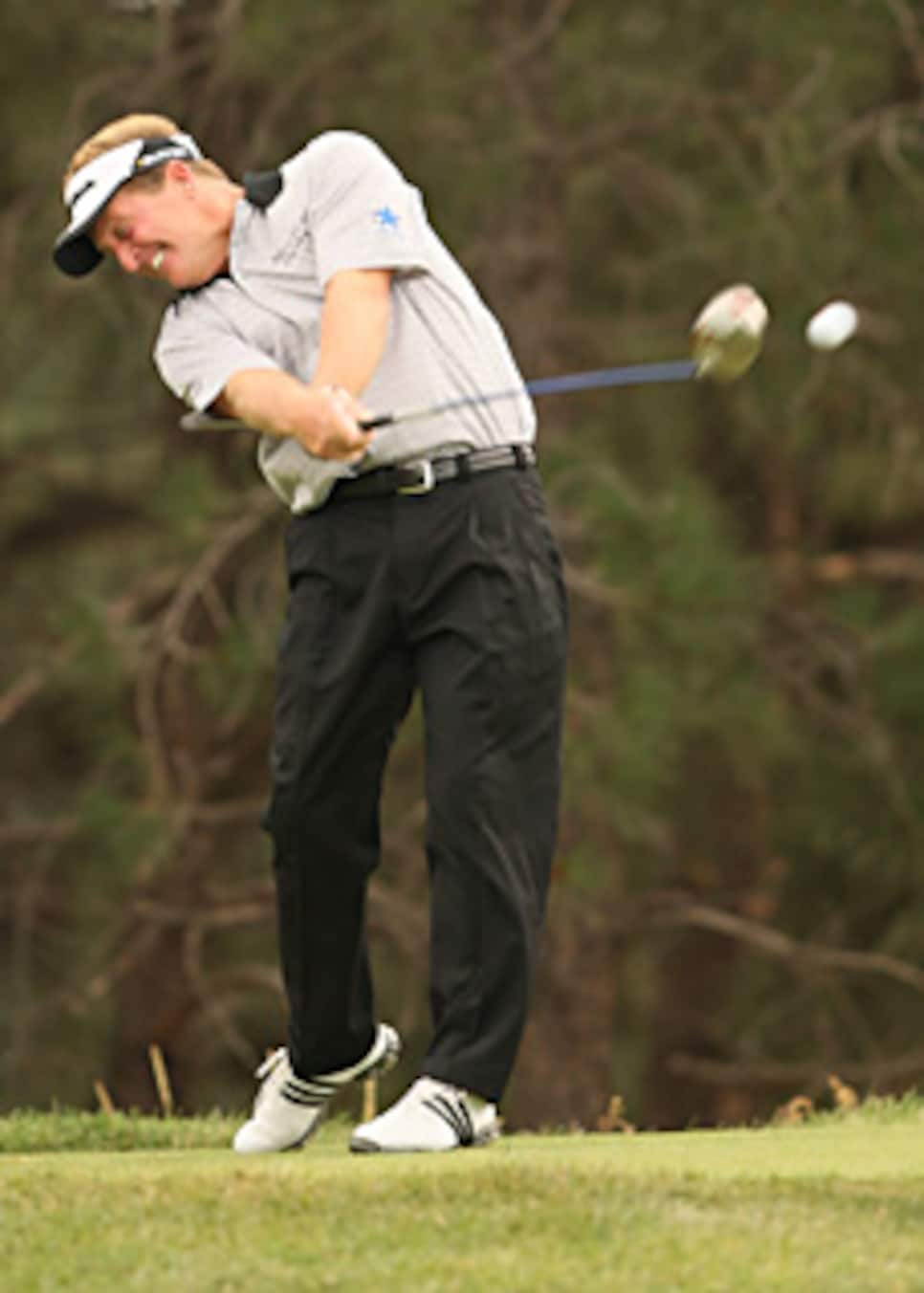 Funk changed his driver and ball to boost his tee-shot trajectory.
The objective was to score low at last week's U.S. Senior Open at The Broadmoor in Colorado Springs, but some players were tweaking their equipment -- sometimes dramatically -- to hit the ball higher and take advantage of the altitude (nearly 6,500 feet above sea level) for more distance.
Jim Thorpe's quest for a Rocky Mountain high caused him to put a 10.5-degree Callaway FT-5 driver in his bag. The new club was a whopping 3.5-degree boost from his normal loft, 7 degrees, one of the lowest on tour. "I had a tough time keeping my driver in the air," said Thorpe. "Everything kept coming off like a line drive. I needed that much loft to get [it airborne]."
Thorpe likely wasn't just playing a hunch. Computer-generated trajectory models reveal that players with tour-level ball speeds and spin rates (165 miles per hour ball speed and 2,800 spin) want approximately 12 degrees of launch angle at sea level, but at 6,500 feet, 13 or 14 degrees is preferable.
Fred Funk changed both his driver and his ball to get the desired effect, using a higher-spinning TaylorMade TP Black LDP ball and upping the loft on his TaylorMade Burner driver a degree to 10.5. "I'm just trying to get a little more spin so it will stay in the air instead of falling out of the air," said Funk. "If you hit it high, well, it just doesn't come down."
Of course, on shots other than the tee ball, altitude can lead to a bit of a guessing game. Last week most players deducted about 10 percent off their sea-level yardage, but that was more of a ballpark figure than an exact science.
"I'm a little bit confused on the distance I'm hitting the ball," said Tom Watson. "It's not very consistent." Added Bernhard Langer, "I know I hit my 8-iron 154 yards plus or minus two, but in altitude you're not so sure anymore. Early in the morning, when it's cool, the ball might not go as far and then in the afternoon when it's hot and less humid, the ball goes a lot farther. It changes quite a bit."
In addition to temperature, a lot depends on the type of player, too. "A good example of that is a guy like Kenny Perry," said Funk. "He hits the ball really high and hits it really solid, and he used 20 percent instead of 10 percent when we played at Castle Pines. He also used [a] 15, 20 percent [differential] at Vegas, which is only about 3,000 feet above sea level. It's very individual."
That individuality extends to doing the math, too. "I take 11 percent off, so I'm effectively playing the yardage in meters," said Zimbabwe native Mark McNulty. "It makes it pretty simple for me."
Which made him one of the few to say that last week.
Although no players put the clubs in play last week, Ping had some of its golfers -- notably Angel Cabrera,Hunter Mahan and Miguel Angel Jiménez (right) -- test its prototype Rapture V2 irons. The multimaterial irons boast a titanium face and a tungsten weight in the toe area of the sole.
Padraig Harrington clearly is not resting on his laurels, ditching the Wilson Dd6 driver he won both his British Opens with for Wilson's all-titanium prototype Smooth driver at the WGC-Bridgestone Invitational. ... Fred Funk switched to a Guerin Rife Barbados putter at the U.S. Senior Open, where he finished second. ... After a lengthy stint with his Cobra 454 Comp driver, J.B. Holmes changed to the company's L4V model (8 degrees) at Firestone.