News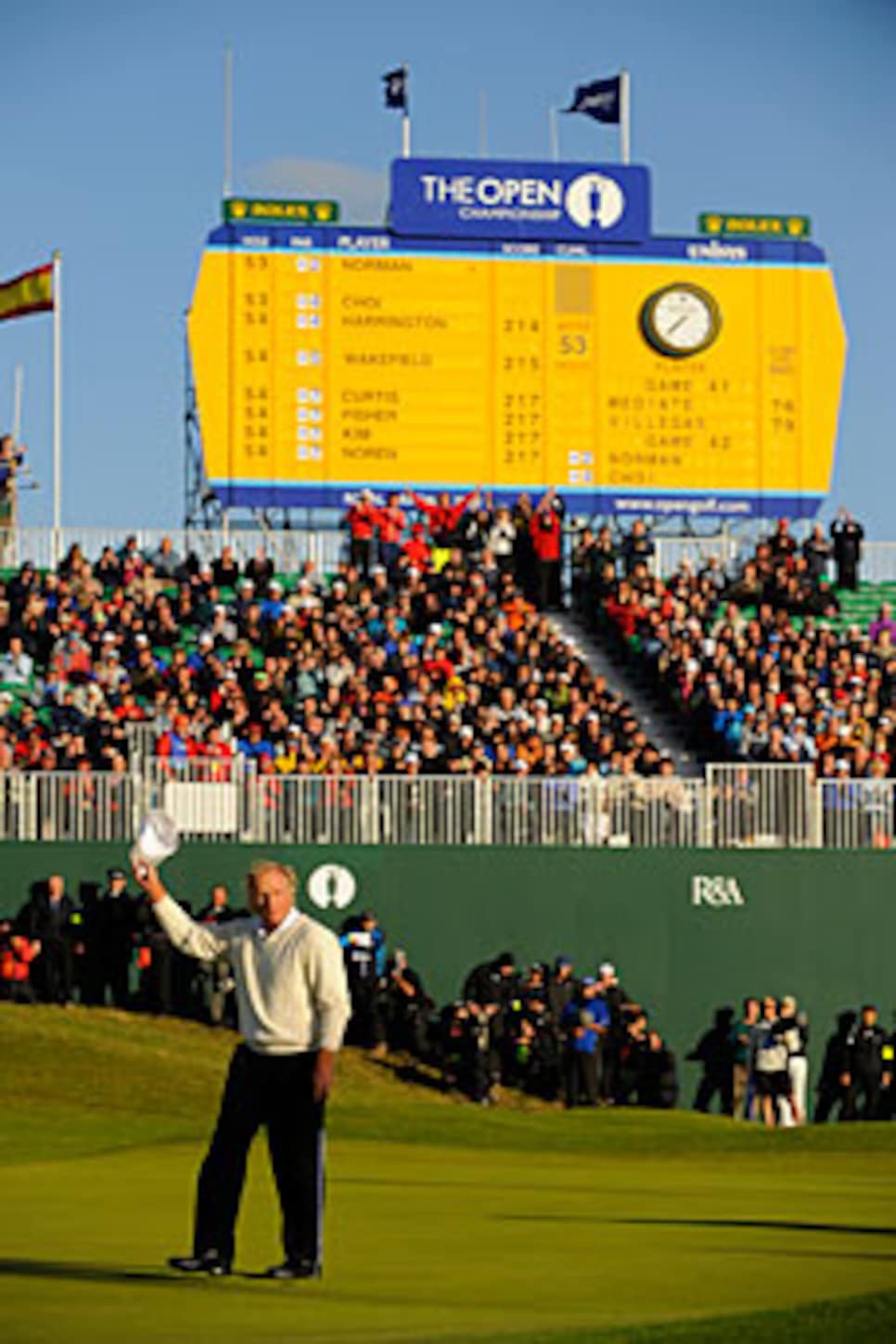 After three rounds Norman had the top spot in fans' hearts and on the leader board.
He doffed his white baseball cap about 100 yards from the 18th green, the 54-hole milepost, another finish line before the finish line. The roar from the west grandstand seemed to grow with each stride, a salutation of admiration no four-club breeze dared to muffle. At 7:30 on a sanguine Saturday evening, the sun could not sink any slower, even if tomorrow couldn't come any faster, leaving the 137th British Open conflicted by a message sent loud and clear.
Twenty-three hours later, Greg Norman made the same walk amid the same thunder of approval. This time, the winner was five strokes and six or seven steps ahead of him, the big yellow ball in the sky a bit higher, the transgressions of his little white ball a lot more costly. Another cap was removed in the fairway, this one blue, owned by a man for whom nothing but a smile seems to come easily.
At golf's ultimate grin-and-bear-it showdown, Padraig Harrington has mastered the art of both. Three swings into his final tuneup at Royal Birkdale, the Irishman walked off the 10th hole a discouraged question mark, his aching right wrist preventing him from playing any shots out of the rough. As Harrington spent the better part of last Wednesday afternoon chipping and putting, speculation that his British Open title defense would end before it started had become the lead log on the speculation bonfire.
A day earlier Paddy had assessed his chances of finishing the tournament at 50 percent. Finish he did: Two birdies and a decisive eagle on the last six holes of an error-free back nine propelled him past a struggling Norman, four strokes clear of runner-up Ian Poulter and at least a couple of exclamation points as to the identity of the world's third-best golfer, not to mention one wry smirk.
"A little shinier than I remember," Harrington said of the claret jug he had brought to England's northwest coast. "They obviously cleaned it up very nicely."
We can also say the same of the golf gods, who have rebounded from that snoozer of a Masters with two of the most lively and entertaining majors in recent years. Worries that the pro game would take an extended leave of relevance until Tiger Woods returned with two healthy legs and his leash might not prove totally unfounded, but in the here and now, nothing has gone foul. You can put away that silly asterisk.
Harrington did what great players do, something that couldn't be said of his playoff victory over Sergio Garcia at Carnoustie last July. Trailing Norman by one on the 10th tee last Sunday, Paddy played the best golf of his life with everything on the line, and thus, left behind a 53-year-old man who supposedly had nothing to lose. "Very impressive," said the Shark, whose one-stroke lead turned into a three-shot deficit in a four-hole span. "He hit everything solid, played the way a true champion is supposed to play down the stretch."
The Norman who met with a small group of reporters at his locker afterward wasn't the same cleverly disguised overachiever everyone fell in love with over the first three rounds. You would have instantly recognized this Norman. Disappointed but hardly distraught, he blamed his demise on four putts that either lipped out or spent too much time snuggling the edge of the cup. An excuse? Probably, but no one was more entitled, and no one with a chronic case of competitive heartbreak could have been more gracious and candid.
This was the eighth time Norman had held the 54-hole lead at a major, only one of which has resulted in a victory (1986 British). You could build a life-size statue with that quarter-century of scar tissue, and though he didn't need a Kleenex to dry his eyes last Sunday night, it was obvious this one hurt. Norman had resided at or near the top of the leader board the entire week. He had gone to great lengths not to annoy fate and say all the right things, never looking forward and looking back only when prodded, at which point he would speak about his past in very general terms.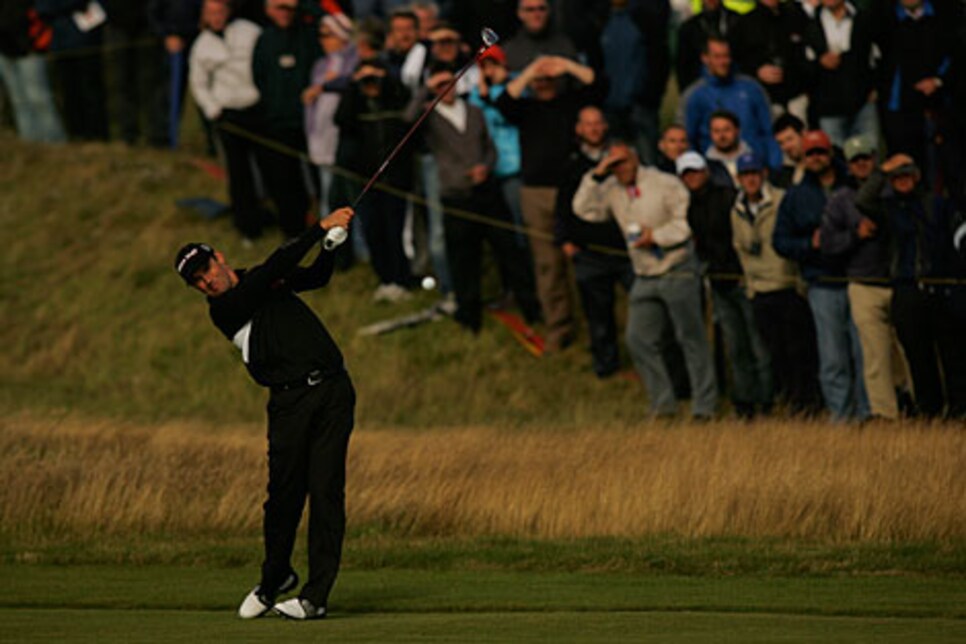 Saturday evening Norman was asked if being in the hunt at majors was like riding a bike, something you never forget how to do. "Yeah, but sometimes that bike gets a little wobbly," he kidded. A TV camera moved in, a microphone slid under his chin, and just like that, the self-deprecating Shark and his two-stroke lead had returned to the Land of Public Consumption.
Norman also made sure everybody knew how little he had done to prepare for this tournament, much less four days in the hothouse of contention. Where did all the downplay get him? On the wrong end of another final-nine lapse. "Coming down the 18th, I told him I was sorry it wasn't his story that was going to be told," Harrington said, showing as much sincerity as a champion is allowed by British Open law.
That's the thing. It was Norman's story, maybe the same old story, but his all the same. Those who argue the choke theory wouldn't have to look hard to find their evidence. His closing 77 was five strokes higher than anyone who finished in the top five, two strokes more than anybody in the top 15. There were several questionable club selections, as Norman seemed to favor an aggressive philosophy off the tee and conservative plays into the greens.
Coming down the 18th, I told him I was sorry it wasn't his story that was going to be told.'—Padraig Harrington
He got some kind bounces to offset the nasty ones, most notably at the eighth, where Norman lashed a driver into the left dunes and found himself with an open look from a lie of matted grass. Three feet in any other direction and he would have had a serious problem. Two holes later, the beginning of the end, he again missed left with the driver. "A good break there," Norman said. "I couldn't see the flag, but I could have been a lot worse off."
We could argue all night and into tomorrow whether Norman succumbed to the pressure of another big-trophy Sunday. If Harrington hadn't performed so brilliantly, the cause of his demise would matter a lot more than it does now, but in threatening to become the oldest player (by five years) to claim a major title, the Great White Shock completely energized this tournament.
So what if he repackaged false hope, a familiar theme, to hog the storyline? A third-round 72 in steady winds of 35 miles per hour, with gusts of close to 50, was vintage Norman, a concoction of tenacity, patience and finesse that was all the buzz Saturday night. "Can he do this? I've got a funny feeling he can," marveled Nick Faldo, the beneficiary of Norman's darkest moment, the 1996 Masters. "There's something about this, [especially] with Tiger not here and [nobody] pointing the finger in one direction."
As the Woods Dynasty began to take shape in late 1996 and early 1997, Norman's career had begun its steep descent. He had been all but absent from the competitive stage since a valiant duel with José Maria Olazábal at the '99 Masters, another tough loss, so it was with no shortage of irony that the Shark returned to the radar in the first major Woods missed as a pro. "How come he's still got a putting stroke at age 53?" Faldo wondered. "Where's the fairness in life?"
Funny he should mention that. Sort of. "We all know where he was the last time he led a major after 54 holes," Faldo added in what sounded like an afterthought but could easily have been construed as a cruel, self-indulgent flashback. Either way, it was a remark from left field, a reference to that '96 Masters, as if the chief antagonist didn't believe in Norman's chances, after all.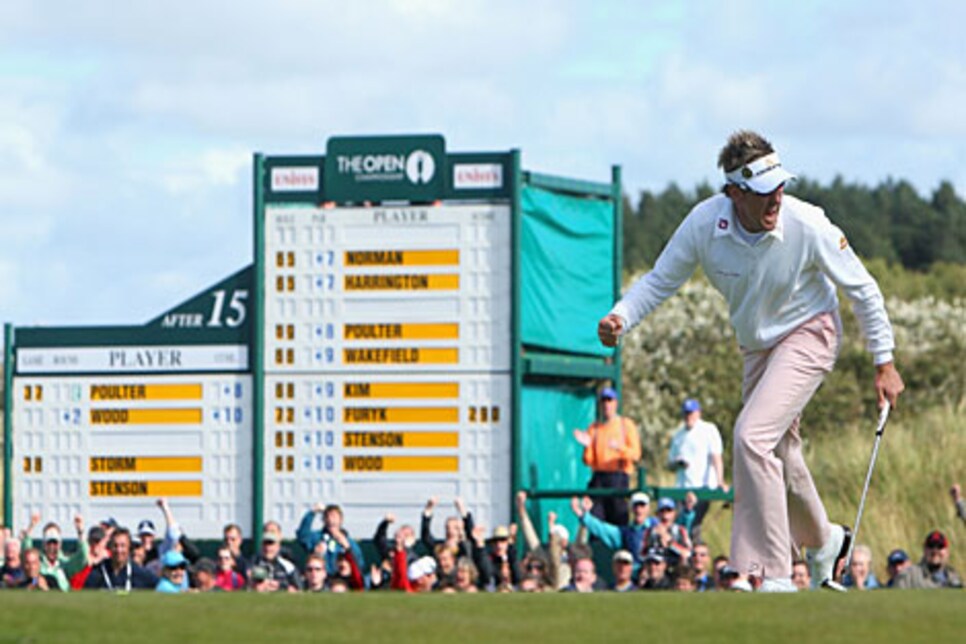 Not 10 minutes later, it was easy to find someone who did. "It's good to see him nervous and embrace the pressure," said Chris Evert, Norman's wife of three weeks. "We'll talk [before the final round], but it's more of a 'How do you feel?' kind of thing. What works for one person might not work for another, and I don't want to impose."
Despite their newlywed status, Mrs. Shark received more attention at Birkdale from the paparazzi than from reporters. Maybe most golf writers couldn't possibly figure out how a woman with 18 Grand Slam titles in tennis could serve as a positive influence on a man who has blown half that many. Evert's legendary mental toughness still makes an occasional appearance on the court, where her husband performs like an accelerated rookie and most rallies end with the wife striping a crosscourt winner.
"I told him he's too good an athlete to be a golfer, and I don't mean that negatively," Evert said.
None of that athletic ability did him much good Sunday. Few tournaments have been played from start to finish in more grueling conditions, from the sideways rain of Thursday morning to the ferocious winds all weekend, but final-round scoring wasn't nearly as high as it had been a day earlier. Before Norman and Harrington teed off, one could see the overnight leader wouldn't make history if he drifted more than a few strokes above par.
Anything higher than a 75 wasn't going to cut it. "The golf gods took a snooze on us," said Norman's caddie, Linn Strickler. "It's a game of miles that comes down to inches."
The golf gods took a snooze on us. It's a game of miles that come down to inches'—Linn Strickler
Or a couple of two left feet. If the Shark could have one swing back, it would be his second shot at the first hole. A perfect iron off the tee defied any jitters, leaving him in the middle of the fairway with 208 yards and a 3-iron to a center pin, but after Harrington semi-chunked his second, Norman fanned his approach. Paddy parked the ensuing 30-yard pitch inside a foot. Norman climbed into the right greenfront bunker, the one place you couldn't miss, and blasted out into a fierce breeze that prevented him getting closer than 20 feet to the flag.
It was the first of three consecutive bogeys, although Harrington would give all three strokes back at the opposite end of the front nine. From there, a potential showdown for the ages never advanced beyond the early stages. Neither player made a birdie until the par-4 13th, where Harrington hit a superb 5-iron from 229 yards to 15 feet. Norman, who had chosen a hybrid off the tee and knocked it into an unplayable corner of a fairway bunker, did well to make a 5, his seventh bogey of the day.
Things definitely were not going as planned. "Talk about overachieving," Strickler would sigh. "If we had knocked this one out, I might have flown straight to Amsterdam, never to be seen again."
From the edgy humor of a disappointed caddie comes more than an ounce of truth. Norman's amazing week came to a crashing halt for a bunch of reasons, the biggest being that his game, while solid in almost every category for certain periods of time, could not withstand a four-day barrage from younger, hungrier players. Ian Poulter, for instance, began the day two over after three holes and was eight strokes off the lead as the leaders made their way to the first tee.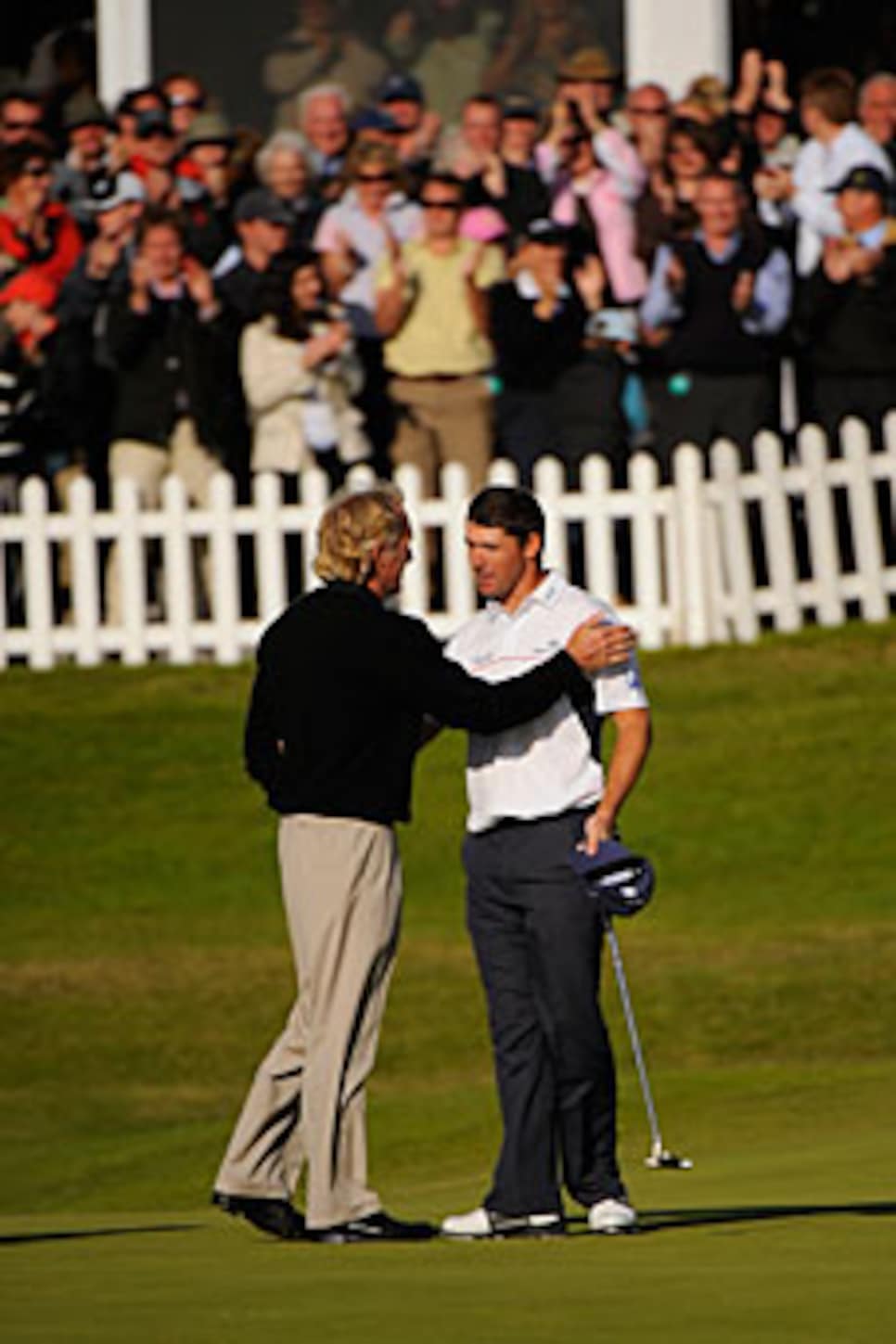 He would play the final 15 holes in three under, scratching and clawing his way into the fray while so many others were moving backward. Norman hardly was alone among contenders gone wrong—K.J. Choi began the day two strokes back and shot 79, as did Simon Wakefield, who started three behind Norman—but eight guys shot 70 or better. If you hung in there and hit good shots, you got rewarded.
Poulter's charge gave the Brits something to cheer about, but after reaching the par-5 17th in two, he left his 50-foot eagle attempt eight feet short, then missed the birdie try. It was a costly mistake, as Harrington arrived at the 17th five groups later leading by two, which allowed him to play a safe 5-wood off the tee and still hit the green. He did that and much more.
"There was no discussion," caddie Ronan Flood said of Harrington's decision to play an aggressive approach. "[Another 5-wood] was the perfect club. All I did was let him know where he stood." Paddy hadn't looked at a leader board all day, but once Flood informed him of the lead, he laced a low cut from a hanging lie that took a giant hop into the putting surface and scampered along right edge.
"It's one of the few times I've ever heard him say 'good shot' before the ball is finished moving," Harrington said of his caddie. "He doesn't realize he does that, and I will rib him about it later." When the 5-wood came to a stop four feet from the flag, Flood probably should have said it again. The Irishman rolled in the eagle putt, taking a four-stroke advantage that made for a nice walk up the final fairway with Norman.
For a few seconds, at least, the winner's smile disappeared. Time to get serious. "I thanked him for his company," Harrington revealed of that last waltz with the Great White Shock. "He's a super guy. If you ever want to be paired with someone in the last group of [a major], Greg is the perfect guy."
The winner could not have been more sincere, but like a lot of things that happened last week at Royal Birkdale, it was a comment that could be interpreted in a couple of different ways.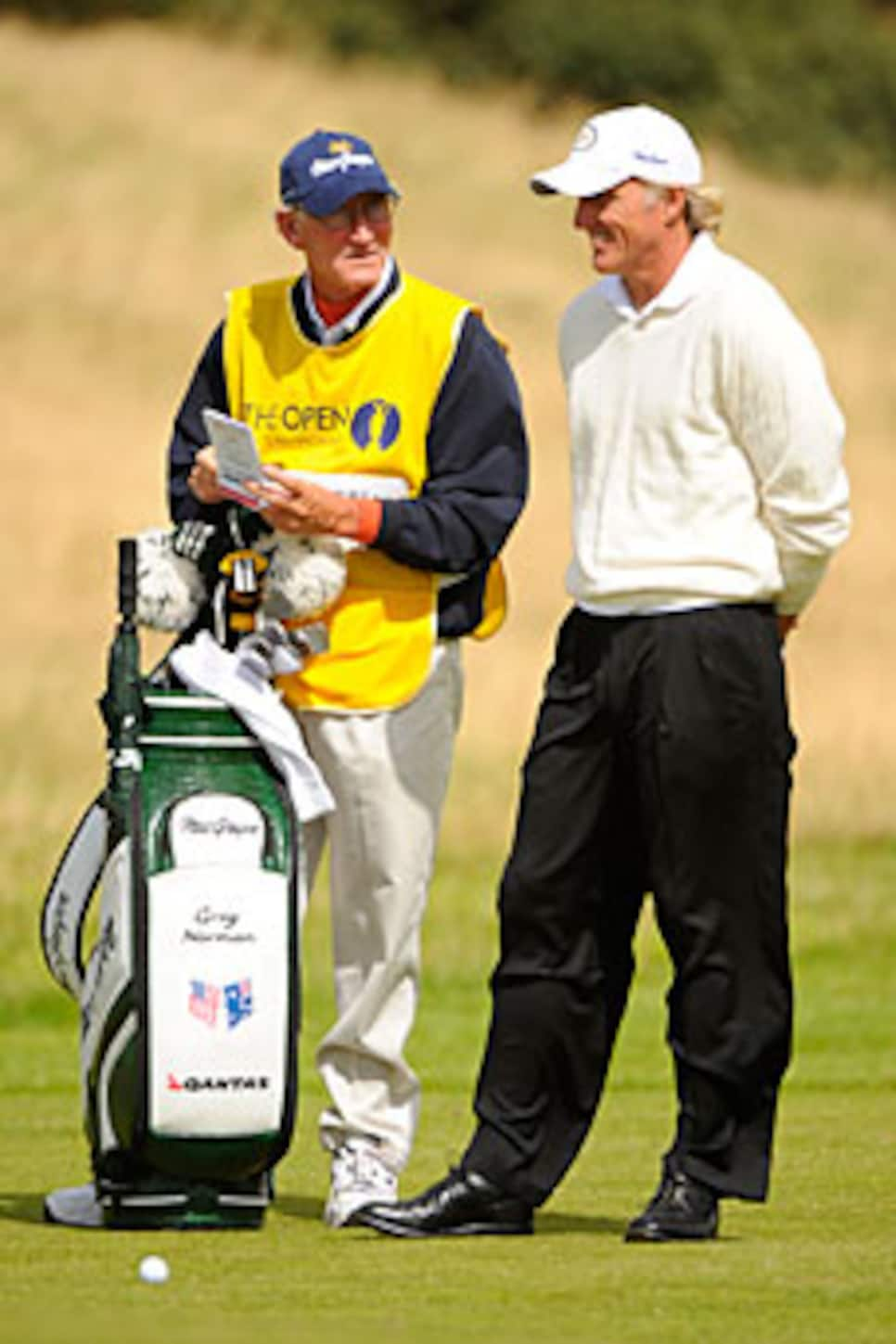 Greg Norman's caddie during his magically improbable week—the classically grizzled Linn Strickler—was making a comeback of his own at Royal Birkdale.
Strickler, 58, who first caddied on the PGA Tour in 1972 and whose résumé includes bosses such as Curtis Strange, Fred Couples, Craig Stadler, Nick Price, Payne Stewart and Ben Crenshaw, had been out of the professional loop. Taking a break from a year of short-term gigs for players such as Robert Gamez, Tommy Armour III and Phil Blackmar, Strickler was "raking traps for 150-handicappers" this spring at posh Sebonack GC on Long Island.
One day in May, "Today" show host Matt Lauer showed up with a guest, his good friend Norman. Strickler had caddied for the Shark in practice rounds a couple of times in the early 1990s, but he was surprised when Norman started inquiring about his availability.
"I'm holding my sand-divot filler and my rangefinder, and the Shark asks me if I want to caddie for him at the British," said Strickler. "When he wondered if the club would let me go, I said, 'I don't care if they let me go or not. I'm going.' "
This was a dream for Strickler, who characterized Norman's place at the top of the leader board Friday as "H.G. Wells stuff." Saturday evening after his player secured the 54-hole lead, he acknowledged a "You're doing a good job" from Chris Evert and reflected on his journey in golf.
Strickler was just out of Vietnam, where he saw combat while assigned to work with bomb-sniffing dogs, when he noticed that an old softball teammate, Jim Barber, had finished second to Tom Weiskopf at the 1973 Philadelphia Classic. "I called him up and said, 'Congratulations, Barber. You've got a new caddie.' "
Strickler loved the life, and his jaunty, confident style soon made him a favored employee for A-list players. He won tournaments in the early '80s with Strange, who Strickler firmly contends "hated a bogey more than any golfer in history." When Strickler moved on to Couples, he earned the nickname "The Vacuum" because of the way he could spear Couples' tricky ball flips with one hand. It was with Couples in 1984 that Strickler had his biggest win, the 1984 Players Championship.
Strickler became permanently known as "The Growler" because of a raspy baritone that matches his Clint Eastwood squint. Veteran caddies love repeating Strickler's exchange with a young Payne Stewart, who noticed in their first round together that every yardage given to him from the fairway ended in either a zero or a five instead of a more precise number. "How come?" asked Stewart. Growled Strickler, "Because you're not that good."
In England, Strickler made a striking visual match with Norman. Both are the same height, lean and share a prominent facial bone structure and weathered features. "He's not his caddie, he's his daddy," noted one tabloid headline. One literate spectator called it "a 'Picture of Dorian Gray' thing."
"I really don't know why Greg asked me to work for him," said a grateful Strickler, on his way to nearby Liverpool on Saturday night to watch original Beatle Pete Best perform. "His son, Gregory, was going to come but had to change plans, and Tony Navarro is committed to Adam Scott. It was just a whim, but now it's a fantasy."
Suddenly, Strickler's reverie was interrupted by a golf writer blurting, "Can Greg really win?"
"What have you been watching?" snapped The Growler. "Most assuredly. Most assuredly."
Greg Norman's performance at last week's British Open was not the first time a golfer at least 50 years old made a run at a major championship:
Harry Vardon (1920 U.S. Open)
The 50-year-old Vardon led by one after 54 holes at Inverness but faltered with a final-round 78 to lose by a shot to fellow Englishman Ted Ray.
A third-round 66 left the 54-year-old Hogan two back of three players, but a final-round 77 placed him T-10.
Julius Boros (1973 U.S. Open)
Already the oldest player with a major (he had won the 1968 PGA at 48), Boros, 53, was in a four-way tie for the lead after 54 holes at Oakmont. He finished T-7 after a final-round 73, as Johnny Miller's 63 trumped everyone.
Two years after finishing T-4 as a 60-year-old, Snead made another run at the PGA, but his final-round 68 at Tanglewood came up three shy of Lee Trevino. Snead finished T-3.
Jack Nicklaus (1998 Masters)
At age 58, Nicklaus made a push for a seventh green jacket, shooting 33 on Sunday's front nine to get him within two shots of the lead. He eventually posted 68 for a T-6.
Greg Norman (2008 British)
Seeking to become the oldest major winner in history, Norman, 53, led by two after 54 holes, but his final-round 77 left him T-3.