News
Although frustrated by how he has played lately, Irwin isn't ready to rest on his laurels.
A death gives life to dormant memories, and those that surfaced with the passing of his mother in March caught Hale Irwin off guard. He began thinking instead of his father, Hale Sr., who had succumbed to cancer in 1984, when Irwin was occupied with raising a young family and forging a career, subconsciously allowing him to defer his grief.
Mame Irwin's death did more than call this marker due. It exposed Irwin to his own mortality, contributing to "an awakening," his brother Phil says, "that age is catching up with us." In the Irwin family hierarchy, Hale is now on deck.
Of course, on deck is relative. At 63 and still remarkably fit, Irwin is not old by any reasonable measure. When he takes stock of his life ("I feel good. My health is good."), death concerns him less than the life left in his listless golf game.
"At a point in time you have to pause and reflect," he says while discussing his mother's death, "and I think I'm in that pause-and-reflection mode right now, while still trying to keep my golf game, finding traction with that, and I'm slipping."
By PGA Tour calculations, Irwin has walked 25,000 miles in his career, the equivalent of circling the globe at its equator. What an odd coincidence that this persistent meandering would transport him back to the place at which it essentially began, the Broadmoor resort in Colorado Springs, site of the 29th U.S. Senior Open July 31-Aug. 3. Forty-one years after he first ventured there in search of an answer, he is returning with the same question: Does he have enough game?
In 1967 he posed it to former PGA Tour star Dow Finsterwald, then Broadmoor's director of golf, who asked him to hit a few fades and draws. Affirmative, Finsterwald told Irwin, who turned pro the following year and doggedly began proving him right by constructing a Hall of Fame career from 20 PGA Tour victories (including three U.S. Opens) and a record 45 Champions Tour wins (including two U.S. Senior Opens).
This time, there is no easy answer, though there could be a disturbing one for a famously competitive man who heretofore would not permit himself to fail. Is it possible that his game is finally submitting to the passage of time?
When Irwin was a football star at the University of Colorado, his preseason preparation included 50-yard sprints, 20 of them. "I'd make sure I ran 51 yards," he says. "I never wanted to let up at that 49th. I wanted to push through 50 and go to 51."
Time has a way of moving the hash marks, so that the same effort doesn't deliver the same results. This seems to be where Irwin is in his career. "I know I'm trying just as hard as I ever tried, and I'm not playing very well," he says. "I'm not seeing the benefits of all this effort."
It has been 18 months since his last win; his best effort in 12 starts in '08 is a T-18. A victory at this point would allow him to surpass Mike Fetchick as the oldest winner in Champions Tour history. Suffice it to say about one for whom "tenacious competitor" would be a fitting epitaph for his career, Irwin is disinclined to surrender meekly to the debilitating effects that aging has on golf. "At some stage it's going to happen," he says, "but I honestly don't believe it's right now. I'm not hitting the panic button. Yes, the game's been lousy, but do I lose sleep over it? No. Generally, you get what you deserve."
He acknowledges that he has not putted well (he is ranked 75th in putting average this season), a problem exacerbated by missed tee shots that contribute to wayward iron shots and longer putts. Also, there are peripheral issues that invariably have been distractions, even undermining the importance of a game that his world has revolved around for the better part of his life. At the MasterCard Championship, the first event of the season, Irwin's wife, Sally, passed out and hit her head. "She's fine now, but it was scary at the time," Irwin says. Then Sally's mother took ill, temporarily. Finally, his own mother died, triggering a range of emotions that included what he called "the mortality issue."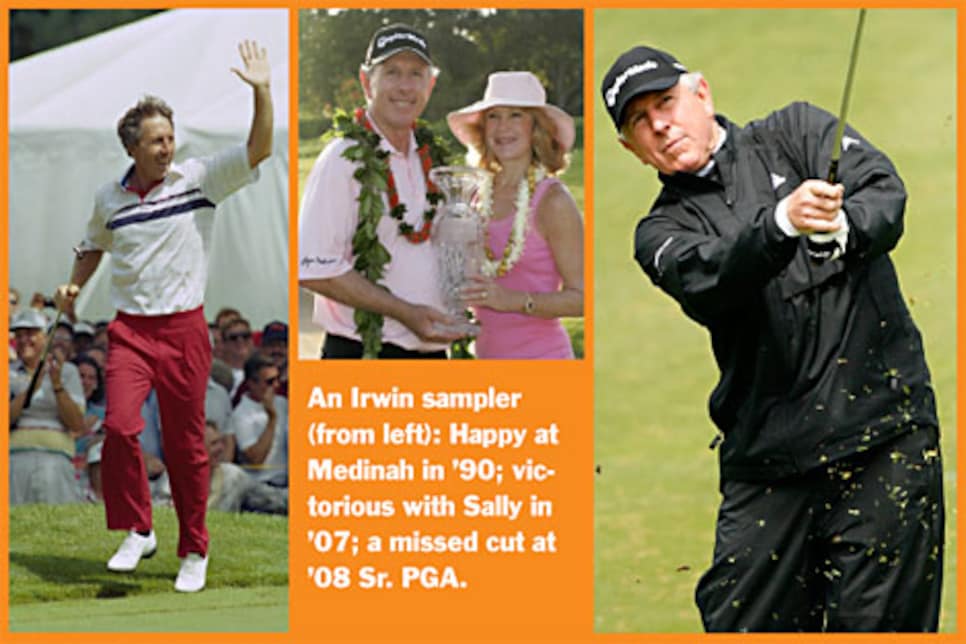 The trouble with golf is that there is no discernible finish line to let you know the race is over. The game generously and notoriously dispenses glimmers of hope. Irwin's glimmer is not so much the quality round surfacing in an expanding assembly of mediocre ones, but that he has history on his side. "I remember doing this same thing in 1990, going back [to the U.S. Open, at Medinah CC] looking for my game, and I found it."
If he's going to make a stand (a last stand?), there is no more likely place for him to do so than at an Open, notably one played in the state with which he is associated so closely that he was named the honorary chairman of the Senior Open. If his career still has a pulse, an Open will find it.
"It might be the jump start I need to get my game back into shape," he says. "One of the things I was thinking about in the last couple of years, wouldn't it be nice to pair up my three U.S. Opens with three Senior Opens? I'm not getting any younger. This might be as good a chance as I'll have. There's a long, long way to go. I might as well try to climb Cheyenne Mountain. But at the same time it can be done."
Scaling mountains has been a way of life for Irwin, who was introduced to the game on sand greens in the Great Plains, in Baxter Springs, Kan. He then moved to Boulder, Colo., where he continued to chase brilliance in a sun sport in an area better known for its long, harsh winters.
"He's an interesting guy," Phil Irwin says. "He would play golf during the winter in Colorado, when the rest of us were playing football and basketball. When he turned pro, he and Sally lived out of a car, stayed in fourth-tier hotels. Our folks didn't have any money. He had to be sponsored, had to pay the guys back. For years it was a struggle. It was a job. Where he came from and how he got to where he is is a remarkable story."
Irwin's was a career through which he developed associations and friendships with leaders of industry and even nations, the latter including former presidents Gerald Ford and George H.W. Bush. "I got to know them on a first-name basis," says Irwin. "I couldn't ever have been smart enough to meet them, couldn't ever been wealthy enough to meet them."
The game has been good to him, notwithstanding the fact it has begun to turn on him. He has a trophy room at his home in Paradise Valley, Ariz., to remind him of that. "When I feel down and out, I just go in there," he says. "There are a lot of very nice memories in that room."
Foremost among them are the replicas of the perpetual trophies awarded to the winners of the U.S. Open and Senior Open. They are displayed on what Irwin calls the USGA shelf.
Does it have room for one more?
"Oh, yeah," Irwin says forcefully, summoning—momentarily, at least—a measure of the kind of steadfast belief and determination responsible for stocking the shelf in the first place.