News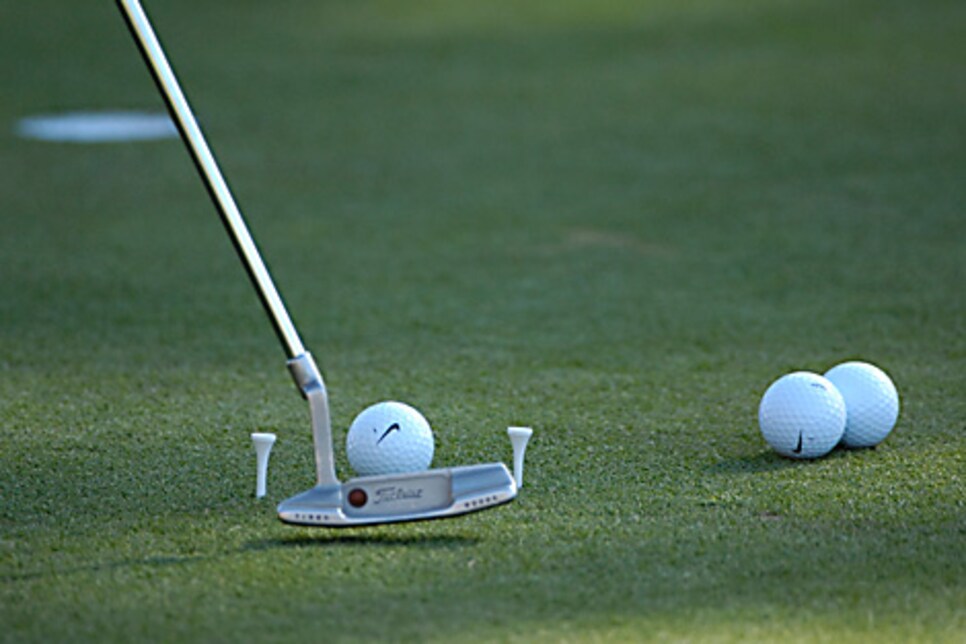 Tiger Woods is among those for whom two tees get the job done.
Instructor David Leadbetter knows there's more than one way to skin a cat. He once said, "You can't always verbalize to players the position you want them to be in, so we use a device of some sort to teach them the feel we're trying to get across. It's just another form of an instruction drill."
What Leadbetter didn't say, however, was that the device needn't be a marvel of technology. Indeed, when it comes to training aids, many tour professionals take a decidedly low-tech (and sometimes homemade) route -- especially when it comes to putting.
Earlier this year at the LPGA's Michelob Ultra Open at Kingsmill, Julieta Granada's caddie (and mother, Rosa) was spotted carrying a shopping bag containing rulers, yardsticks and, of all things, a knitting needle.
No, Granada was not making a sweater. She was readying to practice her putting. Fitting the knitting needle in the small hole at the end of the yardstick, Granada could measure the length of the putts she was practicing. The rulers, meanwhile, were placed a putterhead-width apart to aid alignment as well keep the stroke on a straight-back, straight-through path as much as possible.
Noted instructor Jack Lumpkin also gave Davis Love III a simple putting assist. While recovering from ankle surgery last winter, Love, still in a cast, wanted to work on his putting. Lumpkin gave him some old Ping golf balls painted half black, half white. "He said, 'Take these balls and roll them across the rug and make them go straight. Don't let them wobble. That's your job,' " said Love. "I couldn't do anything else [so] I stood in the garage with my son, and we rolled them and made them go straight."
In fact, go to any practice putting green at a tour event and you're sure to see a number of players with chalk strings marking a line, or two tees placed apart the width of the putterhead to check the path of the stroke.
If you're Parker McLachlin, you need even less than that. In fact, all McLachlin needed earlier this year at the AT&T Classic was a helping hand, literally. Feeling he was moving his head backward as he started his stroke, McLachlin had his caddie hold his head still as he practiced.
"It was just a bad habit I had gotten into, and that seemed like an easy way to stop it," said McLachlin. "And, you know, something small like that can just click. And it did. It's so much fun to see the ball start on your line when you are putting. It's pretty cool."
Even if the "device" used wasn't exactly the coolest thing on the market.
Callaway's new Tour i and Tour ix balls just recently made it to market, but its marquee players, Ernie Els and Phil Mickelson, are already using the next version. In an effort to boost distance, the duo used a prototype (stamped.Tour i.), which boasts a firmer cover than the current Tour i, at last week's Scottish Open. Els finished T-9; Mickelson T-38.
Playing near his native Iowa made for a busy week for Zach Johnson, but he still had time to make an equipment change. The 2007 Masters champ put a prototype 8.5-degree Titleist 909D2 driver in play at the John Deere Classic. The driver has a 460cc head with a full pear-shape profile designed to produce a mid launch and spin. ...Amateur Jamie Lovemark recently changed to a SeeMore M1 putter -- a near center-shafted blade that works well with Lovemark's straight-back, straight-through stroke. … Former Deere champ J.P. Hayes switched to a Scotty Cameron by Titleist Notchback Select last week and finished T-9. The blade features a cutout in the back flange to enhance forgiveness on heel and toe hits.