News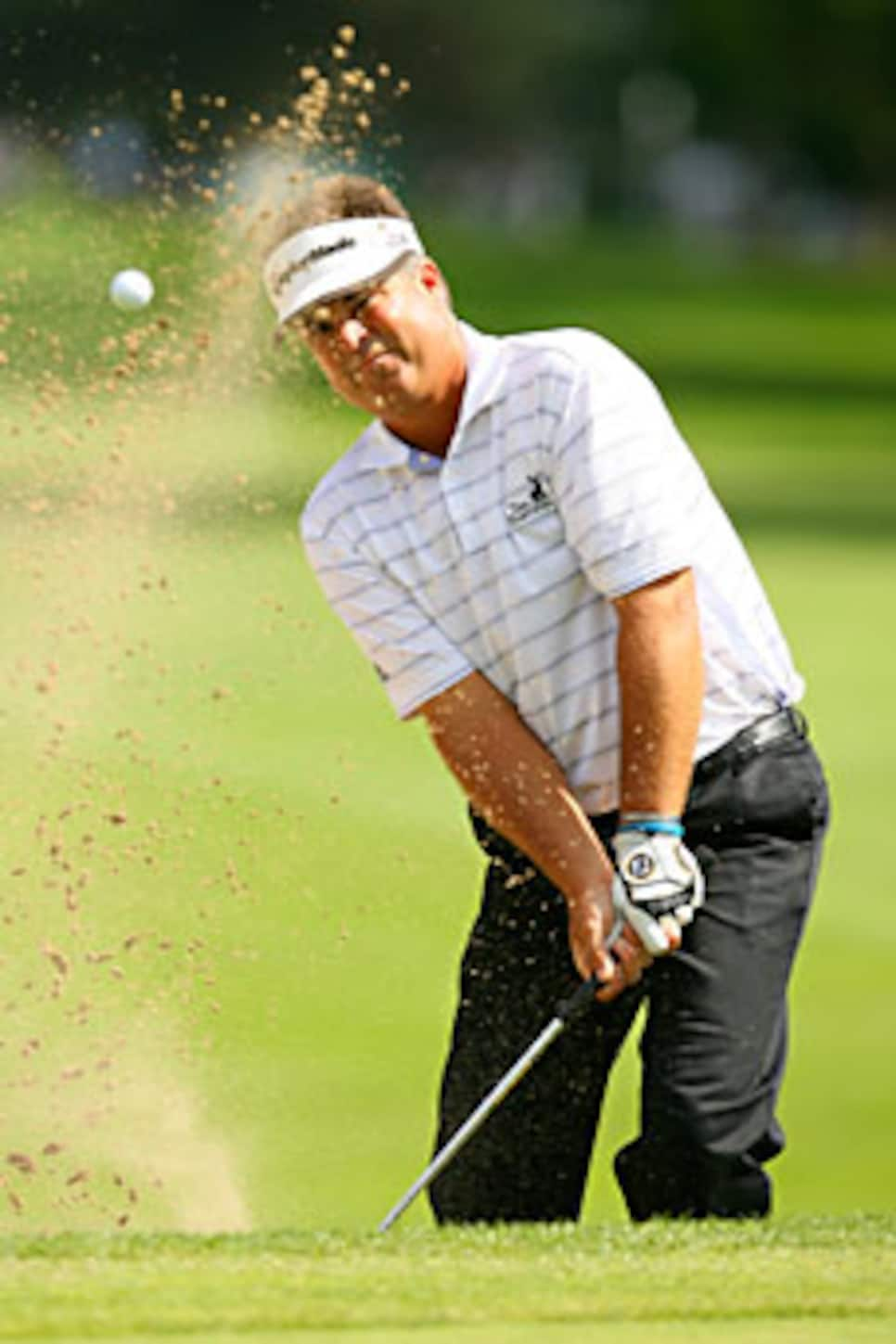 A final-round 66 secured victory for Perry, who still plans to skip the British Open and play in Milwaukee.
Closing in on his 48th birthday, Kenny Perry prefaces most self-critiques with the qualifying phrase "at my age," as if to imply that life in his bracket belongs in the slow lane. But when you ask about his Ryder Cup obsession, this gentleman golfer races for explanations. "You're never too old to set goals, not that making our team was a realistic goal," he said. "It was more of a dream, because I was ranked so low in the world at one point. Triple digits, worse than 100th. I mean, it was a longshot. Didn't make any sense for me to dream what I was dreaming, but there's the proof. At my age, if you put your mind to something, you never know."
At his age, Perry shot 66 last Sunday for a 19-under-269 total to win the Buick Open by one stroke, so put away the pencil and carve his name in stone for Ryder Cup captain Paul Azinger's United States roster versus Europe this September. "I get goosebumps just thinking about playing for my country so near my home in Kentucky," said Perry, who moved to fourth place in the U.S. standings with the victory. "I told [wife] Sandy, this might be the worst thing I ever wished for. I'll be nervous, I might play poorly and get drilled for it. But that's all I've thought about all year. Being there."
Perry, who had played in the third-to-last twosome of the day, was on the practice range at Warwick Hills G&CC when his second victory in five weeks became official. First to excuse himself from a playoff was Woody Austin, the patriotic iconoclast who wore a shirt that could be described as a mural of stars and stripes and assorted Roman candles. If that was his way of auditioning for Azinger's American squad, it almost worked. Austin stole the show without falling into a lake when he pounced on a stretch of five holes, Nos. 12 through 16 (which includes two short par 4s and two par 5s), with four birdies. But then he three-putted Nos. 17 and 18 from a total of 100 or so feet, his only bogeys of the week on the back nine. "I threw it away," huffed Austin, after his 68. "So, yeah, I've got to figure it out or I'd better quit."
That left Bubba Watson, in the final group with Daniel Chopra and in need of a birdie to tie Perry, but he cut his drive into the trees at No. 18. "The old me would have been [angry] and not thinking about the next shot," Watson admitted later. "But I'm trying to stay focused, composed out there." Bubba escaped with a nifty, low 6-iron shot that settled 12 feet from the cup. He missed the putt, but his 68 meant a tie for second and encouraging vibes for a fellow who claims, "I want that Ryder Cup as much as Kenny." Watson chided a writer who described his style as "bomb and gouge," and Bubba's Sunday homestretch of 32 indicates he can handle tight competition on a tight course. Watson logs numerous practice rounds with Tiger Woods out of friendship, but Bubba confesses that he can't help but learn from "the best guy out here, not only physically. Mentally."
Perry began the final round three swings behind Chopra and made his first move with a 32 on Warwick Hills' more difficult front nine. He bogeyed No. 13, a reachable par 5, but then blasted from the sand into the cup on No. 14 for an eagle 2 to take the lead at 19 under. Almost simultaneously, Dudley Hart dropped from 18 under, also with a bogey at the 13th from an inhospitable lie in a hospitality area. Perry bogeyed the 15th, birdied the 16th, then parred in and hung around to explain why he still will play the U.S. Bank Championship in Milwaukee in two weeks instead of the British Open. "I set up my schedule to make [Ryder Cup] points," he reminded his listeners, "and at my age, I'm not going to play where people think I should play. I've had success [in Milwaukee], and I committed to it a long time ago."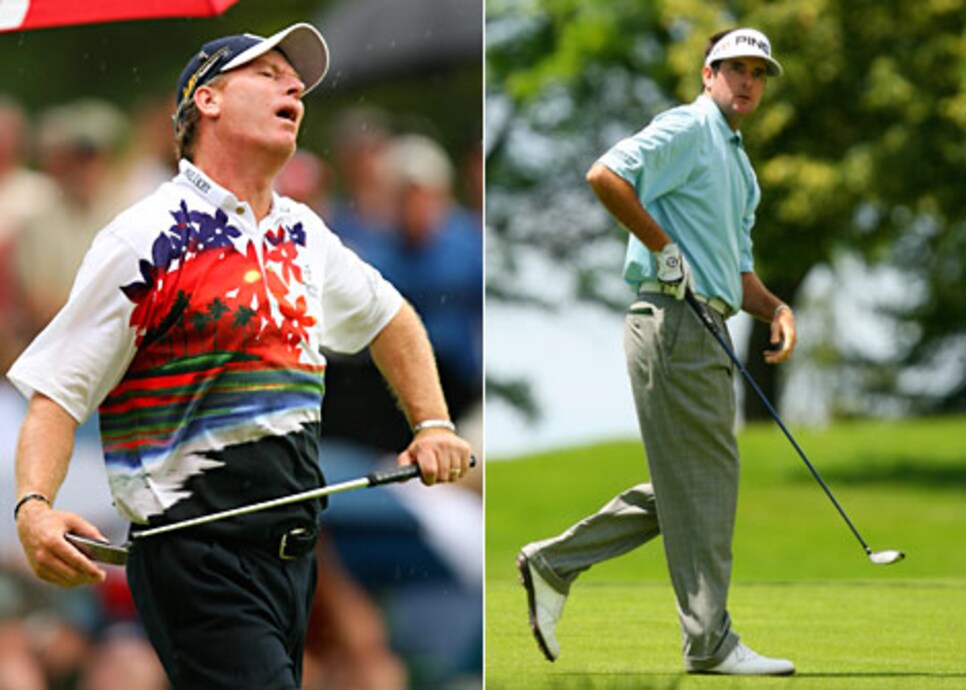 Rejuvenated Bob Tway, 49, shared fourth at 271 with Matt Jones and Ken Duke in the first tournament directly impacted by Woods' sabbatical due to reconstructive knee surgery. Besides a booth where you could have your picture taken with a life-size computer image of the world's No. 1 golfer, Woods' likenesses were splattered all over Buick courtesy vehicles, and caddies talked of setting up a jar in their trailer for Steve Williams, Tiger's bagman who will be out of work down in New Zealand. "We'll take cash contributions," announced Lance Ten Broeck, who works for Jesper Parnevik. "Whatever we collect we'll send to Steve to help him make ends meet. Probably just money, not food." One local newspaper, trying to make the case that anything can happen with Tiger ailing, published three pictures of Chris Perry in a tournament preview. Had he won, it would have been quite a story because he was not in the field.
To celebrate the event's 50th anniversary, Billy Casper joined a ceremony Wednesday, he being the first Buick Open champion. That afternoon, the pro-am featured a group including John Daly and Kid Rock, everybody's favorite crooner, who showed up in designer overalls, only hours after a player advisory council meeting during which one of the topics discussed was personal hygiene on tour -- facial hair, wardrobe malfunctions, etc.
With a sprinkle moving in, Daly at least kept his shirt on. But when the clouds disappeared later, Kid Rock removed his and performed bare-chested, except for the ever-crucial shoulder straps. Many celebrities play slowly, but not Kid Rock. When he hit a tee shot on the second hole that veered into No. 11, he did the best thing possible to keep the group moving: He signed for an X. As Michael Rosenberg of the Detroit Free Press cleverly observed, "Some people donate their organs to science. Kid Rock gives his golf balls to nature."
After sharing the first-round lead at 64 with Corey Pavin and Hart, Bo Van Pelt seized the top spot Friday with 66, two up on Hart and Chopra. But Saturday Van Pelt birdied only the two par 5s on the back nine and registered a 73. Chopra, with a 68, took a two-shot advantage over Hart, Austin and Watson. Chopra hit just three fairways, two fewer than Watson, who also shot 68. But neither Chopra's imagination, nor the ladies' 9-wood he carries to facilitate his creative instincts from shady places, survived Sunday. He ballooned to a 40 on the front and wound up with 75 for T-17.
Daly seemed to be having fun Wednesday, particularly when he commandeered a 24-ounce beer from Rock -- that would be his surname, no? -- upon which to tee his ball on the seventh hole. But Big John was not so joyful when his tournament ended before noon Friday after rounds of 72-74. His right hand swollen, Daly explained that he had hurt it on a tee shot, off a normal tee, on No. 3. "I had trouble holding onto the club after that," he sighed. "You can see how it puffed up here, right by the bone on top. My rib is finally OK, now this. I'll have to have a doctor look at it back home in Arkansas. I can't play well if I'm playing hurt. I'm scheduled for John Deere, then the British, then Russia. But I don't know now. Always something."
Though he's only 42, Daly is looking considerably older than Kenny Perry.