News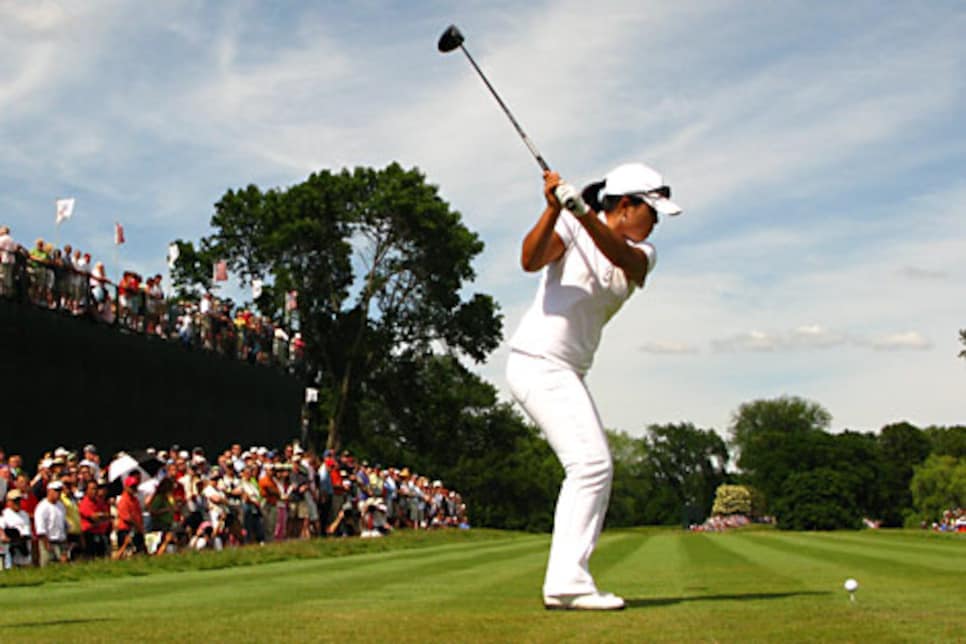 Poise of a veteran: While others wilted on the big stage Sunday, Park coolly shot a 71 to win by four strokes.
Ten years ago, Inbee Park was awakened in her home near Seoul at 3 o'clock in the morning by the joyous shouts of her parents who cheered a 20-year-old Se Ri Pak as she became the youngest player to win the U.S. Women's Open. Two days later, inspired by what she saw through tired eyes, Park picked up a golf club for the first time.
Flash forward a decade to last Sunday: In a fitting anniversary tribute to Pak's groundbreaking victory in 1998, the first by a Korean in a major championship, the 19-year-old Park used a silky smooth putting stroke to survive a windblown final round at Interlachen CC and break Pak's record as the youngest winner of the Women's Open in a stunningly easy four-stroke waltz.
The victory made Park the fourth Korean to join Pak in the winner's circle at an LPGA major and the third-youngest player in tour history to win a grand-slam event. In a telling sign of the times, those three victories by teens have come in the last seven majors, beginning with Morgan Pressel's triumph in the 2007 Kraft Nabisco Championship and followed by Yani Tseng's win last month at the McDonald's LPGA Championship. All three were teens when they won, Pressel the youngest at 18 years, 10 months. For all three, it was their first LPGA victory. Park's triumph also means that 25 of the last 31 majors have been won by women born outside the United States -- another undeniable trend likely to continue for some time.
"I really would like to thank Se Ri for what she's done for golf, for Korean golf," Park said, her left hand resting on the championship trophy. "I didn't know anything about golf back then. But I was watching her [on TV]. It was very impressive for a little girl. Just looking at her, I thought that I could do it, too. Se Ri did a lot to inspire a lot of 19-year-old girls, because [a lot of us here were] born in 1988."
No kidding. In addition to Inbee Park, other Koreans born in 1988 competing at Interlachen were In-Kyung Kim, Song-Hee Kim, Na On Min, Ji Young Oh, Ji-Yai Shin and Angela Park, who is of Korean descent but was born in Brazil (see page 42). All of them made the cut at Interlachen, with In-Kyung Kim and Angela Park finishing T-3, five strokes behind Park.
The final round began on a promising note for the Americans with Stacy Lewis, playing in her first event as a professional, holding a one-stroke lead over Paula Creamer at nine under par. Inbee Park was tied with Sweden's Helen Alfredsson at seven under, but the entire tone of the day changed with remarkable suddenness when Park chipped in for birdie from 60 feet on No. 1, followed by a birdie at the par-5 second. Meanwhile, both Creamer and Lewis made double-bogey 7 on No. 2 and Alfredsson missed an 18-inch putt on No. 3, triggering a run of three straight bogeys.
Just like that, Park had the lead and she never surrendered it, closing with a two-under-par 71 to finish at nine-under 283. After a bogey at the tough par-3 eighth -- which measured 234 yards Sunday, the longest par 3 in Women's Open history -- Park was just about flawless, birdieing Nos. 11, 13 and 18, and parring every other hole except the 441-yard 17th. Alfredsson was second at 287 after a closing 75. Lewis joined the tie for third at 288 while Creamer, trying to add her first major to six LPGA victories at age 21, finished T-6 at 289 with Giulia Sergas, Nicole Castrale and Mi Hyun Kim.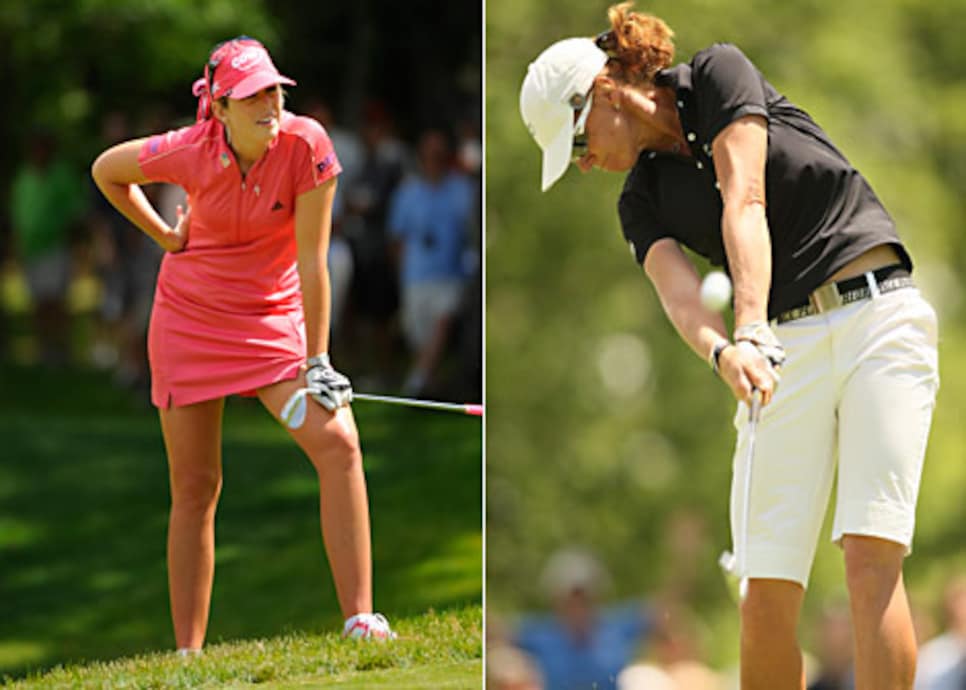 For the young American duo in the final pairing, it was a discouraging day that had started with such hope. Both Lewis and Creamer stumbled home in 78 strokes, with Creamer shooting 41 on the front nine to Lewis' 40. "You learn from these," a dejected but composed Creamer said. "Honestly it was not my day. Inbee played awesome. It's probably the most disappointed I've been in a long time."
The 43-year-old Alfredsson, who won her lone major title at the 1993 Nabisco Dinah Shore, was done in by a nervous stroke on the greens. Beside No. 3, the scene of the missed 18-incher, she three-putted four other times. "It was a tough day," said Alfredsson about the playing conditions. "Everybody was losing shots, except of course the one I played with. I was very impressed with [Inbee's] composure. She was very calm. Never changed anything. And really that's impressive for a 19-year-old."
Park's 71 -- in wind gusts that topped 25 miles per hour -- was bettered by only two players, Sergas (70) and 15-year-old amateur Jessica Korda (69). It was also at least two strokes better than anyone else who played in the final nine twosomes. She put the tournament away with three consecutive clutch putts: 10 feet for birdie on No. 11, six feet to save par on No. 12 and 10 feet for birdie on No. 13. Park needed only 26 putts Sunday and just 115 for the week, second-best in the field.
By comparison, Alfredsson used 35 putts in the final round and 128 for the week, while Annika Sorenstam, playing in her last U.S. Women's Open, needed 127 (but none on the 72nd hole, where she slam-dunked a 6-iron from 199 yards for an eagle).
When players took a look at the steeply contoured Donald Ross greens early in the week they predicted the worst, most saying the winning score would be over par. But play began Thursday in perfect scoring conditions, especially in the morning when a canopy of clouds held down the heat and kept the fairways and greens soft. The scores were surprisingly low with 32 players under par, led by Ji Young Oh and Pat Hurst at 67.
Angela Park made the biggest move in the second round, shooting a 67 that gave her the 36-hole lead at six-under-par 140, one stroke better than Minea Blomqvist, Inbee Park and Alfredsson. Championship favorite Lorena Ochoa, clearly drained emotionally after two deaths in her family (an uncle and her grandfather) in a matter of weeks, was seven strokes back. She would finish T-31, her worst finish in 36 tournaments dating back to the 2007 Fields Open.
On the strength of a 67 powered by only 23 putts, the 23-year-old Lewis grabbed the 54-hole lead, one stroke ahead of Creamer.
But with the stage set for a Sunday shootout between Lewis and Creamer, Inbee Park stole the show. It was a scene she had been preparing for since moving to Florida at age 12 to study golf with an instructor she knew from Korea. Her amateur career was sensational, including victories in the 2002 U.S. Girls' Junior Championship and runner-up finishes in 2003 and 2005. She was a semifinalist in the 2003 U.S. Women's Amateur Championship and was defeated by eventual winner Tseng in the semifinals of the 2004 U.S. Women's Amateur Public Links. She won nine AJGA tournaments and was a five-time Rolex Junior All-American. In a championship where so many winners made the U.S. Open their first LPGA victory (including Jane Geddes, Laura Davies, Liselotte Neumann, Sorenstam and Pak), Park's triumph seemed to befit the event.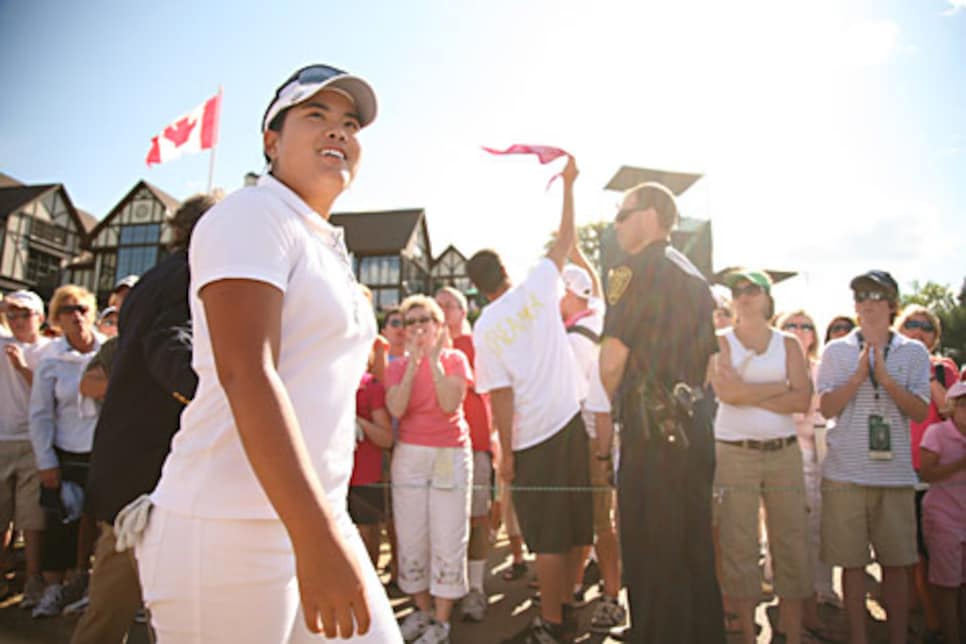 "I just tried to play my game and not think that it was the U.S. Women's Open," she said about her steely focus. "I tried to white it out from my head and it worked. I've been in the last group a couple of times this year, and I did not play good on the last day, just gave it away all the time. You've got to learn from your mistakes, and that's what I did. I am very confident now and I think I can do it again."
But the most select group Park joined was the small group of players to have won both the U.S. Girls' Junior and the U.S. Women's Open. The others are Mickey Wright, JoAnne Carner, Amy Alcott and Hollis Stacy. All but Stacy are in the Hall of Fame -- and she won 18 times, including three Opens.
Of course, Pak is still the queen of Korean golf, with five majors among her 24 PGA victories. But the words of thanks directed her way by Park Sunday may well be echoed down the road by other members of the Korean contingent born in 1988, a decade before possibility flickered on a television screen and little girls locked in on the future.