News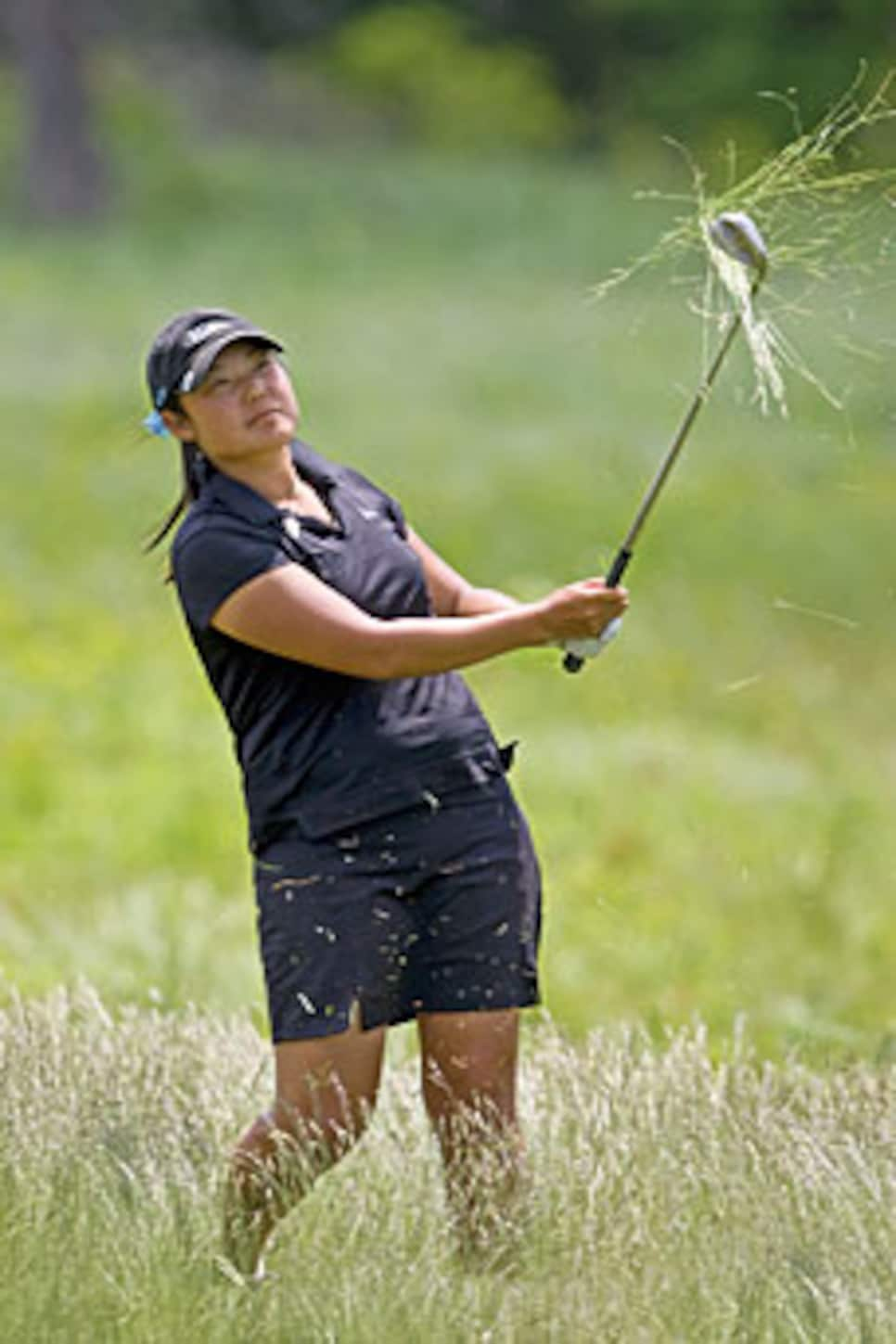 Joh escaped from some of Erin Hills' hay in the final against Song but carded an eagle and 36 birdies during the week.
The queen of self-deprecation was at it again, trying out new material at the 32nd U.S. Women's Amateur Public Links Championship. Tiffany Joh swears her game is never more than one swing away from ruin. In her six matches at Erin Hills GC—the much-ballyhooed public course that threw an entertaining coming-out party as it makes advances at someday hosting a U.S. Open—the recent NCAA runner-up stepped to the first tee convinced this was the opponent who'd send her off to get an early start on summer school. Never mind the UCLA All-American was one of only two in the 156-player field to have previously won the tournament.
As often happens with Joh's tales of woe, there was a problem of truthiness to contend with: specifically all those red numbers beside the San Diego native's name on the leader board. An eagle and 36 birdies in 116 holes? The calligrapher can't get credit for all of them.
However hard Joh tries, the 21-year-old will struggle in the future to find a way to downplay her performance in Saturday's 36-hole final, where she hung tough for 29 holes as her putter turned cold for the first time in six days (honest!). Facing a 2-down deficit with seven holes remaining against Korean teenager Jennifer Song, Joh won four of the next five holes (two with birdies) to grab her only lead and grind out a 2-and-1 triumph over the USC freshman-to-be.
Even after going dormie on the 34th hole, Joh was uneasy about her chances. ("I'm Tiffany. I always have negative thoughts.") More telling, however, was her response to becoming the fifth player to lift the Robert F. Dwyer trophy a second time, one that revealed a healthy portion of maturity to go with her inordinate amount of humility.
"When I first won it [in 2006], I didn't really know what I was doing," said the member of the recently victorious U.S. Curtis Cup team. "I just kind of stumbled into it. Afterwards I realized how much it did for my confidence, and how many doors were opened to me. I think winning it this time around when I really wanted it, it was that much more meaningful."
Joh is the first of likely several national champions to be crowned at Erin Hills, given how smitten the USGA brass (notably executive director David Fay and senior director of rules and competitions Mike Davis) seems with the homage to Irish-links golf built by former greeting-card magnate Bob Lang 40 miles northwest of Milwaukee. Awarded the WAPL an unprecedented 12 months prior to its opening, Erin Hills also will host the 2011 U.S. Amateur. Heeding some early USGA advice, Lang plans to enlarge the second and 10th greens this October as well as re-work the 17th hole in hopes the 225-acre course nestled on the 652-acre property could become the Midwest's long desired, go-to U.S. Open site.
Set up last week at 6,178 yards (it can be stretched to 8,266 yards) and to a par of 73, the course was too compact for some players' tastes; bombers such as three-time NCAA player-of-the-year Amanda Blumenherst, knocked out in the first round along with former U.S. Women's Amateur champ Kimberly Kim, hit wedges into 10 of the 18 holes.
There were some thin spots in the fairways where the course looked very much in just its second full season, and 15 inches of rain in the two weeks before the event created casual-water issues. Still, only Lizette Sales and Katie Kempter broke par in stroke-play qualifying, posting two-under 144s to share medalist honors, while Mina Harigae became the first returning champion to fail to reach match play after posting rounds of 80-81.
As did Joh, Song shot a seven-over 153 to advance to the final 64. Once there, the 18-year-old, born in the U.S., but raised in Seoul, methodically worked through the bracket. "I just want to be patient, not too aggressive," said Song, a year removed from being low amateur at the U.S. Women's Open (she tees it up again this week at Interlachen CC). "Fairways and greens are good. Two-putt for pars, and I'm happy."
Song's 2-up semifinal victory over incoming UCLA freshman Stephanie Kono set up her showdown with Joh, who knocked off another future Bruin, 2009 recruit Tiffany Lua, 4 and 3, in their semifinal, birdieing six of her first seven holes, three from more than 30 feet. (Joh beat teammate Sydnee Michaels in the second round as six current or future UCLA golfers made it to match play.)
Asked about facing a soon-to-be college rival, Joh was typically sarcastic. "I am pretty much used to losing to Trojans these days," she joked, alluding to USC's wins over UCLA at the Pac-10 and NCAA championships.
Song took the first hole with a par but never stretched her lead beyond the 2-up advantage she held after the morning 18. Despite Joh's censorious assessment of her skills, she showed no outward signs of nervousness; during lunch, she blew bubbles through the straw in her soda while gabbing with her mother, passing on any extra putting practice.
Twice in the afternoon, Joh cut the lead to one hole only to see Song return it to two. After both players birdied the par-4 29th, the momentum finally swung. A bogey 5 from Song cost her the 30th hole, and then Joh holed birdie putts of eight and 10 feet on the 32nd and 33rd to grab the lead. After Song hit her tee ball to 12 feet on the par-3 34th, she missed the birdie try and a three-footer for par to go 2 down. When Song couldn't convert a 20-footer for birdie on the 35th hole, Joh had her title.
If levity is Joh's coping mechanism, she has turned it into an art form, literally. On the media profile sheet, Joh creatively wrote:
"Haikus are easy/but sometimes they don't make sense/refrigerator."
Does Joh's pessimistic outlook inhibit her competitiveness? Some wonder how good Joh could be if she thought she was any good. Arguably, though, they are missing the point. No matter how low her expectations, Joh never stops trying to win. And isn't that the true sign of a champion?