News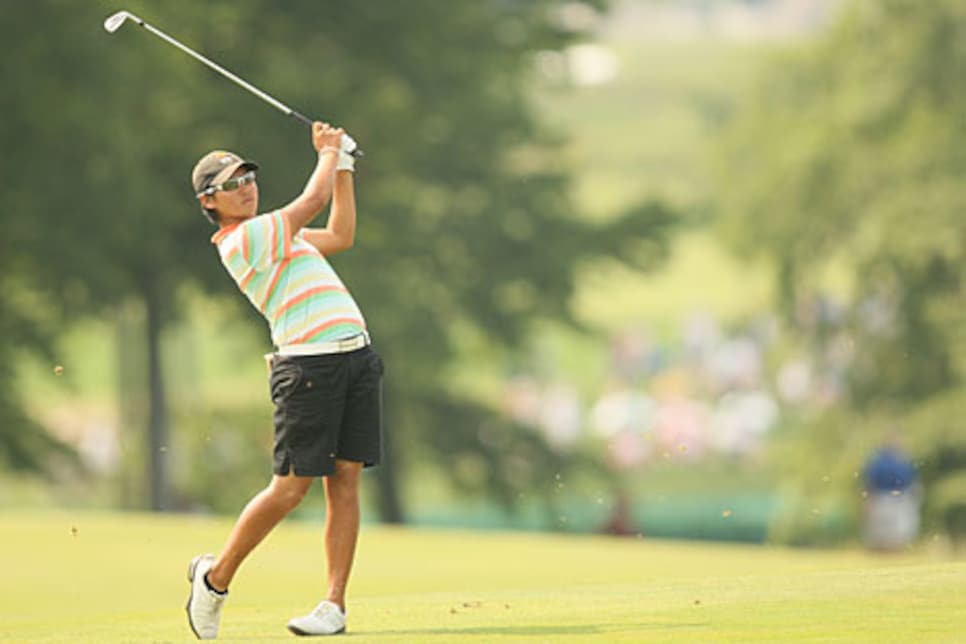 Tseng's breakthrough win was preceded by strong showings at the MasterCard in Mexico and the Ginn Open.
Some parts of the LPGA future, it seems, just can't wait to happen. On a week in which commissioner Carolyn Bivens said the tour was assuming ownership of the LPGA Championship in 2010, a likable and powerfully talented 19-year-old rookie from Taiwan, Yani Tseng, won the McDonald's-sponsored event to become the youngest major winner since, well, last year when 18-year-old Morgan Pressel captured the Kraft Nabisco Championship.
Tseng became the first rookie to win an LPGA major since Se Ri Pak took the McDonald's 10 years ago, dispatching Maria Hjorth with a birdie on the fourth hole of sudden death. It could well be that both Tseng and Bivens provided a peek into the future of the LPGA.
A tournament that was supposed to hinge on whether Annika Sorenstam could stop Lorena Ochoa's march to the Grand Slam instead became the unveiling of Tseng, who now joins the tour's growing list of teenage winners such as Pressel, who finished T-6 last week, and Paula Creamer (T-10). From tee to green, Ochoa and Sorenstam played almost flawlessly at Bulle Rock GC in Havre de Grace, Md. It was on the greens they had problems.
Ochoa putted for birdie or eagle 60 times in 72 holes and Sorenstam 59 times, the last a 12-footer on No. 18 that would have put her in the clubhouse at 12-under 276, the score at which Tseng and Hjorth tied. But while the two playoff participants each had 55 putts on the weekend, Ochoa and Sorenstam needed 63.
"I played very well today, I just didn't convert," Sorenstam said. It was a sentiment Ochoa understood. The 12-footer she made for birdie on the final hole to finish at 11 under par along with Sorenstam was almost a cruelly ironic joke. "I hit the ball really good with my irons, gave myself birdie opportunities and couldn't make any putts," she said.
With the tour's two top players beginning the final round tied at 10 under par, two strokes behind 54-hole leader Jee Young Lee (who would shoot a final-round 78 and leave the course in tears), and a stroke behind Hjorth, the stage was set for a tussle between Ochoa, trying for her third consecutive major title, and Sorenstam, trying for her 11th career major. Instead the outcome was decided by Tseng's five-foot birdie after Hjorth missed from 15 feet the second time they visited No. 18 in the playoff.
Hjorth, in fact, had a 10-footer to win on the 72nd hole but misread the putt. "I hit a really good putt, and it just didn't break as I wanted," said the 34-year-old long-hitting Swede. Laura Diaz, who finished at 278, hung tough until missing a short par putt on No. 17 and finished fifth, two strokes behind.
"I [can't] believe it," said Tseng. "I just won a major. I'm a rookie. Everything just came so fast." Things came fast, but they also were well planned by Ernie Huang, a Taiwanese living in California who helps golfers from his homeland play in the United States.
"She wasn't nervous this morning," Huang said. "I told her I had a 6:20 [p.m.] flight and she said, 'Maybe you should change your flight.' I got it. I knew what she meant. Then she told me, 'The winner is not going to come from the last group.' " Tseng played in the next-to-the-last group with Ochoa and Diaz, in front of Lee, Hjorth and Sorenstam.
Tseng's victory is no surprise to those who have watched her play. She defeated Michelle Wie in the final of the 2004 U.S. Women's Amateur Public Links. The next year she knocked off Pressel to win the North South Women's Amateur. Tseng turned pro last year, winning tournaments on the Asian and Canadian tours. Tseng got her LPGA card last fall by finishing sixth at Q school.
Twice this year Tseng had chances to win, finishing second at the MasterCard Classic in Mexico, limping home with a 74 Sunday, and second again at the Ginn Open, where her closing 71 was her highest round of the week by two strokes. "I learned from those experiences how important it is to be patient," she said.
Tseng applied that patience Sunday, erasing a bogey on No. 13 with a birdie on the next hole and rebounding from an errant tee shot on the par-5 15th to save par after having 205 yards left for her third shot. Two over par through 11 holes of the first round, Tseng made only two bogeys over the final 65 holes. The win, worth 300 points, vaulted her past Na Yeon Choi in their runaway duel (Tour Talk, May 23) for rookie of the year, 783 points to 670.
Hjorth twice got to 13 under, first when she made a 10-foot birdie on No. 10. But she double-bogeyed No. 13 after a lost ball because of a hooked drive. She returned to 13 under when she chipped in on No. 16, only to miss a four-foot par putt on the next hole. Tseng's victory capped a comeback in which an opening-round 73 left her T-78. She made the cut by only two strokes at 143, nine strokes behind midway leader Ochoa.
The closest any player from Taiwan had come to winning a major was T.C. Chen in the 1985 U.S. Open at Oakland Hills. He had a four-stroke lead in the final round then unraveled after a double-hit on a chip shot. Tseng saw the shot on TV the week before the McDonald's and marveled because "that's not really a hard shot," she laughed, blaming the double-hit on poor technique. "But don't tell him that," she said, laughing more.
Tseng was not the only winner last week. In taking control of the tour's flagship tournament, Bivens picked up a major of her own. Armed with a three-year contract extension and a lot of marketable talent, Bivens has embarked on a plan she calls Vision 2010, designed to expand the tour globally while maintaining its core of domestic events and getting better television exposure.
Friday at Bulle Rock, it was announced that after next year's tournament, the event will be known as The LPGA Championship—with no title sponsor but presenting sponsors—and will have a $3 million purse, a bump of $1 million from its current payday and second only to the $3.1 million at the U.S. Women's Open. The LPGA Championship joins the ADT Championship and the Solheim Cup as the only tour-owned events. "The LPGA has been surviving for 58 years," Bivens told Golf World. "Now is the time to move into the world of major sports."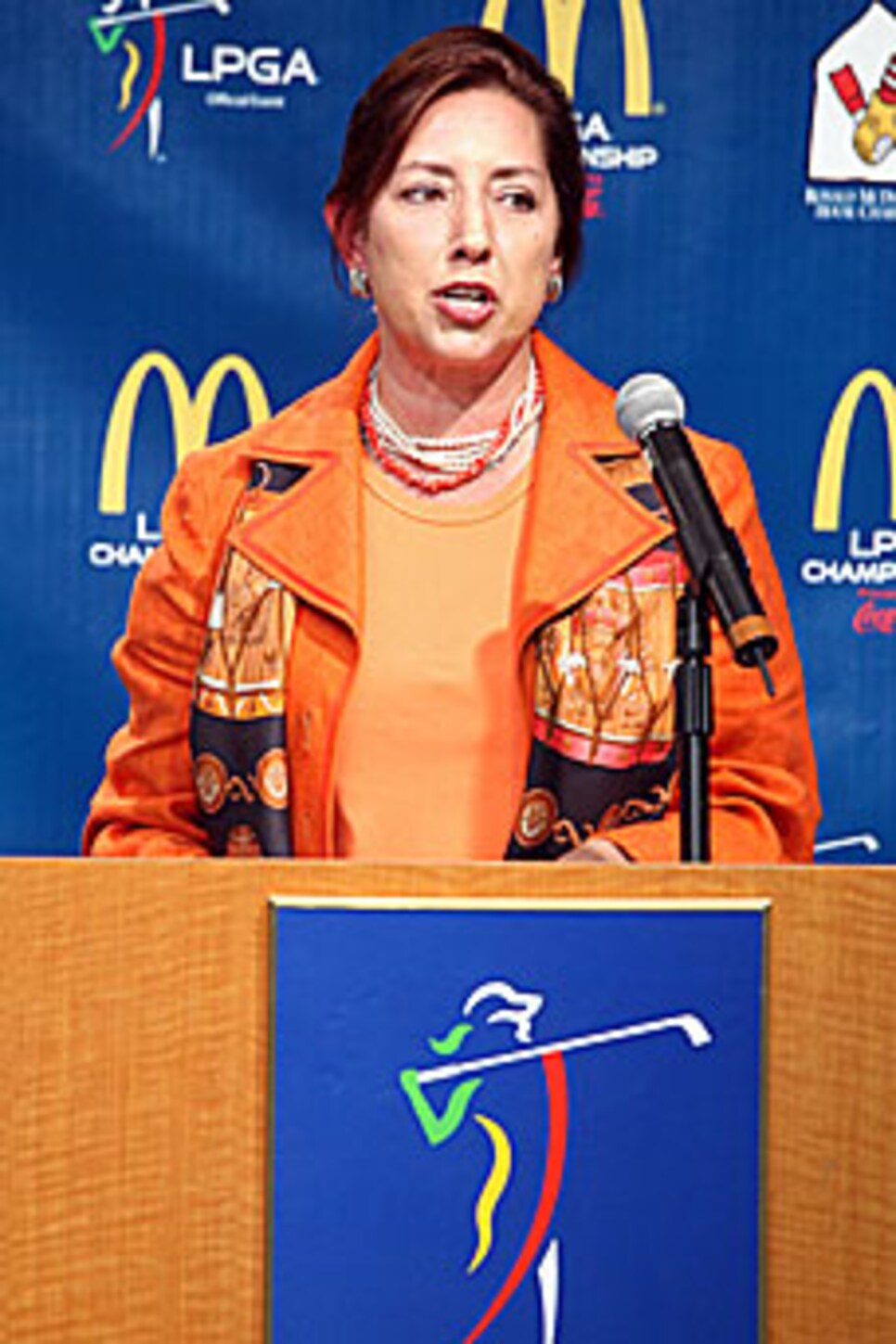 Sources familiar with the situation say the LPGA Championship will be moved to August—making it the last of the four majors—preferably to a course in the northeast. One source said a potential sponsor recently visited Carnegie Abbey Club on Narragansett Bay in Portsmouth, R.I. A plan to rotate the tournament among three courses, including Baltusrol GC, was dismissed as unwieldy and inefficient. No money exchanged hands in the deal and Herb Lotman, co-founder of the McDonald's event, will remain as honorary chairman.
"Could the proceeds from the LPGA Championship be the beginning of a real retirement fund?" Bivens asked. "Could it contribute two, three, four, five million dollars a year to the pension fund? The business plan we have for 2010 can take this tour to a new level of financial stability."
The tour gives about $450,000 a year to the pension plan, with players getting as little as $150 a month upon retirement and no more than $800. The PGA Tour's deferred-income plan promises payouts in the tens of millions of dollars to some players. Bivens said the ADT Championship, in the first year of LPGA ownership, "had a high six-figure turnaround" on the tour's investment, raising the prospect the LPGA Championship can make even more money.
Part of the business plan is to have premier season-opening and season-closing events, sources said. Toward that end, the 32-player ADT Championship with its $1 million first prize will be moved to January beginning in 2010. Another tournament will replace it to cap the season in November. The tour hopes to use ownership of the LPGA Championship and the ADT Championship as leverage to sell an eight-to-12 tournament package to a TV network.
"We have to get away from time-buys and move onto rights fees," Bivens said about the current financial reality under which the LPGA tournaments purchase television time and then sell the advertisements. The PGA Tour, on the other hand, receives more than $250 million a year in television money and subsidizes nearly two-thirds of its purses. The LPGA's contracts with ESPN and Golf Channel are up after the 2009 season, another reason next year will be perhaps the most important LPGA season ever.
Beginning next year, there will be two Asia swings, hitting Singapore and Thailand in the spring and China, Japan and Korea in the fall. The tour also has looked at events in Abu Dhabi and India. Currently, the largest revenue stream for the LPGA is Korean television money and the second largest is TV money from Japan.
"In a crowded TV schedule it makes sense to go out of the country at certain times of the year," Bivens says. "In formulating a schedule we've looked at Super Bowl week, March Madness, pro and college football, the PGA Tour playoffs. These are times when we can get more attention abroad than we do here."
Costs for tournaments will increase in 2010 with what are now nominal sanction fees rising to a minimum of $100,000 to as high as $130,000 for existing tournaments. With 20 of the 33 tournaments this year having purses of less than $2 million, there is also pressure to increase prize money.
"We are 12 to 14 months away from knowing what the full financial demands will be on us," said Jack Benjamin, president of the Corning Classic, a tournament whose contract is up in 2009. "We have concerns about what is going to happen. As the tour becomes more and more international it will be interesting to see how it plays out in the marketplace. I hope they have thought their plan through and that the business model works."
Some players are concerned overseas events have smaller fields, meaning less opportunity to play. The tournament in China this October, for example, will have only 53 LPGA members in the field. But Bivens is certain her plan will work.
"By 2010 the LPGA will have at least three and maybe five events with purses of $3 million or higher," she says. "For the LPGA this is a huge step forward."
Like Tseng in her final-round effort at Bulle Rock, Bivens is undeterred by the risks involved. She feels the potential rewards for the LPGA are too great to ignore. Unlike Tseng, it will take Bivens longer to find out if her game plan succeeded.
[Ljava.lang.String;@739c4cf4