News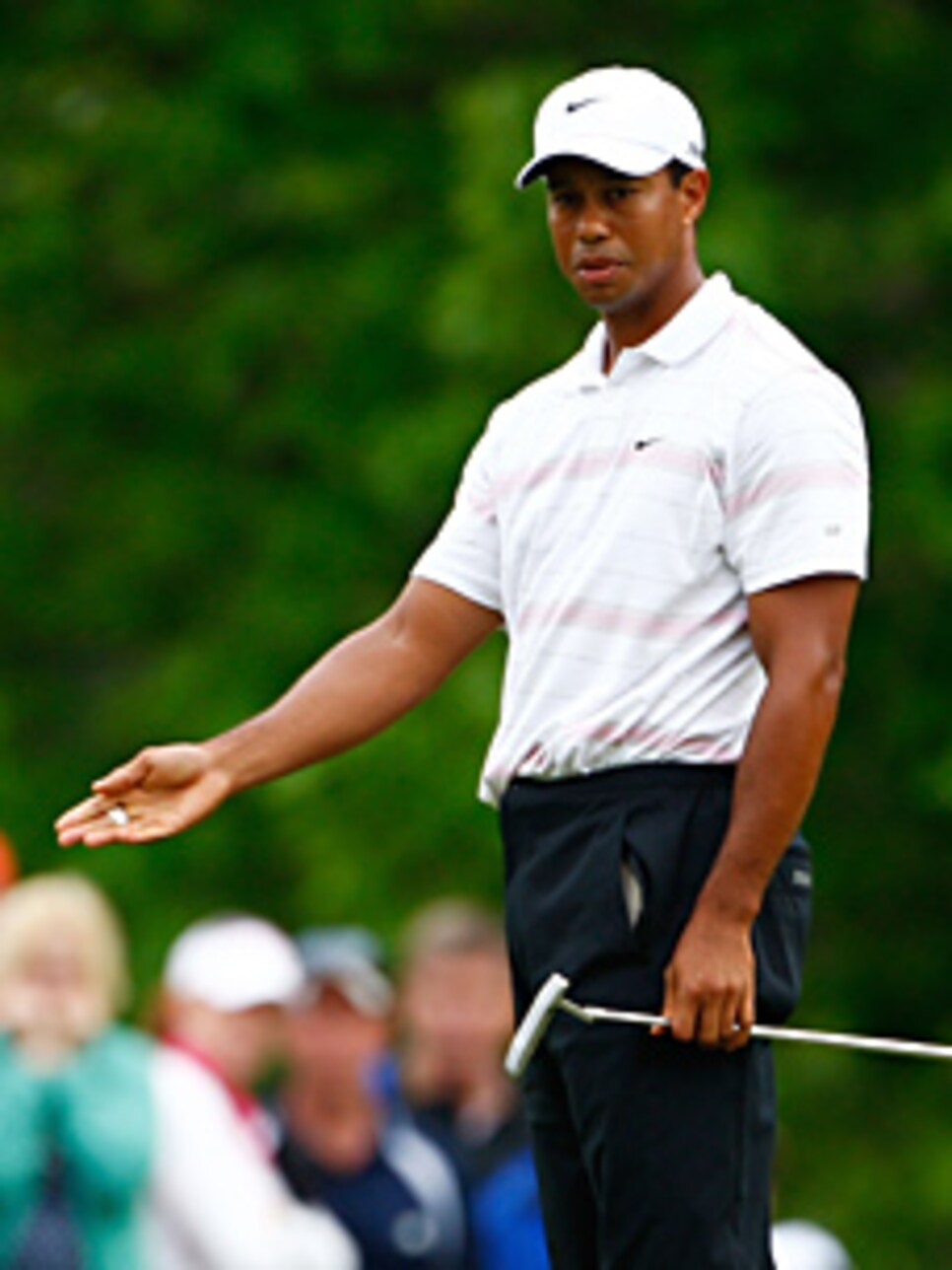 Every incident of adversity in Tiger's career has served as a launching pad for the next move up.
For all the extraordinary things about Tiger Woods' career, the most extraordinary may be this: Even after rocketing onto the scene by winning three straight U.S. Junior Amateur titles, his path has never deviated from up.
Murphy's Law lies closer to the surface in professional golf than in any other sport, and nearly every one of its greatest champions has been hit with one or more major setbacks. Whether it was putting woes (Harry Vardon, Sam Snead, and Tom Watson being the best examples), serious injuries (Ben Hogan, Lee Trevino), swing breakdowns (Johnny Miller, Seve Ballesteros), confidence-crushing losses (Tony Jacklin, Greg Norman), usurping phenoms (Arnold Palmer, Ernie Els), or burnout (Bobby Jones, Byron Nelson), golf brings even its best -- at least temporarily (and sometimes permanently) -- down. And that's not to mention all the incipient casualties along the precarious path from prodigy to pro. In golf, disasters come from all angles.
To this point, Woods has been the most artful dodger. It's not that he hasn't had some tough losses, or been confused by his swing, or suffered some wear and tear. It's that by dint of talent and will he has turned every adversity into another launching pad for improvement. As Golf Digest's David Owen so astutely noted of Woods, "Everything makes him better."
The event that challenged him the most -- the death of his father, Earl, in May 2006 -- became the catalyst for an inner peace and resolve that led, beginning with last year's PGA Championship, to the best sustained play of his life.
But at some point, something will not make him better, and if anything sounds ominous enough to qualify, it's a third operation on his left knee at age 32. This time around, there was damaged cartilage, a material not even Woods can regenerate. When asked if he worried his knee would pose a chronic problem, Woods' response was almost resigned: "I said after the first one I probably wouldn't have another [operation] … and now here I am having three. It is what it is."
Woods will do everything in his power to forestall further damage. Shortly after acknowledging knee pain at last year's Players, he substituted a regimen of intense, military-style training that was hard on the joints for one that has made him noticeably leaner. The new look led Men's Fitness to choose him "Fittest Guy in America" in its current issue. But the selection was made before anyone except intimates knew Woods would be going under the knife.
There's no indication Woods' injury is in the same gift-robbing category of knee victims such as Mickey Mantle, Bobby Orr, Gale Sayers or Elgin Baylor. Still, it could alter his ability to play in a dominating style. For all his mental abilities, it was Woods' clear physical superiority that stood out when he won the 1997 Masters. And while it has been presumed that a decade later that gap had been narrowed as players such as Bubba Watson and J.B. Holmes drive it past him, it turns out Woods still plays with the highest clubhead speed -- 124 miles per hour -- of any player on the PGA Tour. If he didn't choose to play a high-spinning ball and launch his drives on a relatively low trajectory, he would probably still be the game's longest hitter.
But if the after effects of his repaired knee were to cause Woods to lose, say, five mph in clubhead speed, it would blunt some of his edge. It would be subtle, but perhaps he would no longer be able call up enough power to reach the longest par 5, or muscle up from the rough, or hit a sky-high long iron to a pin that no one else can get near, or drive a par 4. Power -- correctly applied -- is a major "separator" when the challenge is extreme length, extreme rough and extreme firmness, as it will be at next week's U.S. Open. If Woods isn't quite the same at Torrey Pines, it will show.
The supreme champions, however, tend to rise to physical challenges. Vardon won two British Opens after a long bout with tuberculosis. Hogan lost much of his amazing athleticism after his car accident but found a way to win six majors in the three years after his return. Even Jack Nicklaus, the most untouched by fate among the greats prior to Woods, had a troublesome hip problem as early as 1963 and sacrificed some of his power after losing weight in 1970. The best years of his career were the succeeding five.
"Whatever I lost, I made accommodations for," Nicklaus said at the Memorial. "If Tiger has to, I'm sure he will make accommodations. My guess is he won't have to." If he is right, the odds are Woods will come out as he did after his last operation, winning at Torrey Pines in 2003.
It's possible, of course, that we have seen the best of Tiger Woods. But based on everything we know about the man, it is more probable that the path will keep going up.