News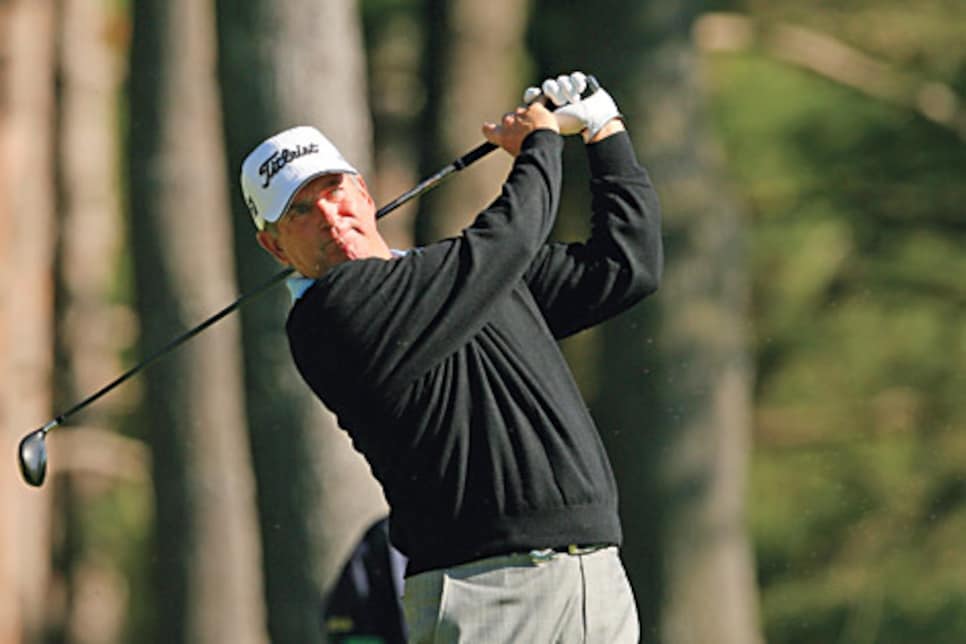 Thirteen years after an unhappy ending at Oak Hill, Haas handled the layout's stiff challenge.
It was less a golf tournament than a horror show (Oak Hell), one in desperate need of a happy ending to rescue it from the abyss. The wreckage was scattered across hallowed grounds steeped in history, some of it lamentably authored by the man to whom the beleaguered Senior PGA Championship eventually turned for salvation last week.
Jay Haas' reverence for Oak Hill CC, outside Rochester, N.Y., has never wavered, even in the long wake of his 18th-hole calamity in 1995 that allowed the Ryder Cup to return to Europe. Last Sunday he returned to the scene of his crimes, seeking reconciliation with the past. He again stood on the 18th tee, straddling victory and defeat, determined that history wouldn't deal him two of a kind.
"I kind of had a little chuckle to myself on the 18th tee," said Haas, who arrived there leading Bernhard Langer by a shot. "Well, you've been talking about this. It's time to put up or shut up. You talked a good game about getting up there and ripping it and all that stuff, and damn if I didn't do it."
It is the beauty of this beast, of course. Oak Hill gives as good as it takes. Gasoline is cheaper than the cost of a miscreant shot, but precision is rewarded. Haas produced what he called two of the best shots he has ever hit under pressure, made a routine par that gave him a one-stroke victory over Langer, and breathed a prodigious sigh of relief that "exorcised some demons," he said.
At that, victory was but a consolation prize on a course that got the better of everyone, even the winner. Haas' winning score of seven-over 287, including a four-over 74 Sunday, was by five strokes the highest to par in the history of senior golf's oldest major. Only 11 sub-par scores were recorded all week.
"I give. It wins. End of statement," said one deflated club pro, Jim Woodward, who might have been speaking on behalf of the field.
Host pro Craig Harmon said that on Thursday, at least, the course played as difficult as it had for the 2003 PGA Championship. "The weather was so cold for these gentlemen early in the week," he said. "Prior to cutting the rough I thought the rough was just as hard as the 2003 PGA. The course is shorter [7,001 yards for the Senior PGA], but the weather offset that and made it play longer."
The rough was deep, 3½ inches, according to tournament officials ("Maybe in March," Haas said), and the fairways were narrow. "You miss the fairways by one foot all the way around and you can bogey every hole," Ian Woosnam said.
Harmon conceded the rough was too deep Thursday and said the PGA of America cut it substantially before Friday's round. "I watched the practice round, and I watched the first round, and I [didn't see anyone] hit a ball out of the rough onto the green," he said. "Not one human being. I think that's too tough. I think you should have at least thought you might be able to hit the green. But everybody will complain about the rough. Look it up in the dictionary, the definition of rough. It doesn't say easy."
Or as Haas said so eloquently, "It ain't easy when it's hard."
It was easy enough at the 17th hole Saturday, at least. From the left rough, 162 yards from the pin, Haas slashed an 8-iron, the ball running up the right side, onto the green and into the hole for an eagle 2 to give him a share of the lead. "A pretty amazing turn of events," he said.
The rough was not so accommodating for Dave Eichelberger. Earlier that day, he took a slash at a ball in the rough and whiffed. "Let me ask you a question," he facetiously said to playing partner Lonnie Nielsen. "If you take a swing and the ball doesn't move, does it count as a stroke?"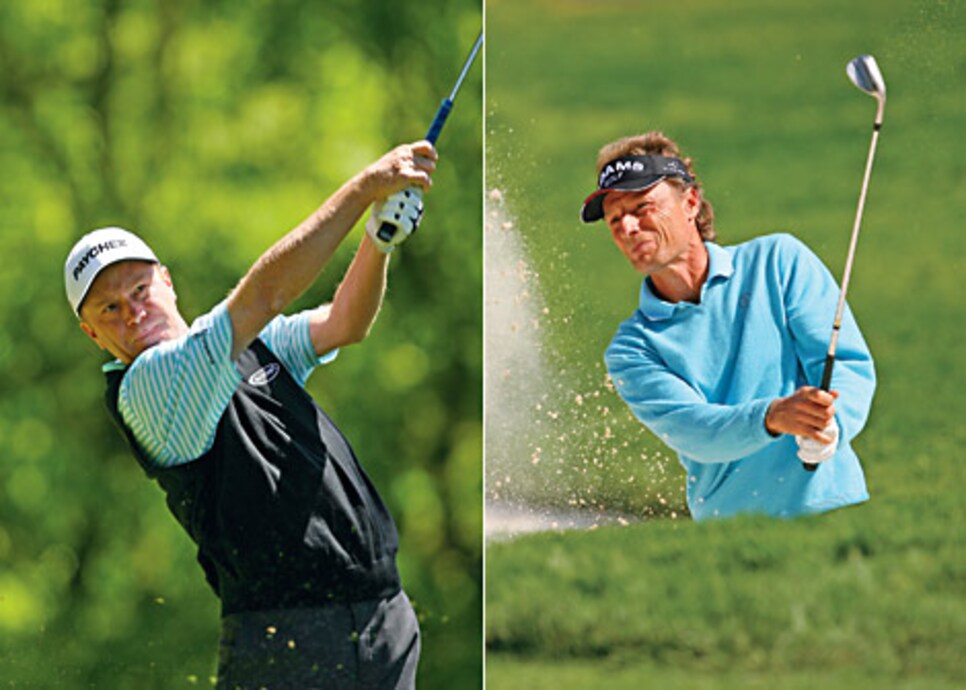 A sense of humor was helpful in the longest week most of them will ever encounter, so long it seemed to have begun in winter and ended in summer. Thursday temperatures hovered near 50 and the wind-chill factor was in the 30s. By Sunday the temperature was in the mid-70s, as were most of the scores, only a miniscule improvement over the scoring average of 76 for the week.
"No, it's not fun out here," said Greg Norman, who had his fiancee, Chris Evert, there to console him. "A major championship shouldn't be fun, either."
It was a grind that apparently only solidified Norman's decision to abandon tournament golf, notwithstanding three straight back-nine birdies that briefly thrust him into contention Sunday. He eventually tied for sixth in his first senior event in nearly three years, eliminating one potentially intriguing story line.
Another succumbed beneath the prohibitive weight of homespun expectation. Jeff Sluman is a Rochester native and member at Oak Hill who estimates he has played as many as 500 rounds there. He owned the front pages of the Rochester Democrat and Chronicle, notably Sunday morning, when the newspaper boldly declared the stage set for him. Sluman trailed the leader, Langer, by only one stroke.
Nowhere was the rooting interest greater than in the golf shop, over which head pro Craig Harmon has reigned for 37 years. Harmon has mentored Sluman for more than three decades and counts him among his best friends. But Haas has his own ties to Harmon, by virtue of his close friendship with Harmon's brother Billy, his former longtime caddie.
"I love both those guys," Craig said Sunday morning. "My brother Billy has been Jay Haas' friend/mentor for years and years. Both Jeff and Jay are like brothers to us, an extension of our family. I have no problem rooting heartily for either one. When they cross the finish line, if they're tied for the lead, I hope that Jeff beats Jay by a nose, but that it would be so close that we can't discern. If it comes out the other way, I'd also be quite happy."
The photo finish failed to materialize; Sluman shot 78. "It wasn't 78 difficult," he said of the course. "Looking at my round, it was pretty terrible. But it was a unique experience for me to be here, in my hometown, and having a chance to win."
Rochester's favorite son gave way to its favorite stepson. Several times last week, Haas took his lunch into Harmon's office. "We would sit up there and just talk about nothing," Haas said. Billy Harmon was there, too, until returning to his home in California Saturday morning.
The fairway was Haas' friend, too. He hit 12 of 14 of them Sunday, which gave him an advantage on a course that favored the man who could best take a punch. Langer's sturdy jaw was tested early, when he opened with a double bogey to relinquish the lead.
Haas, meanwhile, took the lead for good on the fifth hole Sunday, even stretching it to four strokes at one point. Each challenge to his lead was undone by the inability to sustain momentum on a treacherous course. Scott Simpson was within a shot of the top before he bogeyed 10 and 11. Norman's bid unraveled at 17 when he made a double bogey.
Only Langer doggedly hung in until the end. His long birdie putt at 18 narrowly missed, clearing the way for Haas' second Senior PGA Championship in three years and his 11th victory on the Champions Tour.
He won according to the blueprint, by generally keeping the ball out of the rough, enabling him to overcome two days of ineffectual putting (he had 36 putts Saturday, 34 Sunday). "That doesn't win too many championships," Haas said. "But except for one or two shots on the weekend, I probably played as well as I could play. Today [Sunday] I hit some really good shots. At 18 I made one of the most solid pars I've ever made with two of my best shots under pressure. That's what I'm leaving here with."
More important, perhaps, is what he was leaving behind: a Ryder Cup blemish. It was a long time coming for Haas, a 13-year journey to Oak Hell and back.