News
Only four LPGA players without majors have more victories than Creamer.
The second women's major of the season, the McDonald's LPGA Championship at Bulle Rock GC in Havre de Grace, Md., has more storylines than a Charles Dickens novel. Can Lorena Ochoa win her third consecutive major and move halfway to the calendar-year Grand Slam? How will Annika Sorenstam perform in her first major since announcing she will retire from competition at the end of the year? Is defending champ Suzann Pettersen, who had five LPGA victories in a breakout 2007, ready to fulfill that promise and get her first tour win of 2008? Or will Paula Creamer, the latest "best player without a major," shed that title?
Last year was unusual in that players who had never taken home a major trophy won all four. Besides Ochoa at the Ricoh Women's British Open and Pettersen at the McDonald's, there were Morgan Pressel (Kraft Nabisco Championship) and Cristie Kerr (U.S. Women's Open). With Ochoa and Kerr, especially, the victories left Creamer as the bearer of that double-edged label that simultaneously praises ("best") and damns ("without").
With two victories already this year, the 21-year-old Creamer has won six LPGA events and twice more overseas. The only active players with more LPGA wins than Creamer and without a major title -- Rachel Hetherington and Mi Hyun Kim with eight wins; Danielle Ammaccapane and Michelle McGann with seven -- are well below Creamer in the Rolex Rankings. Ranked fourth, Creamer trails only Ochoa, Sorenstam and Pettersen.
Ochoa (six wins), Sorenstam (three) and Creamer (two) combined to win 11 of the first 12 LPGA tournaments this year, and it is clear the youngest member of that rivalry is comfortable being in such fast company. "It is great that they are raising the bar week after week, and it feels really good to be a part of that," Creamer said about Ochoa and Sorenstam by telephone last week from the Corning Classic, where she finished T-15. "I want to play well this year, and I have put a lot of work into my game and that work is paying off."
When Creamer talks about having a good season she has set the bar very high. "A major," she says quickly when asked what constitutes a successful season. "A major would make it a good year. And I want to win five or six times because that shows that you have played well in all parts of the year."
Creamer has been rock-solid in the majors since turning professional in 2005. She has made the cut in all 13 she has played with nine top-20 finishes, her two best being a T-3 (2005) and T-6 (2007) at Bulle Rock. It is also where she had her worst finish in a major -- T-49 at the 2006 McDonald's.
Bulle Rock, a 6,596-yard layout with large greens and extremely wide fairways, has been host to the McDonald's since 2005 when it moved across the state line from DuPont CC in Wilmington, Del. The course does not reward Creamer's accuracy off the tee, negating her advantage over other players. Her success at Bulle Rock has been a result of her other strengths -- precise iron play and aggressive putting.
"The fairways [at Bulle Rock] are really wide, and that's too bad," says Creamer, who is fifth on tour in driving accuracy at 79 percent, but just No. 100 in driving distance at 247.9 yards. "You have to play for sections of the greens [Creamer ranks seventh in greens in regulation] and you have to be able to putt. If it comes down to a putting contest, I like my chances. That's what I do well." What she does extremely well is attack the hole with her putter, showing no fear of the four-footer she might face coming back.
The wide fairways at Bulle Rock provide, in fact, a perfect place for a bomber such as Ochoa, who can get a little wild off the tee. The three McDonald's winners at the course have been Sorenstam, Se Ri Pak and Pettersen, while the second-place finishers have been Karrie Webb (twice) and Michelle Wie -- all long hitters.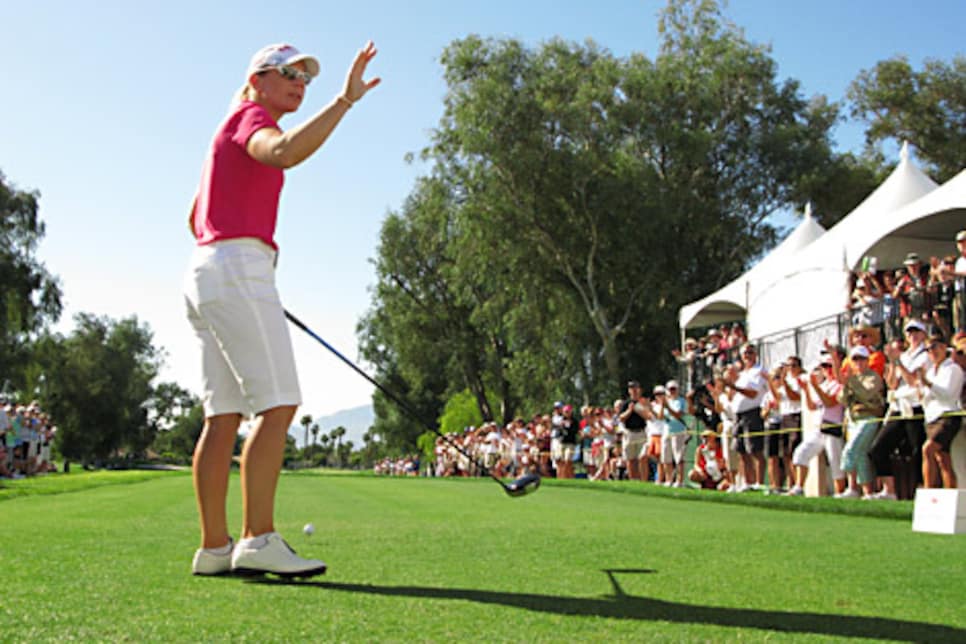 All except Wie, who is not in the field, have to be considered contenders this year. Wie finished last among those who made the cut in 2007 and will, however, be in the area to play in a U.S. Women's Open qualifier in Maryland the Monday after the McDonald's. Ochoa and Sorenstam are the clear favorites. Ochoa goes into the McDonald's playing the best golf of her life and has Grand Slam dreams. Asked if it is possible, she simply nods her head and says, "Yes," feeling no need to expound on that. Sorenstam is playing her best golf since 2005 and when asked her goals as her career winds down says, "There are three more majors this year."
But don't count out the Pink Panther. Creamer feels she has been toughened by some difficult major experiences, such as the 2007 Kraft Nabisco when she went into the final round one stroke off the lead and shot 78 to finish T-15 in a tournament won by fellow brat-packer Morgan Pressel. "You have to be patient," Creamer says. "You can't be too aggressive. I've learned that [in majors] you have to be under control and that pars are good things. I've learned lessons. I've learned some of them painfully, but the point is I've learned."
So with Sorenstam announcing her retirement at the end of the year, when she will be 38, and the 26-year-old Ochoa saying she would like to leave the game in her early 30s, does Creamer have retirement plans? "Yeah, I'm next," she says with a giggle. "I'm 21, time to pack it in." Then, turning serious, she adds: "No, that's not going to happen anytime soon. I have a lot of good golf to play."
And there is that little matter of shedding the label of the best without.