News
The Right Man, Right Time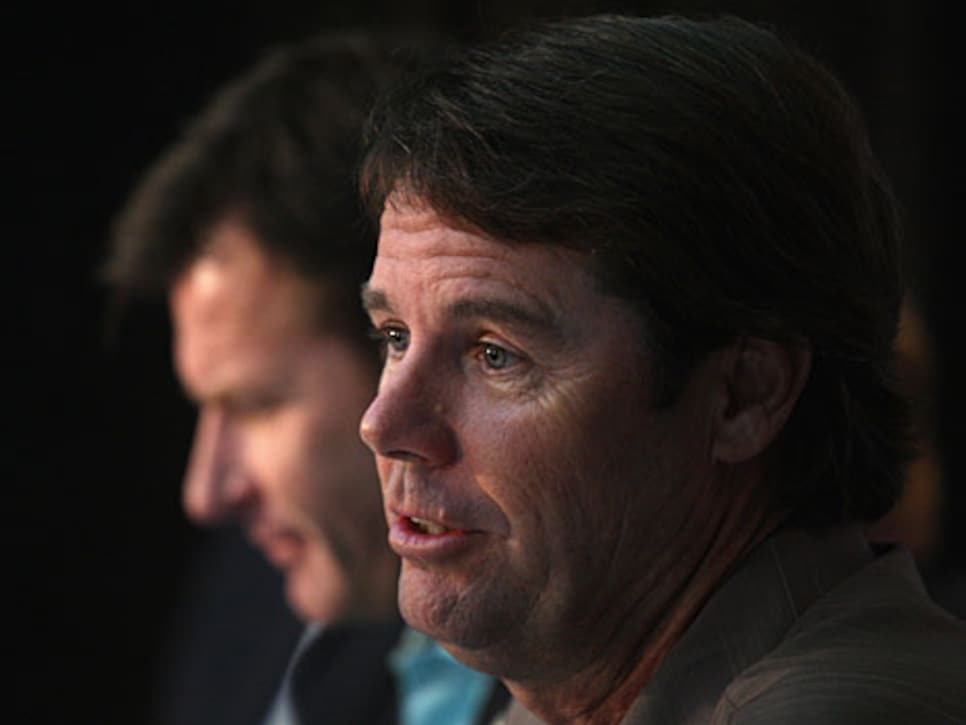 Says U.S. captain Azinger, "I want the team to realize what a great opportunity it is, to get this thing turned around."
Every Ryder Cup means something, although this year's gathering at Valhalla carries an obvious sense of urgency for the Americans, who have beaten the Europeans just once since 1993 and are coming off two of the worst blowouts in series history. Things have gotten so bad even Seve Ballesteros is feeling sorry for us.
Someone give that man a lie-detector test. And give U.S. captain Paul Azinger high marks for doing what he can to exterminate the losing culture, whether it is overseeing an overhaul of the qualification process, which includes doubling the number of wild-card picks, to simply flip-flopping the alternate-shot and best-ball formats, which Ballesteros did to help spark a European rout in 1997.
There will be plenty of additional changes between now and Ryder Cup Sunday. Some will be announced to the public, some we may never know about, others we will discover after the last ball falls in the cup. How much will it all matter? That's for a water cooler in the fall, and though many think the captain's actual effect on the outcome of the matches is vastly overrated, two incidents have altered my thinking there.
The first occurred on the Innisbrook practice green in October 2004, when Hal Sutton spent 20 minutes talking about the devastation and disillusionment brought on by a shellacking of the U.S. at Oakland Hills a month earlier. Maybe he did a lousy job, maybe he didn't, but a ton of people loved the Tiger Woods-Phil Mickelson pairing before it proved a complete bust. Only then did Sutton become the dumbest guy on earth.
The second happened at last September's Presidents Cup in Montreal. A loose and compatible mix of U.S. personalities led a stampede of the Internationals, and Jack Nicklaus' light touch as the skipper was cited as a big reason for the victory. What got lost there was the vital presence of assistant captain Jeff Sluman, who handled a lot of the organizational matters, communicated regularly with the players—everything to get Jack's back.
"When I get them together that Monday night, that's going to be a real important time," Azinger told me last Sunday. "Everybody who makes that team will deserve to be there, and I want them to have fun, but you can't help but have a good time when you put 12 guys together like that. I [also] want them to feel the pressure, to embrace it through preparation, and realize what a great opportunity it is, to get this thing turned around."
Azinger is as independent a thinker as any tour pro I've ever known, which is one of several reasons I think he'll be a big success. His selection of assistants—war horses Raymond Floyd and Dave Stockton—tells you Valhalla is a business trip, that intensity won't be optional.
"I want to surround myself with people who will help me," Azinger says, "and those guys are going to love to get to know Floyd and Stockton. Tiger already has a great relationship with both of them, and that really helps me."
Azinger and Woods are also relatively close, and the skipper has an excellent relationship with Mickelson. This factor cannot be overstated. Given the team dynamic, especially a squad made up of individual performers, chemistry is thinly disguised as a game of follow-the-leader. You feed off your studs, which is why Europe has won big and the U.S. has seemed lost. Woods and Mickelson seemed more comfortable with that responsibility in Montreal, and with Azinger at the helm, their roles will only grow.
Sutton and Tom Lehman (2006) were respected captains, but neither was tight with Woods, and the gaps may or may not have led to communication issues. Azinger will consult heavily with both on very clear terms, and though we're not even close to the point where we can think about pairings, my guess is we're going to see a lot of lineups we've never seen before.
This week's Memorial kicks off a big stretch of important golf: three majors and four other premium-field events over the next 2½ months. We're sure to see a lot of movement in the U.S. Ryder Cup standings, hopefully by players winning tournaments, which wasn't really the case with the old system in '06. "On the last several teams, we've averaged about six guys who hadn't won," says Azinger, "and [Europe] has averaged about two."
It ain't everything and it certainly isn't the only thing, but it is a damn good thing. "I think it's going to be real hard to make this team without winning," the captain adds. "Jim Furyk and Stewart Cink can do it, but some of the other guys need to get that done. I want a team full of guys who are confident, and usually, guys who are confident are guys who win."