News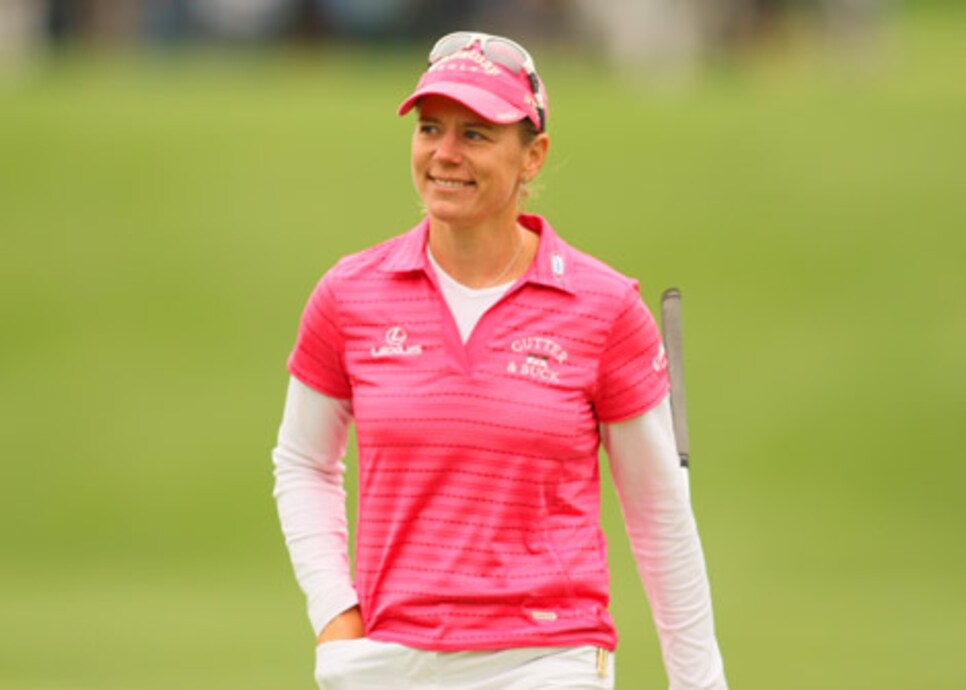 Two days before her press conference, Sorenstam had a familiar look: that of a winner Sunday.
For the 72nd time in an LPGA career that began in 1994, Annika Sorenstam walked out of an interview room after a victorious performance, this one a textbook display of near-perfect golf in the Michelob Ultra Open at the Kingsmill Resort in Williamsburg, Va. Her smile showed weary signs of the effort needed to play championship golf as she turned her gaze toward a familiar face and said, "It was like old times, wasn't it?" Then, in a secluded corner of a not-yet-open dining room, speaking in a voice that never once indicated a shred of doubt in her decision, the Swede who transformed herself into the one-word superstar "Annika" told Golf World she was retiring from competitive golf at the end of this year.
The news was not completely surprising. There always had been an unspoken understanding implied in Sorenstam's commitment to perfection that she would walk away from the game on top. But unlike Sandy Koufax, who quit baseball in 1966 at age 31 after winning 27 games that year, or Jim Brown, who left football at 29 following an MVP season in 1965, Annika is not breaking her ties with the sport she dominated but rather transforming that connection from inside the ropes to outside. In that way, she is more like Bobby Jones, who retired from competition at 28 in 1930 after winning the Grand Slam, then co-founded Augusta National GC and started the Masters.
If the 37-year-old Sorenstam feared her retirement, which she planned to announce Tuesday afternoon at Upper Montclair CC in Clifton, N.J., site of this week's Sybase Classic, would be interpreted as an admission her level of play had fallen, she obliterated that notion Sunday. Sorenstam finished off a seven-stroke victory on the River Course at Kingsmill and broke the tournament record by five strokes with a final-round 66 in which she hit every fairway and putted or chipped for birdie on every hole. It was, as she said, like "old times" -- relentlessly methodical golf that wore down and ultimately overwhelmed her opponents.
"The time is right," Sorenstam said about leaving the competitive stage. "I have seven more months and there is a lot of golf left to play, and I look forward to that. But it takes a lot of effort to be at the top, and there is a part of me that doesn't have that desire anymore. It is just the daily grind. I'm not a person who can be out here just to be out here. Today almost makes it even better. I proved today I am back, and I am leaving on my terms."
A year ago Sorenstam had to skip the Michelob because of a ruptured disk in her neck. While she was injured, Lorena Ochoa passed her to become the No. 1 player in the Rolex Rankings. And while Ochoa, with 19 wins since 2006, is the best in the world right now, Sorenstam reminded Lorena -- and everyone else -- why she is on the short list with Mickey Wright and Kathy Whitworth as the best LPGA player of all time.
Paired with Ochoa for the first three days, Sorenstam gave a lesson of her legendary consistency. She went 53 holes before making a bogey, and while Ochoa hung with her for two days -- the duo combined to make 23 birdies and an eagle over the opening 36 holes -- she cracked 44 holes into the Swede's demoralizing run of consistency, missing a five-foot par putt on No. 8 in the third round that triggered a tumble of four bogeys in five holes.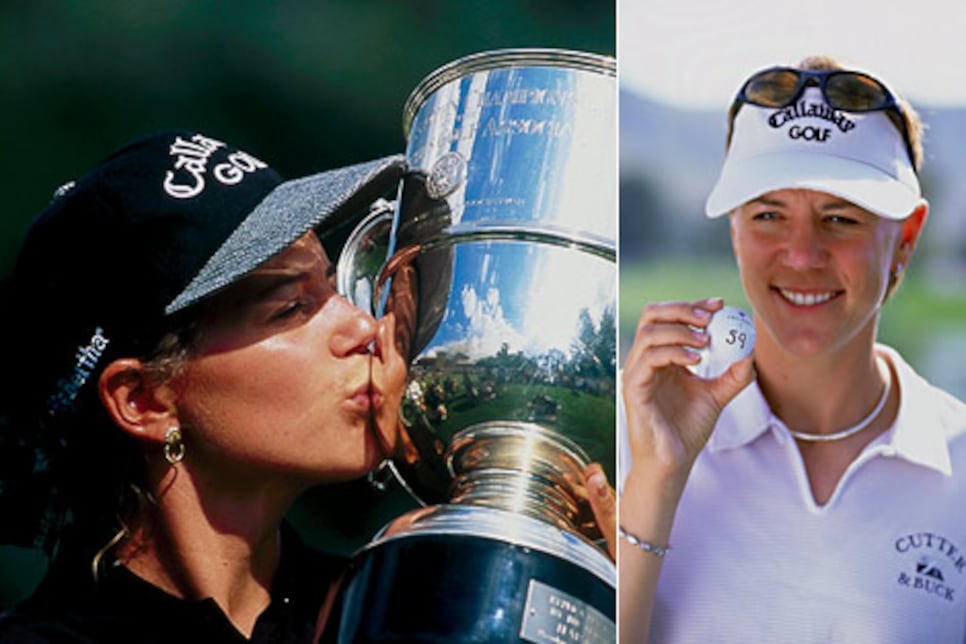 It was more of the same for Jeong Jang and Christina Kim in Sunday's final round. Sorenstam began play three ahead of Jang and four clear of Kim and gave back a stroke with a three-putt bogey on the second hole. But it was only a tease. Sorenstam birdied the next hole, and when Jang birdied No. 5, Annika birdied the sixth. Then Jang holed out for birdie from 40 yards on the ninth hole, which only seemed to motivate the Hall of Famer. As if to say, "OK, enough of this," Sorenstam birdied five of the first eight holes on the back nine, all after approach shots inside 10 feet. Her 19-under 265 was seven strokes clear of Jang, Kim, Karen Stupples and Allison Fouch. Ochoa finished T-12 at 277 after a closing 70.
If one word can describe Sorenstam it is balance. Both physically and emotionally she is always in control on the golf course. Her swing has the rhythmic repetition of a metronome, classified by Hall of Fame player and TV analyst Judy Rankin as one of the three most reliable in the history, along with Ben Hogan and Wright. At her best, in an astonishing display from 2001 through 2005 when she won 43 of 104 LPGA events and finished in the top three 67 times, Sorenstam's most memorable shots were her poor ones because there were so few.
Physically, her rigorous workout program -- including pull-ups while wearing 10-pound ankle weights, push-ups with 50 pounds strapped to her back -- transformed her from an average-length driver (who still won back-to-back U.S. Opens in 1995-96) to one of the longest on tour. Emotionally, Sorenstam committed to the "Vision 54" philosophy of pioneering Swedish coach Pia Nilsson. Her calm stems from a determined focus on the shot she is hitting as she pursues the goal of 18 consecutive birdies. While she never achieved that, she did shoot the only 59 in LPGA history -- in the second round of the 2001 Standard Register Ping at Moon Valley CC in Phoenix, a round she began with eight straight birdies.
Sorenstam's mastery of emotional balance was so complete she gave no hint of inner turmoil. In 2004 she won eight LPGA events and twice more overseas as her marriage to David Esch was crumbling. Divorce papers were filed the following February. She similarly kept her father Tom's prostate cancer battle the last few years private, never using that distraction as an excuse.
And, of course, there was the transformation she made in dealing with the attention that came with being so dominant. As a rookie Sorenstam was so shy she took a month off after winning her first U.S. Open because she wanted to avoid the media. In 2003, the year she played in the PGA Tour's Bank of America Colonial, she handled the nearly four-month buildup to her appearance with aplomb.
Dan Jenkins, the Golf Digest writer who has witnessed virtually every significant event in golf for nearly 60 years, has said Annika's opening tee shot at Colonial -- a 257-yard 4-wood off the 10th tee -- might have had more pressure on it than any single shot in the game's history. It was perhaps the most important shot in the history of women's golf and her superb execution in an opening-round 71, combined with the classy way she handled the attention, earned women's golf new fans and enhanced respect.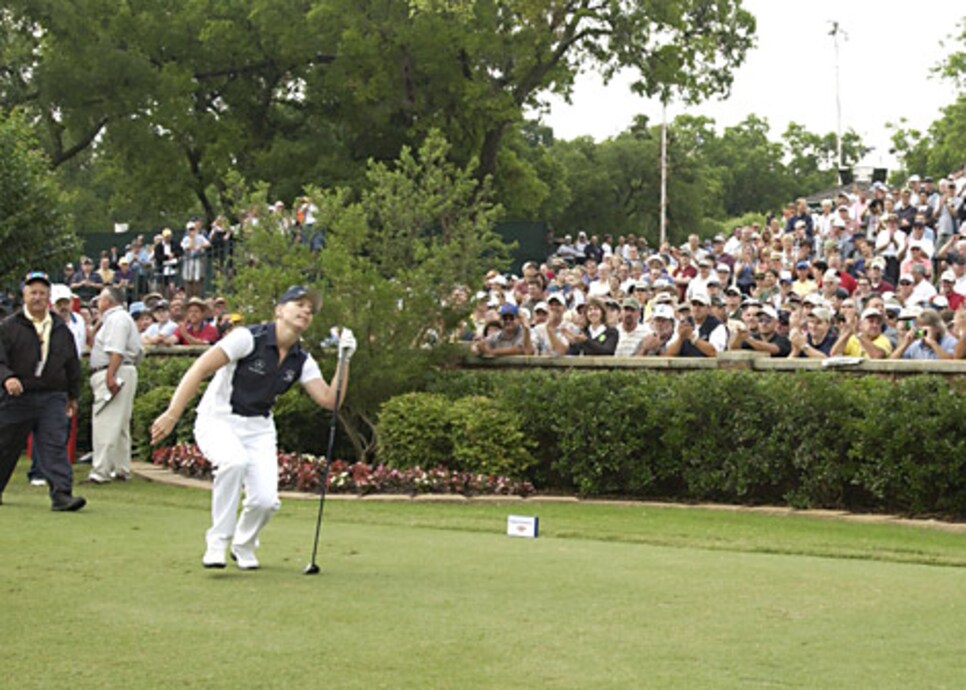 "Colonial was my mission," Sorenstam said Sunday as she looked back over her career. "It was my path, my journey and I felt like people accepted that, 'Hey she's an athlete, and she wants to get better.' I've always let my clubs do the talking. And I felt like people accepted me for that."
That 2003 season came in the middle of an astonishing five-year run, and while her six wins were the least during the stretch -- she had eight and 11 in the two campaigns preceding and eight and 10 in the two that followed -- it was her most accomplished year. Besides Colonial, she completed the career Grand Slam in August at the Weetabix Women's British Open and was inducted into the World Golf Hall of Fame in October. She won two majors, was second in a third and in the fourth, the U.S. Women's Open, she missed a playoff by a single shot, finishing fourth.
Sorenstam's reserve and dedication was interpreted by some as aloofness. Unlike some LPGA players, she did not see the practice range as a place to socialize but rather as her office. Her success bred jealousy. During a stretch from 1997 through 2000, when she went 17 consecutive majors without winning, there were whispers she couldn't win the big ones. All that was laid to rest as the 1990s gave way to the new millennium.
The remarkable elevation of Sorenstam's game began after a dreadful putting performance at the 1999 U.S Women's Open at Old Waverly in Mississippi, where she missed the cut. After finishing T-16 at the next major, the McDonald's LPGA Championship, she decided it was time to take action.
"I divided up my career into 10 pieces: Caddie is one piece, short game and putting is one piece, fitness is another piece," she explained at Kingsmill. "To become the best, these pieces need to fit together. My ball striking was so far beyond my short game. My fitness was OK, but it wasn't what it needed to be if [I was] going to be the best. I wanted to say, 'I'm the best in everything. Nobody can touch me.' That was my method of thinking."
Sorenstam skipped the next major, the du Maurier Classic in late July, hired Terry McNamara to be her caddie in September, consulted with Dave Stockton about her putting that fall and began a workout program that would lead her to trainer Kai Fusser in 2000. McNamara, Fusser, Nilsson and swing coach Henry Reis are the central players in the long-running Sorenstam team.
In accomplishment, attitude, commitment and now retirement, Sorenstam's name is linked to the best. Jack Nicklaus' first PGA Tour victory was the 1962 U.S. Open and his last was the 1986 Masters -- a career bracketed by major championships. Similarly, Sorenstam's first LPGA title was the 1995 Women's Open. And now she announces her competitive retirement after winning three of her first eight events of 2008, and her last two in a row.
But there are new challenges ahead. In addition to her Orlando golf academy, her business, "ANNIKA," has several golf course design projects, runs websites and a foundation, and has developed an Annika Collection clothing line with Cutter & Buck. She is involved in the Ginn Tribute Hosted by Annika on the LPGA Tour, the Scandinavian TPC Hosted by Annika on the Ladies European Tour and next year will host an American Junior Golf Association tournament.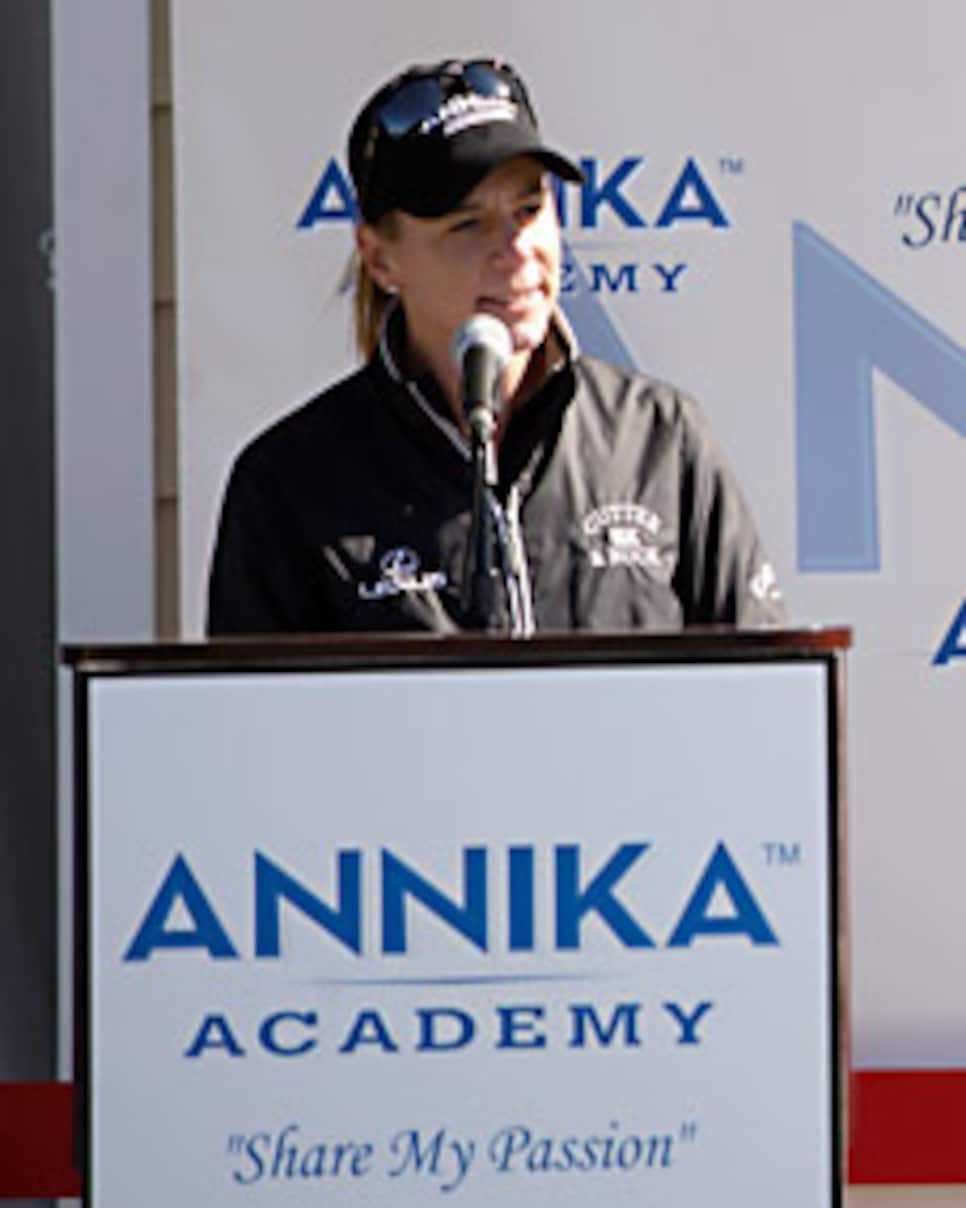 "Golf has taught me a lot about life, about making decisions," Sorenstam said. "I want to help the game, use the game and be part of the game. I'm going to be very active but not competing. My sponsors are sticking by me and are very supportive. There are a lot of things I can do with my knowledge and my excitement and energy -- [for example] golf in the Olympics, who knows what I can do there?"
Sorenstam rose to leave, moving toward the waiting Mike McGee, whom she will marry in January, then paused. "It's been worth every second," she said. "From the outside you see the glamorous part, but you beat your body up week after week and I just think I am at a good part in my life, and I'm stepping away from competition on my terms. This is exactly what I want."