News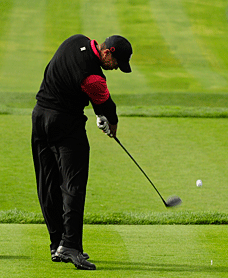 Woods' golf ball spins too much to allow him to max out on distance.
The big buzz in equipment these days is "maxing out"—optimizing the match between the driver and golf ball to yield launch conditions that maximize driving distance. One way to look at how effective a player is in achieving this goal is to look at Total Distance Efficiency, a ratio of ball speed to distance.
Guess who ranks 205th out of 207 players on the PGA Tour, just a tick above Carlos Franco and Lee Janzen? Is it Corey Pavin? Or Todd Hamilton? Nope. It's Tiger Woods. Fact is, according to ShotLink, Woods has the fastest swing speed at 124.6 miles per hour and the fastest ball speed, too, at 182.69 mph, while his launch angle is low at 7.96 degrees (ranked 190th) and his spin is high at 3,118 rpms (ranked 188th). In essence, Woods contradicts the high launch/low spin mantra most tour players swear by.
Of course, Woods does this by design. He could achieve more distance (RD experts say up to 12 to 20 yards with better launch conditions), but he prefers to use a high-spinning ball in the Nike One Platinum.
"I've always told the guys at Nike, build me a ball that spins, and it'll be my responsibility to take it off," Woods said. "That's my job. I'll hit more club. I'll do something to take that spin off. But I want to be able to be aggressive around the greens."
The Tiger exception notwithstanding, there is a correlation between distance efficiency and success on tour. Total money for those in the top 70 in distance efficiency was $44,226,600 through Wachovia. Money for those in the bottom 70 (which includes Woods, Phil Mickelson and Trevor Immelman) was $29,673,496. That's an average of $207,901 more per player for those at the top than at the bottom.
The key to efficiency? High launch, low spin. The top 70 average 2 degrees more launch angle than the bottom 70 and spin it 176 rpms less. The result: The top 70 hit it 12 yards longer on average, despite the bottom 70 averaging 2 mph more ball speed.
Henrik Stenson tops the tour in efficiency. Behind him are two players not known for their length, but who clearly get the most out of what they have to work with: Mike Weir and Scott Verplank. For Weir, it reflects time well spent on the launch monitor.
"I've worked on TaylorMade's Matt System and Trackman to check the right spin rates and launch angle and [work on] things," said Weir. "We've dabbled around to get [the shafts] right. For me optimum spin is about 2,400."
So why should you look at your distance efficiency? Well, if the better ones on tour make $200,000 more than the worst ones, maybe you could win a few more $5 Nassaus from your buddies if you "maxed out." It might create a little buzz around the club, too. GW
At any given PGA Tour event 10 to 15 percent of the field will change putters. But with last week's switch to Bermuda greens, the number at the Players jumped to more than 20 percent: 32 pros chose a new flat-stick, including Kenny Perry, who moved to a Ping G2i Craz-E mallet, and J.B. Holmes, who used Guerin Rife's Barbados belly version.
When Sergio Garcia said, "I seem to be driving the ball better in the past three months than I've done in the past year," he might have noted it was three months ago he changed to TaylorMade's Tour Burner driver at the Northern Trust Open. At the Players, Garcia was first in accuracy, hitting all 14 fairways Friday, the first time he had done that since the second round of the 2005 Masters. … Charley Hoffman tossed his Scotty Cameron by Titleist Fastback putter into the water on No. 13 Friday after missing a 20-inch putt, forcing him to putt with his Titleist Vokey 60-degree wedge and Adams Idea Tour hybrid. As a female volunteer fetched the club, Kelly Tilghman said on Golf Channel, "Make sure you check out eBay tomorrow, fellas." So we did. No sign of Hoffman's soggy putter as of Monday afternoon.