News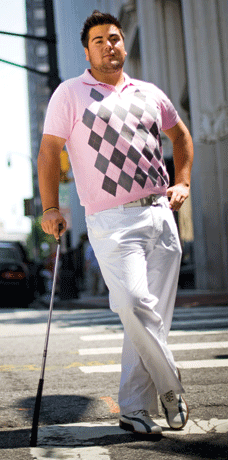 Born in Chile, raised in Sweden, Sjoholm has made a world of difference for the Panthers.
During this week's NCAA East Regional at Chattanooga's Council Fire GC, Joel Sjoholm intends to have the full complement of 14 clubs in his stand bag, start to finish. Same goes for the NCAA Championship in two weeks at Purdue's Kampen Course in West Lafayette, Ind., should his Georgia State team advance through regionals and give the 23-year-old senior one last chance at a national title.
If this doesn't sound all that newsworthy, perhaps you're not familiar with Sjoholm's initial appearance in the NCAA Championship, at Caves Valley GC outside Baltimore in 2005. In the final event of his freshman year, Sjoholm played the tournament with just 12 clubs. Exactly what happened to the other two is a bit murky, with the truth residing somewhere between his having "lost" them prior to the event and having broken them into several pieces.
"It wasn't uncommon for him not to have a full bag that first year," Panthers coach Matt Clark says almost matter-of-factly. If Sjoholm wasn't abusing a club in a fit of frustration after a hole gone bad, he just as easily might leave one on the course, his mind turning to mush when a round unraveled.
Even forgetting a club back on campus in downtown Atlanta wasn't beyond belief. "I'd pack extra stuff to just prepare for the mistake with Joel," Clark says. "I'd order him a couple extra shirts his size because I knew he would forget to pack one. It's why I have to wear a hat now. I don't have much hair left because of Joel."
Clark isn't looking for sympathy. He knew what he was getting when he signed the young man from Gothenburg, Sweden, a barrel-chested, moppy-haired kaleidoscope of emotions, any assortment of which could be on display over the course of 18 holes. What he also knew, though, was what could be if the young man learned to control his emotions.
Suffice it to say, it was very much like the season Sjoholm (pronounced Show-holm) has put together in 2007-08. With three victories, eight top-10 finishes and a 70.59 stroke average in 11 tournaments, he has had the best individual year of any golfer in school history. If he is named a first-team All-American as expected at the end of the NCAA postseason, he will be Georgia State's first such honoree.
"I was no angel, and I still am no angel," Sjoholm admits. "But I finally realized if I was serious about being a good golfer, I had to stop getting in my own way. I had to act like a professional, think like a professional. I had to grow up."
There was no eureka moment to point to where Sjoholm once and for all retired the label of fury of the fairway. He offered hints of an attitude adjustment during his junior year when he posted a 71.79 average and earned third-team All-American honors. The journey to a more mellow self, however, included several incidents of enlightenment.
"We had a joke when we needed to have a talk," Clark recalls. "I'd always say, 'Joel, please step into my office.' Of course we'd be outside whenever I said this, and he'd know what was coming next." The conversations never involved swing mechanics or how to stand over a putt. Instead, they all returned to one theme: Don't waste your talent.
"Coach didn't lecture me or talk down to me," Sjoholm says. "He talked about how I had worked too hard to get so emotional on the course and let everything slip away. If I could control myself, I could have success."
Had Sjoholm not been rambunctious from an early age, the young boy who was born in Chile and adopted by a Swedish family along with his brother, Felix, when he was 3 months old might never have gotten involved in the game in the first place. Joel confesses he was often a handful for the family's nanny as a kid, the fine line between energetic and mischievous sometimes blurred. Given that, his parents decided to get him and his brothers involved in sports. (Older brother Viktor is an accomplished gymnast.) While trying several different disciplines, Joel eventually gravitated toward golf.
As an aspiring golfer, Sjoholm claimed top honors on a Swedish junior tour and contemplated playing professionally in Denmark before choosing instead to go to Georgia State on the recommendation of former Panther golfer Kasper Jorgensen, whom Sjoholm played with in Europe. Once stateside, he continued honing his two best skills: solid iron play and a smooth putting stroke, attributes that have helped Sjoholm rank first in the nation in par-3 scoring (2.97) as a senior and fourth in the country in birdies with 136.
Interestingly, as excitable as Sjoholm can get on the course, he typically comes across as just the opposite off it. Teammates say he is invariably cheery, the first to crack a joke or kid someone about a bad shot. His eclectic tastes include a love for salsa dancing (yes, salsa dancing). "Living in Atlanta is great, living in a city," Sjoholm says. "I enjoy experiencing new and different things."
With his success has come a bit more attention, something that also seems to agree with Sjoholm. After winning his first college tournament last October, the Club Glove Collegiate, then claiming the title at the John Hayt Collegiate Invitational in February (he added medalist honors at the Colonial Athletic Association last month), he was recognized at halftime of a Georgia State men's basketball game last spring for his accomplishments. As a camera flashed his image on to the arena's video monitor, Sjoholm good-naturedly cuffed the sleeves on his shirt and flexed his biceps to the laughter of the crowd.
"He's not shy by any means," Clark says. "He's actually a big old ham."
At a recent photo shoot, when Sjoholm got a glimpse of some of the pictures that had been taken, he playfully noted to the photographer: "What a stallion."
Despite his stocky physique—he stands 5-feet-10 and weighs roughly 230 pounds—Sjoholm isn't afraid to make a statement with his wardrobe either, favoring Europe's mod styling. "He's got some personality," notes an executive with a sports management firm. "He's entertaining to watch and has a game that translates to the professional level." So it is that several different management companies are hoping to have the chance to represent him in the not-too-distant future.
Sjoholm intends to turn pro immediately after his college career wraps up. Whether he will begin his career in Europe or the U.S. is still uncertain, but he ultimately wants to get out on the PGA Tour. "I feel like I'm getting to where I want to be," Sjoholm says. "I needed a year like this one to build some confidence."
Enough, perhaps, to appreciate that the next time he starts a heated on-course argument with his 5-iron, it's just as well to let the club get the last word.