News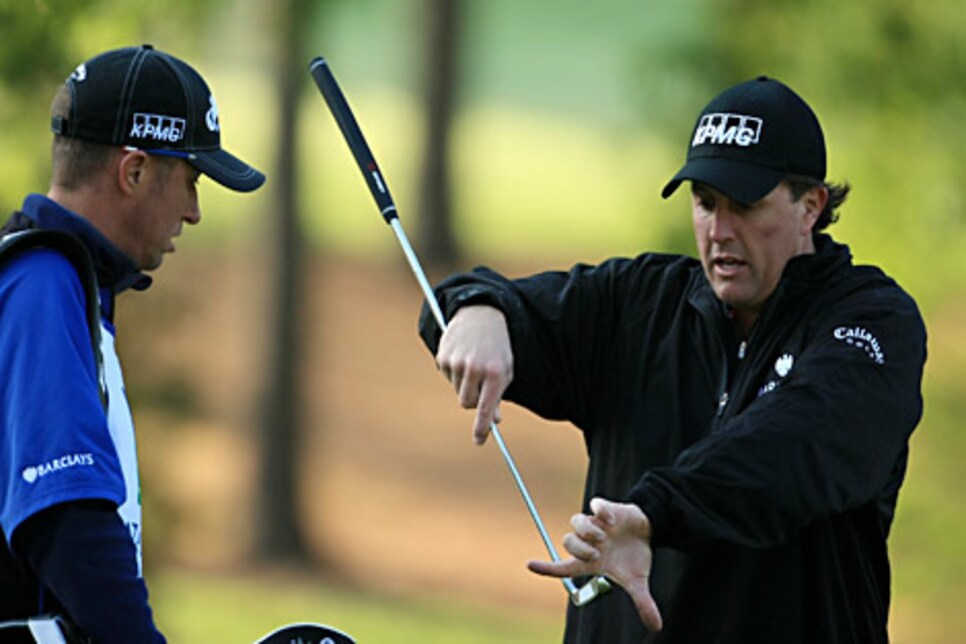 Lefty went lengthy and changed the lie angle to solve putting woes.
Last week Phil Mickelson said he changed the length of his putter from 33½ inches to 35 inches (because, according to Lefty, he had grown an inch taller the last couple of years). The switch raised the question about whether he had changed the lie angle, too. And, in fact, he had -- Mickelson's new Odyssey White Hot Tour 1 is not only longer but also has a lie angle one degree flatter than his previous putter.
Mickelson's putting guru, Dave Pelz, is one of the biggest proponents of making sure players have the correct lie angle on their putters. According to Pelz, many golfers set up too far from the ball. The main culprit: putters with too flat a lie angle. According to Pelz, you are four times more likely to find a player with a lie angle that is too flat than too upright.
"A lie angle that is too flat will cause a player to reach for the ball, and their hands will move out from under their shoulders," Pelz once said. "That leaves the putter swinging around their body instead of along the proper path. It also places the eyes inside the target line, which can result in the player aiming right of the target." Left unsaid was the flipside: a too-upright putter leaves the eyes outside the line, with a tendency to aim left of the target.
Keeping the face angle on path was the main reason for Mickelson's change. "Face angle means a lot more than stroke, and my face angle wasn't lined up," said Mickelson. "It was lined up at address but it wasn't staying square throughout the putt, and it was noticeable when I started working with Pelz...I spent two weeks working on it and trying to get it dialed in."
"Dialing it in" can be achieved in different ways. Obviously adjusting the lie angle is the simplest. But some players prefer to change lengths instead. Jay Williamson, for example, has been known to travel with as many as five putters that vary by half-inch increments. Williamson often changes putt-ing styles -- conventional, claw, cross-handed, etc. -- and the different lengths provide the proper lie angle depending on what type of stroke he is using.
Some puttermakers have made it easier to see not only if you have the proper lie angle but to make the alteration. Guerin Rife putters, for example, have a notch above the alignment line that indicates if the lie angle is correct. If it's not, the individual can alter the angle to the proper position with the lie bender that comes with the putter.
A standard lie angle for a putter is 71 degrees. However, body types differ, so if you're in a comfortable setup position but find the heel or toe of the putter dragging on the green before impact, then you may need to adjust the lie angle. And any adjustment that helps you make more putts is a worthwhile one.
Looking for the next hot shaft on tour? Then you might want to check out Aldila's Voodoo. Seventeen players, including Geoff Ogilvy (right), Boo Weekley and Stuart Appleby used the shaft last week at the Wachovia Championship. The Voodoo is designed to keep from drooping or oscillating during the swing, thus tightening ball dispersion.
It's about time: After playing UST's ProForce shaft for nearly nine years, Jim Furyk changed to Fujikura's Rombax TP 80 at the Wachovia Championship. According to Mike Sposa, tour rep for Fujikura, Furyk tried more than 15 tip stiffnesses during nearly seven hours of range time last week. By Saturday, though, Furyk was back in a UST shaft (right). ...Vijay Singh replaced his 60-degree wedge with a 64-degree Cleveland 588. Singh made the switch because he wanted the higher loft on holes where he short-sided himself.