News
Pete Dye: Called To The Hall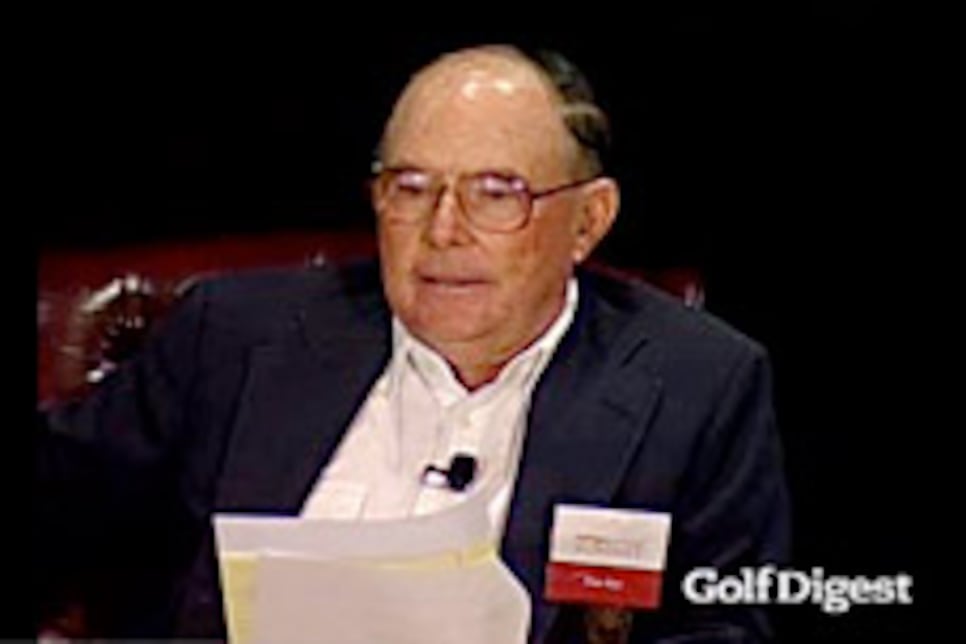 Dye started out as an insurance salesman before turning to his true love.
Pete Dye, whose imaginative course designs have intrigued and frustrated golfers for four decades, has been selected to the World Golf Hall of Fame in the lifetime achievement category. The announcement was made Tuesday at the Players in Ponte Vedra Beach, Fla., contested on Dye's most famous layout, the Stadium course at TPC Sawgrass, whose island-green 17th is one of golf's iconic holes.
"I can't believe it," Dye told Golf World of the honor. "I was totally surprised. They're putting me in there with a lot of people who have done a lot for the game of golf. They got me while I'm still upright, so that's pretty good, too."
Dye, 82, will become the fifth person enshrined for his work as a course architect, joining Robert Trent Jones, C.B. Macdonald, Alister Mackenzie and Donald Ross.
A native of Urbana, Ohio, Dye was a talented amateur golfer and life-insurance salesman before he and his wife, Alice, set their sights on designing courses. Strongly influenced by a 1963 trip to Scotland and eager to distinguish himself from other architects in the U.S., Dye applied what he had seen on the old links when building his courses, from native roughs to small greens to sharp-edged bunkers of all sizes. "Over there in Scotland they have great big bunkers with railroad ties, then the next one might be small, not six feet in diameter," Dye said. "That's what I noticed more than anything."
Dye also differed from many of his peers in how he went about his business, eschewing formal plans -- he sketched his Sawgrass design on a placemat -- and building many of the features on his courses himself. "I haven't drawn up a set of plans yet," he said. "I don't know how. I just always enjoyed the construction of a golf course." A host of architects, including Bill Coore and Tom Doak, apprenticed with Dye early in their careers.
Dye's current projects include a course at French Lick (Ind.) Resort that is slated to open in 2009 and a fourth design at Casa de Campo in the Dominican Republic. The flight from Indianapolis to French Lick last Friday was a rough one. "We were in a little plane and got in one of those dadgum awful storms and couldn't get out of it," Dye said. "We really bounced around. I thought it was going to take me right out of this world. I've got 17 holes done, and I didn't know if I was going to get the other one done or not."
Dye will be joined in the Hall's class of 2008 by honorees announced during this year's U.S. Open and British Open.