News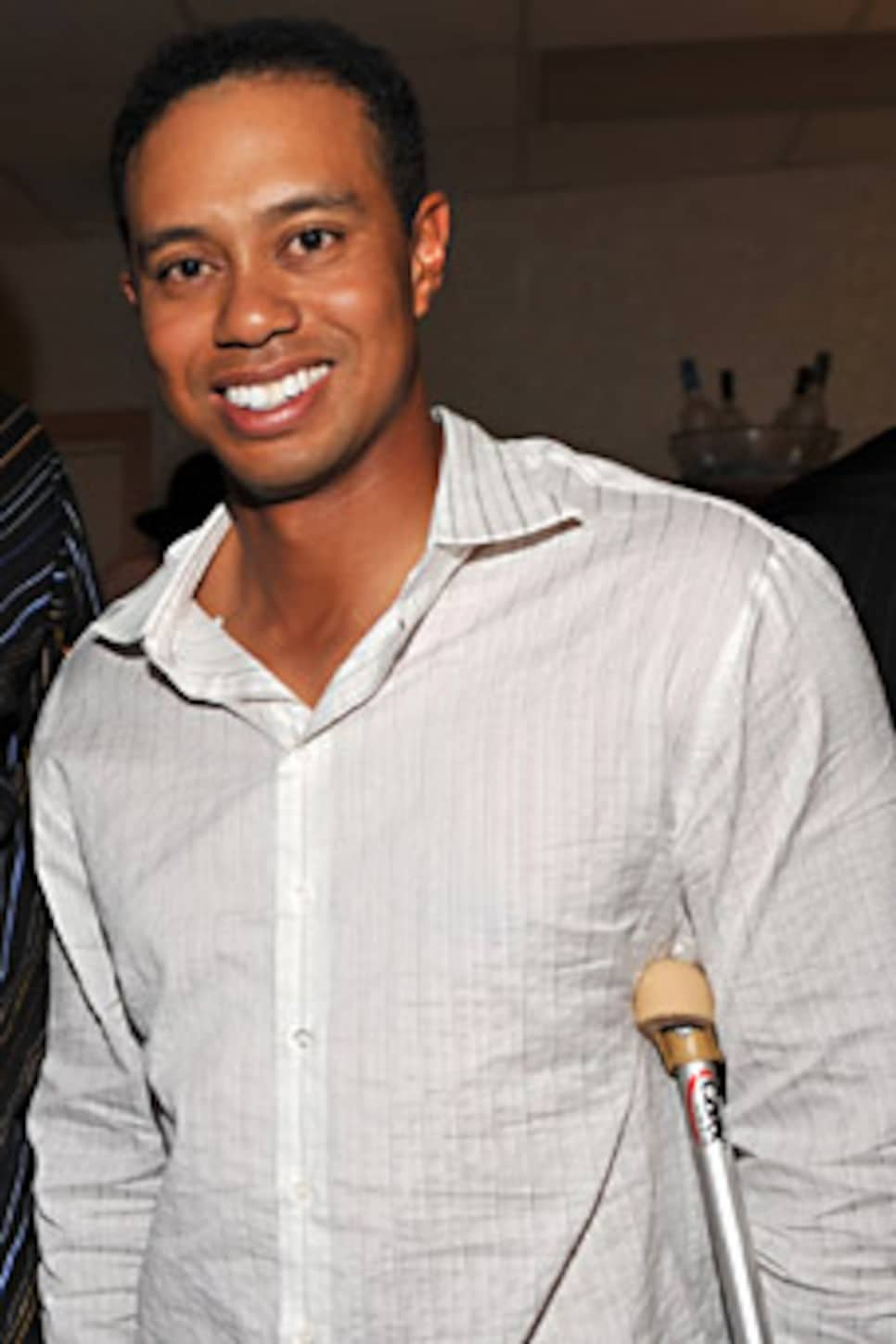 What to do, what to do? As we sit cross-legged in our filthy hovel flipping Old Maid cards into an upside-down straw hat, waiting for He Who Is Without Peer to hobble back into our lives like the Lone Ranger, we can only imagine how the rest of the golf world is coping with the depressing reality of his absence. Life without Tiger hardly seems worth living. Frankly, it's not as bad for us as it is for you. We're able to find some solace in the fact we still have Augusta National and the tragedy of the stolen approach angles to whine endlessly about. Our hearts, however, go out to the rest of you, deprived as you may be of a cause célèbre.
Of course, the other thing we have going for us is we get to speculate about Tiger all we want, unencumbered as we are by any facts. Take, for instance, how he wasn't supposed to have to resort to using crutches but showed up at his rock concert in Las Vegas with a set of them. Was the surgery more extensive than has been revealed? (This, by the way, lends itself to a lot of spiffy graphics of knees and other fleshy bits, accompanied by appropriate lists of gelatinous tissues. Alert the art department.)
Will he be unable to play until just before the U.S. Open? Will he miss Memorial? Will there be an Elvis sighting in Memphis? Is San Diego boy-from-the-hood Phil Mickelson now the favorite at Torrey Pines? How old is Eddie Van Halen, anyway, and does he need elective surgery, too? Would Tiger really have had his knee scoped if he had won the Masters? Just like when Ronald Reagan was shot, did Ian Poulter bravely step forward General Al Haig-style to assure a traumatized populace our No. 2 was now steady at the helm? We understand that in his first week of rehab Tiger only will be allowed to putt. After his showing at Augusta, we're prescribing two weeks.
Some people cleverly have managed to find other pursuits to occupy the darkest days of our World Without Tiger. Take Colin Montgomerie. The former Exchequer of the Euro made exceptional use of his time, throwing together a lavish wedding, complete with a bride and all the trimmings. This also served as diversion from their humdrum existence for players such as Paul Casey and Padraig Harrington, who made guest appearances, dancing to the dulcet tones of Bjrn Again. The nuptials were a particularly ingenious maneuver since Montgomerie could not only stage the event itself but follow up with a time-consuming honeymoon to which we are assured by the Daily Mail that -- unlike Augusta -- he was invited.
Others have settled on equally worthwhile pursuits. Boo Weekley, for example, added to his plaid wardrobe just in case he ever wants to hunt La-Z-Boys in a Rooms-to-Go. And there's plenty of time to undertake new and particularly challenging charitable causes. Let's say, for example, Jim Furyk wanted to tackle the crying need for hairstyling in polygamist sects and Mel Kiper Jr.
This week a few, at least, of the game's best remaining players will gather in Charlotte for the Wachovia Championship where He Who Is Without Peer was to defend. I'm certain a candlelight vigil has been planned in his memory, just as the black crepe is now being strung from the arches of the Hacienda Sawgrass in Ponte Vedra Beach. Maybe in his next "meeting," Mickelson could ceremonially remove the pin from the left knee of his Tiger Woods voodoo doll. Then we can all go back to what passes for normal.