News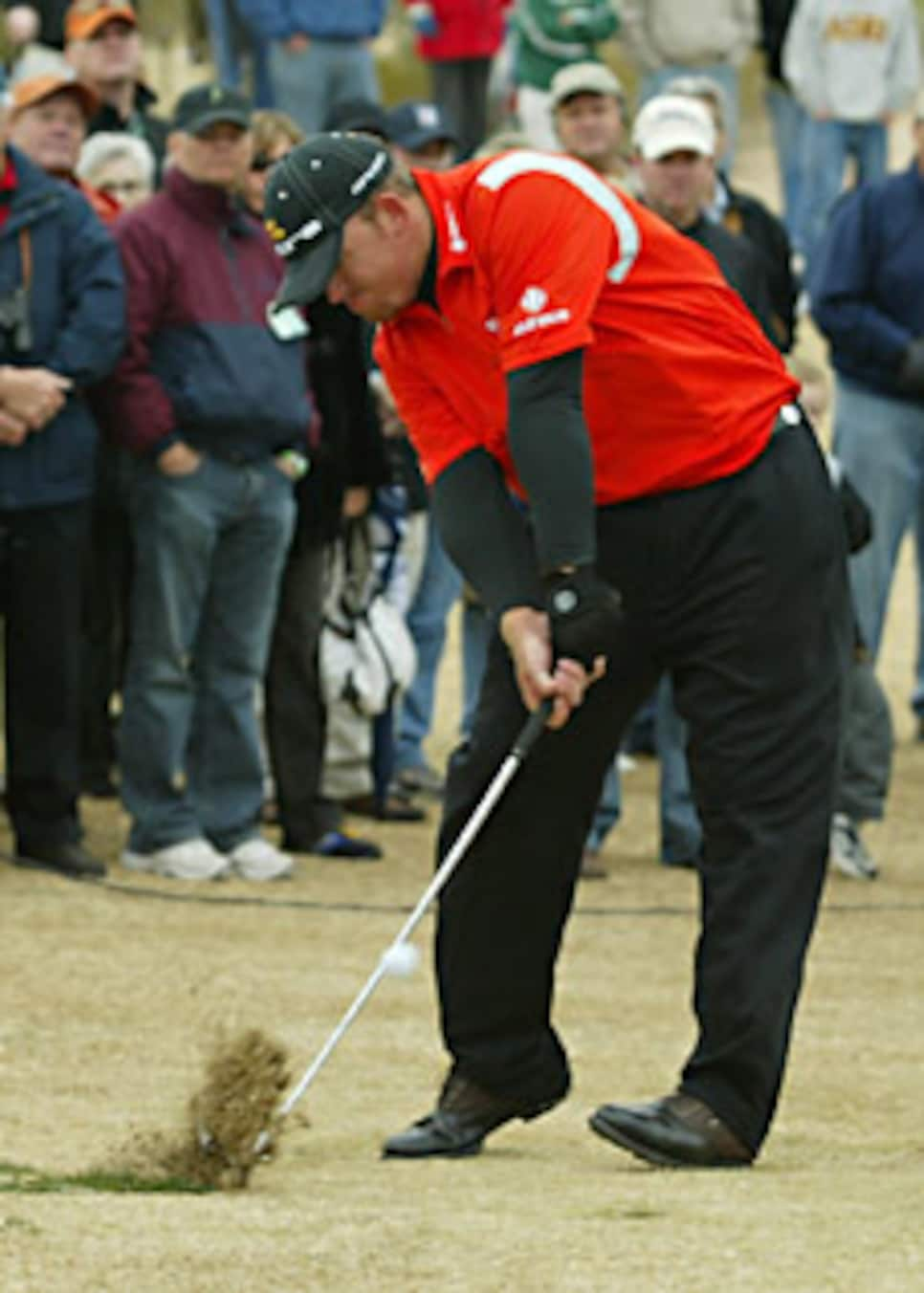 Bombers such as J.B. Holmes can keep their grooves for 2009.
On Feb. 27, 2007, the USGA issued a proposal on grooves that, if adopted, calls for manufacturers to produce clubs with less-effective grooves starting in 2010. Moreover, it also includes a provision for a Condition of Competition, effective Jan. 1, 2009, that would require use of clubs conforming to the new groove rules for tournaments, with a recommendation the condition apply only to events involving "highly skilled players."
A call to the USGA last week for a status report on the proposal produced little in the way of news, as senior technical director Dick Rugge declined to comment on specifics -- except to say there was "no set timetable for a decision on grooves."
However, industry sources familiar with the situation tell Golf World the Condition of Competition as proposed is no longer on the table, meaning tour pros are likely to be able to use current grooves in 2009.
Meanwhile, USGA and R&A officials are set to meet again this month to discuss the groove proposal, with one industry insider characterizing the ruling bodies as still somewhat apart. "The USGA is ready to go, but the R&A believes the proposed rule is trying to do too much," said the source.
Comments sent to the USGA from manufacturers regarding the proposal -- and obtained by Golf World -- reveal some consistent areas of concern. One common suggestion is a trial period where elite professional tours require the proposed configuration for up to five years. Said one manufacturer representative, "This [is a] huge thing to do, and we don't know if it is going to cure the supposed problem. So test it [and] see if you achieve your goal of making hitting fairways more important. If you prove it, then extend it to everybody else."
Manufacturers also say it will be difficult to produce grooves consistently in large quantities that would approach the proposed limits. Still, some clubs now on the market have grooves that conform to the proposed rule, so it's not an impossible task.
The USGA and R&A have given every indication that everything will be considered prior to implementing a rule. "It's been a far more open process than ever before," said Steve McCracken, senior executive VP and chief legal officer for Callaway. But what if after all the dialogue the rule came down exactly as proposed? "That would be very disappointing," McCracken said. "I think the comment period has generated good, interesting comments.
Now the question is will the actions reflect this good input? We'll see."
Indeed, manufacturers already are working on clubs for the 2010 product cycle and need to know under what rules they will be playing. The 2009 Condition of Competition may be off the table, but 2010 isn't that far away. The clock may be moving more slowly now, but it is still ticking.
No one was happier to see Scott Verplank continue to use his old Ping Anser at the EDS Byron Nelson Championship than Ryan Moore. Why? The new Ping Redwood ZB putter Moore used last week in finishing second originally was built for Verplank a few weeks ago, but Verplank gave up on it and gave it back to Ping. When Moore opted for something new, he tried the putter and liked the shorter length (34 inches). He felt it freed up his stroke.
Not surprisingly, players are now trying to emulate Lorena Ochoa, and among them is__Cristie Kerr__. Noting Ochoa had credited Ping for its role in her recent success, the defending U.S. Women's Open champ tested her Rapture driver at the company's Phoenix test center. Turned out it was producing too much spin, and Kerr changed to Ping's lower-spinning G10 driver, a club Kerr said she is hitting, "10 to 15 yards longer." ... Paula Creamer returned to her TaylorMade Rossa Suzuka CGB putter at the Stanford International Pro-Am. ... Might MacGregor be the next stop for the John Daly endorsement train? Daly used a set of custom-made forged blade MacGregor irons at the EDS Byron Nelson Championship.