News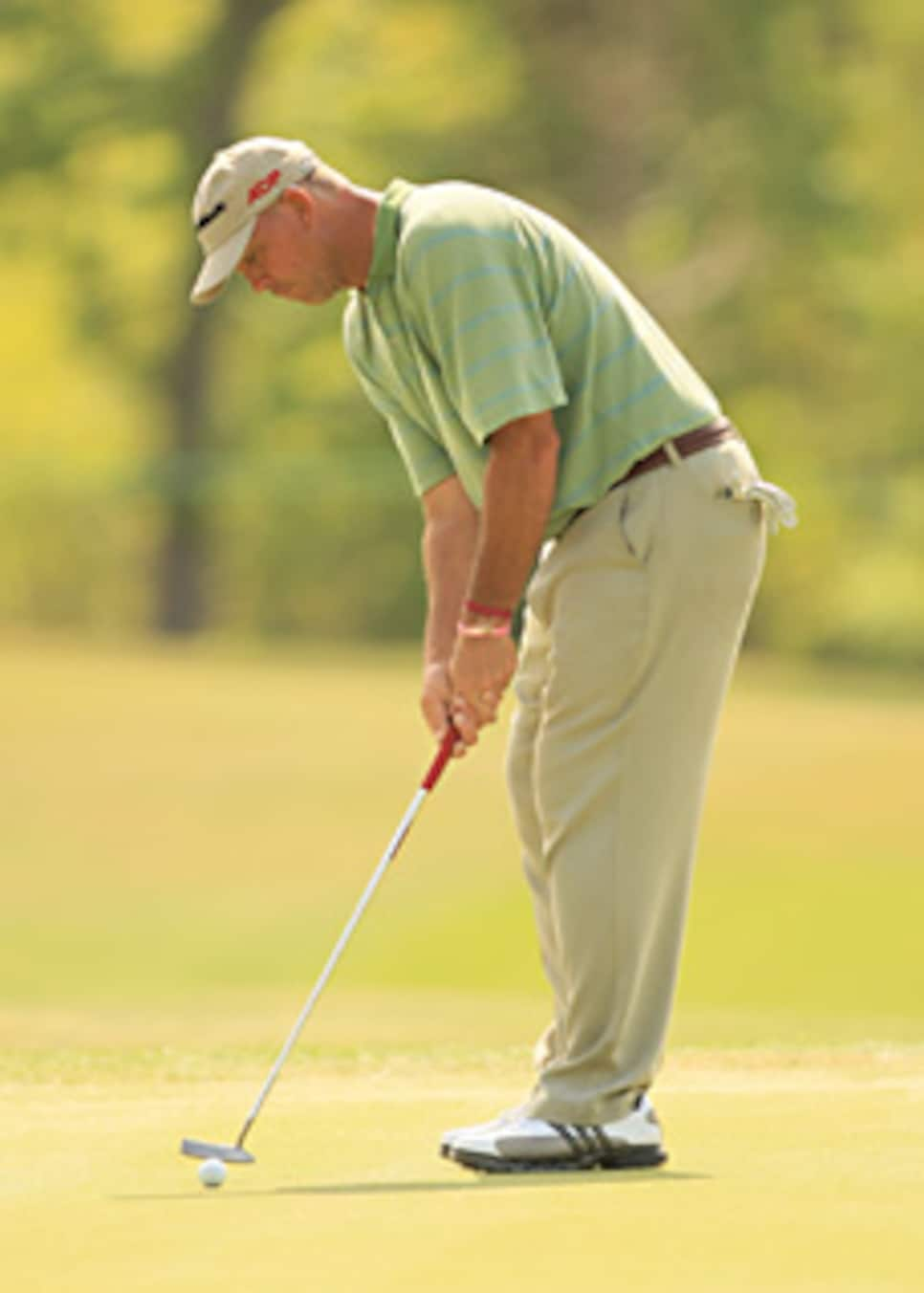 Lehman says a short putter is the path to greatness on the greens.
With the Masters approaching, equipment aficionados may note that no player has won a major championship using a long putter. And judging by a recent trend on the PGA Tour, the odds of that changing may be decreasing all the time.
Last year it was not unusual to see 12 to 20 belly or long putters used on any given week on the big tour. Some of those wielding them were among golf's biggest names, too: Vijay Singh, Retief Goosen, Tom Lehman -- major winners all. But two weeks ago at the WGC-CA Championship just five players had a longer flat stick. Last week at the Zurich Classic of New Orleans only seven did.
That's a noticeable dropoff. Some critics claim longer putters rank somewhere between a crutch and cheating, but it isn't that stigma that's causing the reduction. Players who went back to a regular-length putter did so by accepting the theory that a longer putter can help a player become serviceable on the greens, but not outstanding on them. And these guys don't just want to be good -- they want to be great.
"I can always be an average putter with that long putter," said Tom Lehman, who banished his 45-inch STX broomstick for a 35-inch Scotty Cameron by Titleist Circa 62. "But if I wanted to be a really good putter, I had to go back to the short putter. I don't want to be an average putter. I don't want to be a decent putter. I want to be a great putter. I'm willing to sacrifice a bit of pain in the short term to make myself a great putter."
Such thinking may be what pushed Sergio Garcia to abandon the belly putter he used to nearly win last year's British Open. If Garcia had won, there may have been a run on longer putters. Instead the trend seems to be that players are running away from them.
At Pebble Beach, Singh said he had been working with the short putter in an effort to "feel a good stroke every time I'm out there." Three weeks ago at Bay Hill, he indicated progress was being made.
"It just started flowing, and I started making a lot of putts," said Singh. But old habits die hard, and Singh returned to the belly at Doral, where he finished second. But despite Singh's reverting to the belly, the trend clearly is going away from longer putters. It has been nearly 20 years since long putters were allowed under the rules, and USGA Executive Director David Fay told Golf World at the time, "Putting is a very individualized art form. To inhibit a golfer's individual style would take some of the fun out of the game."
Now it appears tour players have decided they can have plenty of fun -- and success -- without the long putter.
Nationwide Tour players David Mathis and Geoffrey Sisk each put Nickent's adjustable-shaft 4DX Evolver driver in play at last week's Chitimacha Louisiana Open. Mathis' bag held several shafts during practice and begs the question: Can a player carry extra shafts in the bag during play without violating the 14-club rule provided he does not change the shaft unless the club breaks during the normal course of play? Currently there is no rule governing this.
Alex Cejka used a Titleist rental clubs for his final-round 71 at the Zurich Classic that included borrowing a putter from the club's head professional. By the way, the bag listed below is not a typo -- it only had 13 clubs. Ball: Callaway Tour i. Driver: Titleist 905R, 9.5 degrees. 3-wood: Titleist 906 F2, 15 degrees. Hybrid club: Titleist 585H (19 degrees). Irons (3-PW): Titleist 755. Wedge: Titleist Vokey (56 degrees). Putter: Scotty Cameron by Titleist Studio Style Newport.
After inking a deal with Singha beer, Stacy Prammanasudh and her equipment sponsor, Ping, parted ways. Ping's company policy does not allow alcohol-related logos on its tour bags. At the Safeway International Prammanasudh used Tour Edge irons and TaylorMade wedges and putter. ... Woody Austin had a strong week in New Orleans despite his final-hole meltdown, finishing T-4, while using a Scotty Cameron by Titleist Fastback prototype putter. The tour-only midsize mallet has a stepless shaft, a feature Cameron has incorporated on his recent prototypes. ... Mike Weir finally put TaylorMade's Tour Burner driver in play. The reason for the delay? The left-handed version of the club just made the USGA's Conforming Driver list.