News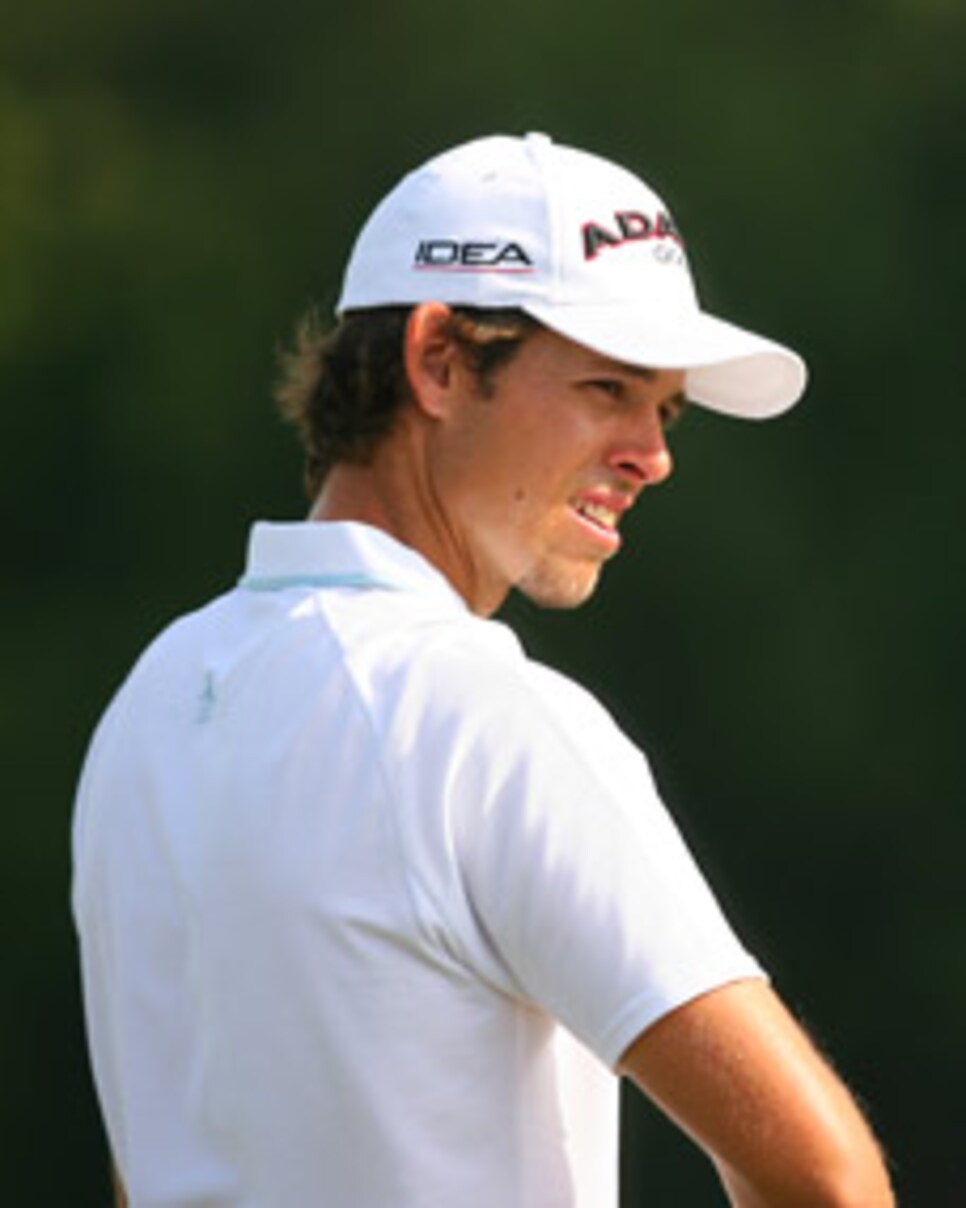 A proponent of the stack-and-tilt swing, Baddeley has climbed into the top 20 on the World Ranking.
The scrawny teenager who won back-to-back Australian Opens is all grown up now, clearly none the worse for wear, which in his case could mean a pair of plaid slacks and a neon-bright piqué. Thanks to an audacious sense of style and a career colored in sharp contrasts, Aaron Baddeley has never blended into the woodwork. Long before Sergio Garcia broke out the orange pants or Adam Scott took on the hairdo of a Civil War general, Badds had his own website and a couple of national championships in his homeland.
Eight years have passed since the second of those titles, and it is fair to say it has not all been time well spent. Baddeley, 27, floundered for the first two-thirds of that stretch in pro golf's mechanical abyss, failing to earn his PGA Tour card until he had played in the United States for almost three years, then treading water on the back end of the top 125 for three more. If not for his remarkable ability to hole putts, not enough of them for birdies, Badds might have become the Young Gun All Done.
"At age 18 he was the best ball-striker I'd ever seen," says fellow Aussie Geoff Ogilvy, who has known Baddeley since they competed in the Victorian Amateur in the mid-1990s. "I played with him in the first two rounds the first time he won the Australian Open -- he could hit it high or low, draw it or fade it. He was 100 percent a complete golfer, and then, at some point, he lost that."
When Baddeley arrives at Augusta National next week for his fourth Masters, it will be as one of the game's most underrated and overlooked reclamation projects. His commitment to the stack-and-tilt swing method taught by Mike Bennett and Andy Plummer, which began in late 2005, has fully transformed a guy whose low-right miss with the driver had become his signature shot, whose accuracy statistics were so awful at the start of his pro career that it was easy to figure he had peaked before his 20th birthday.
In March 2000, less than four months after winning his first Australian Open crown, Baddeley made his first PGA Tour start at the Honda Classic. He finished T-57, then missed 15 of his next 17 cuts -- eight straight as an amateur in 2000, then seven of nine as a pro in 2001. He spent most of '02 on the Nationwide Tour. It all serves as reference to how unprepared he was for the big leagues, how erratic his game actually was, although reality can be much easier to see in retrospect.
"To be honest, I didn't feel that way," Baddeley says. "I definitely felt like I could compete here. Still, it always seemed like I was on a knife's edge. If I hit it well, I could win. If I didn't, I'd finish in the back of the pack."
If the same could be said about 99 percent of tour pros, the difference between Baddeley's good and bad was much greater than that of his peers. Unlike Garcia, Scott or Charles Howell III, gifted young tee-to-green types whose inability to threaten Tiger Woods' supremacy is often blamed on inconsistent putting, Baddeley has ranked in the top 15 in strokes per GIR every year but one since 2003.
He has led the tour in fewest putts per round twice during that stretch, finishing fourth two other times, which isn't all that surprising because he missed so many greens, but there was a certain pity to Baddeley's plight. If he could putt Garcia's ball, we might have that under-30 rival to Tiger we've been waiting on for a decade.
"The way he played was hard work," says Anthony Knight, Badds' caddie on and off since late 2002. "When he was ­driving it in the fairway, he was shooting 65 or 66. When he wasn't, it was 72 or 74. He was getting by on natural ability without the technical efficiency."
Enough was enough, at least for the first time, about a year after Baddeley came to the U.S. He checked into the David Leadbetter Academy to see if the renowned swing surgeon could help him find more short grass, a relationship that lasted for more than three years. The two got a lot done during their time together: Badds finished 10th on the Nationwide money list in '02, earning full-time status on the big tour, and in his first start with a card, lost a playoff to Ernie Els at the Sony Open.
He would finish sixth at Bay Hill and fifth at the Valero Texas Open, collecting almost $1 million in earnings, good for 73rd on the 2003 gravy train. In '04, however, Badds managed to miss the top 180 in both fairways hit and greens in regulation. After a solo second at the opposite-field event in Tucson, he didn't finish in the top 20 in his last 21 starts. Badds needed to make the cut at the final event of the season to keep his card, which he did.
"I had a good stretch there, but I was never consistent," Baddeley says, which is one way of viewing a problem that wasn't all that complicated. Internationally, particularly back in Australia, Baddeley could play from the rough because it wasn't as penal as the heartier grass in America. At the game's highest level, it didn't matter how many putts he made if 12 of them were for par every time.
"He has that Tiger-like mentality, as if he always needs to have something to work on," Ogilvy theorizes. "It's like he has to set himself a challenge, something difficult. Aaron is very dedicated, a hard worker. Maybe he started losing it when he first turned pro [the month before his second Australian Open triumph in November 2000]. He came over here and struggled, grabbed something completely new and that turned out not to be him. Now he's grabbed a whole new thing again, and he seems to be making that work."
This whole new thing took a year, after Baddeley had puttered through another so-so season (five top-10s) in '05. Perhaps it was his willingness to think outside the box that led him to Bennett and Plummer, who were still cult figures in the instruction business 27½ years ago. Perhaps the Two-Hit Wonder from Down Under was getting a little desperate.
Photo: Kevin Cox/PGA Tour
"I remember the first time we talked on the phone," Plummer says. "He told me, 'I think my swing is pretty good. I don't need many changes.' I told him, 'Aaron, your swing may look nice to someone causally walking by, but I think it needs quite a bit of work.' I think he'd reached a point where he'd bottomed out and had to get some help but didn't know where to go."
Their first meeting lasted six hours. Not a single golf ball was struck. "Here's a renowned phenom working with one of the world's most renowned teachers, and he's only getting worse," Plummer adds. "He told me there were times when he felt like not playing anymore, it had gotten so frustrating."
For all the tenets that comprise the stack-and-tilt philosophy, the functions designed to eliminate lateral movement are among the most crucial. With more body weight positioned forward of center than in a conventional setup, plus the lowering of the left shoulder during the backswing, Bennett and Plummer have devised a method that encourages rotation without bobbing, swaying or lifting. Baddeley did not need a translator to comprehend the premise.
"To me, it totally made sense," he says. "If you want to have your chin directly over the ball at impact, why would you begin the swing with it six inches or even a foot behind the ball? It might as well start there. A couple of things they said just ­instantly clicked, and I found myself wondering why you wouldn't do some of the things they were talking about. As soon as I started working on it, I had instant feedback, improved right away."
Nothing since has led Baddeley to believe he made a mistake. In his return to the Australian Open that winter, a T-5 felt as good as the two victories, which seemed like a lifetime ago. In April 2006, Badds held off Jim Furyk at Harbour Town to claim his first victory in the U.S. A T-7 at TPC Boston, one of the more demanding ball-striking venues on the schedule, was his only other top-10, but Baddeley had turned a corner. This time there were no demons waiting for him.
"I knew he had gone to the stack-and-tilt but was confused because I didn't know enough about it," says Knight, who continues to share Badds' bag with Pete Bender. "Then I saw him play, and it was unbelievable -- I'd never seen him in so much control compared to what I was used to. He was a completely transformed golfer, the same car with a different engine."
Of the dozen or so tour pros Bennett and Plummer call serious clients, Baddeley is the most successful, if not the S&T poster boy. "There are still a few [old problems] from time to time that resurface," Plummer admits. "His shaft still rises a bit coming through the ball. His left wrist flexes toward the palm and he delofts the club, which causes a low miss to the right."
The proof is still in the putting, as some of Badds' ­ball-striking numbers remain rather gruesome. In 2007, for instance, he ranked 188th in GIR and found the right rough off the tee more than any top 100 player on tour. In total ball-striking, Baddeley was 169th. From off the fairway, he hit the green just 42.7 percent of the time. "His short game is light years ahead of where it was even three years ago," Ogilvy assesses. "If he ever gets [his long game] back to the level it was in 1999, it will be stupid how good he'll be."
As errant as he can still be from tee to green, Baddeley continues to take career-altering strides in the right direction. He held the 54-hole lead at last year's U.S. Open, earning him a spot in the final group alongside Woods, who began Sunday two strokes back. Badds' bid probably should have ended with the train wreck he suffered on Oakmont's par-4 first -- he had an eight-footer for bogey, ran it four feet past, then missed the comebacker -- but on the seventh tee, he still claimed a share of the lead.
Oakmont was a brute, but you can't close with an 80 and hoist the hardware. "Everyone talks about that like I'm not over it, or whatever," Baddeley will tell you. "I just shake my head every time, seriously, because I was over it by the time I got on the plane to fly home."
He also credited his faith with helping him handle that final-round lapse. Regardless of how you feel about overtly religious types such as Baddeley, there is something about the kid that resonates from a competitive standpoint, a self-assuredness that is neither manufactured nor cocky. Garcia clearly doesn't have it, and Scott may never find the optimum balance between inner fire and exterior cool. In his first Australian Open victory, Baddeley beat Greg Norman and Colin Montgomerie, then vanquished Robert Allenby in the sequel. In neither final round was he particularly sharp, yet he found a way to beat premium players.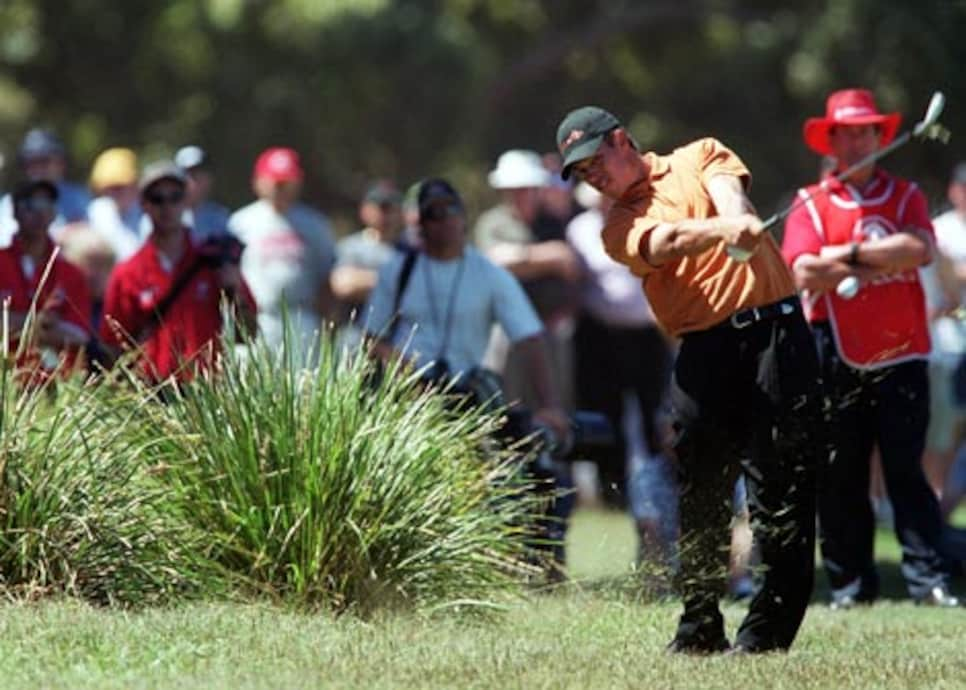 Baddeley's official breakthrough season occurred last year. He piled up $3,441,119 in earnings, finished 10th in the FedEx Cup standings and had back-to-back top-fives in playoff events in Boston and Chicago. Back in February he scooped up Jeff Quinney's apparent victory in Phoenix and turned it into his second tour triumph, then picked up top-10s in starts against some premier fields: T-6 at Doral, T-9 at both the Memorial and WGC-Accenture Match Play.
Two months ago in Tucson, Badds clawed at Woods for 20 holes in the third round of the match play, missing several makable opportunities that would have sent Tiger home. To watch Baddeley on that overcast afternoon was to see a player who can now reach medium-length par 5s with an iron, who hits the ball high and hard, and can shape shots on a fairly consistent basis.
If you're looking for a sleeper next week, you can do much worse than to play a hunch on the Young Gun on a Run. Like a number of the Australian tour pros, Baddeley used to wake up in the middle of the night as a kid and watch the best little golf tournament on earth, videotape the telecast, then watch it over and over. "I can tell you about every Masters since 1994," Badds says. "Who won, who contended, even what people were wearing. Like, in '94, [José Maria] Olazábal beat [Tom] Lehman, who had on white pants and a light-blue shirt."
So Badds knows his clothes. A green jacket wouldn't be the craziest thing in his closet.