News
King High's starting four -- (clockwise from back left) Reid, Pearce, Koch and Hawke -- at a recent reunion near Tampa's Temple Terrace G&CC, where the team played its home matches.
An old newspaper clipping made its way onto a bulletin board in the clubhouse at Temple Terrace G&CC near Tampa recently, its fraying edges the first clue to headlines made long ago. Sweet memories, for sure, but few around the club could ever forget the exploits of an upstart foursome that may be the best high school golf team of all time.
The old article, of course, said nothing of the sort about the 1969 King High Lions, whose four most prominent members still have a link to the course, designed in 1921 by noted architect Tom Bendelow. Such superlatives were not necessary because it was obvious how special this group was in an undefeated season that saw them win the Florida high school title and set a team scoring record that stood for 30 years.
"At the time we just thought we were really good and kind of had that attitude about it," says Gary Koch, 55, a six-time PGA Tour winner who now is a golf analyst for NBC. "I'm sure we were probably a little on the cocky side, as most 16-, 17-, 18-year-olds would be. When we went to the state high school tournament, we went with the assumption we would win. You look back on it as you get older, and you tend to appreciate things more. You understand it was not a given."
Koch, who plays occasionally on the Champions Tour when he is not broadcasting, lives in Tampa and is an honorary member at Temple Terrace, where his parents moved to a home on the 11th hole before his junior year at King. He plays several rounds a year with old teammates Brian Hawke and Phillip Reid, who are members at the course where they honed their skills four decades ago.
The fourth member of the Lions team, Eddie Pearce, generally was regarded as the most talented of the bunch. A longtime Tampa-area resident, Pearce now lives in Knoxville, Tenn., where he is the general sales manager for Reeder Chevrolet, his "customer golf" far removed from his world-beating potential as a teenager.
"Pearce was the 'Golden Boy,' " says Reid, 55. "There were pictures of him with Jack Nicklaus. He was the one who was going to be everything. Gary was the worker. I bet in high school he didn't weigh 140 pounds. We could all hit it farther than him, but once he got near the greens he was a wizard. They made everybody better because you had to improve to play with them. They both made each other better. Eddie had the most talent; Gary had the most bulldog in him."
Koch lived in Sarasota for his first two years of high school until his father wearied of a long commute to Tampa for his engineering company. So the family moved, although Koch and Pearce were no strangers. By that point, they were nationally prominent junior players, having competed the summer prior at the 1968 U.S. Junior at The Country Club in Brookline, Mass., where Koch was medalist and Pearce won the title.
"I knew Eddie and Phil and Brian, and when we knew we were going to move to Tampa [I thought] we might as well move to Temple Terrace," says Koch. "There was plenty of good competition, and Temple Terrace had a good reputation."
The Florida prep golf season was contested in the spring (matches are now played in the fall), and it became clear King High had quite a formidable team. "I don't remember who we played, but it was my very first match there," Koch recalls. "Our home course was Temple Terrace, and the four [nine-hole] scores for our team were 31, 32, 33, 34. I had 31, Eddie 32, Brian 33 and Phillip 34. There are pros who wouldn't shoot those scores out there."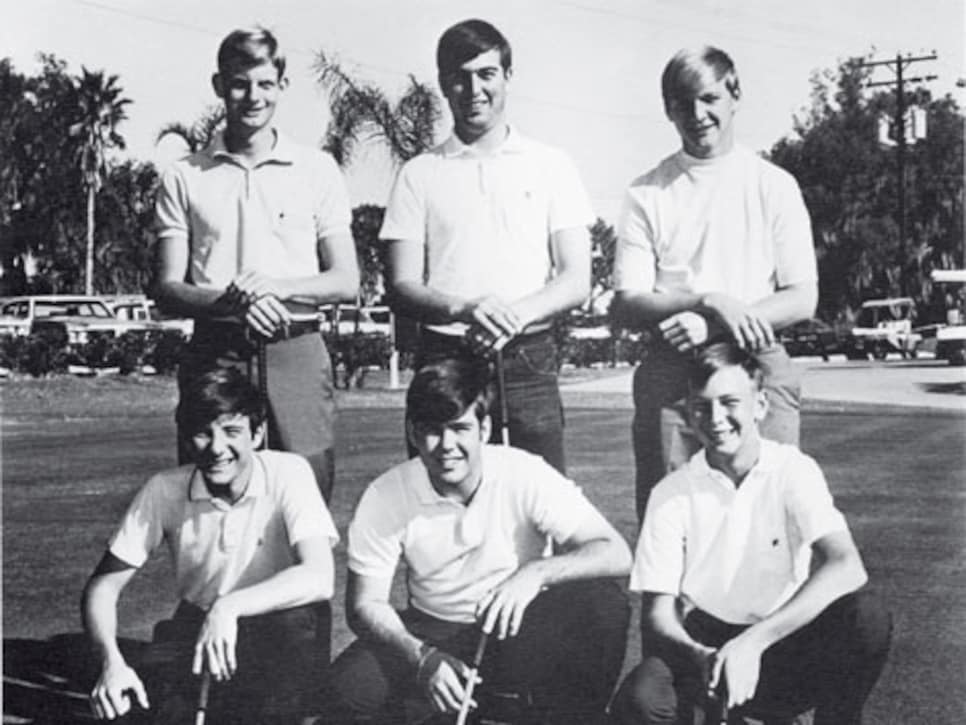 Teenagers being teenagers, it wasn't all golf, all the time but the team's passion for the game kept them occupied for the most part. "We tried to misbehave if we could, but nothing we ever got in any trouble for," says Reid, whose daughter, Kimberly, later became a four-year letter-winner on the King High girls' team. "We never pushed it too far. We just liked golf."
After dominating their opponents in the regular season, King headed to the state tournament at Port St. Lucie G&CC across the state in Fort Pierce. And while King was a prohibitive favorite, nothing is ever guaranteed. "There was pressure, probably more so on Phil and myself," says the 57-year-old Hawke. "We hadn't played as many tournaments as Gary and Eddie, who had played a lot of junior golf, done a lot of traveling. We had never lost a match at home, and we were pretty confident. We went through all of the districts and conference championships. But when you have four people and four scores, it's never easy."
Despite their talent, the Lions -- and every other team -- had no margin for error at the state championship. Today five golfers play and four scores count each round. Back then, four played and all counted.
King typically had six to eight players on its roster, and only occasionally could anyone other than Pearce, Koch, Hawke or Reid crack the lineup. Pax Barnett, a property investor/manager who now lives in St. Petersburg, and David Patterson, who resides in Dunwoody, Ga., and works for the Southern Company, were the next two in line, but they rarely competed in matches.
"The nice thing was that we would caddie for the four who were playing," says Barnett. "We got to see what was going on, help them read putts. We had a lot of fun. Of course, we all wanted to play, but I don't remember it being cutthroat. We enjoyed it."
He did remember, however, when he and Patterson wondered if they might get pressed into duty at the 36-hole state tournament.
"Gary almost did not play," Barnett recalls. "I remember when we got to Port St. Lucie, we were staying in this villa. And for some reason, Gary was trying to hide from somebody, and we helped him get up in the top of a hall closet. And when he was getting down, he slipped and his elbow hit the floor. We thought he had broken his elbow.
"We weren't going to say anything to anybody until we knew more, and he was in some pain there for awhile," Barnett says. "I remember we were thinking, 'How stupid can we be?' "
The injury didn't affect Koch's game. He opened the tournament with a 70. Reid led with a three-under-par 69, followed by Koch and Pearce, who also shot 70. Hawke had a 75. In the second round, Koch shot another 70 to win the individual title at 140. Pearce tied for second with a 72, but won a playoff to earn runner-up honors. Reid's 79 gave him 148, and Hawke had a second-round 74 for 149.
The Lions' team score was 579, 10 strokes better than Plantation High. It remained a state record until 1999, when Bradenton Academy (now Bradenton Prep Academy) shot 578. Current PGA Tour player Sean O'Hair was a member of that team. By then, schools were divided into classes determined by enrollment, and Bradenton Preparatory Academy was a 4A school in a six-class system. (Since then, Bradenton's total has been bettered seven times in the various classes, the lowest a 568 by Lake Mary in 2006.)
Hawke graduated in 1969, but the other three players returned to win the state title again in 1970. Reid went to Florida State, where he played on the golf team for two years. A CPA, Reid has a Tampa accounting firm and possesses a 4-handicap at Temple Terrace.
Hawke played golf at South Florida for four years on what was at the time a highly competitive Division II team. He then went into the family car business -- for which Pearce worked for a time -- and is now semi-retired and sporting a plus-1 handicap.
Koch went to Florida, where he played on the Gators' 1973 national title team and was a first-team All-American from 1972-74. His best season on the PGA Tour was 1984, when he won twice and finished 17th on the money list.
Pearce earned a scholarship to Wake Forest, where he stayed for just two years, turning pro in 1972 after playing with Nicklaus at the Masters. He had four runner-up finishes on the PGA Tour but never won, his best year coming in 1974 when he earned slightly more than $55,000 to rank 44th on the money list. "If he could have putted like Gary Koch, things would have been different for Eddie," Barnett says.
By 1980 Pearce was off the PGA Tour fulltime and toiling on the mini-tours when he walked out of an Orlando bar, tripped and broke his arm. Earlier that day, Pearce had shot 68 -- and it turned out to be his last competitive round for more than a decade. "I had to completely get away from it," he says.
Remarkably, at age 40, Pearce made it through PGA Tour Q school in 1992, after having only begun playing seriously again two years prior. Pearce, who didn't keep his card in 1993, tried to qualify for the Champions Tour when he turned 50, but was unsuccessful.
"That's when I surrendered," Pearce says. "Those guys coming off the tour were too good, and it had been a long time since I played competitively. I gave it my best shot."
Pearce, 56, got into the car business when his golf career stalled, and now rarely plays. "Maybe twice a month," he says. "I'll play decent once in awhile, but I don't hit it near as far as I used to."
Games rust and clippings fade, but for Pearce, the camaraderie and friendship of his King days haven't been forgotten. "We just played golf every day together," he says. "We'd have our little matches. We'd play for a dollar or whatever it was. And then we'd hit balls. It wasn't like a competition. We'd play two-man team, individual bets, putt until it was dark. Golf back then was fun."