News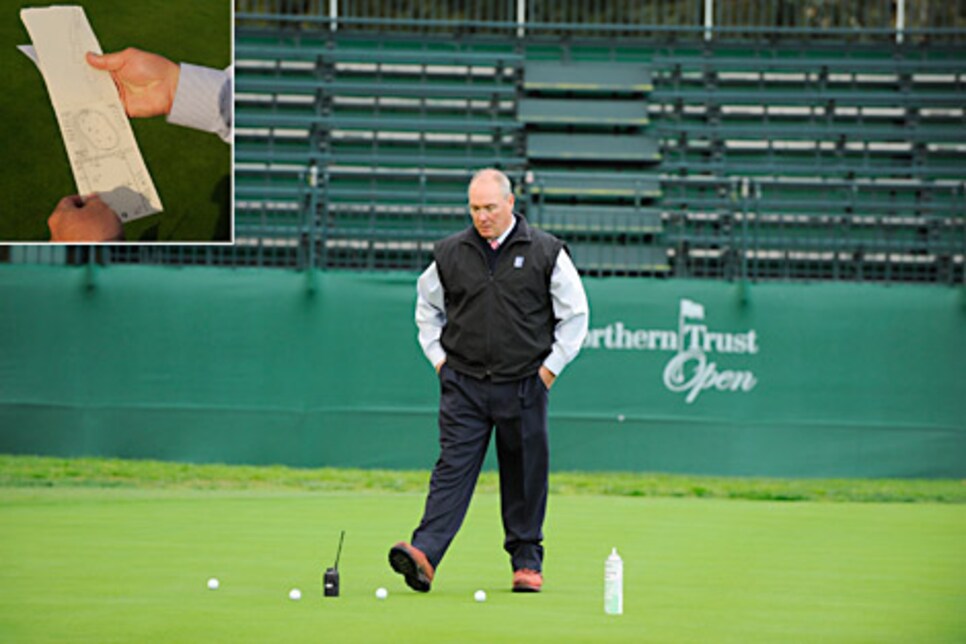 Attention to detail: Mutch checks out a Riviera CC green at the Northern Trust Open.
To J.B. Holmes, one of the longest hitters in the game, too many PGA Tour course setups discriminate against players like him. "You get on some courses, and it takes the driver out of your hands," Holmes says of fairways that narrow past the 300-yard point. "I'd like to see [more courses] opened up a little bit."
Bob Tway, who ranks 134th in driving distance, disagrees. "On most tour courses," says the 48-year-old, eight-time winner, "you have 25 yards of fairway, then you have a bunker, but if you can carry it 320 yards, [the landing area] widens to 45 yards." Two rational, soft-spoken pros. Two diametrically opposed views about course setups. "We have 250 guys out here, and maybe we're all a little bit selfish," admits Steve Flesch, a 10-year veteran and member of the tour's Player Advisory Council (PAC). Selfish perhaps, but considering the effect on their livelihood, it is understandable why the hundreds of course-setup decisions PGA Tour tournament officials make weekly are scrutinized by the players—not to mention sponsors, television partners and host venues aware of the impact on their sizable investments.
Throw in dramatic technological and agronomic advances that have transformed the game recently—the tour driving-distance average was 289.1 yards in 2007, nearly a 22-yard increase from 1997—and the art of preparing a tour layout has never been more complicated. "Course setup has been discussed almost as much as pace of play," Joe Durant says of his recent stint on the PGA Tour Policy Board. "Of course, the two are intertwined. The push is to play faster and yet everything we do out here makes things slower—longer courses, more rough and tucked pins."
The tour's tournament officials, a roving band of 16 rules experts best known to spectators for monitoring play from a golf cart until summoned to intervene in a ruling, annually manage more than 40 events.Two primary tournament directors, Mark Russell and Slugger White, split duties week-to-week overseeing rotating teams of officials who handle advance planning, player relations, course preparation and rules officiating.
"You think baseball umpires are worrying about where the players' wives park?" Russell says, smiling when it is pointed out how many duties the staff deals with in addition to course setup.
Russell and White determine duty rotations that are changed every few years to keep the officials fresh. An advance man is designated for each event, visiting at least once several months prior to arriving more than a week before play starts. He handles tasks ranging from painting hazard lines to making sure the media center is ready to go. The advance man also ensures that months of preparatory visits conducted by the tour's 11-person agronomy staff match the planned-for green speeds, bunker-sand depth and rough heights. At tournament's end he files a report with suggested adjustments from the officials, including proposed changes to fairway contours.
By Monday afternoon preceding a traditional 72-hole event, the remaining field staff of seven arrives to begin final preparation. Supervision of hole and tee placement is split with one official per nine holes. They scout their four best hole locations Tuesday morning, then meet that afternoon with the tournament director to spell out their strategy. The flow of each day's setup is coordinated to make sure they are not presenting a test favoring an abundance of, for example, holes tucked in the right corner of greens that reward a high fade.
Throughout the process, executives at PGA Tour headquarters in Ponte Vedra Beach, Fla., remain intentionally out of the loop. "It's not really their deal—they're not out here," says Russell, who has worked for the tour since 1980. "Just like I'm not trying to find a sponsor in Tampa, they realize setup is our expertise."
The relationship between the unionized officials and the tour administration has been marked by labor-relations tension dating to the Deane Beman era, with the friction culminating in a lawsuit rules officials filed in 2003 disputing overtime-pay eligibility. The officials lost the case in a 2006 trial.
Course setup-related communication between players and tournament officials also is a bit murky. For several years players could fill out weekly surveys, but few took the time. "It was accomplishing nothing," says Russell, who has an open trailer-door policy, something many veterans noted when complimenting the field staff. Players also can talk to player-relations liaison Sid Wilson, who typically mingles on the range and in the locker room before a tournament begins. "If it's about course setup, Sid will write something in his notebook and then say, 'Go talk to Steve Wenzloff,' " says PAC member Geoff Ogilvy.
Wenzloff is the tour's "design services" specialist who sits on a newly formed advisory committee that will monitor course-setup issues. The committee includes Russell and White; consultant Phil Blackmar, a three-time tour winner; tour chief of operations Henry Hughes; and recently hired competitions director Tyler Dennis, who will serve as a Ponte Vedra Beach-based voice for the field staff.

In a Golf World survey of more than 30 players, pros consistently agreed with the possible elimination of U-style grooves as proposed by the USGA and R&A, especially if it would lead to reduction in the height and thickness of rough.
"I did some testing for the USGA, and there is a noticeable difference, particularly the tendency to catch the occasional flier," says Joe Durant. "I would love to see that return as an element to give us a chance to take some of the rough down, like we saw at Pinehurst's '99 Open. It creates more strategy and more interesting internal debate, and therefore, more interesting golf."
Mark Russell believes a groove-rule change would lead to a course-setup shift. "If you have rough where all a player can do is chop it out, he is going to pitch it out, have a short iron in, and the worst he's going to make is bogey. But quite often he'll make par. If you give him a situation where he can get 6-iron on the ball and it comes out red hot, then you bring all sorts of other scores into it. That's more interesting and better for spectating."
The committee will analyze a yearly survey filled out by players, work with courses contemplating changes and consider set-up dilemmas. While committee members will report to commissioner Tim Finchem, they also will communicate with players via the tour's "Green Sheet" memorandum, a regular e-mail about tournament-related issues from lodging options to course conditioning.
Arron Oberholser reads the green sheet religiously and like many players has become frustrated that the words don't match what he finds on the course. "Don't tell me in the green sheet that the rough is three inches, when it's higher than that. I'm a little biased because I broke my wrist in some of this stuff," says Oberholser, who was injured playing a shot on the 18th hole at the 2007 EDS Byron Nelson Championship. "But why do we insist on growing the rough up at PGA Tour events, sometimes over five inches?"
What Oberholser won't find in the green sheet is an explanation of why there has been a noticeable increase in the height and thickness of rough during the last five years. While players consistently compliment tournament officials and recognize the difficulty of their jobs, some remain convinced there has been pressure from tour headquarters to tuck pins, narrow fairways and grow longer rough starting about 2003 after Vijay Singh publicly criticized easy setups.
"The rough was never this deep week in and week out," Mark Calcavecchia says. "I think the pin placements have gotten tougher over the years. Obviously, we're playing courses longer than we ever have. They're trying to combat technology a little bit with course conditions and setups."
Complaints boiled over last summer when the WGC-Bridgestone Invitational at Firestone CC featured ultra-thick bluegrass rough. And new tees at the eighth and ninth holes made it hard to even reach the fairway. "The course setup there was probably the worst we saw all [of 2007]," contends Ogilvy. "Not only was the course really narrow, the rough was ridiculously thick—injury thick."
Russell was tournament director at Firestone and says that even though weather played a role in the density of the rough and difficulty of the new tees, the tour has taken steps to make sure it will not happen again. When asked to summarize the field staff's philosophy, Russell frequently cites a "fair in capital letters" mantra. He acknowledges that setups have been strengthened in recent years to keep up with changes in the game.
The tour didn't start documenting fairway width until 2003, so specific comparisons aren't available, but generally they have narrowed to about 25 to 30 yards from 30 to 40 yards two decades ago. This is combined with longer layouts and hole locations often closer to the edge of the green.
Scoring has remained remarkably stable. The tour average was 71.41 in 1988 and 71.09 in 2007 (down from 71.32 in 2006, by far the largest one-year change in the period). Since 1992, according to ShotLink, players hitting a fairway have made par an average of nearly 70 percent of the time while posting under-par scores about 18 percent of the time. The frequency of missed fairways has remained steady through the period at slightly less than 60 percent securing a par, with an average of nine percent making birdie.
Several players note that suspicions of narrowed landing areas seemingly were validated by 2007 driving-accuracy leader José Coceres' 75.5 percent average, the lowest by a category leader since the tour began keeping detailed statistics in 1983. Also in 2007 Tiger Woods led the tour with 4.03 birdies per round, the lowest total since Joe Ozaki led in 1995 (4.02). The tour player average of 3.28 birdies per round in 2007 marked the seventh year in a row of declining red numbers—which can be music to the ears of club members who want to brag about how tough their course is.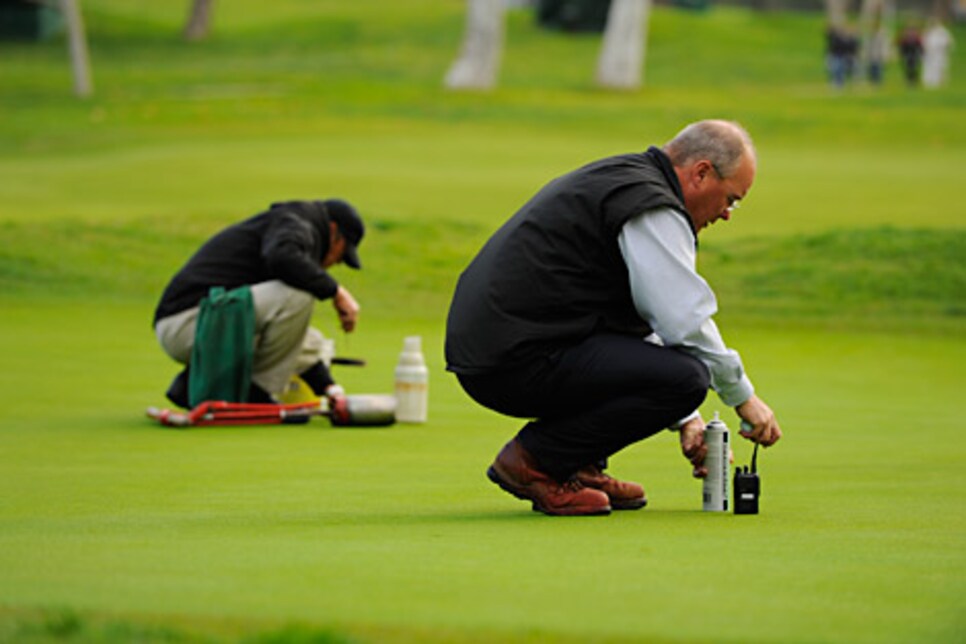 "The problem is, people don't want to see us come to their course and rip it apart," says Jeff Sluman, a former policy- board member. "It's always been that way. They want to tell their buddies that they belong to the toughest course, and the pros never tamed it." Russell, who says the idea of using setup to try to embarrass players is "pitiful," is cognizant of a festering mindset at many courses that places a burden on the rules staff and leads to the players' most consistent complaint: utilizing new back tees even if they ruin the strategy of the hole.
Thanks to stronger contractual language with host clubs and the new advisory committee, Russell is confident the tour will have greater control over course setups. "Architects and the setup guys need to tell members at these courses to take a flying leap where they get carried away," says Oberholser. "Who cares if 10 to 15 under wins?"
The rules staff agrees with players on the issue of new tees since they are the ones feeling the heat from superintendents and course regulars to explain when new tees aren't utilized. "Often we'll hear them out, but ultimately it's about creating variety and balance," says John Mutch Jr., a nine-year rules official who handles about nine setups a year. An affable but intense planner who charts ideal hole locations in an intricate graph tucked neatly into his swollen yardage book, Mutch is obsessed with creating a proportioned blend of tee and hole locations.
"Thursday and Friday, we try to keep the tees the same for the early and late guys, and look to avoid situations where play will back up," he says. "Usually on Saturdays I like to give them more chances to score or perhaps drive a par 4, but mostly it's about finding the best four hole locations for the week and constantly trying to create a variety of shots and looks."
On Tuesday of a typical week, Mutch starts out on the last hole of his designated nine, working in reverse order to prevent repeatedly running into a group that could in turn gain an unfair advantage through observation or questioning. Before setting out with his paint can and a sleeve of balls he rolls to potential hole locations, Mutch already has studied the previous year's hole locations, ShotLink data, scoring averages and staff reports.
Upon deciding the four best holes and likely tee locations, he sits down that afternoon to sketch out the four days, looking to avoid a series of repetitive hole placements. Wednesday, Mutch heads out an hour before the first tee time to set the day's tees using his own homemade PVC-pipe aligner to ensure tee markers are set correctly. He will drive the hole to scout all tees, fairways and bunkers to ensure proper preparation by the maintenance staff before pulling up to the green. And he makes sure the next day's hole location works by rolling balls. Once satisfied, he paces it off for the hole-location sheet and finalizes it with a small white dot.
Mutch's meticulous preparation and devotion to setting forth a balanced test is key to his approach. And so is humility. "As soon as your ego gets involved," he says, "you'll get in trouble."
According to Blackmar, who has a keen interest in course design and regularly has offered his opinions to Finchem, the committee will encourage the field staff to get the most out of a course's unique traits. "We don't want cookie-cutter golf," says Blackmar, now playing on the Champions Tour. "We want to ensure that there is variety and that every week is not the same."
Sluman, while noting the competency of the tour officials and the thanklessness of their task, has long advocated using four retired tour golfers with different style games to craft a player-driven vision for tour setups. "I was shot down in a nanosecond," he recalls of when he brought it up in a policy board meeting. "We've been talking about setup for years."
Ogilvy senses that for every young golfer who is just happy to play for $6 million a week no matter how a course is prepared, there are plenty more who are cognizant of how setup affects their games, pace of play and the PGA Tour's image. He speaks for many players who believe the field staff should remain independent of tour executives, yet remains concerned by the trend toward grind-it-out U.S. Open-style setups.
"They seem to think that the higher the winning score, the better the course," says Ogilvy, who would like to see less rough and firmer greens. "It's often boring to play, and it's got to be boring to watch. By no means are they [tournament officials] screwing it up, but I think the objectives set out for them are wrong. They are experts at setting up courses how the tour wants them set up."
Whether the status quo holds or not, the officials are certain of one thing: You cannot please all the people all the time.
The PGA Tour competitions and rules staff consists of two primary tournament directors, a senior rules director, a qualifying tournament director and 12 other officials who rotate assignments weekly. All are required to handle at least two course setups and two advance-week assignments annually.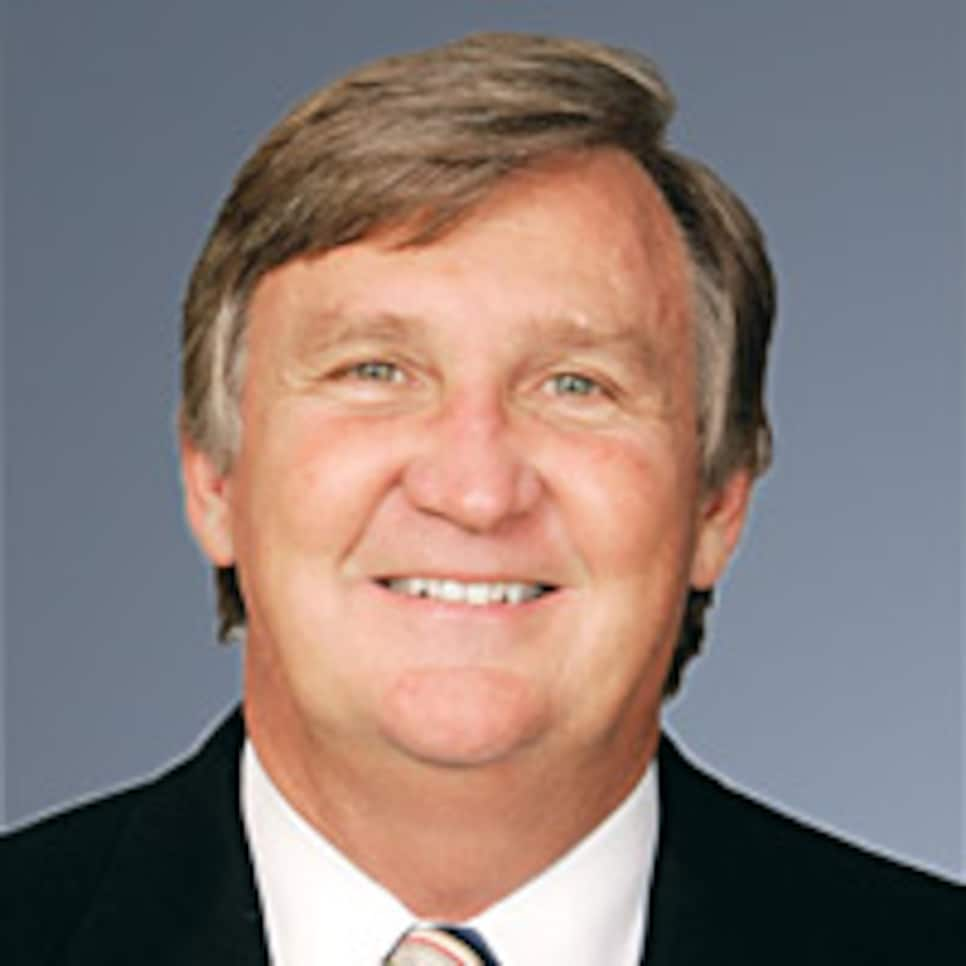 Mark Russell (right, top) (28 years on staff) Native of Kannapolis, N.C., was director of golf at Walt Disney World before joining the tour in 1980. Serves as tournament director 20 times a year, including the Players.
Slugger White (right, bottom) (26 years) Played on the PGA Tour from 1975-81. A resident of Ormond Beach, Fla., he is tournament director of 20 events.
Mike Shea (29 years) Primary expertise in rules of golf, serves as tour's liaison with USGA and R&A. Played the PGA Tour from 1975-78.
Steve Carman (19 years) Supervises Q school and works all three tours, also handles many duties at PGA Tour headquarters.
Mickey Bradley (18 years) Biloxi, Miss., native spent nine years officiating on the Ben Hogan Tour; also a certified golf course superintendent. Handles advance work at the Nissan Open and Deutsche Bank.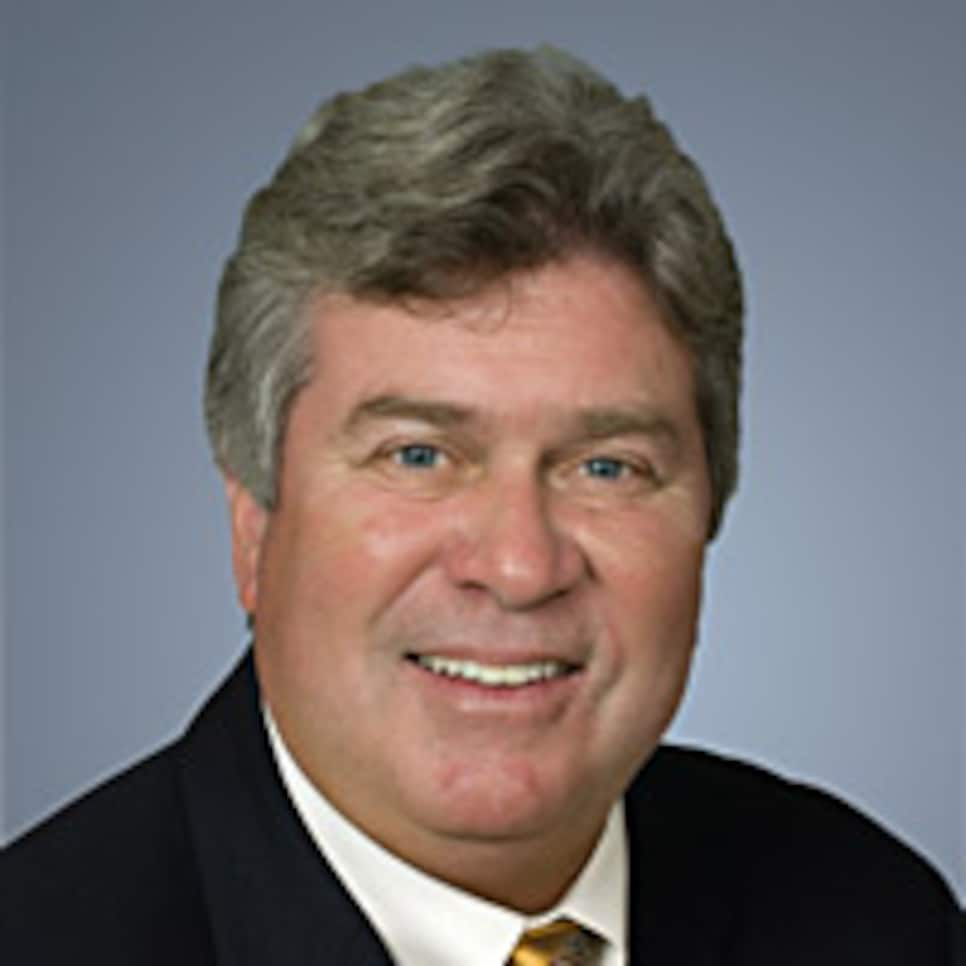 Jon Brendle (18 years) Setups last year included the Memorial and Bay Hill; former Walt Disney World pro.
Mark Dusbabek(Three years) Joined staff after stint with Southern California GA. Played linebacker for six years with the Houston Oilers and Minnesota Vikings.
Brad Fabel (Two years) Made the cut in 232 of 436 starts on the tour from 1984-2005. Handled setups in Canada and New Orleans last season.
Frank Kavanaugh (35 years) Club pro before joining the tour. Handles advance work at several stops.
John Lillvis (Four years) Spent eight years as a rules official with the LPGA Tour; handled setups last year at the FBR and Barclays.
John Mutch Jr. (Nine years) Nazareth, Pa., resident came to the tour from the USGA technical department. Handled nine setups in '07, including Nissan Open and the Players.
Dillard Pruitt (10 years) Won the 1991 Chattanooga Classic and made more than $1 million in tour career; won the 2002 Sunnehanna Amateur 19 years after first winning the event.
Steve Rintoul (10 years) Played the tour from 1994-97 and spent five years officiating on the Nationwide Tour.
Tony Wallin (11 years) Former Wisconsin club pro came to the PGA Tour from the PGA of America.
Robby Ware(Nine years) Joined field staff after serving as director of golf at Houston's Kingwood CC.
Gary Young (Six months) Massachusetts native was an All-American at Bryant College.
When architects Gil Hanse, Jim Wagner and player consultant Brad Faxon revamped the TPC Boston's fourth hole, turning it into a 298-yard, drivable par 4 prior to the 2007 Deutsche Bank Championship, they intended to remove an existing back tee that would have eliminated most players' chances of driving the green. Faxon always suspected that the tour's field staff would use the 340-yard angle at least twice to force lay-up shots and therefore reduce the number of slow- play backups.
Unbeknownst to Hanse, Wagner and Faxon (full disclosure: I co-designed a course with Hanse), marshals told players arriving for Tuesday practice rounds that the field staff had decided to use the back tee twice.
"I made a call from the fourth hole," Davis Love III says. "I knew it would be a mistake to play it back."
Still on the policy board at the time and well aware of Hanse's and Faxon's design intentions, Love phoned tour chief of operations Henry Hughes to suggest that eliminating the temptation to drive the green would be a shame for fans and players.
When Hanse and Faxon accidentally found out from a player questioning the use of the back tee, they too began making their case with tour brass. Faxon made several calls and pleaded with tournament director Mark Russell, while Hanse was at a function and spoke with commissioner Tim Finchem.
After several meetings and a rare course-setup intervention from the commissioner's office, Russell decided to play the tee up all four days.
"We were shuttling them from the third hole in the past and decided to let them walk," Russell says. "That helped space out the groups and let us play it up all week. Their argument was valid, and it worked out nicely."
The first-round pairing of Tiger Woods and Phil Mickelson saw Woods take three shots to get out of the greenside bunker en route to a double-bogey 6 while Mickelson made eagle 2. Woods eagled the hole Saturday.
Here are the most common gripes among players about course setups.
Par-3 tee placement: Numerous players share Henrik Stenson's view: "My biggest concern has been the par 3s getting longer and longer. We're lashing 2- and 3-irons and certainly making plenty of bogeys, but a more interesting setup is to switch it up and play the hole a lot shorter some days and perhaps tuck the hole so that you have the opportunity to take a risk and walk off with birdie or double bogey if you make a poor play."
Lengthening: Veterans and average-length drivers are troubled by the frequent use of newly constructed back tees. Joe Durant: "[The field staff] is usually great at course setup, and they've even said just because [a course has] built a tee doesn't mean we have to play it. The decision should always be ours, not the outside influences like members."
Rough and fairway contours: Players can't relate to the increased thickness and length of rough, particularly around hazards. "Some courses need zero rough," says Jeff Sluman. "Why overseed the rough at TPC Scottsdale? They grow it in and now you can't drive it into the bunkers or desert." Arron Oberholser says of narrowed fairways, "If you've only got one option, it's a lot easier to hit the shot. But it's a lot harder to hit a shot when you have two options and you're second-guessing yourself."
Hole locations: Tom Pernice Jr. thinks the longtime unwritten code of six easy, six medium and six difficult hole locations has "gone out the window. I think they look for relatively flat spots close to the edges." Bob Tway says locations were once five and six paces from the edge, "and now there are a lot of threes and those are marginal threes."