News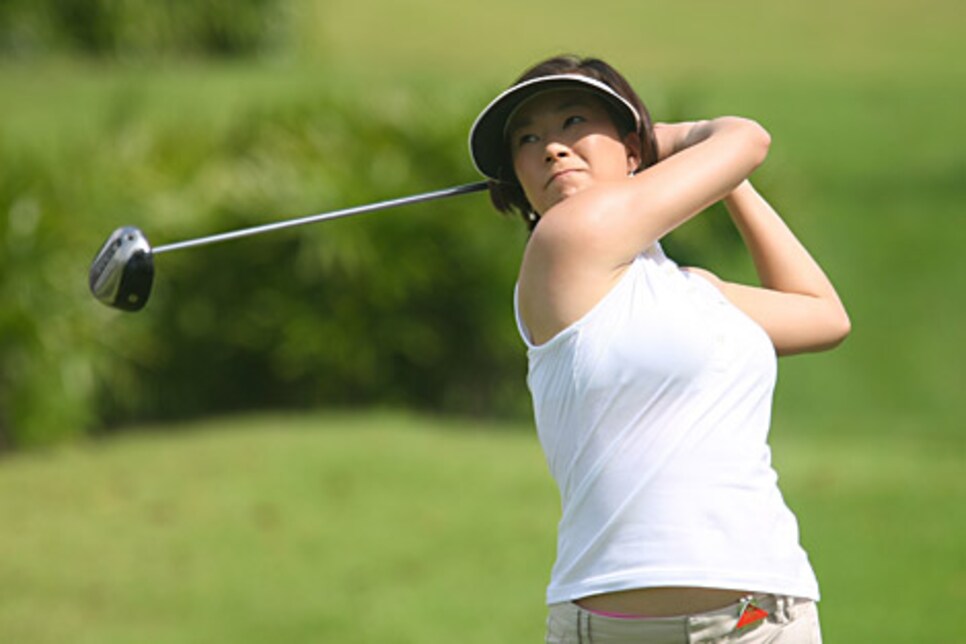 Shi Hyun Ahn has made a name for herself with not-so-noteworthy clubs.
Last week's HSBC Women's Champions event on the LPGA Tour was played in Singapore, bringing an international field and flair to the equipment scene as players vied for one of the most lucrative purses in women's golf using tools not easily found in the U.S. -- if you can find them at all.
OnOff, Grand Prix, Akira, Fourteen and Honma were just a few of the brands stamped on the cavities and soleplates at Tanah Merah CC. And although the influx of Asian players on the LPGA in recent years is no secret, some of the tools they use remain relatively unknown.
Just as American-born players generally are predisposed to gravitate toward brands they are familiar with, Asian players grow up in a function-over-form culture where marketing makes less of an impact and technology rules.
The technology in OnOff clubs has worked just fine for Shi Hyun Ahn and Birdie Kim. Ahn, the 2004 LPGA rookie of the year, has ranked among the top 40 in earnings all of her four years on tour, while Kim (who uses PRGR woods along with OnOff irons) captured the 2005 U.S. Women's Open. Two other players with tour wins, Jin Joo Hong and Jimin Kang, employ Honma clubs. While it doesn't register a blip on the equipment radar in the U.S., Tokyo-based Honma is a powerhouse in Asia and is one of the most-used iron brands on the Japan Tour.
Just when, if ever, these brands find their way to golf shops in the U.S. is unclear. There is precedent, however, as Bridgestone (played by Ai Miyazato) and Srixon (used by Karrie Webb) were little known outside of Japan at the start of this decade, but are now easily found in U.S. golf shops. More recently, a pair of OnOff drivers were brought to market in the U.S.
In addition, clubs from companies familiar to Americans, but also with a strong presence in Asia, often are a precursor of what we eventually will see in the U.S. At the HSBC those hoping for a peek at what Mizuno may be working on needed to look no further than the bag of Akane Iijima. Iijima used the brand's Craft 425 titanium driver and JPX E500 irons -- a forged, deep cavity-back model. Can't wait? You can find the driver and a set of six irons on eBay for about $1,500.
So, how about HSBC champ Lorena Ochoa? Any Asian influence in her bag? Not quite. Ochoa used 14 Ping clubs in her 11-shot romp last week in Singapore, proving that when talking about the international impact on the LPGA's equipment scene, you still can't forget about clubs made in the U.S.
When Lorena Ochoa signed an equipment contract with Ping last year, the company noted that she would use a Ping putter in 2008 instead of the Odyssey Tri-Hot she had been wielding. Sure enough, Ochoa used a Ping Redwood ZB en route to victory at the HSBC Women's Champions last week. The model is one of two new Redwood putters Ping is introducing (the other is named D66). Ochoa's blade boasts a satin finish (shown) while the two production models are black.
Approximately one year after signing with Callaway, Ernie Els has taken advantage of many of the company's new products, using a prototype set of muscleback forged irons and Callaway's Tour ix ball. The adjustable-shaft I-Mix driver he used in Thailand (Tour Talk, Feb. 15) is now on the USGA's conforming driver head list, but is no longer in the bag. Els, at least for the time being, has returned to his square-headed FT-i driver. Ball: Callaway Tour ix. Driver: Callaway FT-i, 8.5 degrees. Strong 4-wood: Callaway X-Tour, 15 degrees. 5-wood: Callaway X, 19 degrees. Irons (3-PW): Callaway prototype. Wedges: Callaway X-Tour (54, 60 degrees). Putter: Odyssey White Hot XG 5.
Luke Donald made a putter change that brought immediate results. Donald used an Odyssey White Hot XG 7 in finishing second at Honda. ... Perhaps Bob Estes noticed Brian Gay's win in Mexico with a mixed set of Mizuno irons. At the PGA National Estes used Mizuno's Fli-Hi 2-iron, MP-57s for the 3- through 6-iron and MP-32s for the 7-iron through PW. Estes did not duplicate Gay's success, however, and missed the Honda cut.