News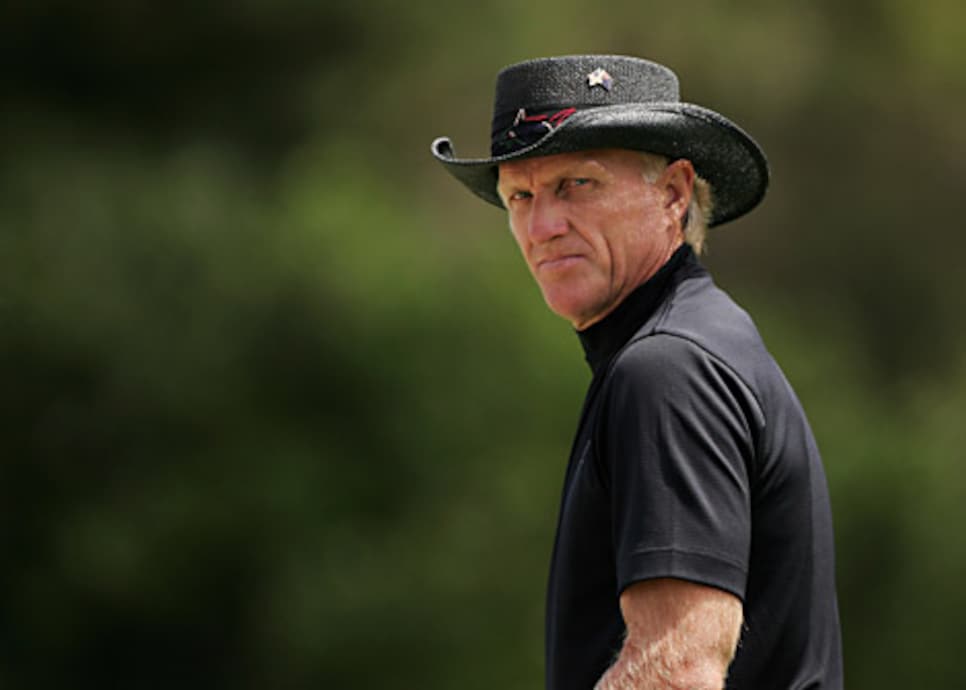 From Norman's perspective this is about the Presidents Cup, not his relationship with Tim Finchem.
It would be an overstatement to say the fence has been mended. Greg Norman always will have problems with Tim Finchem, always will see a guy who hijacked his global-tour concept and dropped it in a vat of deep-fried corporate commercialism. Fourteen years later, that wound and a couple of others have yet to heal. Time can try, but it can't fix everything.
Savvy and stubbornness have made Norman a formidable entrepreneur -- the man knows a good idea when he hears one, regardless of who is making the pitch. When his cellphone rang Tuesday before the AT&T Pebble Beach National Pro-Am, the Shark happened to be playing in his first PGA Tour event in 18 months, and was hearing from a commissioner to whom he hadn't spoken in at least as long.
Norman took the call. "At the end of the day, it's all about the Presidents Cup," he says of becoming the International team's captain. "It has nothing to do with Finchem or our issues." As if to anticipate the next question, he adds, "When you're on a board, you don't want a bunch of bobblehead dolls sitting next to you. You want people challenging you, asking you where you're taking it."
And just like that, an event maligned as a meaningless Ryder Cup knockoff for much of its brief history has taken another big step in the right direction. Give the commish credit for asking Norman if he would captain the Internationals in 2009, an offer one could easily have seen as leaving a dent in the former's ego. Finchem never goes anywhere without strapping on his criticism-proof vest, but he is acutely aware the Shark still seethes over their differences. As routine conversations go, this one wouldn't qualify.
"My issues with Tim will always be there," Norman says. "I did this for my love of the game."
Norman and Nick Price are the two biggest reasons the Presidents Cup ever took shape, having led what might now be called the tour's Southern Hemisphere Invasion and leaving some to ask why there wasn't a second team-match event involving players from Australia, South Africa and Asia. The idea seemed contrived back in 1994. Never had the Ryder Cup been so competitive or more intense, and with a decade of compelling, fiercely contested matches in its immediate past, any attempt to mimic the format or piggyback its popularity would come with a certain amount of risk.
Everything is different now, not only because Uncle Sam keeps getting plastered by the Europeans, but also because the Ryder Cup has become so susceptible to drowning in its own excesses. The ridiculous opening ceremonies. The captains who get fitted for dunce caps as soon as one thing goes wrong. The U.S.-vs.-Euro tilts started trending in the wrong direction in 2004, a massacre sandwiched between spectacular finishes at the Presidents Cup in '03 and '05.
Norman and Fred Couples are nothing less than perfect as successors to Gary Player and Jack Nicklaus. The Shark has the giant personality, Freddie the soothing nonchalance. If both move the needle in terms of public interest, both have dispositions ideal for their respective teams. "I told him I need to manage everybody's expectations here, including mine," Norman says of his talk with Finchem. "If he needs me to be in [host city] San Francisco for [a meeting] in September, I'm going to need some advance notice. I'm guessing Freddie's schedule probably isn't as hectic as mine."
It's a relevant point in that Norman certainly didn't need this gig to fill his calendar. He owns equipment, clothing and course-design companies, holds business interests in the wine and turfgrass industries, and by the time you read this, he may have bought a couple of dozen bakeries and a shoe store. As much as he deserves this job -- and as much as pro golf needs him to do it -- I wouldn't have bet on him overriding his dislike of Finchem, clearing some space in his Day-Timer and grabbing the International team clipboard. "He called that Tuesday, I had some questions, and he got back to me five days later," Norman says. "He was very proactive about it. My issues with Tim will always be there. I did this for my love of the game."
If comparing the two Cups is silly, I'm as guilty as anyone. The first Prez was thrown together on the fly as Finchem succeeded Deane Beman. My distinct recollection is that Couples emerged as the hero after knocking a 9-iron long-right into Robert Trent Jones GC's 18th green, a humongous bowl that sent the errant approach rolling straight for the pin, only to stop three feet from the cup.
International skipper David Graham would describe it as one of greatest shots in the history of golf, a blast of hype befitting an event that needed to drum up all the bluster it could muster. Fourteen years later, perspective definitely has changed. Time can try, and it will fix a lot of things.