News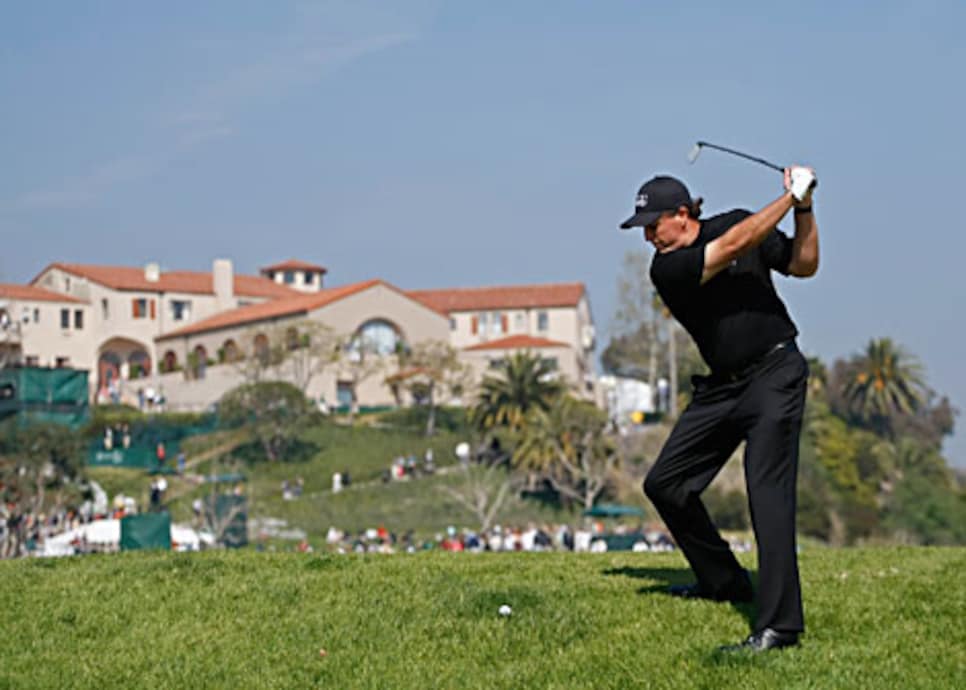 A Bogey at No. 9 Sunday was a blip for Mickelson, who was solid in earning his 33rd PGA Tour title.
Inevitability no longer is, well, a foregone conclusion, as presidential politics has taught us this election cycle. Though it never has been inevitable that Tiger Woods would win the Grand Slam in 2008, at times it has seemed that way.
Those who entertain such notions need to consider that it was not a concession speech Phil Mickelson gave at the Riviera CC in Pacific Palisades, Calif., last week. Rather, it was an emphatic declaration that golf in 2008 may not be a one-man show after all.
One year after losing the tournament in a playoff, Mickelson won the Northern Trust Open, putting him 1 up on Woods, who has never won at Riviera and won't, so long as he continues to eschew playing there (for that matter, Jack Nicklaus never won at Riviera, either). For the second straight year, Woods passed up a tournament in which he made his PGA Tour debut as a 16-year-old amateur in 1992.
His absence weakened the field, but not to a degree that diminished Mickelson's victory in any measurable way. Mickelson beat a field that featured 17 of the top 20 players in the World Ranking (Henrik Stenson and Ernie Els were not there, either). Just two of them, Padraig Harrington and Luke Donald, came within five shots of the winning number of 12-under 272.
Only Jeff Quinney, ranked 146th entering the tournament, hung with Mickelson, at least until the back nine Sunday when the putter on which he had been relying to overtake his fellow Arizona State graduate abruptly turned against him. Quinney finished second, two shots in arrears.
The din that Woods has generated has obscured the fact Mickelson has been turning up the volume on his own game since enlisting Butch Harmon as his swing mechanic a year ago. He has won three important tournaments since -- the Players and the Deutsche Bank Championship, in addition to the Northern Trust -- even while enduring a midseason wrist injury last year that curtailed his progress.
This year, he already has finished in the top six in three of four events, losing one, the FBR Open, in a playoff. It is not unreasonable to deduce that at 37, with 33 career victories (ranking No. 13 on the PGA Tour career win list) behind him, the best is ahead of him. "I think the changes Butch and I have been working on have settled in nicely, and I feel much more confident off the tee, drawing the ball and fading the ball," Mickelson said. "I thought the two drives on 17 and 18 [Sunday] were evidence of that. I would normally have hit 3-wood on 18 because I only needed a par to secure the victory. But I drove it in the left rough twice last year, so I hit driver because I wanted to have the improvements come through, and I was able to do that."
The quality of Mickelson's game in his best seasons -- he won four times in 1996, 2000 and 2005 -- was obviously formidable, though according to his own evaluation is inferior to what he takes onto the course these days. With refinements yet to come, he is salivating at the possibilities.
"I can see the difference, the improvement, but it's not quite to where I believe I can get it," he said. "I feel like it's much better than in the past. I can taste where I want to get to, but I'm not quite there yet."
The occasional misadventure remains part of his repertoire. Only a week earlier he hit two shots out-of-bounds and made an 11 at the 14th hole at Pebble Beach on Saturday, which sent him home early. At Riviera his miscues required only that he counter them with a deft short game that convinced Quinney early on he would have to win the tournament rather than rely on Mickelson to lose it.
"He snap-hooks it off No. 2, and it bounces back in the fairway," Quinney said. "Then he hits it in the bunker and [from there] hits it to a foot. It's like he couldn't do anything wrong to give me one. That told me I needed to go out and earn it. I was expecting him to make every putt. I could see where he was human at times because I don't think he was quite on his 'A' game. He missed a few shots here and there. You could see on 17 and 18 where he really took a rip at it, that's his confident swing. But sometimes he was kind of shaping shots. That's the difference. He doesn't have to be at his best to win, and I think the rest of us do."
Quinney, meanwhile, was in possession of his "A" game, which -- he believes -- is now good enough to win on any given week. "I'm going to get there soon," he said. "It's just a matter of when, not if."
He even outperformed Mickelson by two shots playing head-to-head with him on the weekend. Saturday he shot a 67 that included a hole-in-one on the sixth hole, and Sunday he one-putted eight greens through 12 holes, which helped him erase a three-stroke deficit and actually take a one-shot lead to the back nine.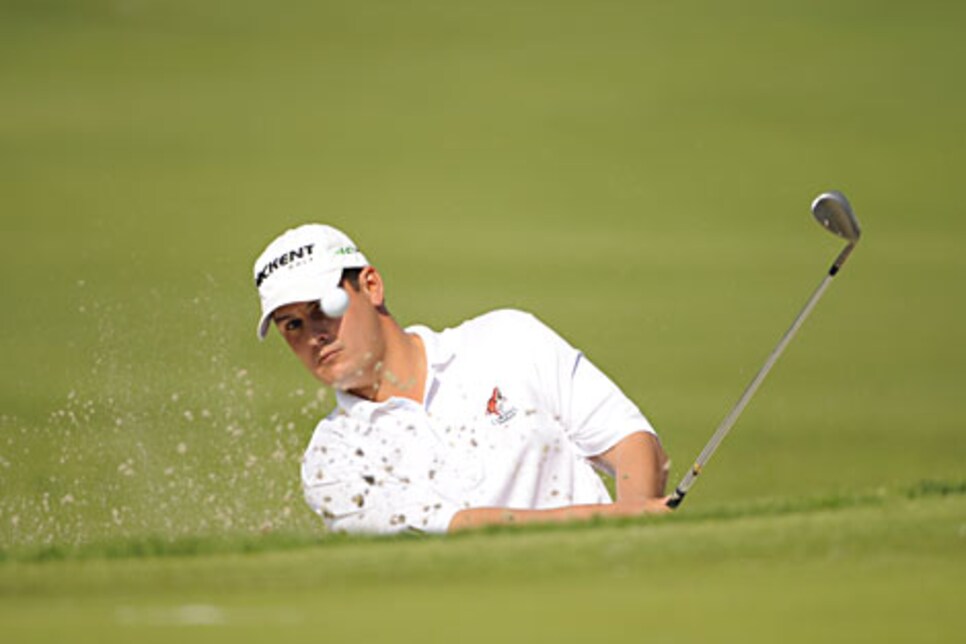 Quinney, in fact, had avoided three-putting for 214 consecutive holes until a seven-footer for par slid by the hole at 13, allowing Mickelson to assume the lead for good. "Obviously, I put a little too much pressure on the putter on the back nine," Quinney said.
Mickelson was under par in all four rounds, including a 64 Friday. He carried a one-stroke lead into Sunday, a comfortable position for one of golf's better front-runners. On 26 occasions, he has held the third-round lead, and he has won 19 of them.
Morning fog probably was his greatest obstacle last week, more so even than Quinney's putter. As he had done the year before, Mickelson commuted to Riviera from his home in San Diego County. He flew via private jet from Palomar Airport in Carlsbad to Santa Monica Airport, which is only a few minutes from Riviera. However, fog closed Palomar Airport Wednesday morning, delaying his departure and requiring he trade pro-am tee times with John Daly.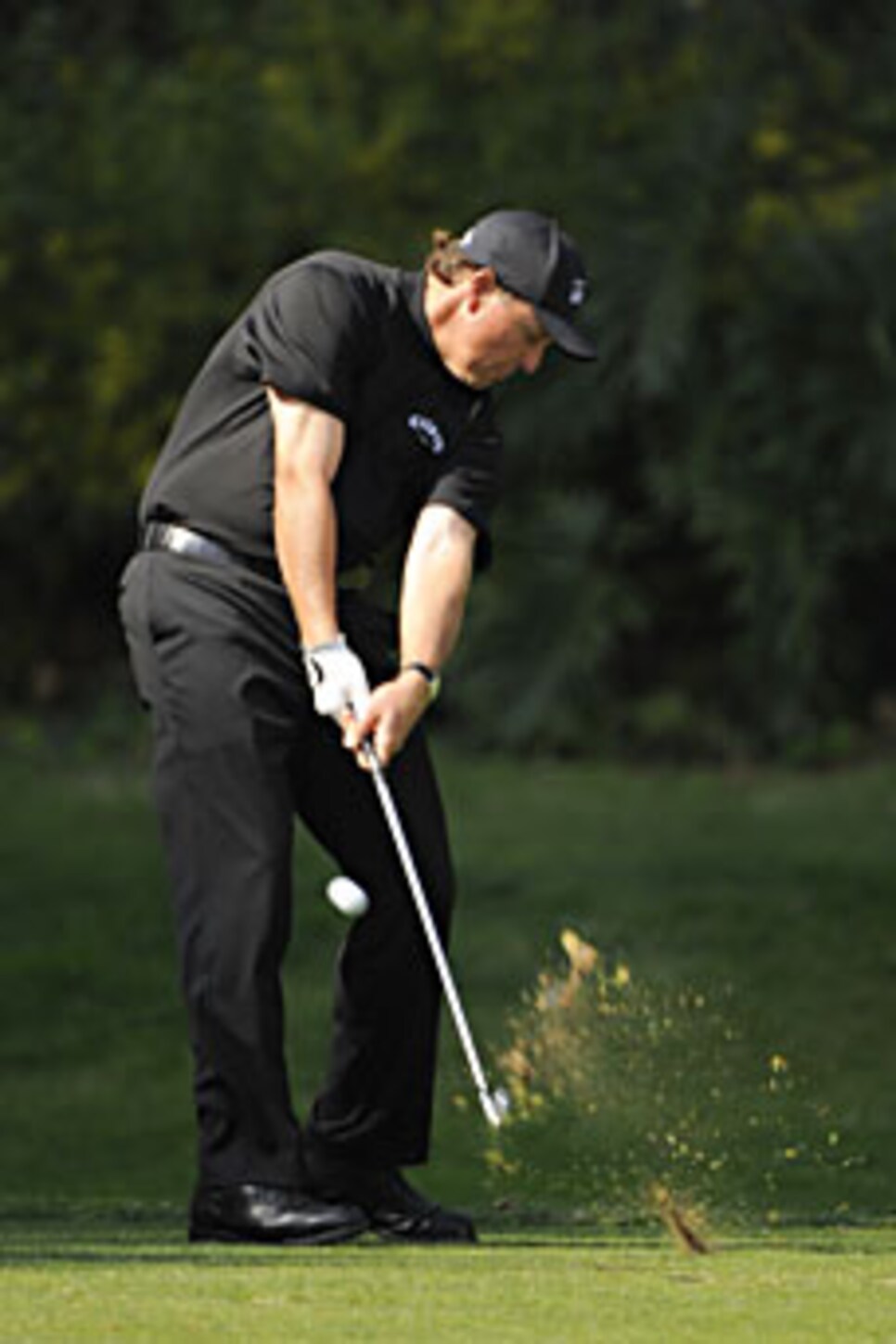 He was fortunate that fog did not ground him the rest of the week, allowing him to avenge a playoff loss to Charles Howell III a year ago and add his name to a gilded list of winners, citing three of them: Hogan, Nelson and Snead.
"The names on this trophy are pretty cool and bring an element of history to this tournament," he said. "Riviera is a special place, a fun, challenging golf course that has withstood the test of time. I think it has some of the greatest holes on the PGA Tour."
History is not unimportant to a man with three major championships on his résumé and coveting more. Woods is in pursuit of his own historic achievements, of course, one of them winning the Grand Slam, and Mickelson is in the best position to prevent it.
Mickelson, incidentally, was given an opportunity to respond to the fact that Woods' name is not on the trophy at Riviera. He politely declined. In a year in which inevitability as a concept has been in the fore, that was probably politically astute, though Mickelson isn't running for anything.
Having demonstrated a readiness to challenge Tiger, it is obvious as well that he isn't running from anything, either.