News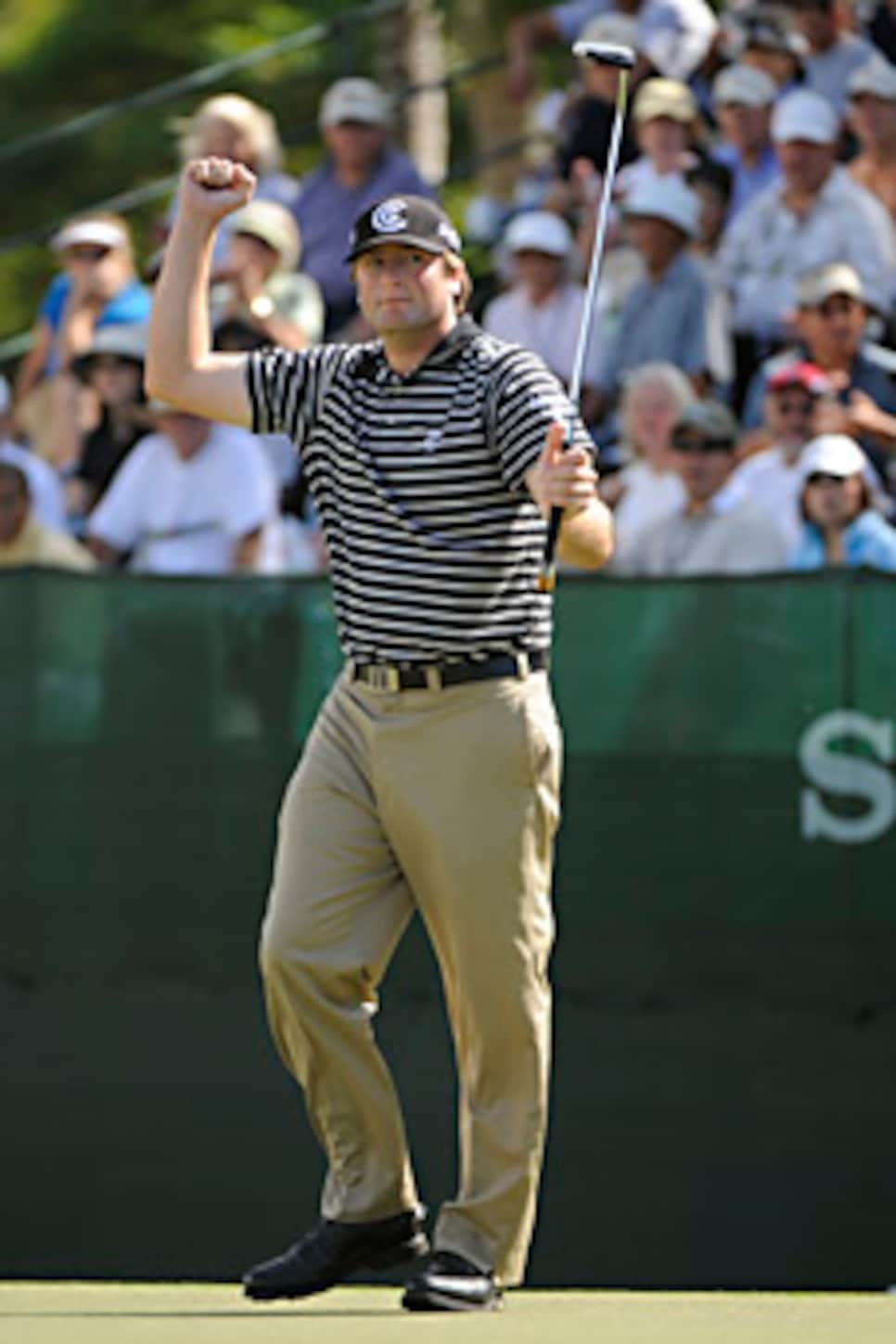 Marino was one of 47 players at the Sony Open who made a putter change.
As players gathered at the Sony Open for the first full-field event of 2008, it was evident many had either worked on their putting strokes during the off-season or at least realized their game on the greens needed a boost. That's because 47 players in the field of 144 -- nearly one-third -- came to Waialae CC armed with a putter different than the last time they competed in a PGA Tour event.
Although the number may seem high, it really isn't. Putters and the relationship players have with them are fickle by nature, and on any given week on the PGA Tour it's not at all unusual to see 15 percent (or more) of the field change. In addition, it can be argued that players using some blade putters may be using equipment that, while getting high marks for feel and appearance, may be among the lower-tech clubs in the bag.
Recent data from TaylorMade suggests higher technology may be in order. Mapping the hits on the putterface of several of its tour professionals, the company found that even the best in the game tend to miss the center of the face on putts -- often by as much as half an inch. High moment of inertia putters, said Benoit Vincent, chief technical officer for TaylorMade, can somewhat counter that. "You have to remember that moment of inertia is about reducing the loss of ballspeed on a mis-hit," said Vincent. "That applies to putters as well as drivers. Many players would be better served by using putters with a high moment of inertia."
All of which may explain why approximately half of the players making a change last week went to mallet-style models (which tend to have back-weighting and a higher MOI than blade putters). Among them: Fred Funk, Pat Perez and Sean O'Hair (TaylorMade Rossa Monza Spider), Steve Marino (Never Compromise Voodoo Daddy); and__ Kenny Perry__ (Ping G2i Craz-E).
Although the mallet has been around almost since the birth of the game, its presence on professional tours has been spotty over the last 35 years as the Ping Anser became perhaps the most popular -- and most copied -- putter style ever. The look and feel of such blade putters became comforting to players, thus the resistance toward mallets, some of which resemble a science-fair project gone bad.
Still, mallets can be a thing of beauty. Far from giant hunks of metal on the end of a shaft, these flat sticks are a well-conceived marriage of materials, mechanical engineering and biophysics brought together to keep off-center hits near the hole on approach putts and missed three-footers a thing of the past. A large part of the reason is most mallets today push weight behind the face to the back of the putter, thus achieving the inertia benefit Vincent talks about. Back-weighted putters also tend to reduce the skidding that occurs shortly after impact, making for a smoother roll.
And on the greens, isn't getting the best roll possible what it is all about?
Callaway had a prototype muscleback blade iron in action at the Sony Open in Hawaii.__ Olin Browne, Nick Flanagan__ and Frank Lickliter II all used the clubs. The irons -- which Phil Mickelson had in play when he won in China in November -- feature progressive weighting (more weight lower in the clubhead to help long irons get airborne; weight higher in the clubhead to promote a more penetrating flight on short irons).
In last week's issue this page noted Rory Sabbatini had signed with Adams Golf and was using 11 Adams clubs. Several readers wanted to know what those clubs were, and here's the answer: Ball: Callaway HX Tour ix.
Driver: Adams Insight Tour, 9.5 degrees. 3-wood: Adams Insight Tour, 14.5 degrees. Hybrid clubs: Adams Idea a3 (18, 20 degrees). Irons (4-PW): Adams Idea a3. Wedges: Titleist Vokey Spin Milled (54 degrees); Titleist Vokey Custom (60 degrees). Putter: Odyssey Black Series i-9.
K.J. Choi continued his winning ways at the Sony Open, but the square-shaped Nike Sumo2 driver he used last year was absent. It was replaced by Nike's new Sumo 5000 (8.5 degrees) with a Mitsubishi Bassara shaft. Choi also went back to his Nike blade irons after using the company's Ignite model at the end of last season. ... Titleist has a new iron line -- AP2 Forged -- and Bill Haas, Dudley Hart and Tom Pernice Jr. each had the bats in play at Waialae. The clubs feature a dual cavity supported by a central bar with an elastomer pad for cushioning. ... Speaking of Titleist, now that John Daly and TaylorMade have parted ways, Daly was using Titleist's 695 MB irons in Hawaii.