News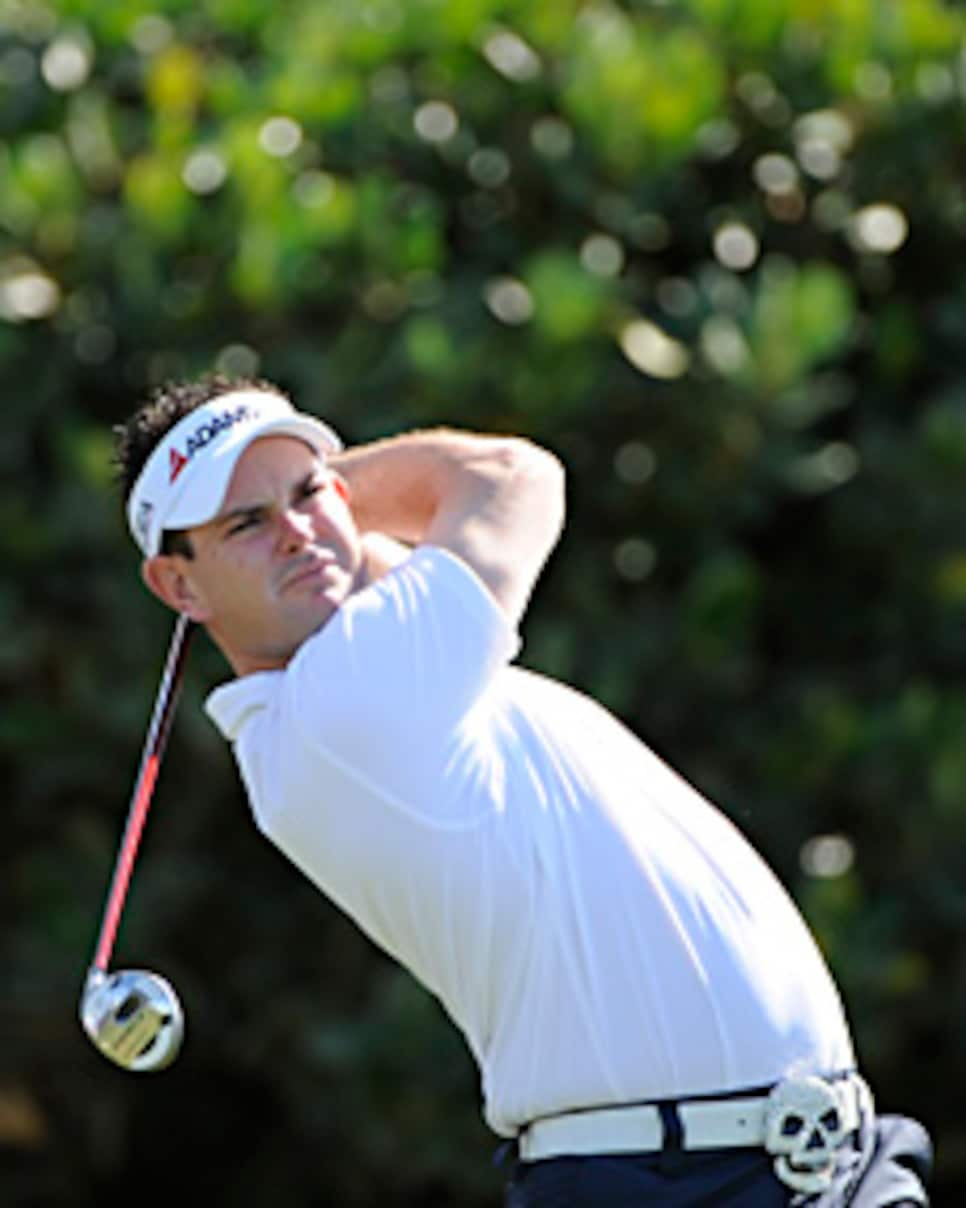 Sabbatini sported new sticks and headwear at the Mercedes.
January marks the start of pro football's coaching carousel, and it is also when tour players typically move from one equipment company to another. Just as big-name coaches are prime targets for change, pro golfers high on the World Ranking garner attention from equipment makers. This past off-season was no exception.
Although virtually all of the game's superstars stayed put, three players among the top 20 in earnings last year -- Rory Sabbatini, Aaron Baddeley and Charles Howell III -- inked deals with new sponsors. Sabbatini and Baddeley went to Adams; Howell to Bridgestone. Sabbatini had been with Nike, Baddeley with MacGregor and Howell with Callaway.
The Adams signings were of particular note as they marked a shift in the company's tour strategy. Having had much success on the Champions Tour in recent years, Adams officials made a concerted effort to get PGA Tour players to use their hybrids last year, a move that resulted in Adams becoming the second-most played hybrid on the tour.
"Signing staff players for the big tour was the next logical thing to do," said Adams president and CEO Chip Brewer. "We needed to do this to gain additional exposure for our brand as we try to take it to the next level, and Rory and Aaron have the potential to win majors, as we saw last year." Brewer added that Bernhard Langer, a friend of Baddeley's who joined Adams last year, helped land the Aussie.
Sabbatini (who will play a Callaway ball) had 11 Adams clubs in play at last week's Mercedes-Benz Championship, while Baddeley only had the company's Insight Tour fairway woods. Badds' enthusiasm for his new equipment maker, however, was evident. "There's no pressure to change right away," he said. "I've been testing the driver, and there are a couple of ball-flight tweaks I want to make before putting it in play."
Just as Baddeley received encouragement from Langer, Howell was influenced by Nick Price. "I value Nick's opinion," said Howell. "[He] thinks the world of [Bridgestone]. He won two majors with them."
Although companies such as Bridgestone and Adams were busy, most of the big boys were remarkably quiet. TaylorMade added bench strength with Rod Pampling and Bob Estes (who came over from Cleveland Golf), while Callaway signed J.J. Henry, Fredrik Jacobson and Cameron Beckman.
"We do a lot of research so we can make informed decisions about our tour staff," said Nick Raffaele, director of tour operations for Callaway. "It's not always about what we think of a player, but what consumers think and how the player's performance integrates within our marketing strategy. It's a search for good players and good people who want to be with our brand for more than just the money."
Titleist went young, signing Colt Knost, Chris Kirk, Luke List and Rory McIlroy while its sister company, Cobra, added Jason Gore. Nike's biggest move was the addition of the LPGA Tour's Suzann Pettersen.
All of which made for a busy off-season.
Want to make your grips feel a little smaller? Try this solution used by Jim Furyk. The 2003 U.S. Open champion wraps a three-inch strip of tape near the butt end of the shaft, then wraps another four-inch strip a bit further down. Finally, a little below the four-inch strip, he adds a five-inch swath. The layering gives his grips a smaller feel.
New to this page is a spotlight on equipment used by a tour player -- either a golfer who has made a major change or one who has clubs of particular interest. This week: Charles Howell III, whose bag has undergone a makeover since signing with Bridgestone. Note the mixed iron set and a return to the putter CHIII used in college. Ball: Bridgestone B-330S. Driver: TaylorMade r7 SuperQuad, 9.5 degrees. 3-wood: TaylorMade Burner TP, 14.5 degrees. 5-wood: TaylorMade Burner TP, 17.5 degrees. Irons (3-6): Bridgestone J36 CB (pictured); (7-PW): Bridgestone J36 Blade. Wedges: Bridgestone WC (54 degrees); Ping Tour W (60 degrees). Putter: Ping i-Series B60.
When teeing off at the 17th hole during the opening round of the Mercedes-Benz Championship, Brandt Snedeker cracked the head of his TaylorMade r7 425 driver, sending the ball into the [hazard]. "I've had that driver for a long time, and I guess finally it had too much," said Snedeker, who tried more than 10 possible replacements before settling on another r7 425 for the final three rounds. ... Mark Calcavecchia used a pair of putters -- Ping G5i Craz-E H belly model and a conventional-length Ping Redwood Anser -- at Kapalua. Calcavecchia, who uses the shorter putter for long putts and the belly for the shorties, employed the same tactic last year in three late-season events. Calc ranked T-14 in putts per GIR.